After my last post where I talked about feeling all green thumb confident, I must now admit that it isn't all magic and perfect here in my Missoula plot. There have been some real disappointments this year. There always are…last year it was my squash with the spider mites. This year, while I have no pests (knock on wood), I have some seriously crummy germination.
Chioggia Beet. Damn it. I was so excited about these heirloom candy cane swirled dudes. I planted a 1gm packet which was enough for about 12 feet before thinning. I estimate about a 40% germination rate. Seeds of Change has this on the back of the packet: "These seeds…meet or exceed Federal germination requirements. Satisfaction guaranteed or your money back." So, I'll follow up and see what happens. Thankfully, the Detroit Dark Red and the Bull's Blood were their usual trustworthy selves and I was able to carefully transplant when thinning to fill in the gaps for the lame Chioggia.

Detroit Dark Red beets
Purple Haze hybrid Carrot. This is a tragedy because garden carrots are one of my faves and I planted 30 feet of carrots this year. It is a big chunk of my plot. I have ten, three-foot rows and there are like two to four measly seedlings per row. I have 29 carrots en masse. Yes, I can count them. At least they'll be gorgeous with all that room for root growth. I am in desperate search for a carrot that can germinate in this warm weather. Anyone know?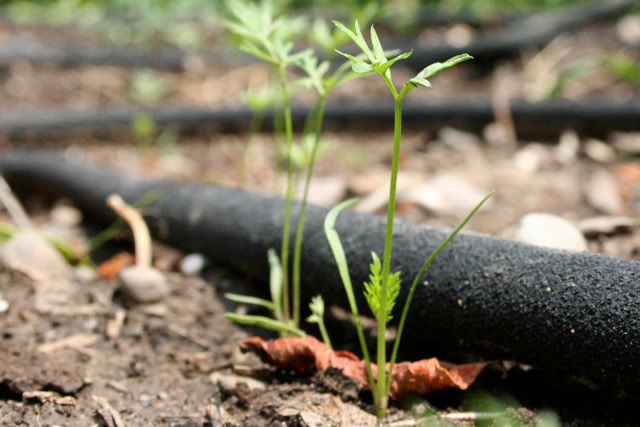 Purple Haze Carrot
Golden Purslane. I have never grown this before and was psyched for the succulent wannabe green. Also rich in vitamin C and great raw or cooked…well, of a 230mg packet, I have about 12 plants. This *may* be my fault as I was annoyed with little seeds from having just sewed a million rows of carrots so I cast the seeds and wasn't too careful about covering them. To fill in the painful, bare spots, I bought some Black Bell Eggplants and tucked them quaintly into little purslane niches. And it looks purposeful. See, gardening is all about creative solutions.

Golden Purslane
Here is my garden today: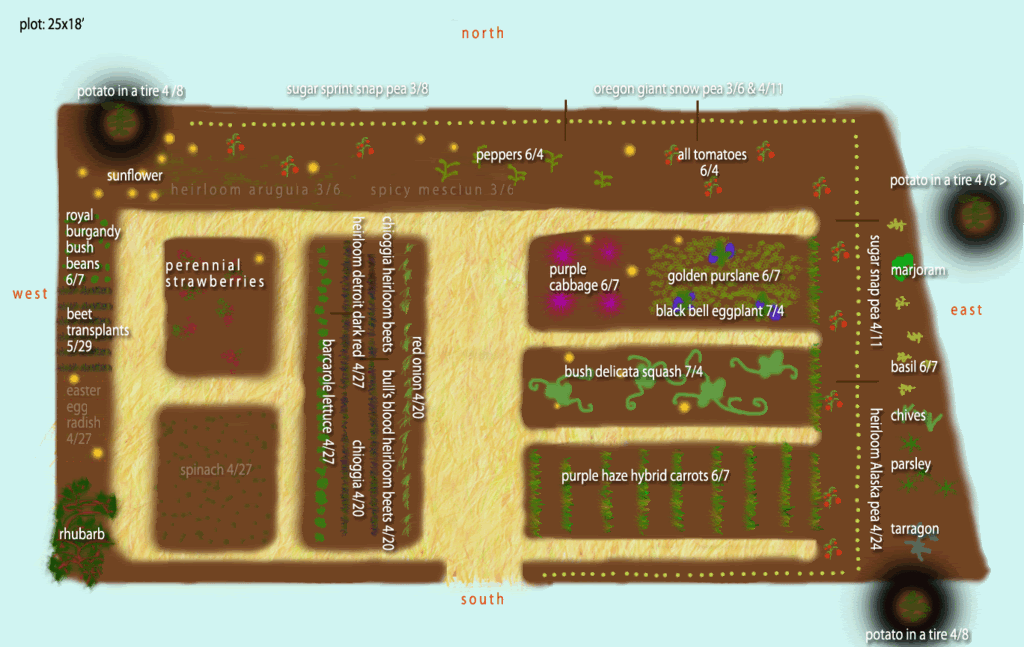 The screened back crops (arugula, spinach, radish and mesclun) have already come and gone.
And, the chickens. Still no eggs. But they are happy birds noshing on radish and pea greens, apples and bolted spinach. They are a kick to watch; I set up a bench in front of the run and bug, Andy and I had coffee with the girls this morning. Bossy P runs back and forth like a kid on Christmas morning waiting for the parents to wake up. She is not the most brilliant chicken, but entertaining and, well, bossy. Clementine remains sweet and shy. Her white tail feathers emerging. Ida is Andy's favorite. He says he like the way Bossy P looks but she is a pain in the ass. Ida is social and curious.
You might also like