Turns out Bossy P isn't a rooster but she is having an eggdentity crisis (those egg jokes are horrible but really hard to resist, no?). She is supposed to lay turquoise blue to army green eggs and she pops out brown like the other hens. It wasn't eggsactly what I had in mind but they are delicious anyway.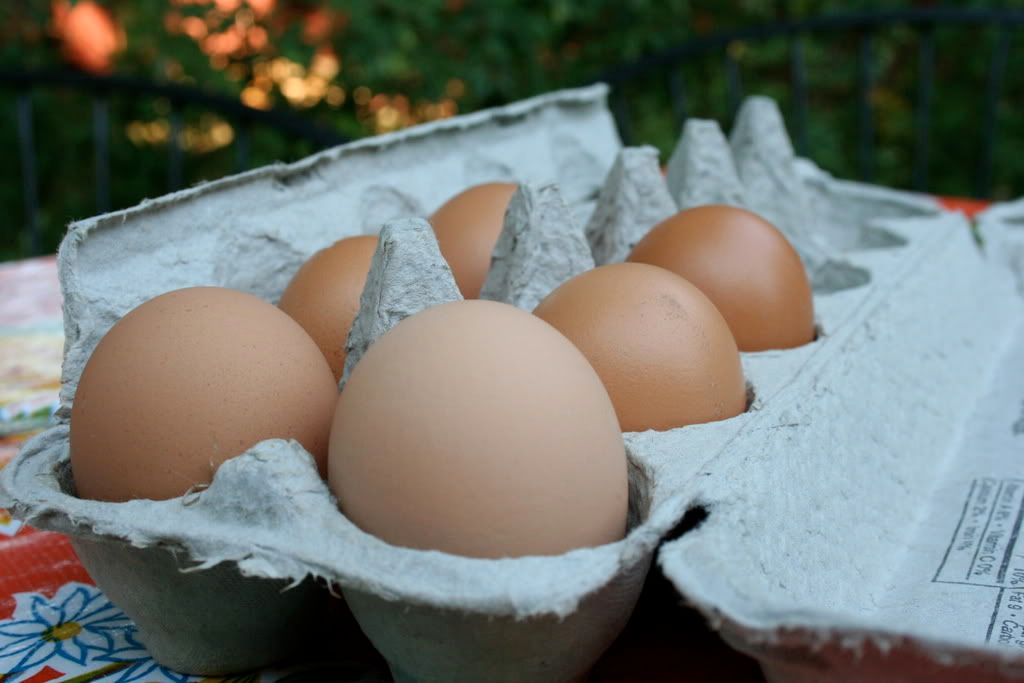 We are getting three to five eggs a day. When it's chilly at night, it is a bit slower. I can't believe how easy chickens are. And friendly and so fun for a nine month-old. They like to have their butts scratched. They get all riled up and clucky when they see me tromping across the yard with an arm full of beet greens or apple peels.
For months the girls have refused to lay in their cute little apple box box turned nesting box. They instead laid in the dirt outside and then buried the eggs in the far corner of the run. Andy devised a tactic to retreive the eggs that included an old piece of trim, careful balance and a nutty amount of patience. But, if there was a contest that involved balancing an egg on a stick, he'd win for sure. He is quite good at it.
But now they lay in their box. I placed some smooth, egg-shaped rocks in there and perhaps that worked. Or, perhaps they are evolving. Or, perhaps the dirt is cold now. Whichever way, they have matured into eggsquisite hens. Clem is the most prolific for sure. She is a faithful nest-rester-uponer and yearns to hatch eggs.
You might also like