I am moved by the election of Barack Obama in a way that is totally new to me. I have been spontaneously crying since Tuesday night. It doesn't take much…even just the slightest nice human display makes me feel patriotic. Patriotic. I'm taking it back. The flag never should have become specific to one party anyway.
Thank you for your incredibly thoughtful and moving stories about why you voted and what you experienced on election day. They, of course, made me cry.
My election day story is rainy and full. I got up early with heart pounding fast like on Christmas morning for a six year old. I performed my usual kid, dog, cats, getting-ready-for-work shuffle with a new clip. Then bug and I walked the two blocks in misty, early morning hopefulness to our polling place. I stood in a short line and exchanged thin, slightly weary but optimistic smiles with my neighbors.
My booth was barely big enough for me, bug and my ballot. I was carrying her on my front so she was looking up at me all smiles and giggles as I darkened my ovals. I was voter number 111. I decided that was lucky.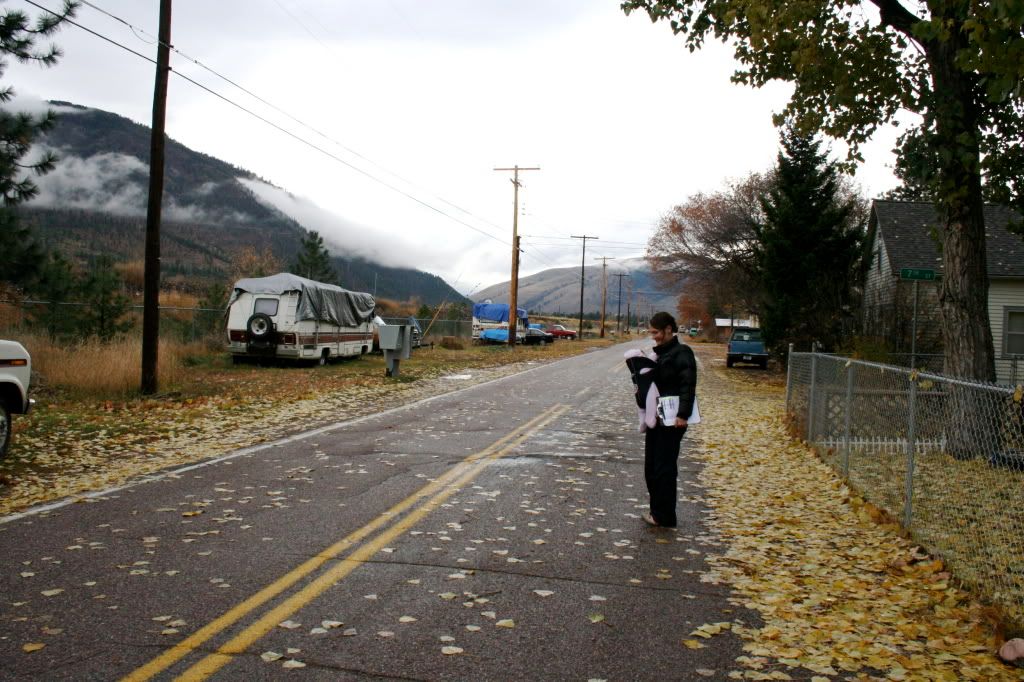 I went to the museum and tried to work but the entire staff was moving about like hummingbirds with msnbc streaming on one coworker's computer. At noon I left to canvass with a friend in a tiny strip of numbered streets between East Missoula and Bonner. The air was wet and cold. We walked and knocked and left reminders to vote by 8pm. After four hours, we headed back into town for a beer.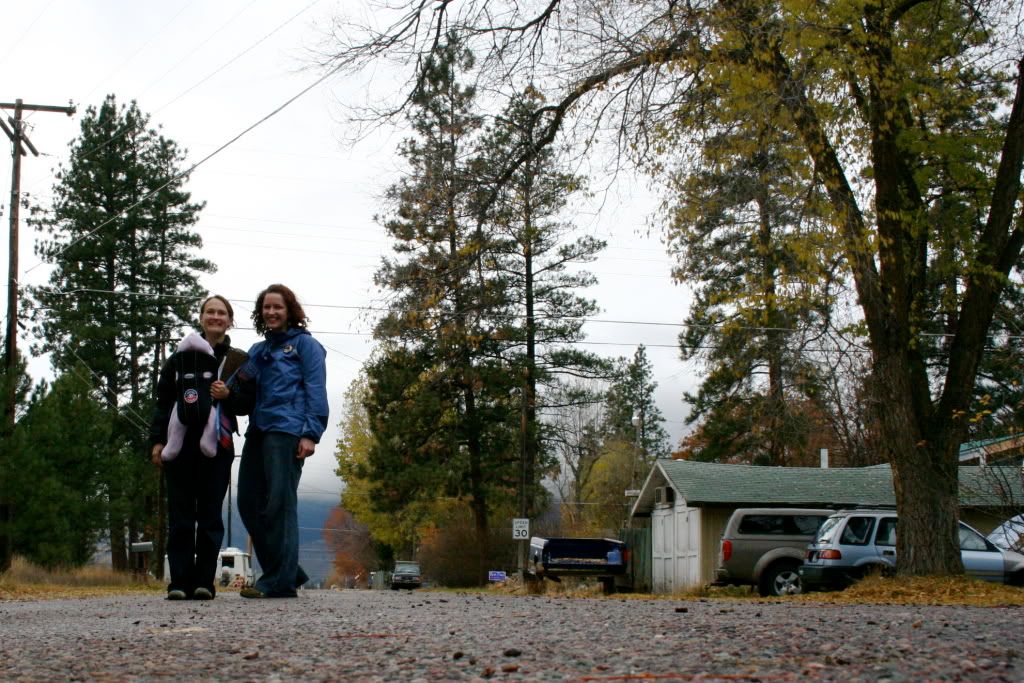 It had felt good to move and make the effort. I get it. That is what Obama is about. He makes people want to move and make an effort. It isn't about his being the first African American president. That is amazing and important, but for me it is about his ideas and ability to mobilize and motivate. I desperately love the thought of my once-apathetic country giving a shit. Yes, We Can. It's perfect.
I went home and was all twitchy and wound up so I went for a run. The porter in my belly slowed me a bit but Alice and I trotted through the dark, rain soaked streets and thought about how different everything would be in a few short hours. I was present and strong.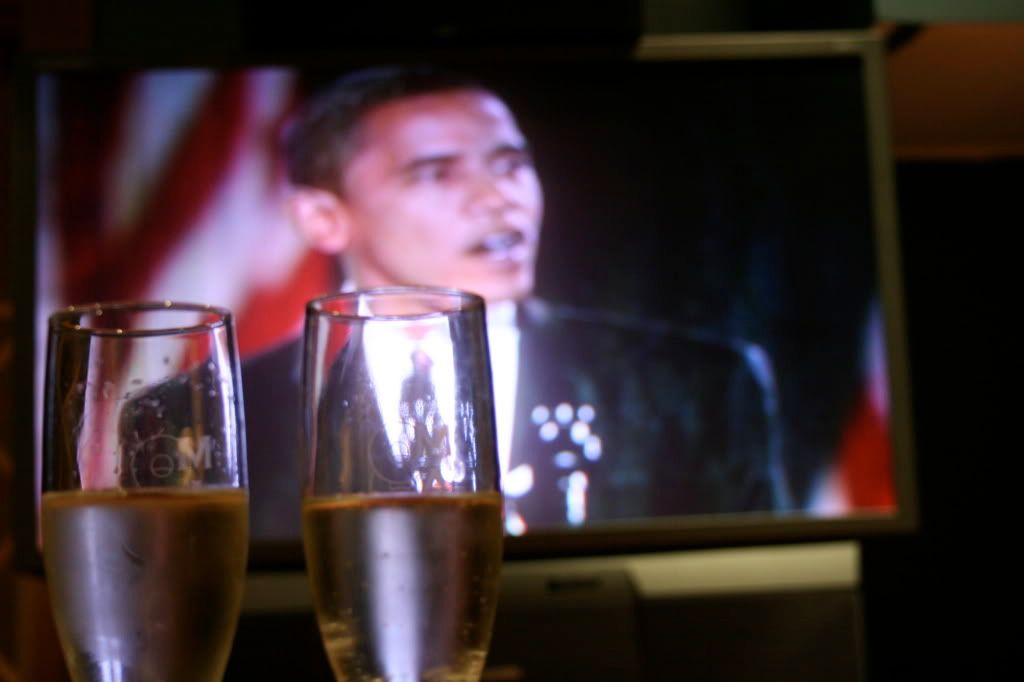 Once home we listened to NPR on top volume on every radio in our house, eventually turning on our fuzzy tv to watch the states turn red and blue. I about had cardic arrest when I thought Montana was going blue. And, then it was announced. Obama is the 44th president elect. Andy and I just started laughing. We opened champagne and watched and listened. With renewed confidence in the system we call democracy. With renewed confidence in my decision to have a kid.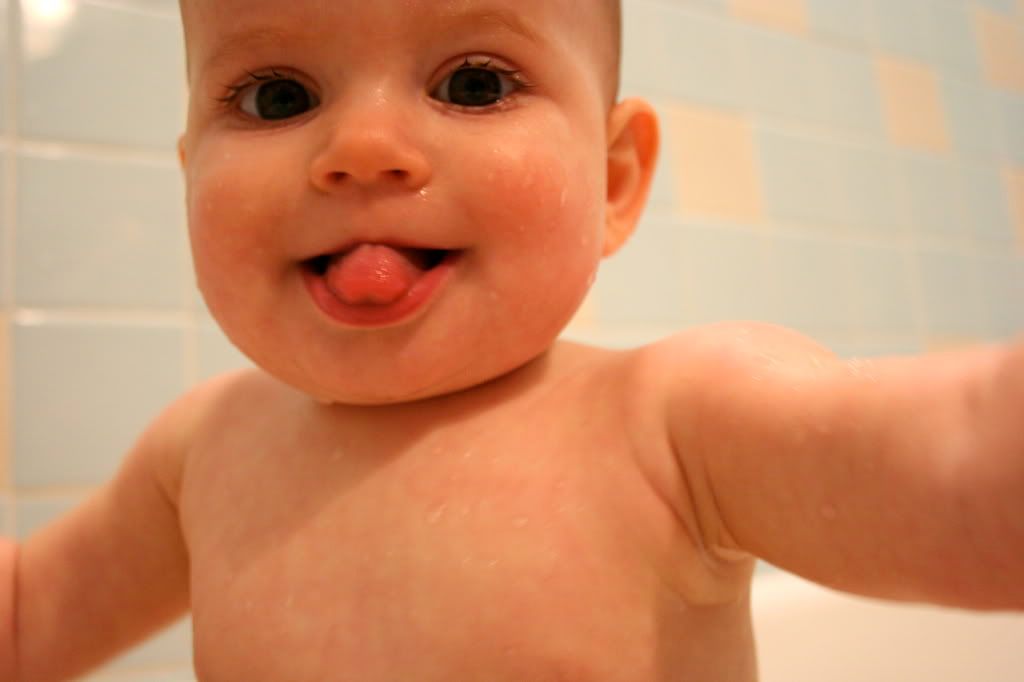 I really wish I could send each of you a jar and maybe next year I'll be productive enough to do it! But I had to pick one…And the winner? Finny! What's your pleasure? Plum, apricot or peach butter?
:: :: ::
Also, it'd be swell if you voted for my site on Divine Caroline (I am a home and food award nominee). I could win cash! And if I do, I promise another giveaway.