Indeed there are at least eleven storms colliding directly over the top of the interstate forcing a nine-hour drive to the coast into a 13-hour endeavor, then one considers the dog and one-year-old bug and decides against the drive to Portland for the holiday. At least we did, anyway.
We have been feeling funky about not being in our favorite pacific city with our favorite people (especially when they announce they are with bun in oven and we can't be there to hug). And then there's the pleasant circumstance of my man and me having five days off together with no agenda. And friends popping in to go on three-hour walks and spontaneous invitations to meals with bffs. And, well, it leaves me really in love with my town and my pals.
We drove up to a friend's cabin on the Blackfoot on christmas day. The drive was horrendous and confirmed our smart decision to avoid Portland (cause I was full of doubt in our choice and wanting to hop in the car and just give it a try and Andy was all no way in hell are we doing that but I won't admit that he was right and he'll never know it because he doesn't read The Blog).
It was just our little family unit with a pile of gourmet noshes in a snowy snowy cabin on the river. We cooked and chatted all afternoon, ate a scrumptious several-course meal, sipped delicious wine and played scrabble while hopping about with our dog and kid. It was a really great day.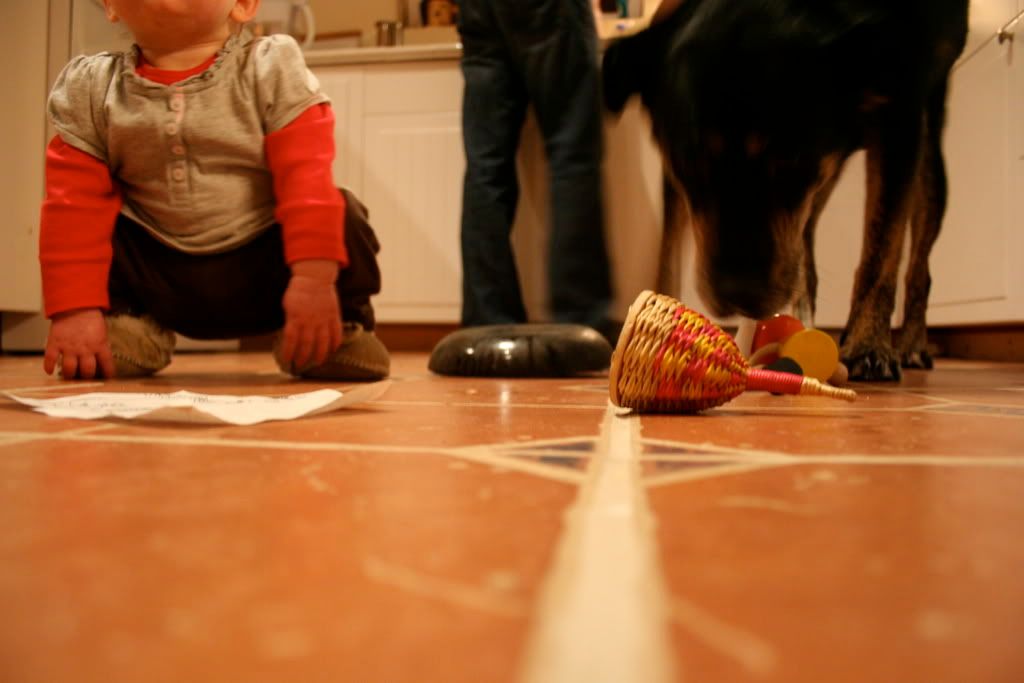 And, then, the next day, we sat by the fire and savored thick coffee for hours while finishing the scrabble game (ahem, I won even though I let Andy count unibrain. I put my foot down at duifarm) and then we trekked through the snow for hours.
So I left our journey feeling like you really can polish a turd. Andy uses that phrase carefully in the opposite context–he works in construction and people are *always* trying to make shitty 80s tile look like a thoughtful and intended design decision to which he replies you can't polish a turd. But, what I mean is more in reference to the whole lemon and lemonade thing. This christmas we polished a road-weary, garland-bedecked turd and it turned out fabulously.
:: :: :: a few of the recipes :: :: ::
apologies for the lack of specifics…..I winged it and you should too. One can never lose with olive oil, garlic and butter.
brussels sprouts with bacon vinaigrette
five-six slices bacon
balsamic vinegar
dijon mustard
garlic, chopped
fresh thyme, minced
olive oil
a few handfuls of brussels sprouts
butter
Fry bacon until crispy.
Whisk a few tablespoons vinegar, a few teaspoons of mustard, an assload of garlic and thyme. While whisking constantly, slowly add a few tablespoons of olive oil.
Remove the outer leaves of each brussels sprout. This takes forever and I wouldn't tell you to do it if it weren't fabulous. I think chopping them up would be fine too.
Add brussels sprout leaves, 1/2 cup water and one tablespoon of butter and steam until bright green. Drain and transfer to a bowl.
Crumble bacon into vinegar mixture and toss with brussels sprout leaves.
Relish every last bite.
roasted cauliflower with caper berries
one head cauliflower, cut into smallish florets
five-six caper berries, diced
olive oil
salt and pep
fresh parsley, coarsely chopped
Preheat oven to 400 degrees.
Toss cauliflower florets with about 1/4 cup olive oil and caper berries
Place in dish and cook until golden brown,
Toss with 1/4 cup parsley.
fillet with demi-glace
This sauce took forever and was so worth it but my man cooked it and I don't know what he did so here is a picture of the fabulousness and you can e mail me if you want the recipe.
*full merries and hos credit given to Pam
You might also like