So I have been paying more attention to the other blog. In truth, right now, writing about my cooking-crafty-runningness is trumped by a newly walking nearly-one-year-old. But the other stuff is still happening (quilt!) and is feeling left out what with all the pictures collecting metaphorical dust in iphoto.
And I'll talk about pears. That perfect, sexy fruit with a too-short shelf life.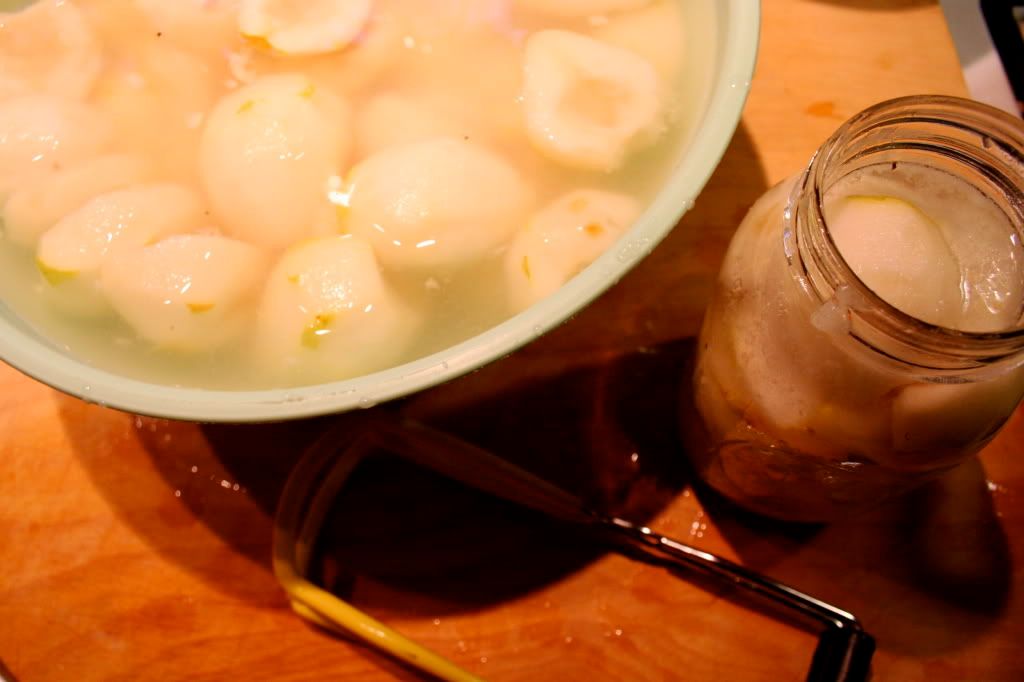 Not so long ago my friend and stealthy local produce connoisseur gave me a giant box of the most perfect, unsprayed pears from the Bitterroot Valley. I prepared a nearly-obnoxious amount of the beasts that amounted to a measly, uninspiring pile of jars. This is why I like
butters
. You throw the fruit in a pot (
I don't remove skins
), cook the pehjesus out of it, puree it and can it. It is easy and amounts to a satisfying booty.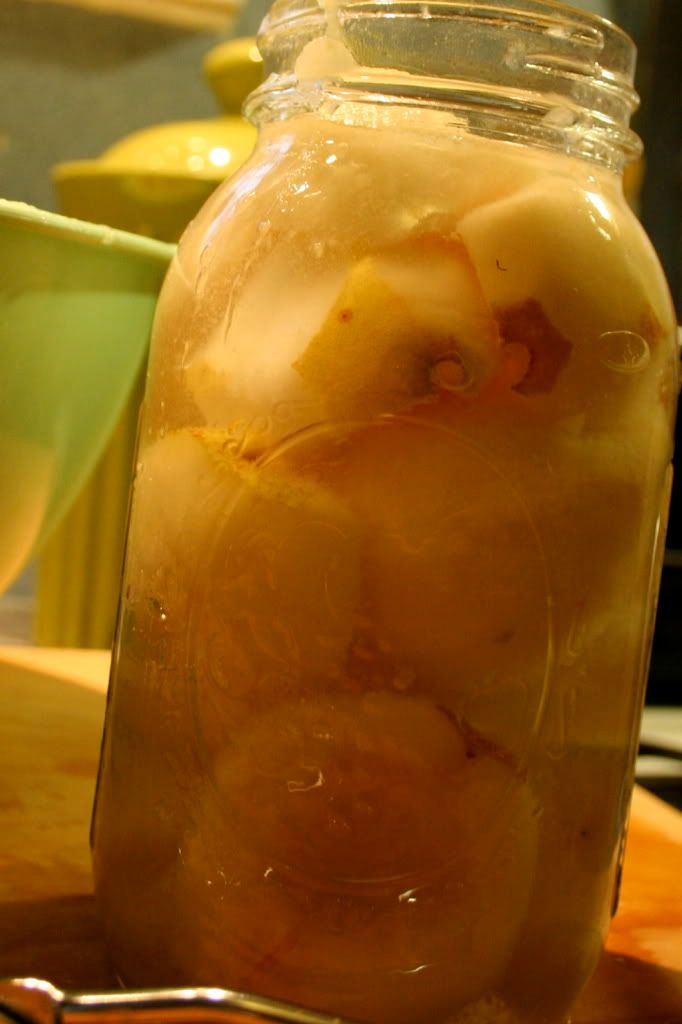 I had decided to can whole pears because I am obsessed with my family eating local food this winter and Andy isn't into pureed fruit on his salad. The nerve. So I peeled and halved for effing ever. I don't much care for the
simple syrup
pack and so opted for water only. I must admit the pears have incredible flavor and my household loves them. If we each eat one pear half per week, I think we'll have enough until the rhubarb emerges.
Speaking of pears, I made a great muffin last weekend. With pears (of course not local but so delicious I couldn't resist) because I bought an assload of them and then they all ripen at the exact same moment and then one has approximately four hours to devour them before they are hucked into the chicken coop.
The recipe was easy and delicious.
Pear Muffin Recipe :: makes 12
1 cup flour
3/4 cup whole wheat flour
2 tsp baking powder
1/2 tsp salt
1/2 tsp ground cinnamon
2 tbsp soft butter
3/4 cup brown sugar
2 eggs
1/2 cup plain, whole milk yogurt
2 1/2 cups pears, peeled and diced
Preheat oven to 375.
Stir together powdery stuff.
In a different bowl, mix butter with brown sugar. Beat in eggs one by one, followed by yogurt. Pour egg mixture into flour mixture, stirring until just combined. Mixture will be thick. Add pears and barely stir as to avoid a pear massacre.
Fill cups. Bake at 375 for 17-20 minutes, until a toothpick comes out clean.
ps If you like the pear photo up top, you just might like the uber-hip Fashionable Montana Edibles postcard collection I am producing. Stay tuned.
You might also like