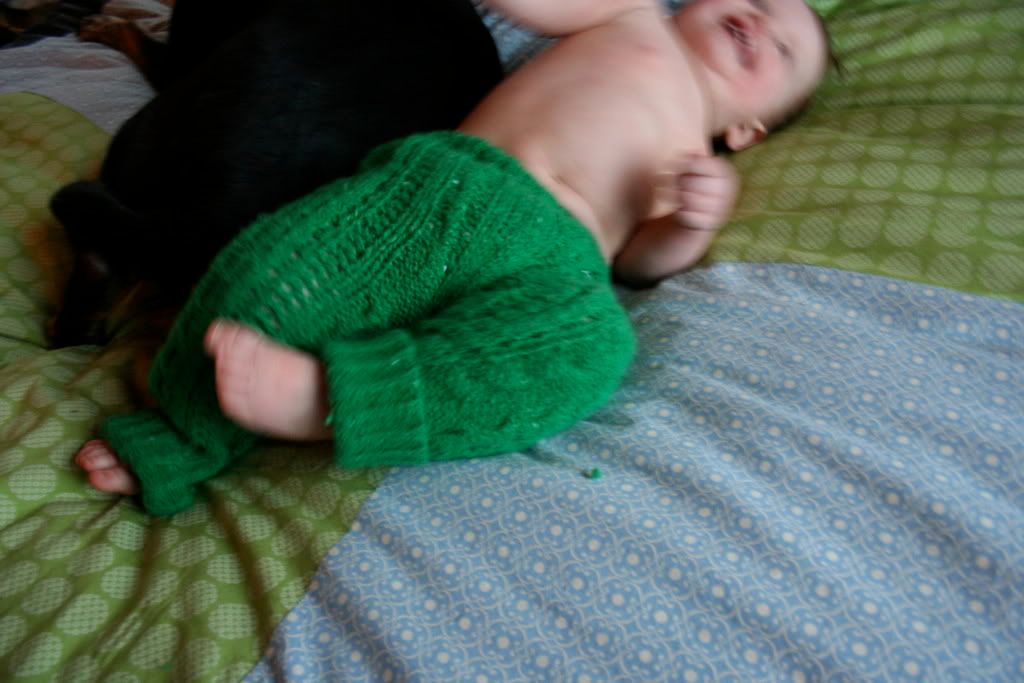 In between high heels and lipstick, I have always held a whole lot of hippie close to my heart. I tried to carry full-on hippie style in high school but it just didn't pan out for me. I sewed funky patchwork clothes, saw the Grateful Dead and wore weird combinations of homespun necklaces. I donned birkenstocks at the bottom of unshaved legs. And then, at the mature age of 16, I realized that I could bear-hug my tree-hugging instincts and hold onto my own style. Whew.
So I enjoy well-tailored clothes and beautiful shoes but I am so quick to let my curly hair get dangerously close to dreadlocks when backpacking (it doesn't take long). I like dirt a lot and I do my best to reduce waste and remain conscientious about the stuff I take into my home and life. I can drive myself (and my man) nuts with my proclivity to obsess about what we throw away, what we use, what we buy, what we eat.
I am not one to run to a box store when I need something (don't get me wrong–I do shop at box stores) because I get off on discovering something that it collecting dust and finding a use for it. I don't particularly like buying things (well, that isn't entirely true. I approach Banana Republic Martin-fit pants and the Anthropologie sale rack like a crazy lady on her last day of life) but I love love creative reuse. Repurposing, I believe this trend is called.
Old apple crate for a laying box.
Hideous, old picture frames all painted red.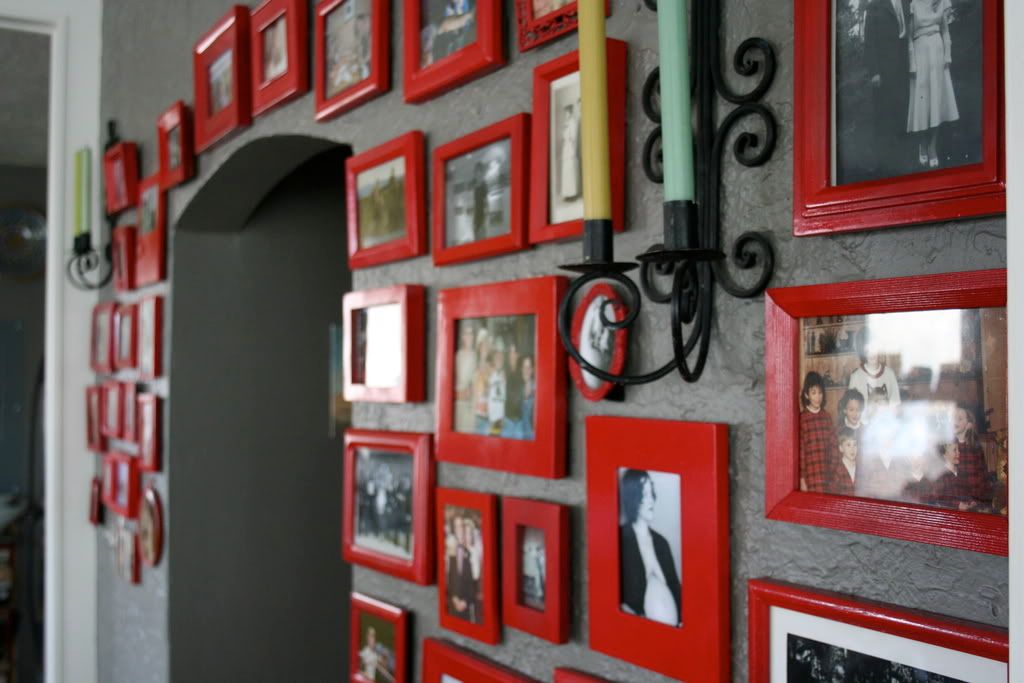 Computer desk made out of scrap wood from a construction site.
Pea trellis and garden gate fashioned with old window frames.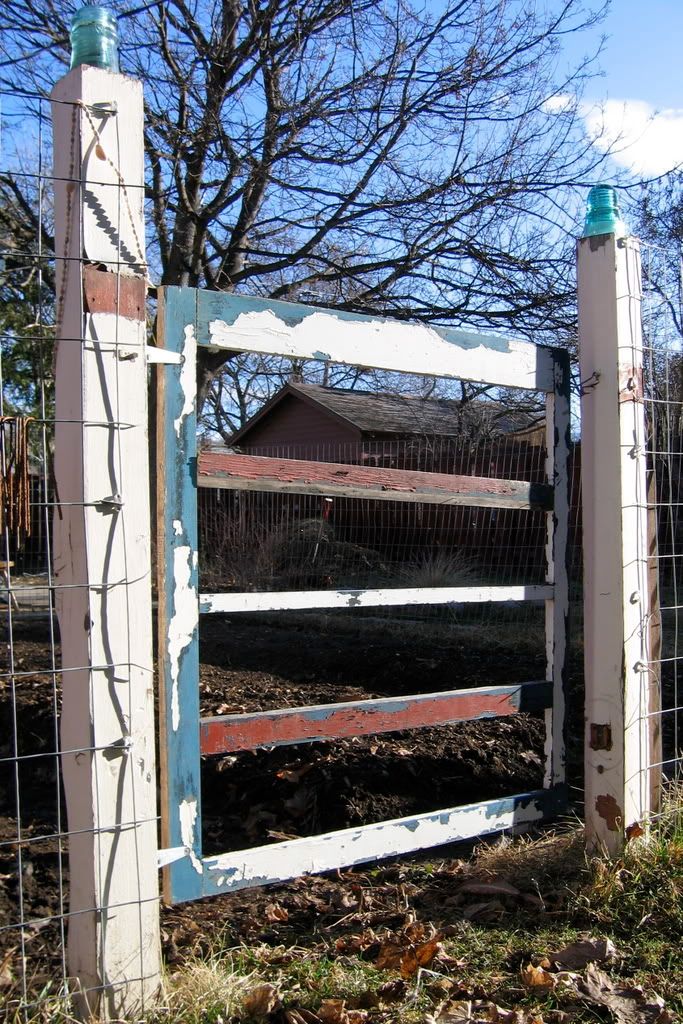 And, now, I am super excited about bug pants and sweaters made from clothes that look like ass on me. Oh, sweet satisfaction.
I had a sweater pant idea and found this lady's rendition and went for it. The only additional hint I can add to her tutorial is that if your kid has the extra junk-in-the-trunk because of cloth diapers, add 1 1/2 inches to the rise measurement. It is supa easy.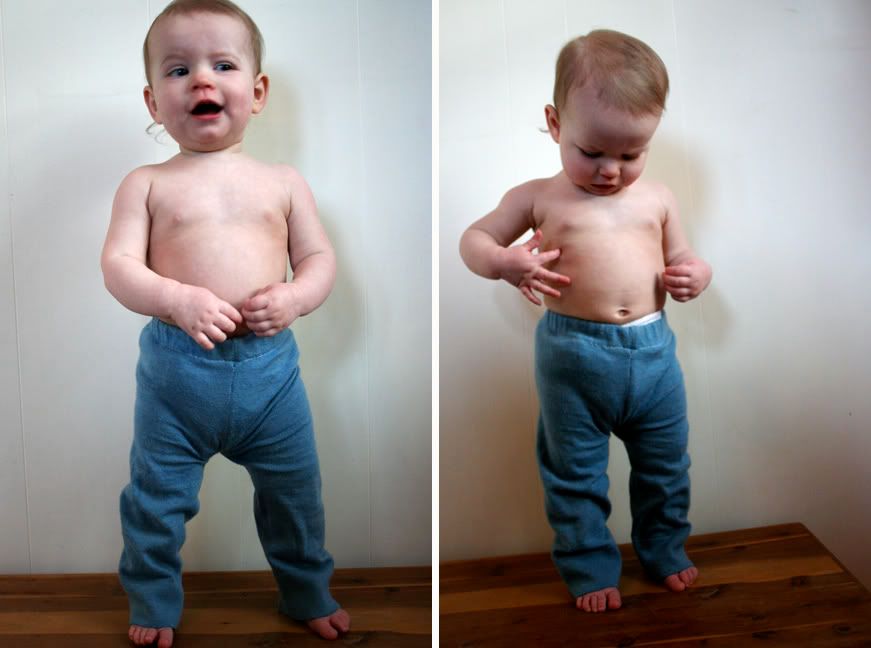 And, paired with a spiffed-up onesie, voila.
And the felted cardigan idea came from this lady who got it from this lady. Also supa easy.
I went thrifting for fugly 100% wool sweaters and scored a few. After felting the wool (throw in washing machine on hot/cold cycle with detergent), I cut up the sweater and remade into a bug-sized sweater but it still looked like a marmy, conservative sweater, so I hippied it on up.
The great thing about bug clothes is that they are forgiving in a way grown-up clothes aren't: they look cute even if ill-fitting and hurky. I mean, my thighs in bright green cable knit? yikes. I added some pockets made from scrap wool from the cardigan, stitched with yarn that was a gift from my musician friend whose mom spins and dyes the wool. I have been dying (ha!) to use it and since I don't knit, it has been a challenge to find a worthy purpose.
And I have a million other projects in the works. Coming soon: summer dresses made with thrifted pillowcases and skirts and leggings from old t-shirts.
Oh, and garden stuff coming soon: onions, arugula, radish and spinach. yay.
You might also like