I am all about the *belt-tightening* phenom on our little homestead. Whether using left-over rice and sausage and some canned beans to make epic soup or cutting up ill-fitting knit shirts to make my kid's wardrobe. Heyo, I dig it.
First, the soup. Super easy and super tasty.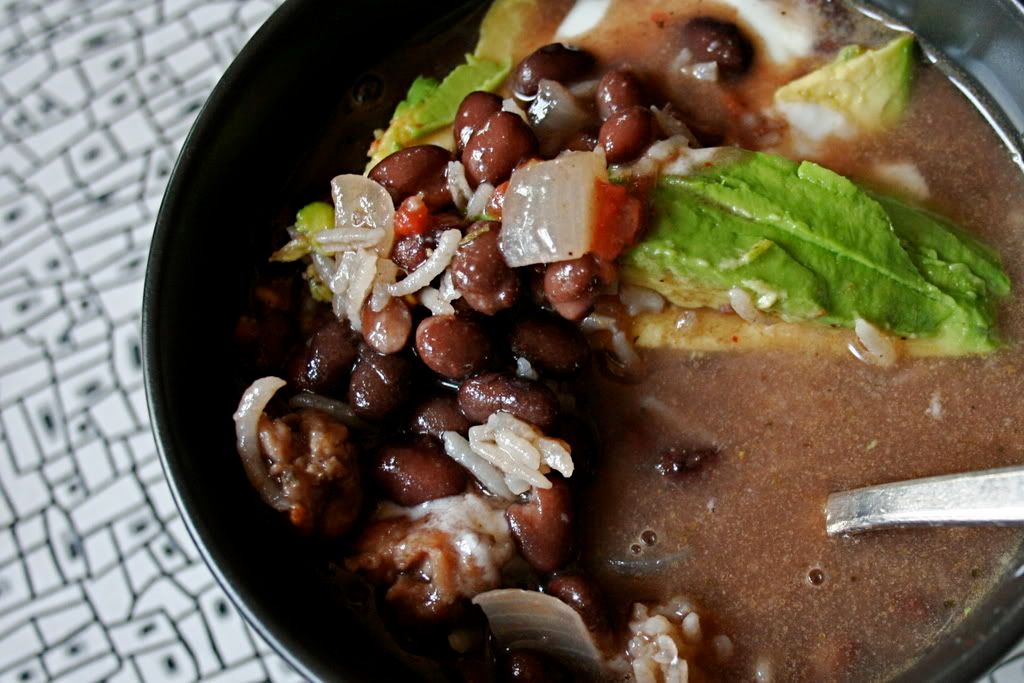 Black Bean Soup :: serves six
olive oil
one onion
four cans black beans
one can diced tomatoes
1 lb pork sausage
two cups of cooked rice
cumin
coriander
dried mustard
basil
thyme
salt
avocado
whole milk plain yogurt
Heat the oil over high, add onion and cook until transparent. Toss in all canned items (don't drain liquid). Bring to boil and immediately reduce to a simmer. Cook up the sausage in a separate pan and then add to soup. Add a can or two of water. Season to your heart's desire. Serve with sliced avocado and a generous dollop of yogurt. We ate it with the seedy bread that has become our staple.
It seriously takes 1/2 hour to make which I am all about these days because by the time I land in my kitchen after a full day of work, well, for the most part, I'd rather sit and gab with my man and smooch on my kid and roll around with my dog than hover around appliances.
:: :: ::
And then, the killer pants and skirts made from wonky t shirts.
For these pants. I followed the same basic steps as the sweater pants, but, instead of adding elastic, I cut a two-inch strip of t shirt and made a drawstring. This is especially simple because of the no-need-for-sewing-button-holes aspect of knit fabric. Just a snip snip and voila.
I wish I had a before picture of the purple shirt before when it was a a designer, high quality cotton t but awful fit for me: high, restrictive neck and super tight. Then, awful lady shirt becomes cutest bug pants.
And, this pink v neck was cute and all but the print is not centered and it always bugged me in a bad way. Like, it distracted me. I regularly found myself pulling the shirt to the right, hoping that one day it would magically line up. I am fairly certain I walked crooked on the days I wore it. You can tell by the wrinkles it has been in a wad in the recesses of a drawer for many moons.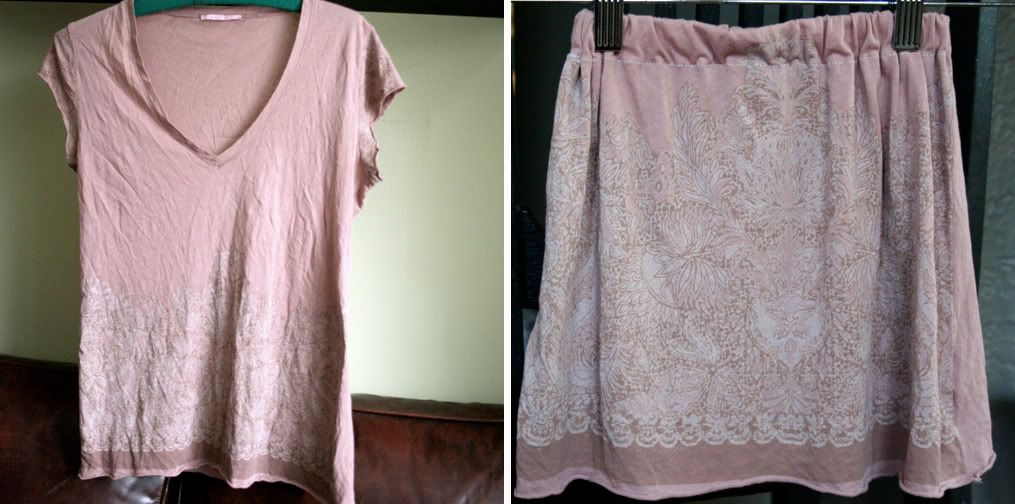 Icky, pitted-out pink tank now a dress. It still needs some finessing in the frontal area but, cute, no? I sewed a wee pocket on the chest that you'd be able to see if my chicken didn't move like lightening.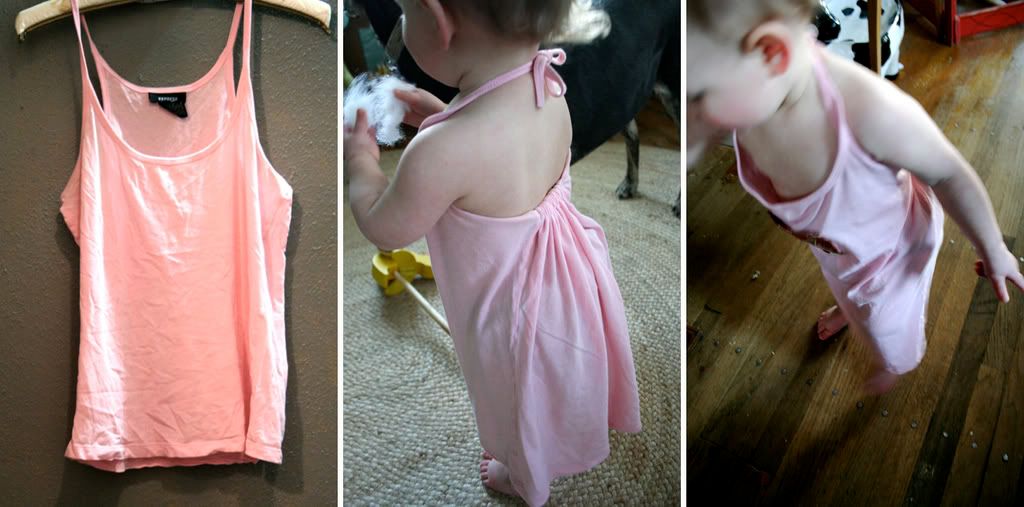 And, too-short, too-boxy sweater is now my new favorite skirt. Finished with felted wool circles. This is what I stay up until 1am doing when I should be sleeping. The skirt is entirely too big for bug and entirely too small for me, so, for now, it only exists here.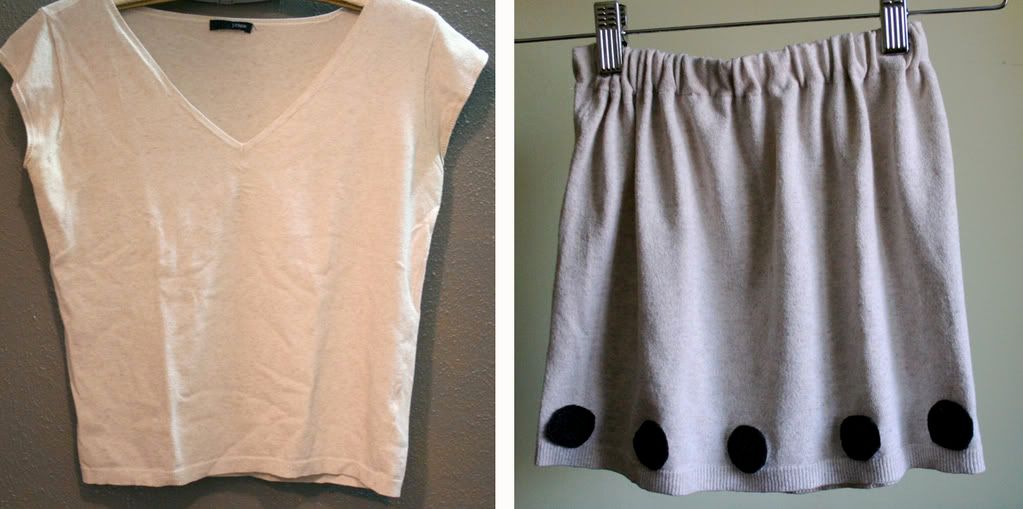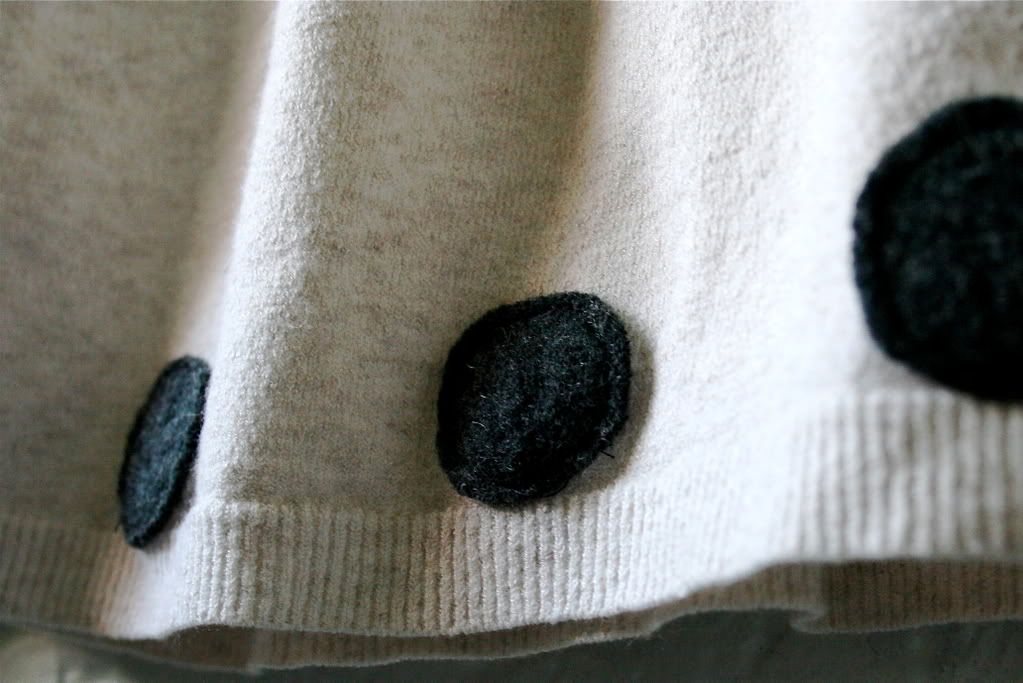 I have discovered that this is my sewing bag. I adore the repurposing of old, gnarliness into new darlingness. I mean, I also love making stuff with beautiful, crisp, brand spankin' fabric, but the creative challenge and subsequent satisfaction that comes with making new, cute stuff out of old, ratty stuff is just heaven. Perhaps I have finally found my religion. Or, at least, I almost feel like I am making art again.
Also, I wrote a little diddy for Today's Mama answering the question, What kind of women inspire you? Click here to read my 150-word answer.
And, welcome to my new sponsor: High Mowing Organic Seeds. These seeds were a staple in my plot last year and they rock.
And, whew, tomorrow, I am off to ski and hang without somewhere-else-to-be for the duration of the week in Utah. Which I so need. So, I wish you all a great week out there.
You might also like