Wow so this whole urban chicken thing is supa popular in Missoula. I wanted to add two more hens to our flock and couldn't because the chicks would chirp right on out the door of Quality Supply every Thursday morning before you could say cluck.
So, I got in touch with Kathy in Stevensville who is quite passionate about her chicks and thought that just maybe she might have a few extras and she just might hold them for me. I lept out of bed (well, more like roared and rolled–this second pregnancy is waaaay more tiring than the first) Saturday morning, grabbed coffee and my bug and hoped in the auto on a chick mission.
We scored two adorable, puffy cheepers: one golden sex link, like Clementine, and one buff orpington. Even though my husband holds his breath and says really? when I talk about again converting our guest bathroom into the brooder, I did it. The space is the perfect little pullet playpen.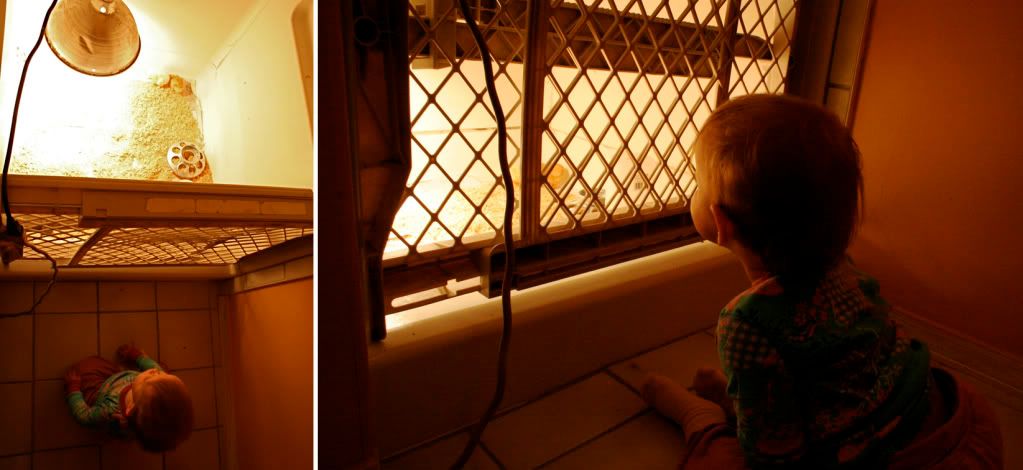 And, oh, Margot just swooned over the itty girls. I think I'll name one Wow because that is what she says when she sees them. That and quack quack quack quack.
So, my perfect playpen nearly killed the chicks on day one. I happened to be downstairs on Saturday night and heard extraordinary cheep cheep cheeping. I peaked in and the shower stall was full of water and the tiny girls were wet, shivering and awkwardly perched on the tiny rim of their food dish. Something is fuhcockta with our pipes and the water came up from the drain. All the chicken books say chicks can drown in like 1/2 inch of water and here were my survivors in a lake. My hens have some mean instincts.
So, after a not-fun clean up, they are in a recycling bin. It'll work for a few weeks until they are too big and then I need to figure something else out.
I am taking name ideas. The lighter one is the buff and the oranger one is the golden. Pretty please don't suggest buffy and goldie. Perhaps strong names of survival and badassness both because they made it through a flood and they'll need some ego (or, eggo! ha!) when they are introduced to the already-existing flock as the minority duo. And one might be Wow. If I pick a name you suggest, you win a set of dig postcards! Hope you aren't tired of that as a giveaway. I think you'll like them. (And, the sale is still on too.) I am into giveaways as I just won my first ever! So, get creative and leave a comment.
In other hennery chat, the girls are loving this spring weather. And they are so friendly. And as much as they love to strut around our backyard and dig and scratch and peck and cluck and get their butts scratched, I fully realize the torture caged, de-beaked hens endure. It is so worth the extra $1 or two to purchase eggs from a reputable farmer. Do it.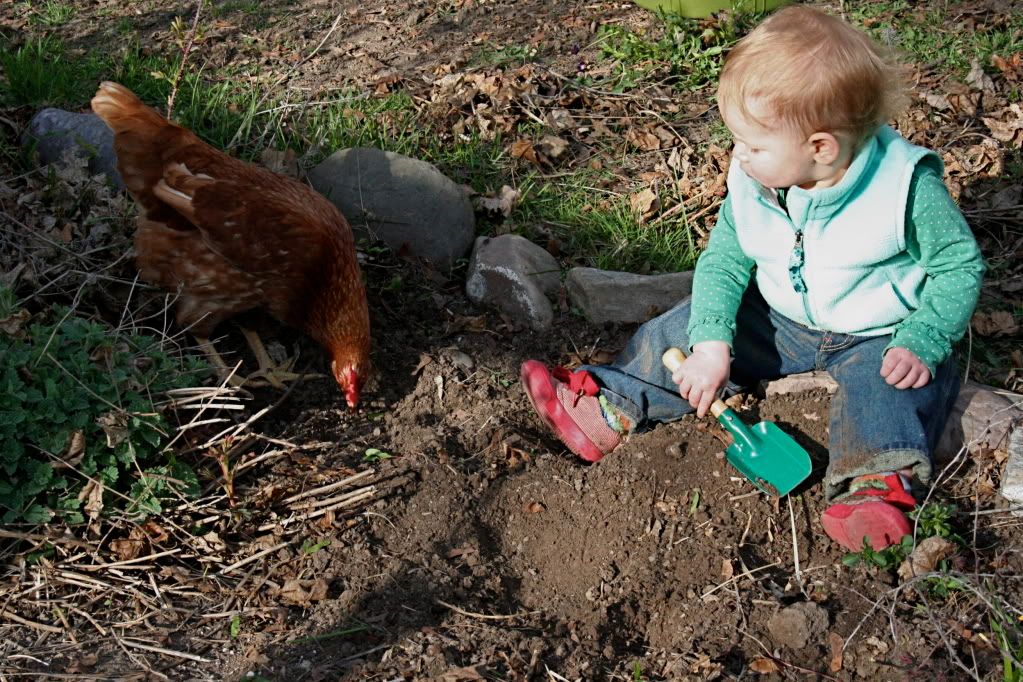 You might also like