I am officially combining my writing efforts here on dig. The bug blog felt right until recently when I began to feel that the things I write about, ramblings about my life, can't be separated in a tidy or meaningful way. You might notice the running with a sprightly dog has been removed from the sub-line and that is only because I am not running lately. Alice will still make regular appearances. She's a big part of our life.
Can I mourn a blog? Cause I am. This decision is a thoughtful one. I poured my first year as a mama into Margot's blog. My 16 month-old girl is now a big peanut and when I document her chronicles, I am recording her in the garden, kitchen, trail and studio. It's all life. And, so, the new dig. Whew.
:: :: ::
I never fully understood wanting to freeze time with a kid. I have always been excited for the *next* epic accomplishment. Smiling, eating, rolling, crawling, walking, talking. Bring it. It just gets better.

But now I get it. I want to freeze bug right where she is in all of her goofy, insightful and surprising perfection. This is largely because of two things that have been on my I-can't-wait-for list since her inception: mark-making and dirt-digging.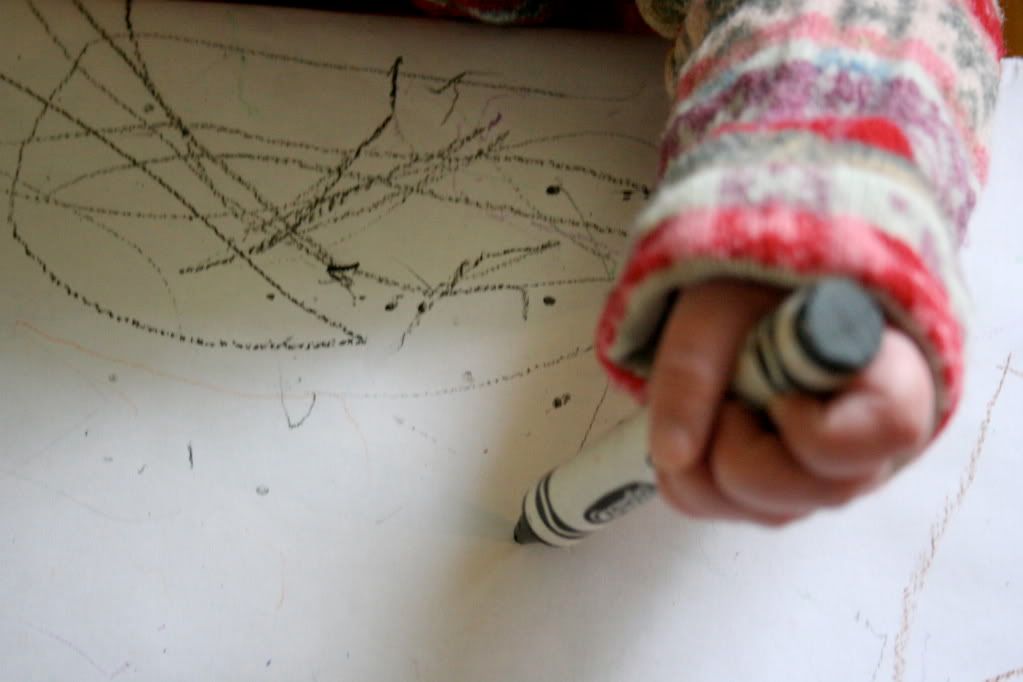 Sometimes I lose my breath when I see her grab a tool, snag an envelope from the recycling and strike a scribble. I grew up making art, got my degree in it, married a painter and now work at an art museum. It's one of those things that I just so so bad hoped she'd want to do. For Andy, it's skiing. He can handle any sort of proclivity as long as she skis. For me, art and earth.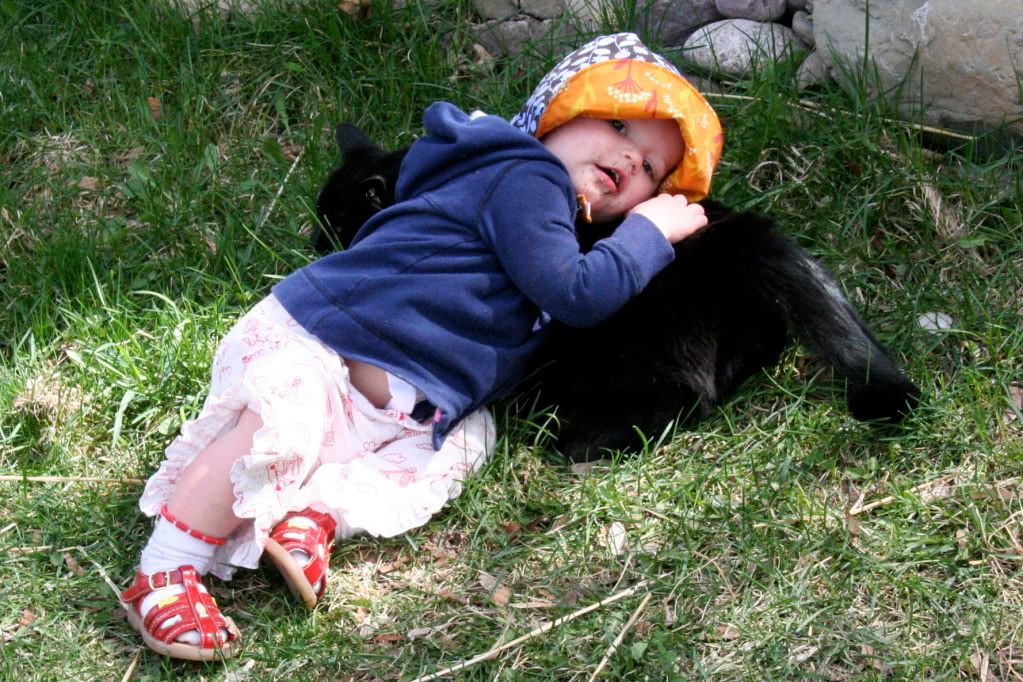 Now, when she wakes from her nap, she sleepily yawns, owe sigh? Outside. She loves our back yard. She wanders in the tall grasses, picks at weeds, says no no to the chickens, giggles. My cousin bought her a tiny, bright blue watering can with a shovel, rake and spade when she was born and that little set has been on a shelf in our garage since then. Until a few weeks ago. Now, when I grab her bonnet, she knows outside is on the horizon and she gets that throaty, breathless giggle.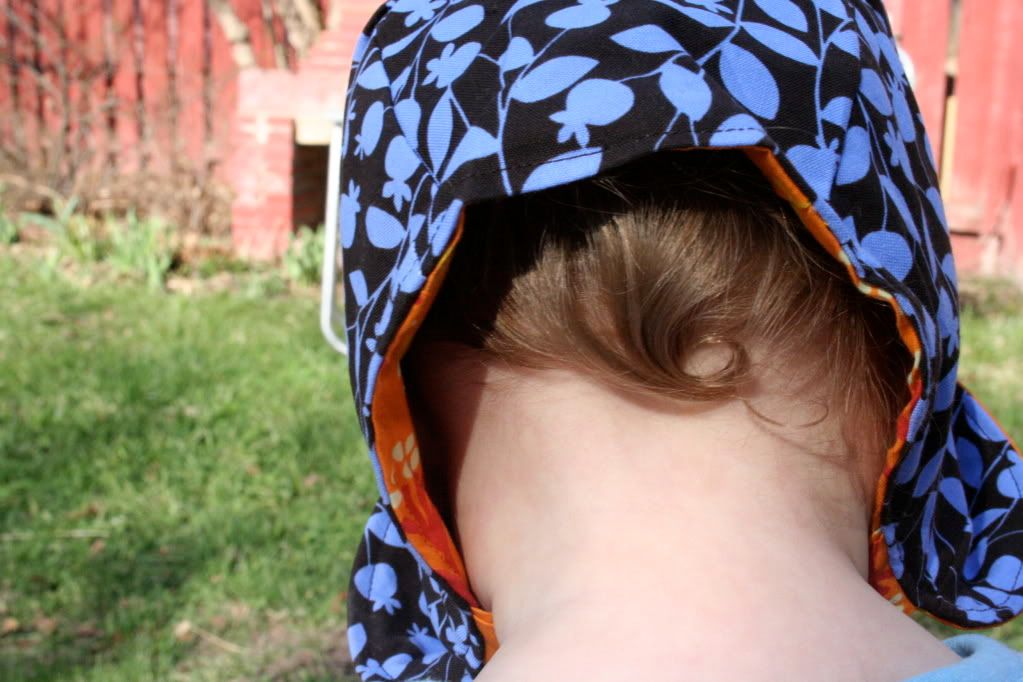 She jogs out the back door, grabs her bucket and digs in the dirt. Oh, it melts me. So curious, she asks what everything is that I am doing. Planting carrots, my pea. or He's a worm. He's cool. She digs it. Thrives.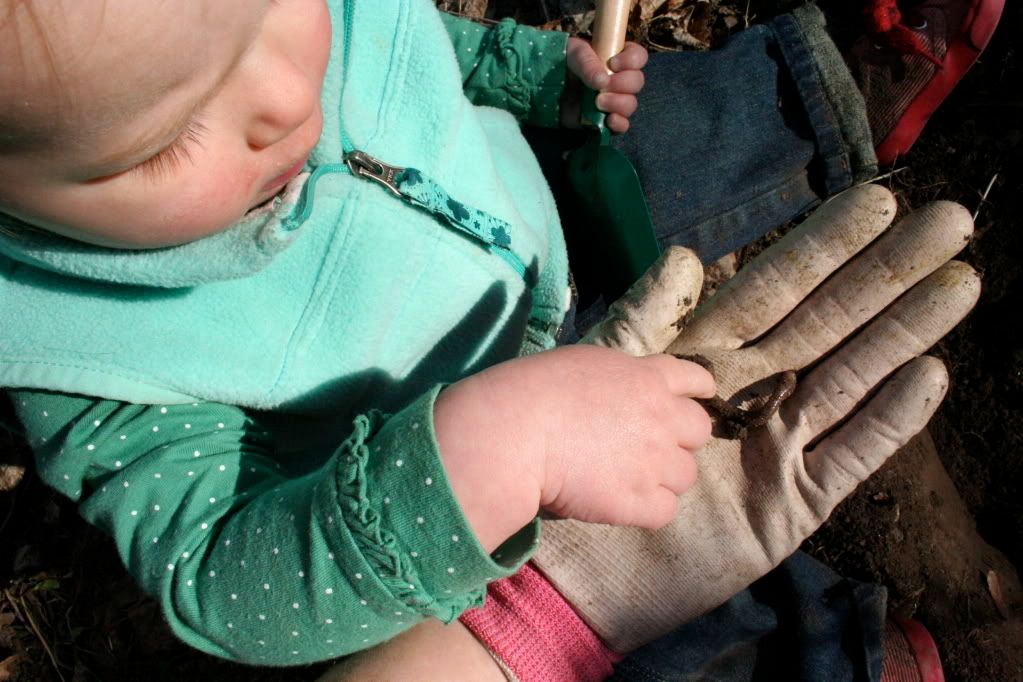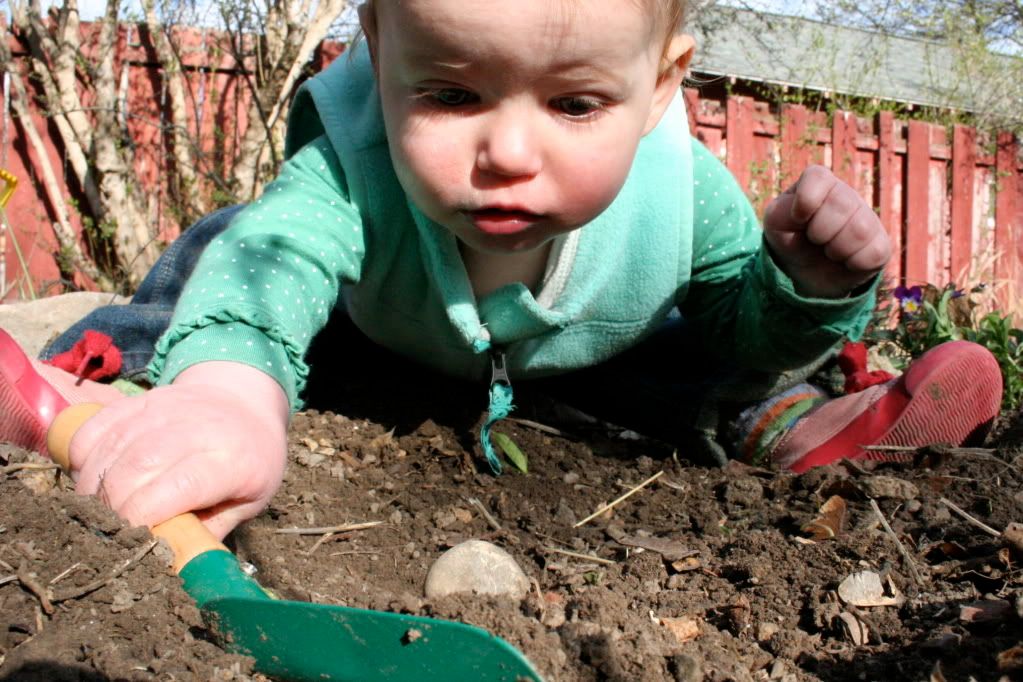 She even helped with my garden map today. ahem.

Funny, because below was my map last summer. Um, yeah, time spent elsewhere now. Although this is super handy. I refer to it all the time and it is easy to record successive plantings and crop rotations…some day.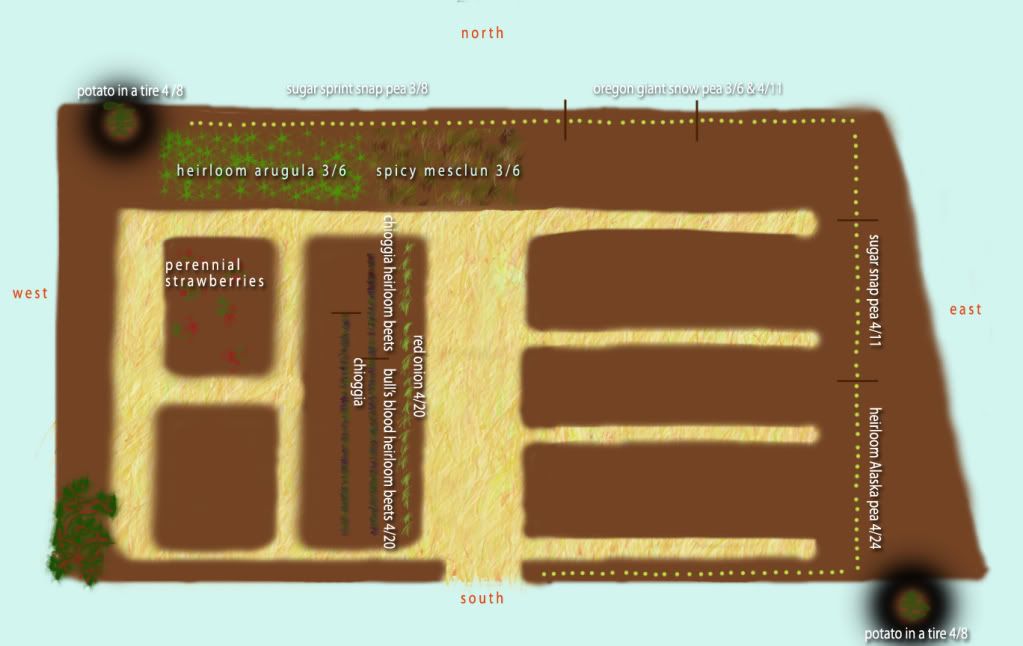 Art. Not that I will perish if she isn't an artist, but I want her to have unguided art-making experiences as much as possible. To facilitate easier creating, I converted the space directly behind my desk into her kid studio. I don't want drawing to be an ordeal of digging out materials and subsequent put away. I want her to have access to it at all times. My mom and her cunning garage saling ways scored a tiny table and chairs a few years back. I started with painting the table red.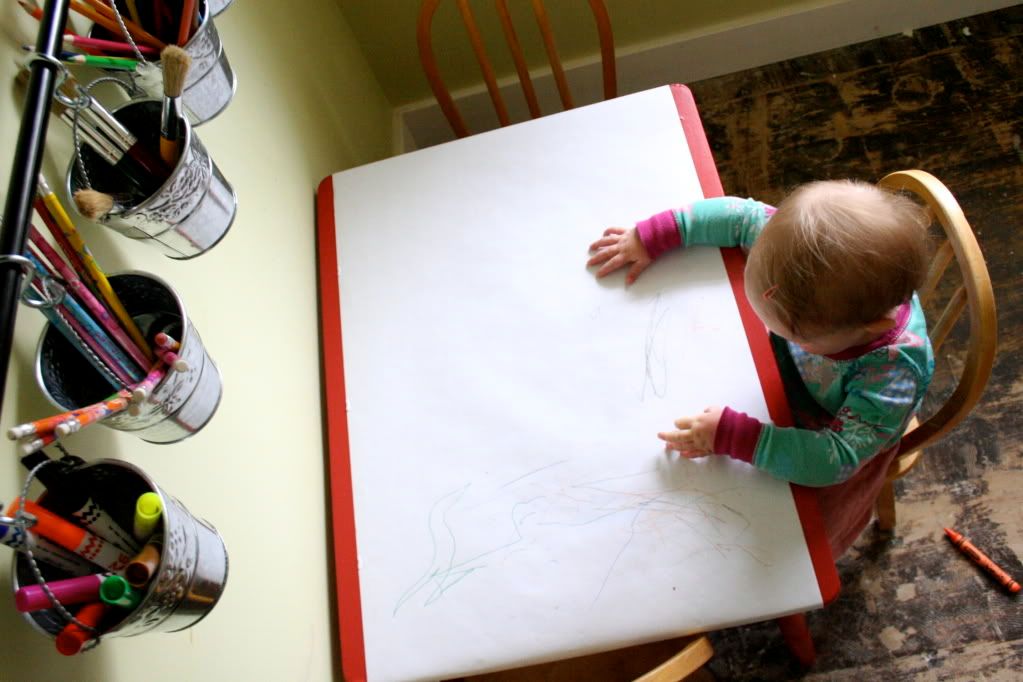 The whole set-up was super affordable: butcher paper taped to the table, a curtain rod mounted to the wall, tiny pails on s hooks full of scribbling devices, *just* out of reach now. When she can have unsupervised sessions (like when she doesn't throw pencils as hard as she can on the floor and scream WWOOOOOOOOW, for example) she can grab whatever tickles her fancy. And, a larger vessel on the window sill for holding paints and clay and other hurky items.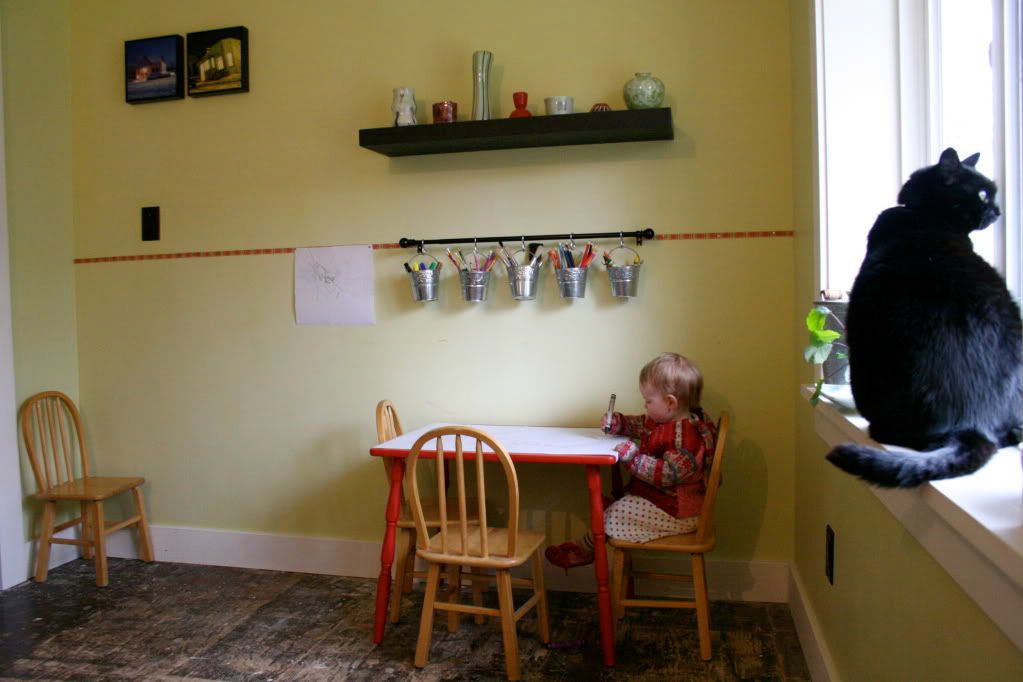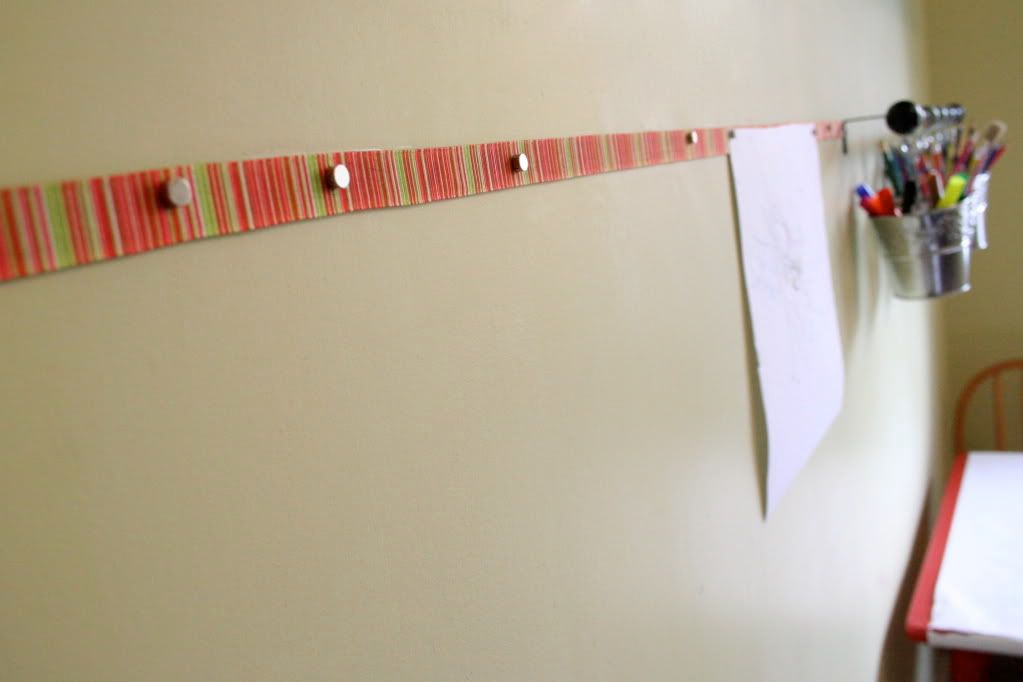 Next to the curtain rod is a magnetic strip covered in ribbon for proud display of future masterpieces. I love it.
And, well, I suppose I don't want to stop time at 16 months. Because, on the horizon? More intention. Choosing which seeds with which she wants to witness the magic of growth and deciding how her hand moves across the paper. Opinion. Oh my little feisty bug. I can't wait for that too.
You might also like