So I have been sewing all this stuff for my chicken and nothing for my sorry self who is stuck wearing shirts that are becoming increasingly pitted out and inappropriately short for work and too-few skirts that I have to wipe dog and kid snot off of before wearing out.
It was time for this mama to spend some time on some clothes. I always feel better when I am confident in what is on me. Pregnancy amplifies those feelings at least a billion times, probably more like a trillion. No self-respecting girl likes to be reaching in her bra on the corner of Higgins and Pine to adjust the spilling-out boob or yank on a tank that is rising to meet her chin. ahem.
So, back to vetements. I am into tracing patterns from my favorite clothes. It mostly works out. I'd never give them to anyone else because I am bending some major rules and often end up polishing a turd but the fabric is cheap and the time worn is short, so some pieced-together, not-that-pretty-on-the-inside items are just fine by me.
I do pretty well with the skirts and dare say they turn out nicely. This one was supposed to be a beautiful dress I was to wear when I officiate my dear friends' wedding in a few weeks but, ack, it's now a skirt. And I have lots of scrap light blue shirting material…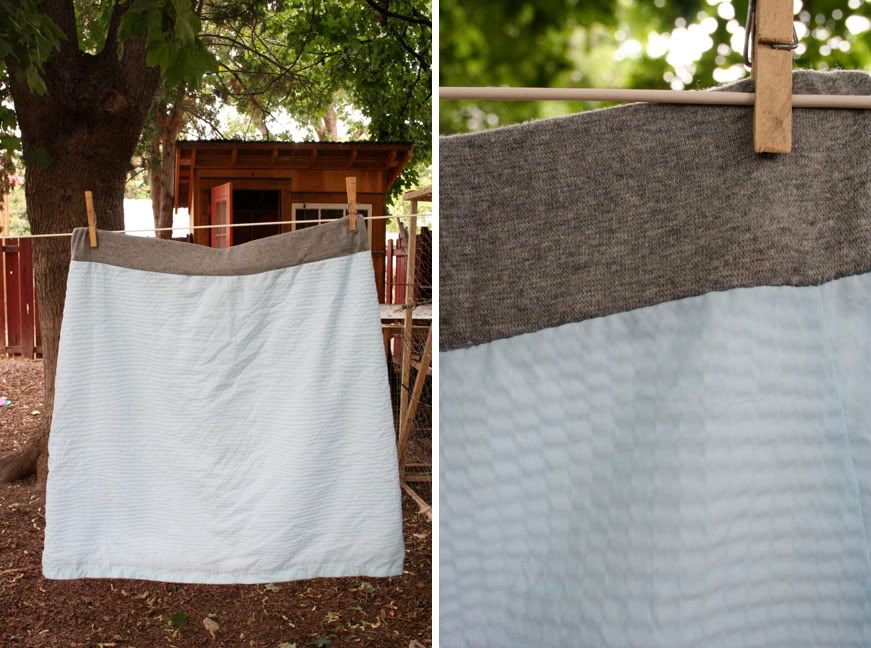 fresh out of the wash, drying on the line
I traced my favorite Michael Stars top and have made a few of these tunics. They are a snap–two pieces and four stitched straight lines. yes. I do wish I has a serger to finish the edges. At least knit doesn't unravel because there is NO WAY I will ever attempt binding on knit again. Not even if I was promised daily massages for the rest of my life.

favorite shirt on left (photo taken in May) :: my attempt at replication on right
And then took my first stab at tracing pants and wound up with low low riding, unattractive capris. When I say low low I mean, half of my ass crack was exposed. And I look terrible in capris. I added a band of material (let the turd-polishing begin) and then I had enough room up front should I "ever happen to grow a large penis," said Heather this morning at pilates. So I fixed that real quick too. And the length is more wide leg, long shorts than capri. I like em. The next pair will be better.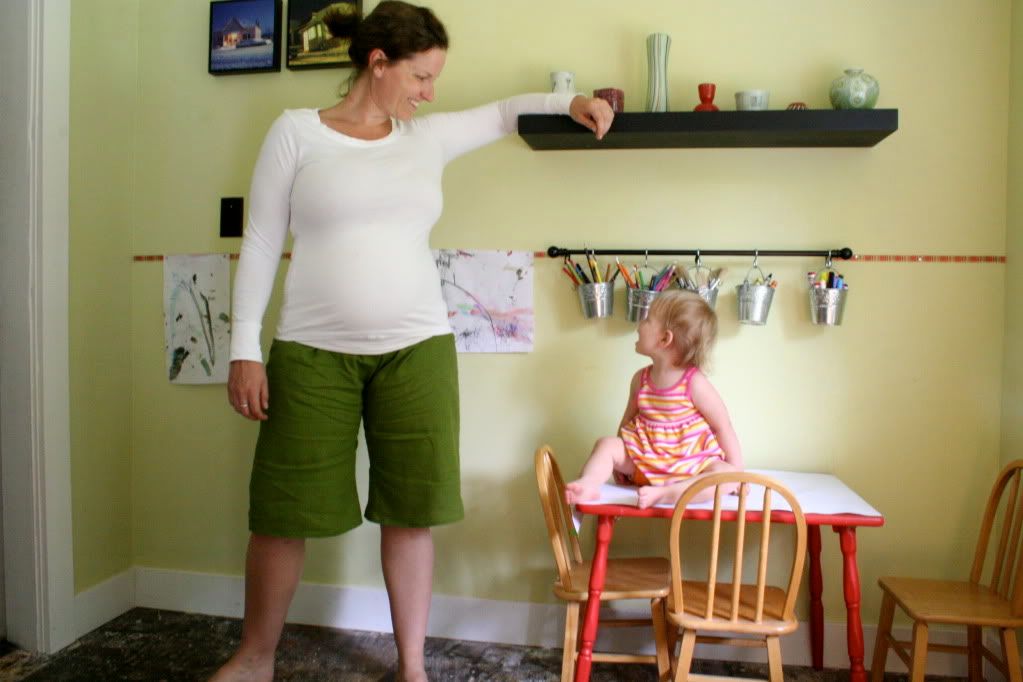 And, finally, I have chopped up a few sweaters to make cardigans. Sweaters that are too tight on my even when I am not pregnant. This lady has been doing it with knit shirts and that motivated me. Simple: just snip up the middle and snip off the sleeves to make a 3/4 sleeved cardigan out of a too-tight sweater with a hole on the wrist. Stitch the new edges to stop fraying. Scoop necks are a bit funky because of the drape but I did a little accordion fold thingie and I think it'll work. Margot likes it too.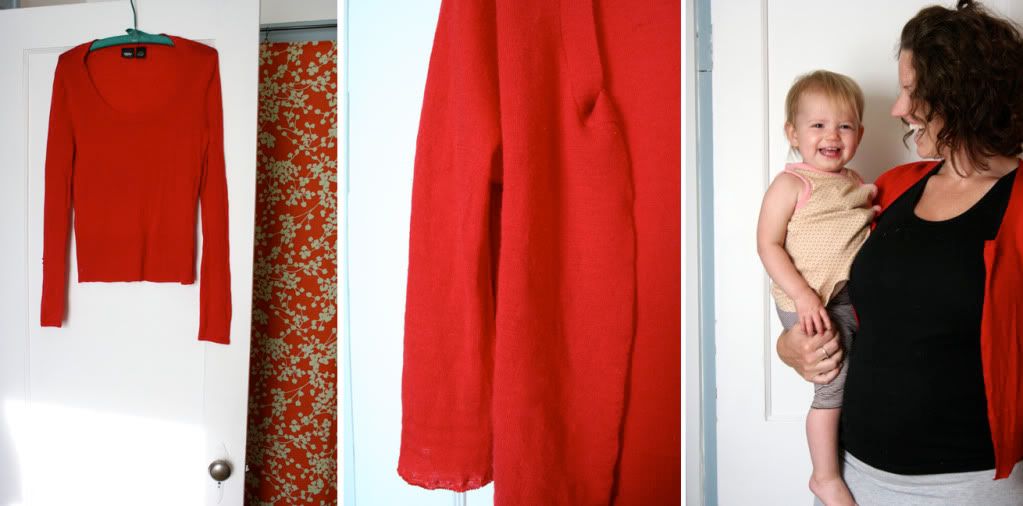 Oh, and Margot is going to have a little sister. I had intended to be all one with my uterus and reject technology and not discover the gender early but when the healthy little fig was squirming on that screen and I had the chance, well, I am a woman of opportunity and I said yep so we had a little guessing game and I guessed boy because tiny vulva looks like a penis to me so now I owe Andy a dinner of his choice. It was a fabulously beautiful experience. Much better than bug's ultrasound. I feel very lucky for all of it…Andy, Margot, little soon-to-make-us-a-family-of-four kid. I love.
Sisters. Very cool. And, since they will be born in the same season, no need for any new clothing. See how thrifty I am? voila.


On left: imagine kid sitting in a glass chair and you are underneath :: On right: little bean is lounging with her fist up by her forehead, babe is in profile, cute little blurry ear on left. Can you see it?
You might also like