Whoo eee. It is a busy summer for our family. All full of good stuff–weddings, pies, swimming, dinner parties, afternoon parties, hikes, scrubbing dirty feet before getting in bed even though the sheets haven't been changed in a month. Things are prioritized differently in the summer. We pass through our house for sleep and food and to change into and out of work clothes and the rest of the hours are outside. This lady describes her kitchen as a "summer kitchen". I think we have a summer house and car and just general life. Some things need to be neglected so others can be enjoyed.

We spend many early evenings poolside with n/a beer. Oh how I wish someone would make a non-alcoholic ipa for us pregnant ladies.
I have at least 11 blog posts started in my brain and this here is smattering of the last several weeks.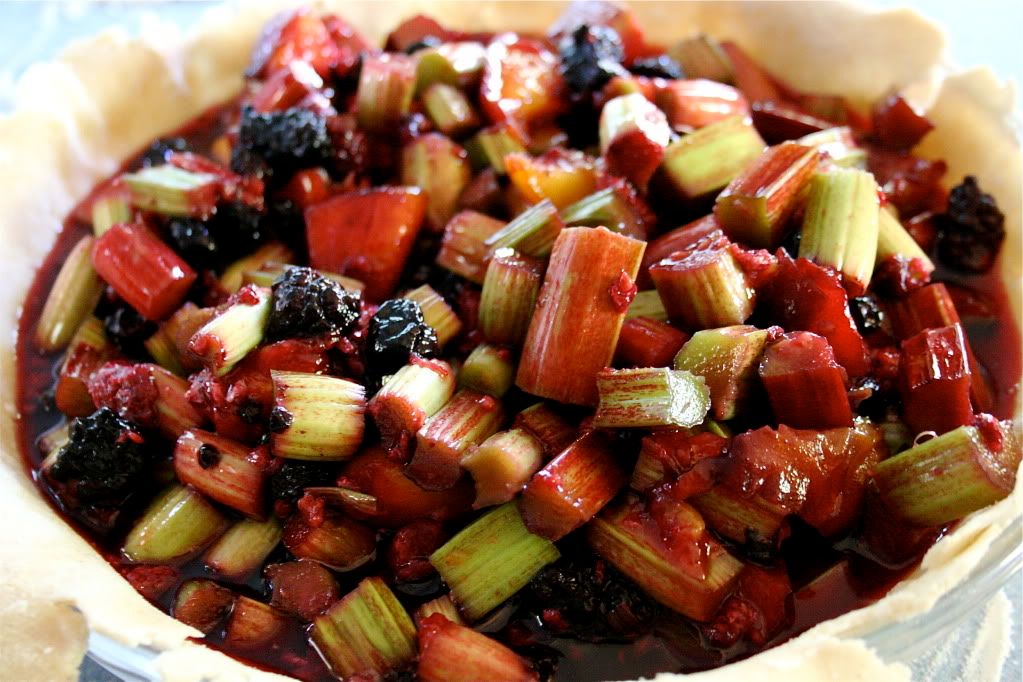 Rhubarb berry pie. It was devoured before I had a chance to take a pic of the finished beauty.
wedding in Glacier Park :: The entire drive there and back I am certain I annoyed my car companions, Andy, Margot and Alice, with my holy cow I just can't believe we live here. It never gets old. Even as a fourth generation Montanan, my state takes my breath away. We drove through every shade of green available to our eyeballs under an umbrella of big blue sky.
It was Margot's first trip to Glacier and our first camp trip of the summer. Camping is way more fun with bug this year because she is so acutely thrilled with all of it. The tent, the stove, the rocks and birds and wildflowers, the mountains and lakes, sleeping in a cozy cave under a moonlit canopy of cottonwood and cedar.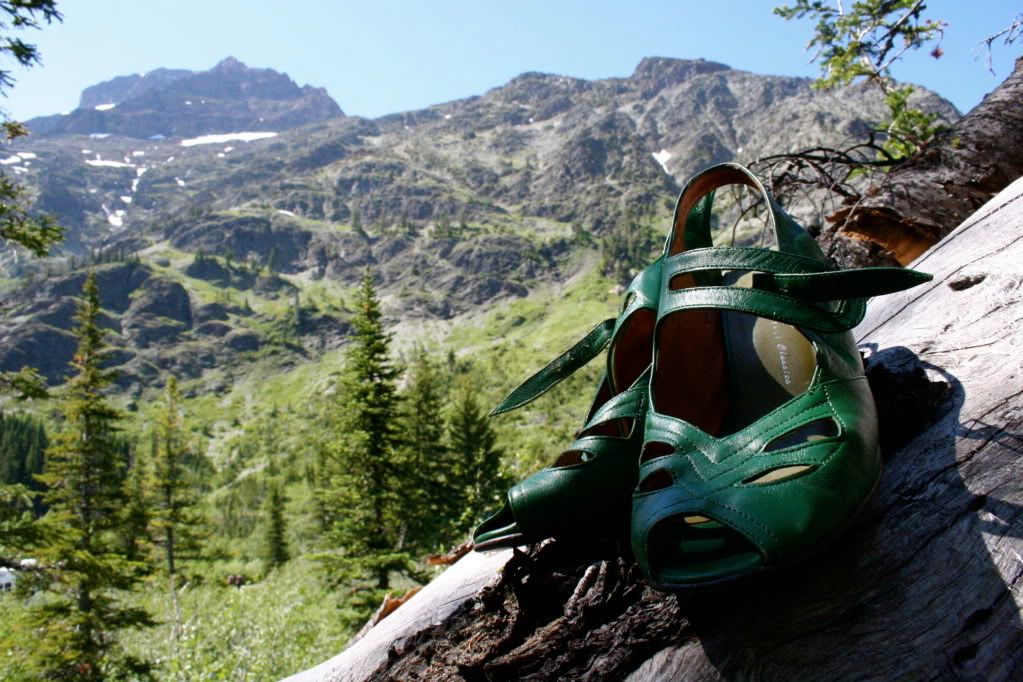 my wedding shoes had a nice view from our campsite
The wedding was beautiful. Bug ran and ran with kids and cheered like crazy during the toasts. Oh my I was a bit embarrassed but everyone thought it was funny. She intently listened and if the crowd laughed, she clapped and yelled YAY! She was a total peach the whole time eventually falling asleep on her papa's back and then waking again for some dancing before we all drove into the park and crashed hard on in our little tent at the base of a giant mountain. I even heard a heavy hoofed animal walk right past my head in the chilly night, bug snuggled tightly between Andy, Alice and me.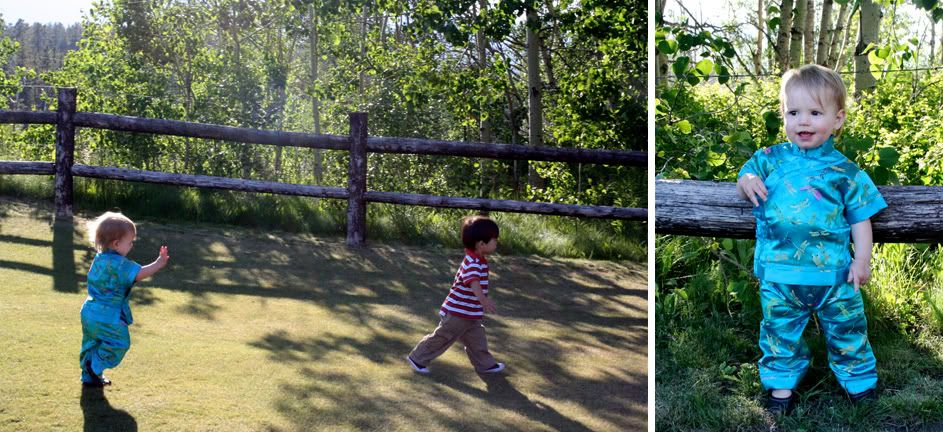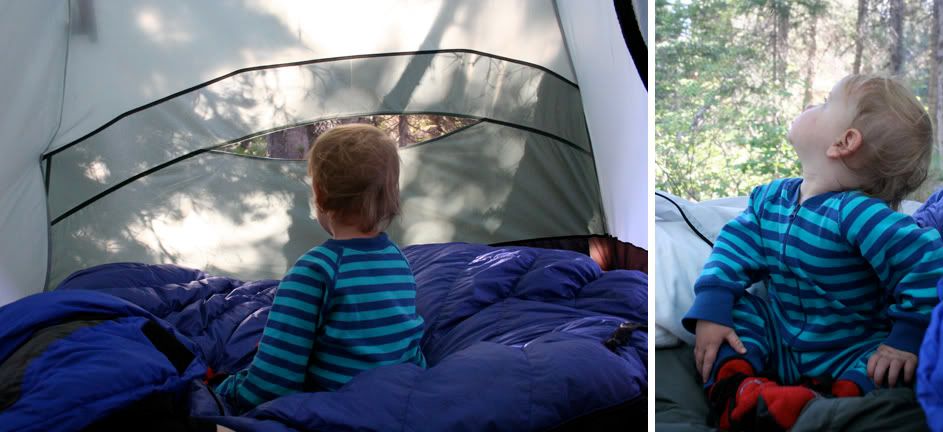 bug was so sublimely happy waking in a tent, it was hard for us to leave our cozy confines. This is the last photo before my camera battery broke my heart. Just imagine Going to the Sun road where it is so narrow you can't believe cars don't just drive right off the edge every five minutes, where waterfalls cascade onto the road, blanketing our car, exciting Margot to ask for more more please mama! Imagine that Margot couldn't get enough of the turquoise glacial waters of Lake McDonald; she kept begging us to dip her icicle toes in *just one more time*.

two tired girls on the drive home. I stopped at the first camera shop I could find to buy a car charger! Never again!
chickens :: I have read all of these awful accounts of older chickens pecking the eyes and neck feathers out of new hens, and even killing the girls, when they join the group so we have been very cautious with the introductions. We started by letting Paige and Lindsay out in the open yard with Ida, Clem and Bossy. It was pretty uneventful as Paige just ran right up to those curious old birds and said ha! you don't scare me! with a showing of her puny wing span and lift of her chicken chin, that was that.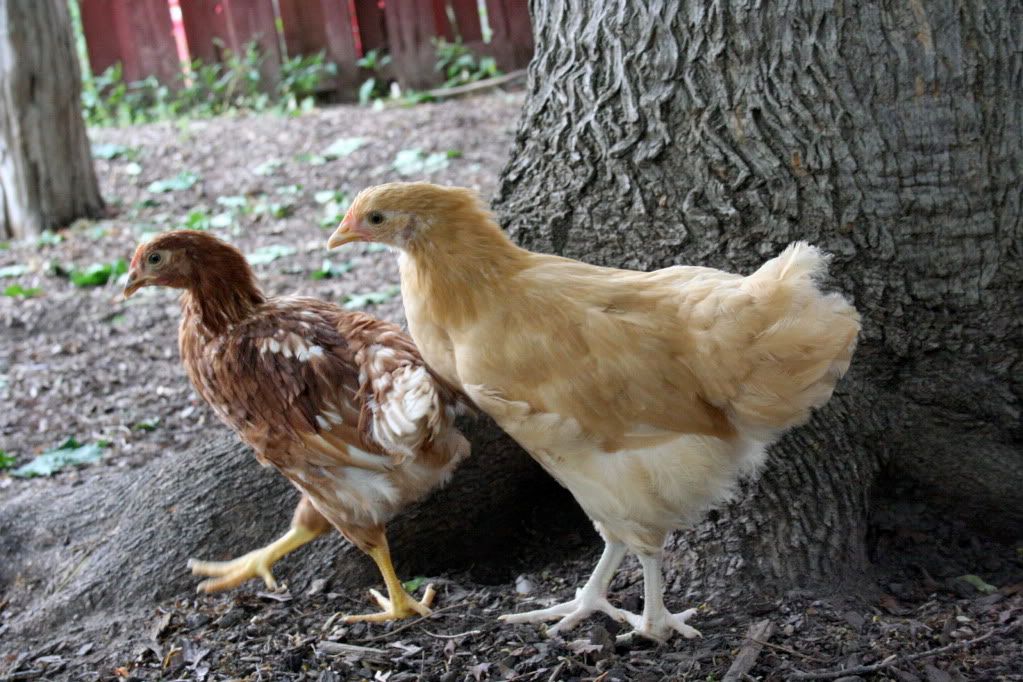 Lindsay and Paige outside, free to roam for the first time
So we did that for a few weeks and then moved their too-small run next to the hen's run so they could like smell each other and stuff. I am making this up as I go but this is what you do with a new cat, so I went for it. Then, the newbies in the hen house for a few hours here and there and finally, finally, we built the coop playground addition and new deluxe nesting boxes and our new family of hens are happy to coexist.

so far, Lindsay is the brave one who climbs high. Funny because this is also like my best friend Lindsay who is a total badass. Just a few weeks ago she jumped off a boat in the middle of the ocean to do the Escape from Alcatraz Triathlon.
lazy walks :: a new, consistent habit that I love love love. In the morning, in the evening. Sometimes long, sometimes short. It is an effort at times. We are tired. But, one thing Andy and I are learning is that after a kid, it takes more intention and effort to maintain a healthy marriage. There's less time and less energy and, well, our walks are us prioritizing each other. Just meandering and catching up.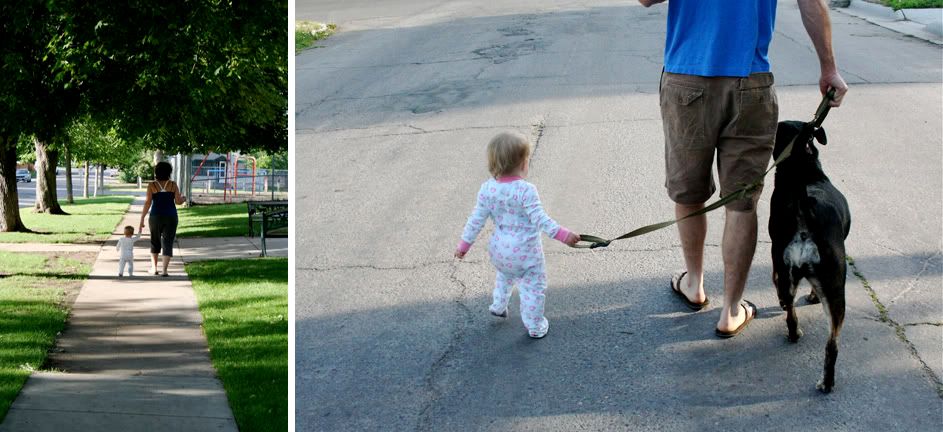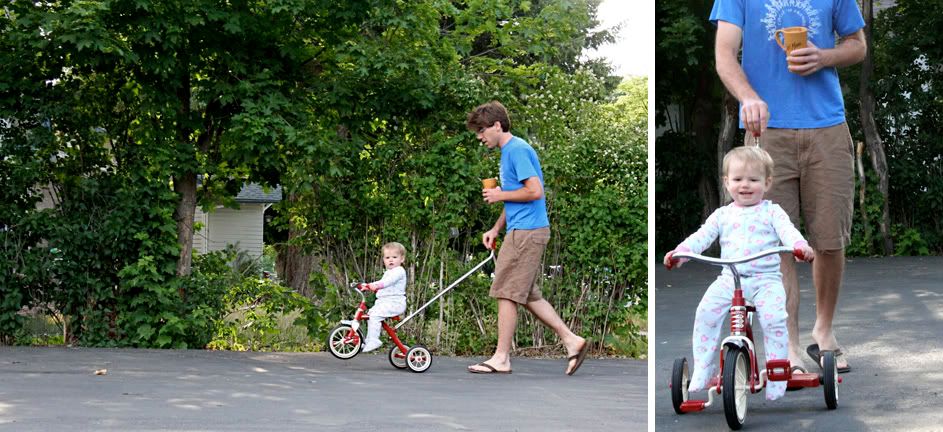 garden :: Ack some stuff is doing marvelously and some stuff is just plain shitty. Like my beets are itty bitty but my peas are reaching for Mt. Sentinel. My spinach went straight to bolt after one salad but my tomatoes are looking for a gold metal at the fair. My chard is depressed and my garlic is glorious. Sometimes I feel so confident in my garden and at others, like a naive idiot. So.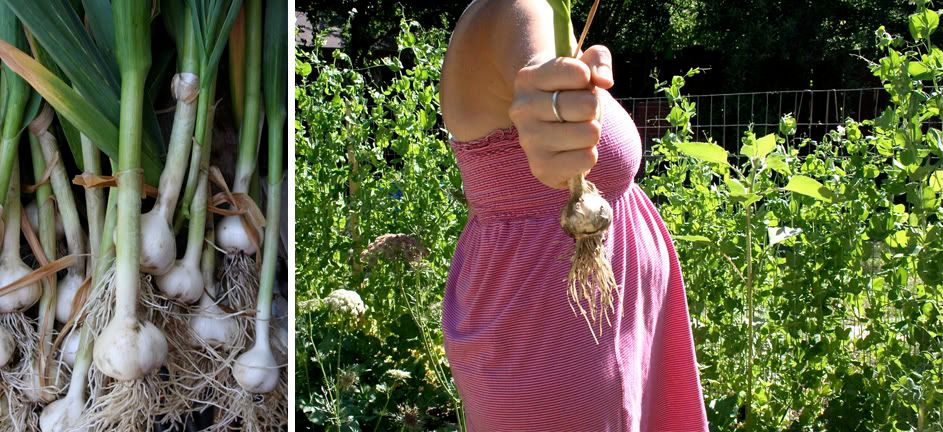 yay garlic! We also harvested the bubils and have been chopping and eating them in everything. And, that's my 16-week bump.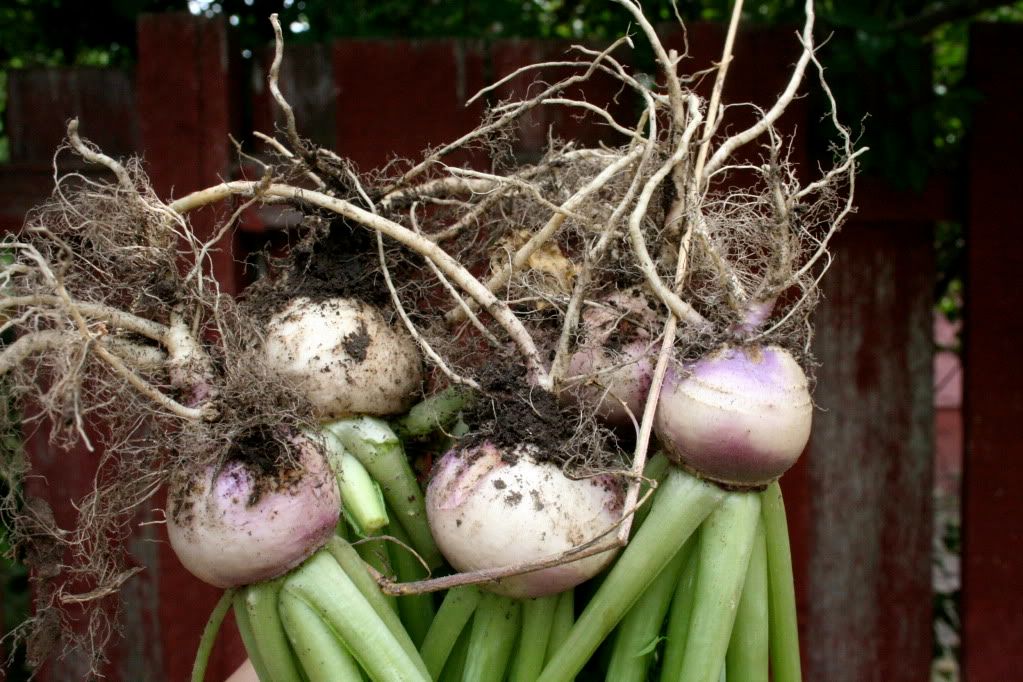 Turnips are thriving. Any ideas for those bitter greens? I tried a simple garlicky sautee and it was a major no go.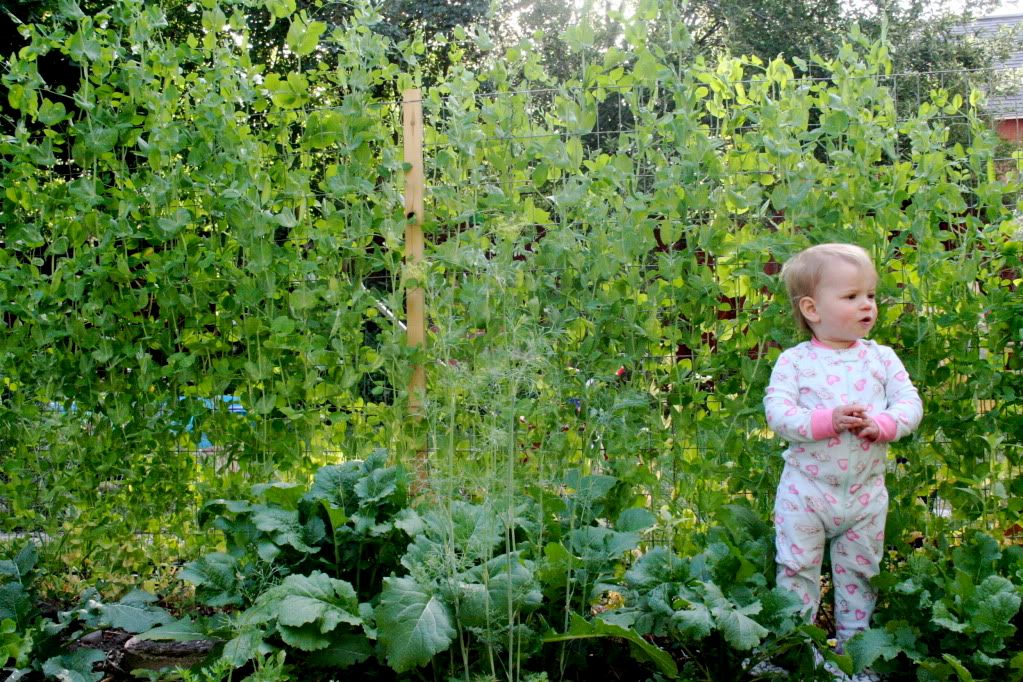 The peas are my best crop ever with the tallest plants at six feet.
bug's wardrobe :: I have been squeezing some sewing in here and there for my chicken. After some not-so-swell fitting pants, I finally figured out my baby gaucho pattern. It is hard with her cloth-diapered junk in the trunk…I have several pairs that are too snug but fit her perfectly sans diaper. So, next summer, when diaper-free, bug'll have some shorter pants that'll cover her smaller behind.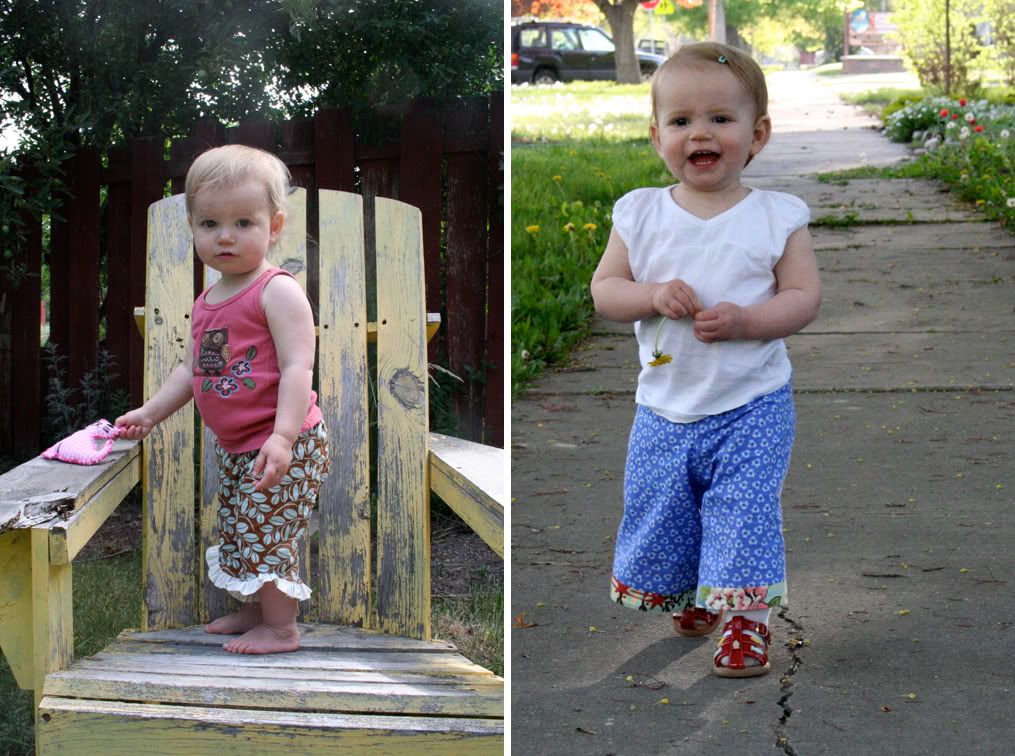 scored the owl tank at a thrift store, thanks mom for sewing these pants! :: this photo from over a month ago and she looks so little to me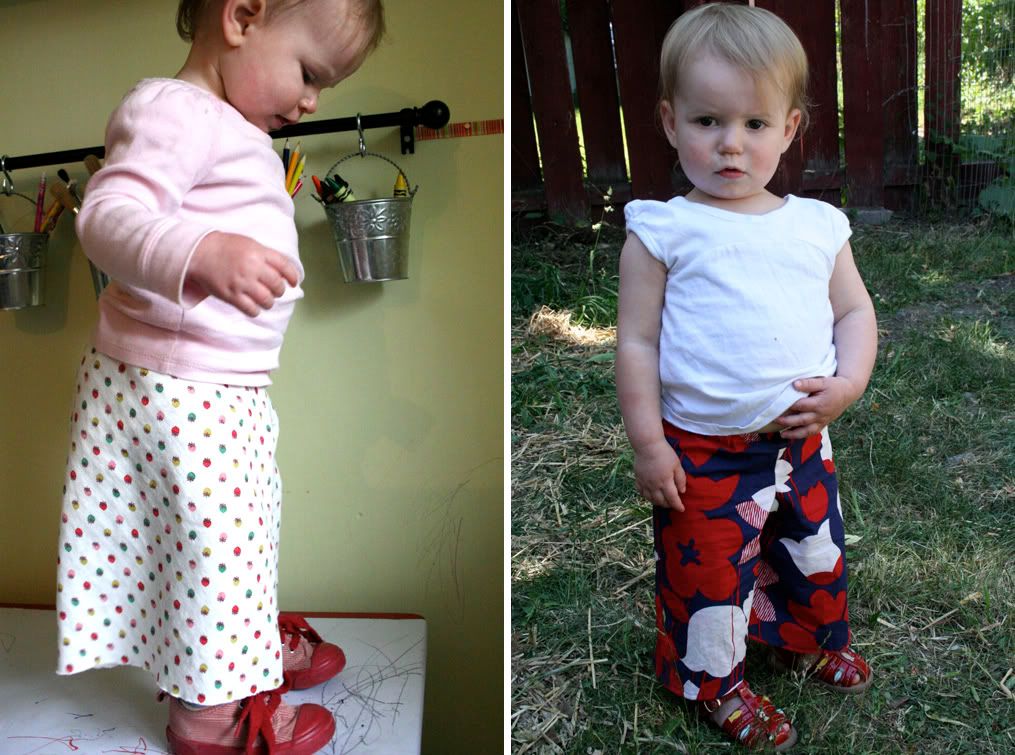 Little strawberry knit is to die for, a Selvedge clearance item :: 4th of July pants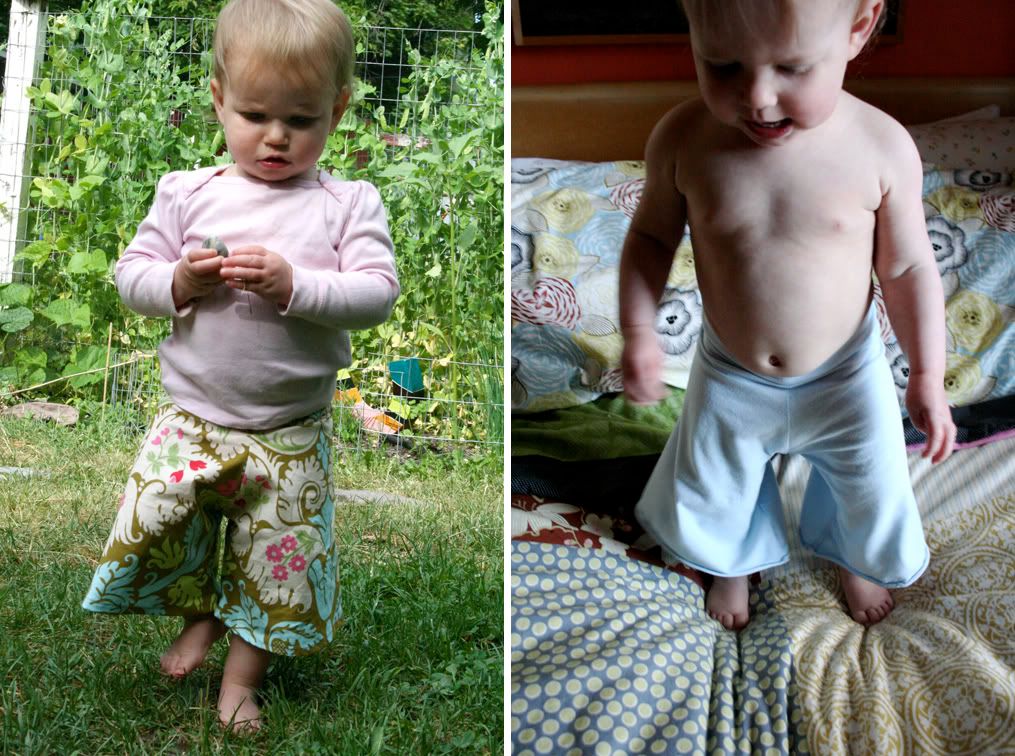 Won this fabric from Philigry giveaway :: comfy for bed romping
pals :: My favorite part of the summer is all of the gatherings of my amazing community. Margot has six bffs who have birthdays within one month, so there are a lot of one and two year-old parties happening plus all the let's hang out in my backyard with an adult beverage chin wags. The camping and hiking and just inhaling our incredible, unbelievably beautiful summer. And, our friend's kids are just so dang photogenic.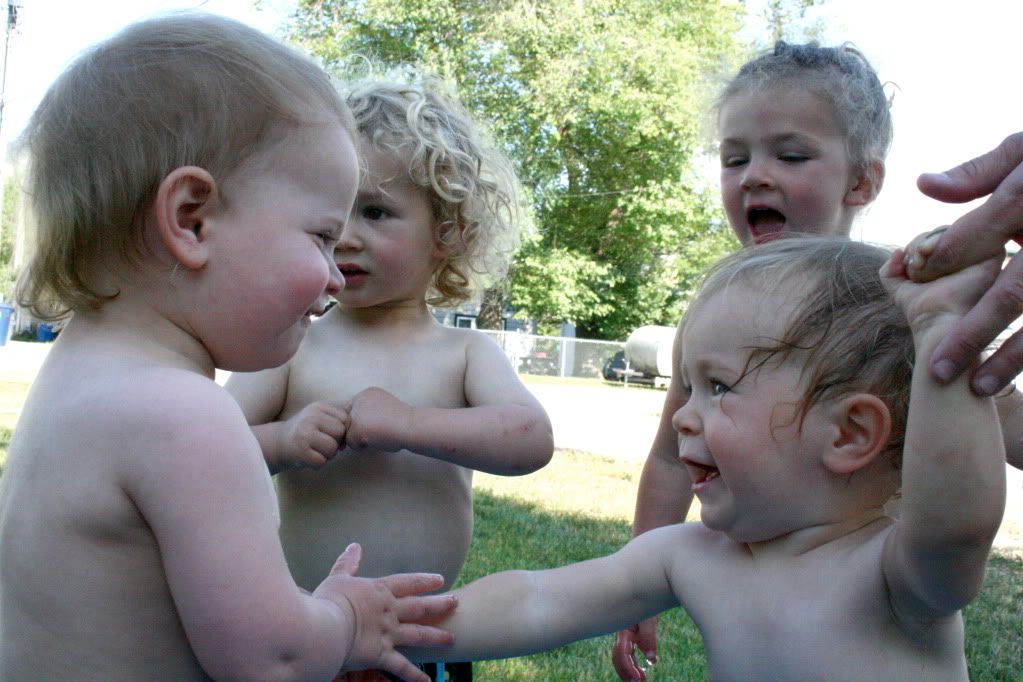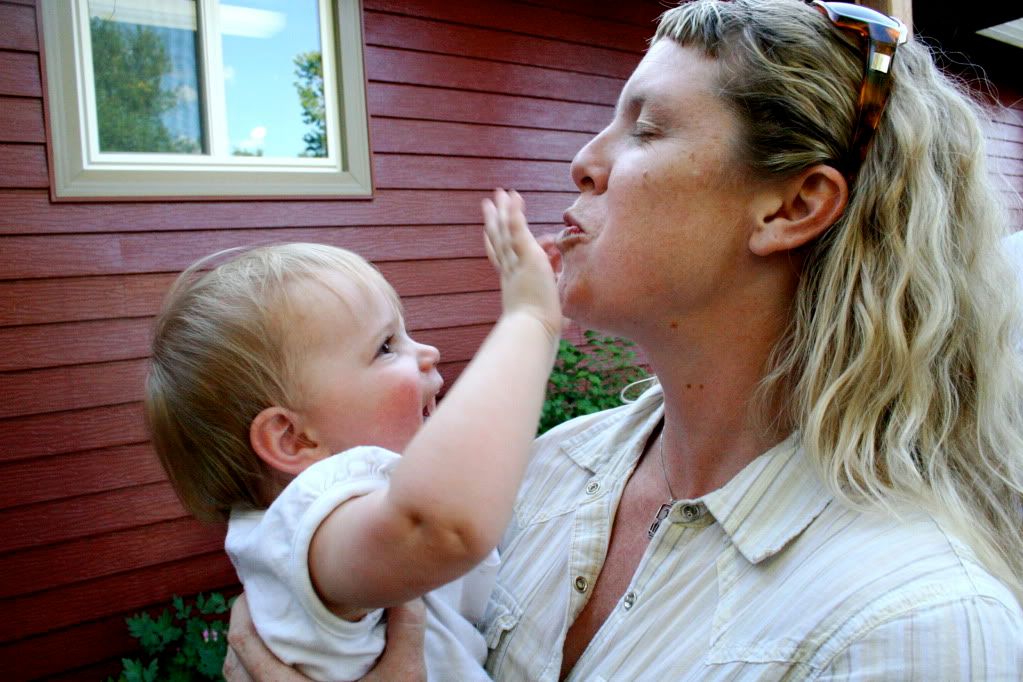 Margot and Cooper have the most darling relationship. They adore each other.
The weekend of the 4th we had social engagements out the wazoo. Margot was spinning out of her orbit with the sugar and kids and pools and such. It was a good weekend.
And, a day late because chicken crashed early on the 4th, we introduced her to sparklers. More please mama? papa? more please?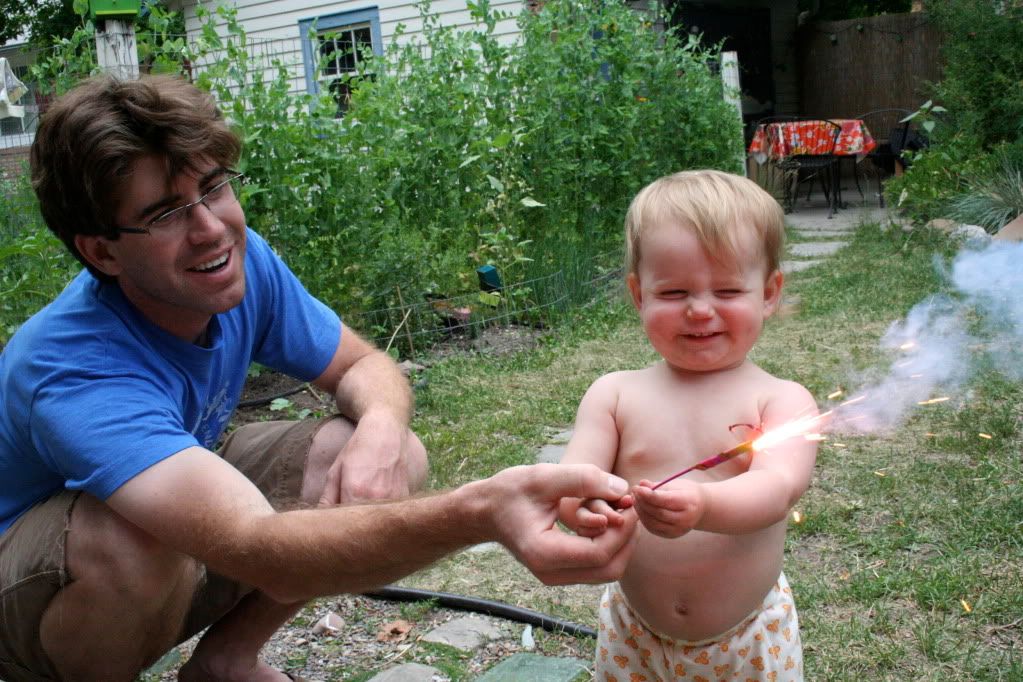 At one point on our Glacier trip we stopped to make sandwiches. Margot and Alice were asleep in the car and Andy and I were sitting in the trunk of the subaru slathering bread with hummus listening to Puff Puff and Tricky talk about their epic backpacking adventures to Soul Daddy and his girl. They were carefully stuffing their packs, getting ready to set out in the park. The conversation involved a lot of acronyms, dudes and chat about powdered milk and mac and cheese.
They were slightly younger than us and a world away. I remember when Andy and I traveled that way, not that we have ever taken a year to hike the Appalachian Trail, but we had many years of barely packing the car, the contents being nearly everything we owned, to set out on several week backpacking trips, road trips, saying dude a lot more. Mac and cheese and powdered milk.
And now, probably looking all yuppified to those dread-locked free spirits with our rocket box full of gear and tank full of gas, our vacations are so different. But I smiled a big ole smile when we got back in the in the car, loving where those people were at with their life and loving mine even more. There is just so much I can do, so many options. Andy and I talked the rest of the drive back about adventure plans starting with a several month car camping trip next fall after he is all officially done with school. Eventually homeschooling the kids for a year while we travel somewhere unknown and life-changing. And, perhaps, someday in 25 years we'll barely pack our bags and head out into the unknown with powdered milk and mac and cheese.
You might also like