hump day nuggets: little bits of the season in photos and (few) words about the last week
I had hoped for more a slow, lumbering-into-second-kid few months but, yo, Life has a different agenda. We have been really nuts over here and without going into gnarly details a lot has to do with Andy's bike accident in 8th grade and subsequent 19 years of mouth surgeries that is currently landing us with monthly surgeries to get his pearly whites and all that bone that holds it together in tip top. AND he is having his tonsils out next week. So, it'll be another few weeks of mayhem and then, *hopefully*, slow and lumbering…
So, this lady has been doing a lot of single-parenting and animal care while taking care of my man and, wow, it has rocked my energy level. But, you know, once I let go of diaper covers and books sprinkled throughout the house and the Fact that my sheets just aren't going to get changed any time soon and that annie's mac and cheese with fresh tomatoes is just perfect for dinner two nights in a row, or three, it's all just a blip. Looking back at the last week in photos for hump day nuggets helps me realize all the lovely, important and memorable activity surrounding the running-behind chaos. Oh, and I will have a mamalode piece that further delves into my current mama balance…soon. I am a fan of saying soon lately. Frees up any commitment to an actual time things will be accomplished. I think all mamas of toddlers should embrace soon whenever possible.
nuggets (mostly about bug).
:: We got an early christmas package from my mom because she is as terrible about waiting for the actual date as I am and I love that. A quilt she made for bug. And it is BEAUTIFUL. Margot thinks it is quite special and says oh blanket! when we go to bed at night. Seriously, mom. So so amazing.
:: And, speaking of quilts, chicken will have two because I am making her a quilt as well (lucky girl). In 5-15 minutes chunks of time here and there. I sew in the morning with coffee before work or when I go downstairs to get laundry, sometimes only one or two squares. But it'll get done this way to and feels so doable. I am loving it so far.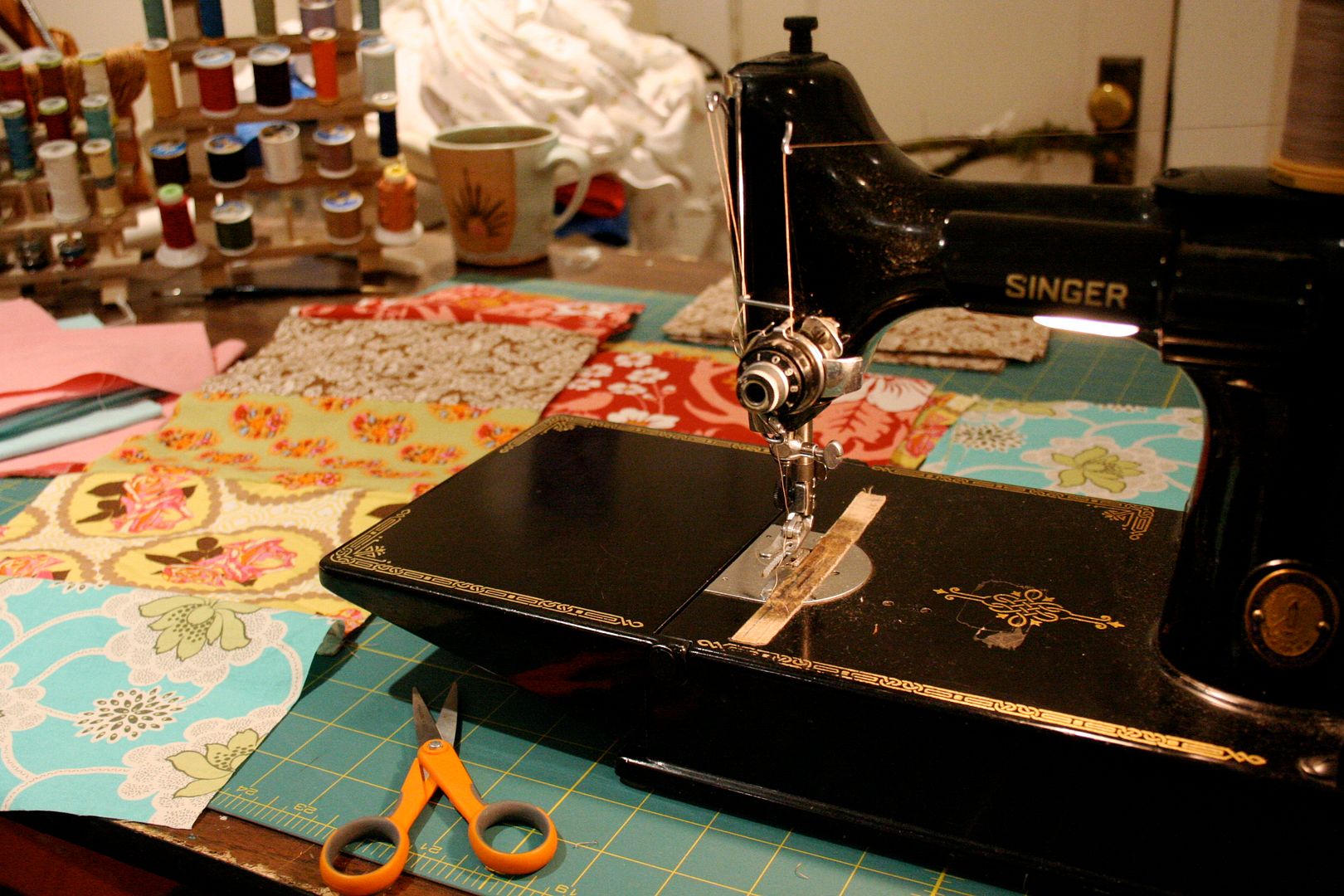 And, notice those paintings of Andy's in our studio? More on that soon too…he has an exhibit opening on November 20 at the Dana Gallery.
:: Margot had her first haircut. The baby mullet is a bit more gone than it was before (but still there a little bit). I actually adore baby mullets but Andy isn't such a fan so he was ready whenever I was. And, a few nights ago, over post-dinner, pre-bed candlelight, I grabbed scissors and cut her little whispy locks. I'm impulsive like that. And her little bob is, well, cute of course. She LOVED getting her hair cut.
:: Margot is digging the toilet and we are too. After she has a success, she stands up, lifts her hands to the sky and says looket that! Her cool undies make it even better. Especially when paired with her froggy boots. The froggy boots are the new can't-ever-take-off accessory to the sweater. She has been wearing this sweater for a year. Daily. No joke. Bug is quite dedicated to her favorite things. Elmo is still a necessity as well. As is this duck bowling pin thing. And, of course, the maraca.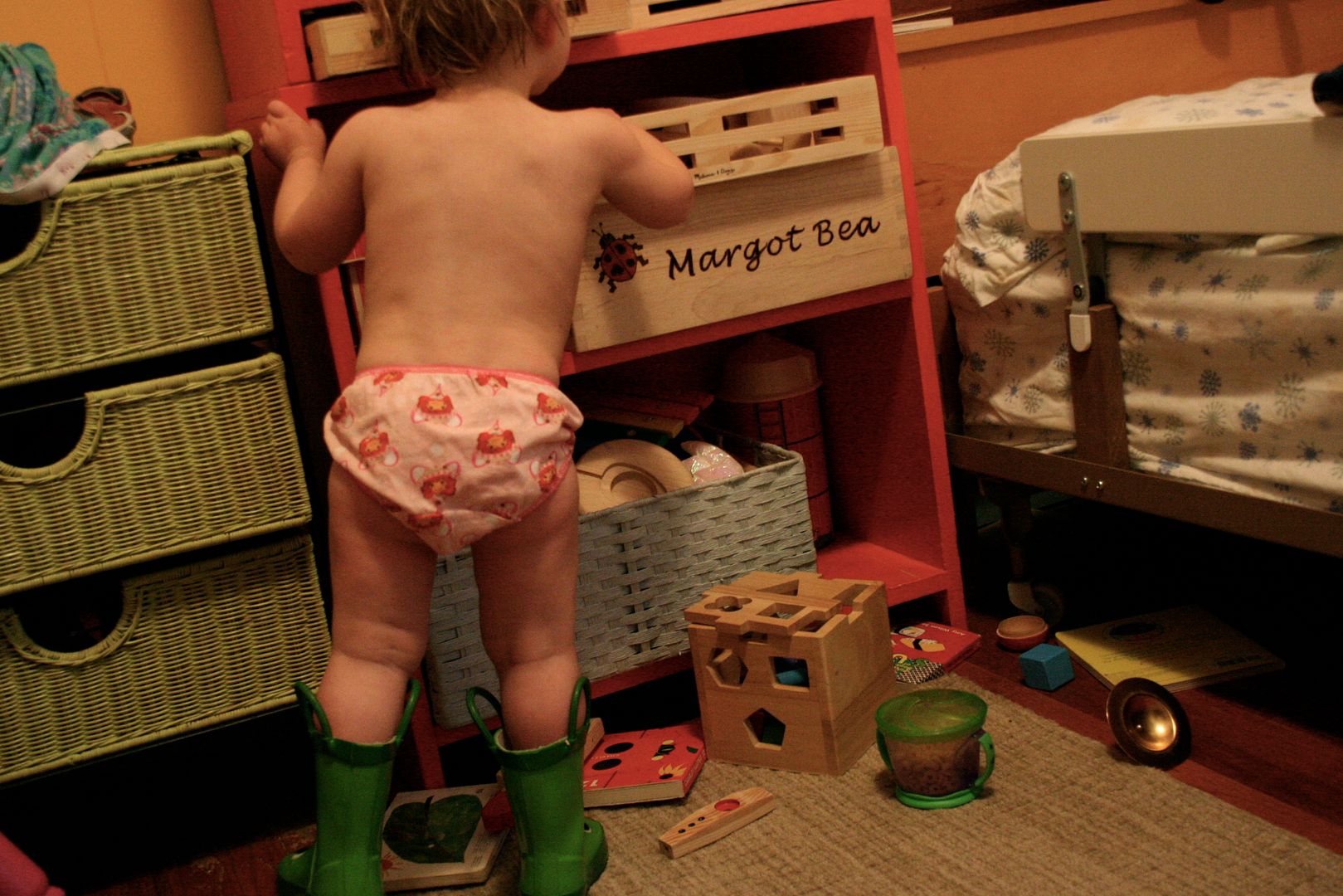 :: LOTS of apple pear sauce. Again prepared and canned in small slivers of time. Small batches of five or eight pints prepared one evening and canned the next day.
:: I made this door snake to keep winter draft out. It was super easy and I wish I'd done it long ago. Just some scrap fabric (12″ by 4″ more than the width of the door) sewed in a tube and filled with pea gravel or whatever you might have on hand like rice or kitty litter.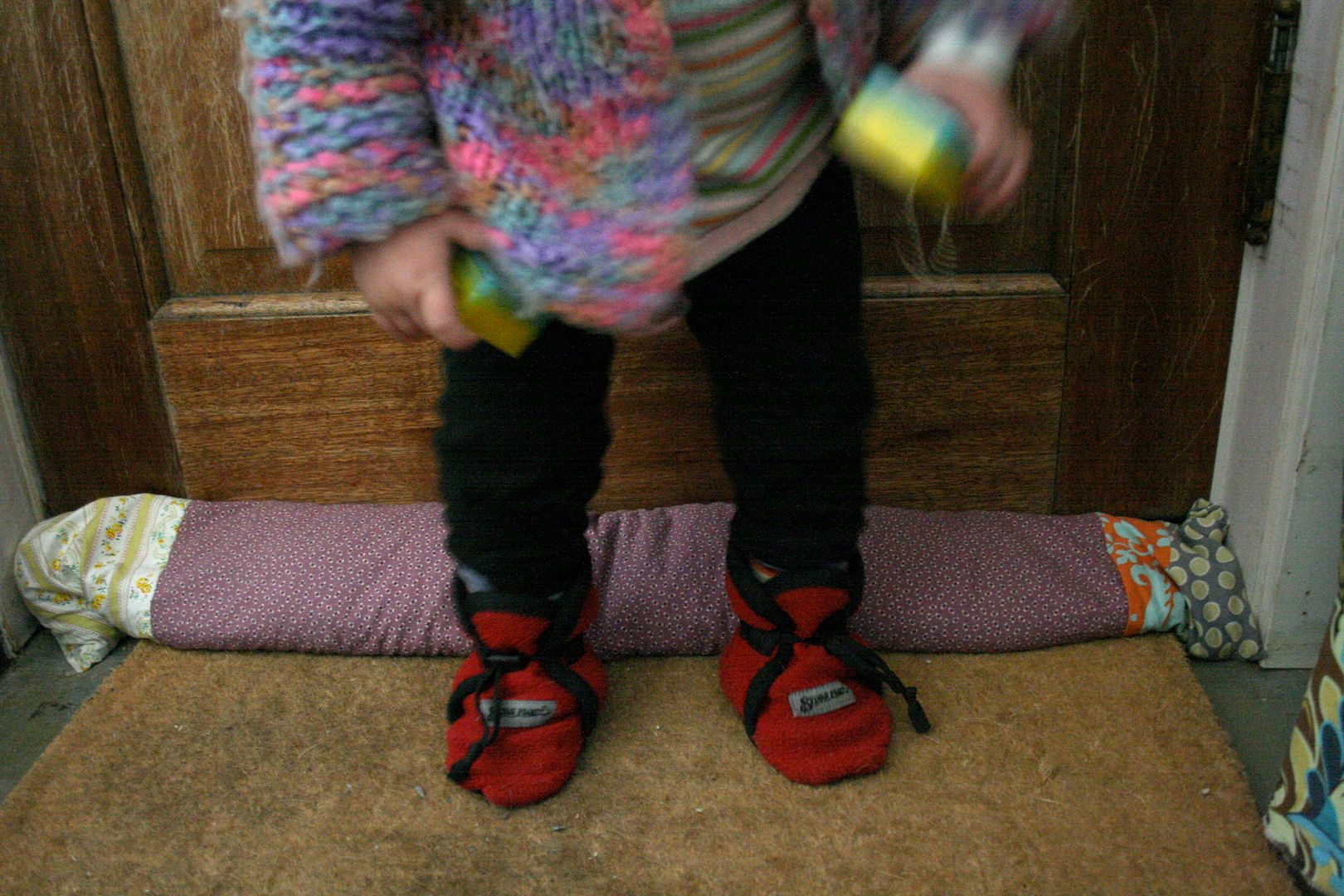 :: This is what our back seat looks like on every car trip. It always makes me smile. Her little personality. Her intention.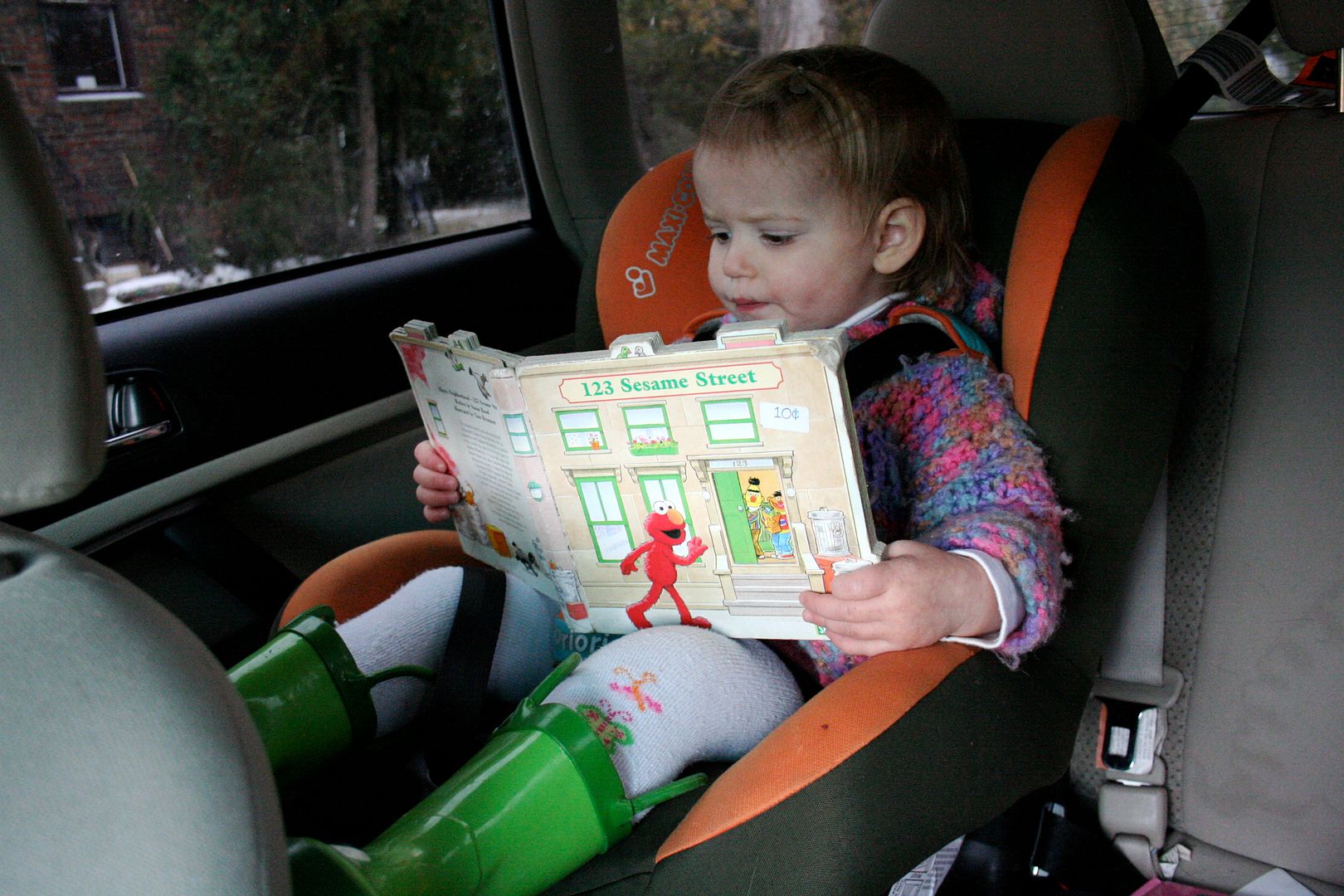 :: Margot and Alice. They are such pals. Margot now knows how to be gentle with Alice and Alice has always been the gentlest with Margot, indulging her imagination. Margot often reads to Alice and really enjoys giving her a 'coat' (door mat) and yoga mats. Little gifts that Alice pretends to enjoy. It is a good reminder for me to be patient with my dog as she tends to be really underfoot lately. I am sure she anticipates change just as she did as we neared Margot's entrance into our world.
:: Finally, guess what bug is going to be for halloween?
You might also like