hump day nuggets: little bits of the season in photos and words about the last week
We had an absolutely fabulous holiday. At the risk of sounding like a crazy, over-thinking mom, I have been on the fence about perpetuating the lie of santa. Not because I think it is silly or because I don't like the mucking up of the christian day but because I was devastated when I learned the truth. I couldn't believe my parents had been so dishonest with me. I was teary and speechless. And when going to bed that night after the day when I Learned, I quietly whispered through more tears, mom, what about the tooth fairy? I was devastated. It was just last year…har.
But Margot watched The Polar Express with her gram a few days before christmas and then proudly declared I Believe! whenever she saw santa or a bell. And it melted me and, so, santa came to our house on December 24 and we'll deal with the psychological fallout later.
Andy and I stayed up late setting up the kitchen. Or, rather, I sat on the floor surrounded by painted, red chunks of wood and told hilarious stories with his mom while he used his drill and manly problem-solving skills to make that flat box of goods into a functional toddler dreamboat. It was great fun.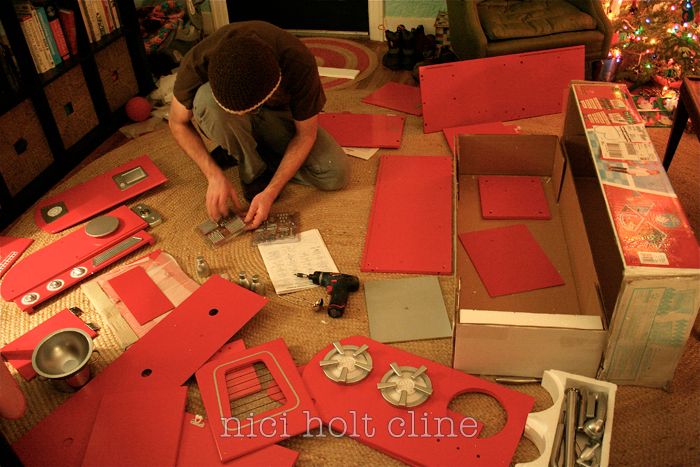 CSN stores is a dig sponsor and sent me this KidKraft kitchen in trade for a product review and, I am relieved that I can give this kitchen an enthusiastic two thumbs up. It is well made and effing adorable AND my kid LOVES it. The assembly was surprisingly a snap. Even my carpenter husband was impressed by how well thought-out the construction was.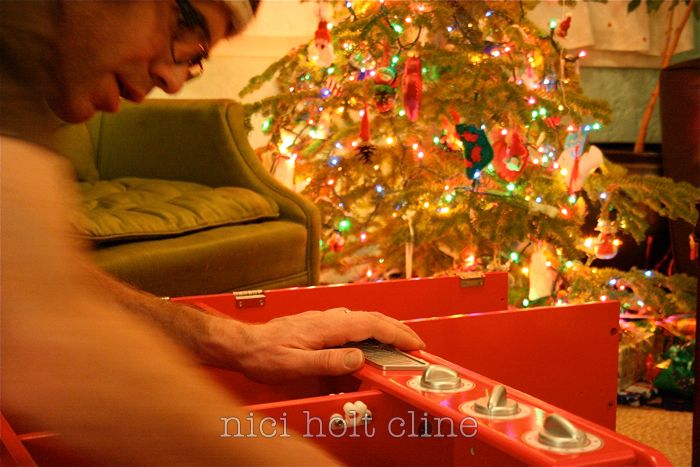 The details kill me like the phone and the how all the knobs and handles move and allow a two year-old imagination to take off. She plays with it all the time. Santa Claus brought a kitchen for Margot Bea, she declares. And the best part for us is that we like to look at it which is very important for kid's toys.
Margot especially likes to cook her baby buddah in the frying pan. Hi baby buddah she says quietly in a high high voice while cradling the pudgy pink dude in a miniature metal frying pan. I swear.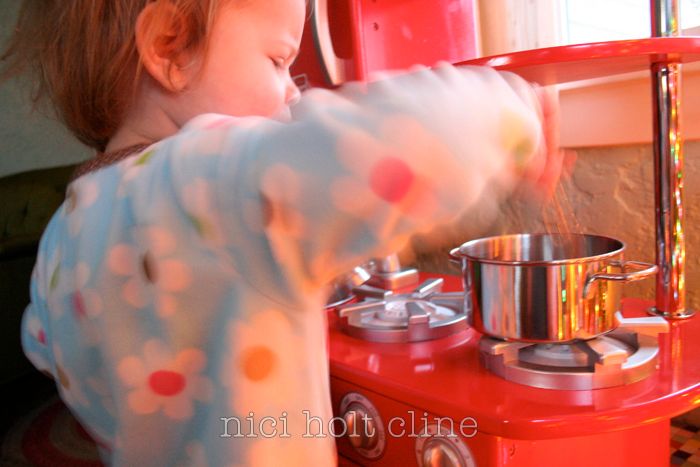 :: I didn't get any of the making of stuff done for gifts. Well, I got one item made. Just one. A doll for my bug. Margot's luke warm about her but she does have a spot on her bed next to elmo and ducky so I am hopeful. I think she's cute even if Andy thinks she looks like an old lady.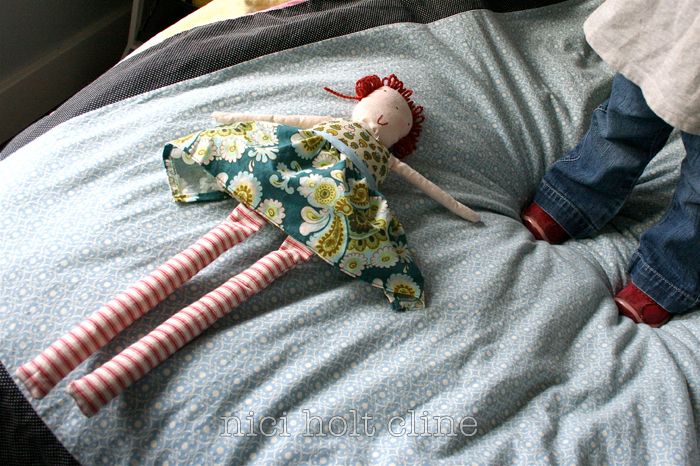 She likes to burp her.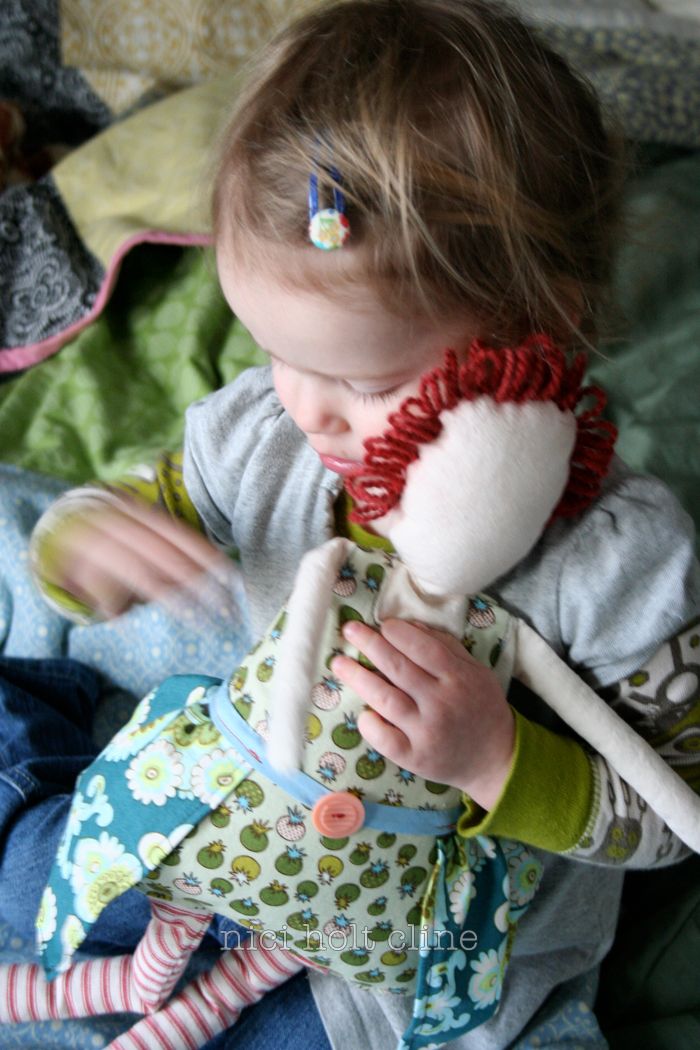 :: I love the holiday season for the friendship, merry making, gift giving, love spreading and tradition. I get to make up some traditions all on my own like the girl's holiday book collection that will emerge for only one month every year and bacon butter brussels spouts salad. But then there are the perfect traditions of my family, that needn't be changed like monkey bread.
Christmas Morning Monkey Bread
4 tubes of biscuits (do not even attempt to make the biscuits from scratch. the tube is non-negotiable)
2 1/8 c sugar
2 t cinnamon
1 1/2 sticks of butter
Preheat oven to 350 degrees.
I ask someone I know and trust to open the tubes. I find the unpredictability to be frightening.
Using kitchen scissors, cut the biscuits into quarters. Coat the quarters in 2/3 c sugar and 1 t cinnamon.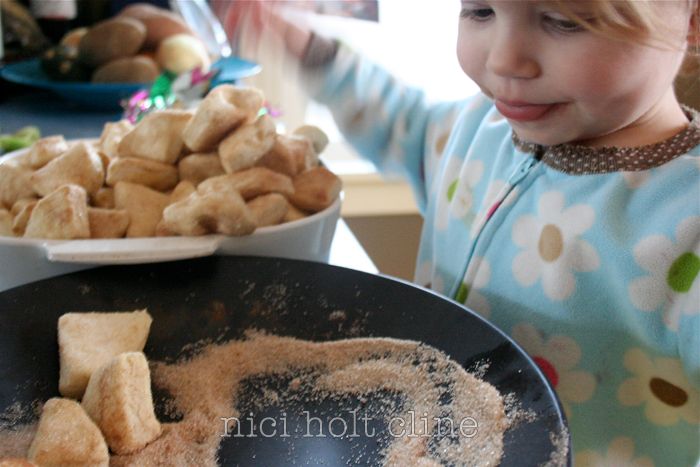 Place coated biscuit chunks in oven-safe dish.
Melt butter over low heat on stove. Add remaining sugar and cinnamon and pour creamy goodness over biscuit chunk pile. Bake for 45 minutes to an hour.
There are two reasons I don't have a photo of the finished monkey bread: #1 People ate it. #2 I put the pyrex dish on one gas burner and put the coffee on another and turned the coffee on high and at least five minutes later realized I had indeed burned the puhjesus out of the monkey bread.
:: Since we've been home from the hospital, I've had a hard time wanting to leave our cozy home. I enjoy company but the getting out isn't my inclination. I know my strong need to socialize will return but, for now, I am allowing myself to decline tempting invitations, hole up with my family and heal. The hospital stay was rough on Ruby and I have been worried that her insecurity and fear of being put down for a diaper change would stick but it is already dissolving and, as of this week, she enjoys being put down to kick, grunt and take the world in. We have some catching up to do because of the break we had in constant holding and nurturing. We're getting there and Ruby is teaching us.
Other holiday activities we participated in include:
:: making dough hearts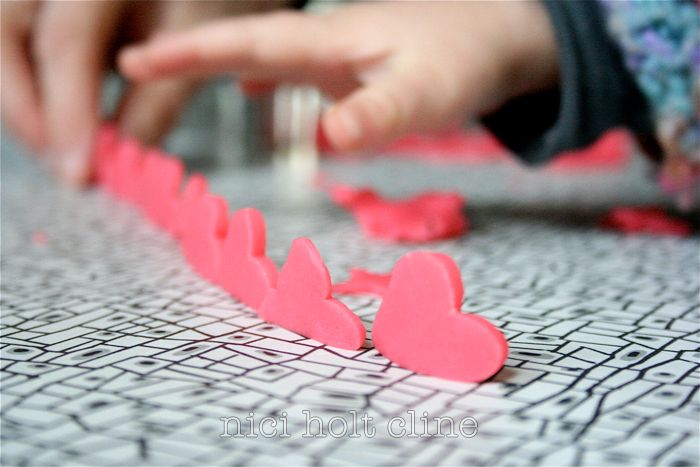 :: drawing cats, dogs and faces (Margot's favorites)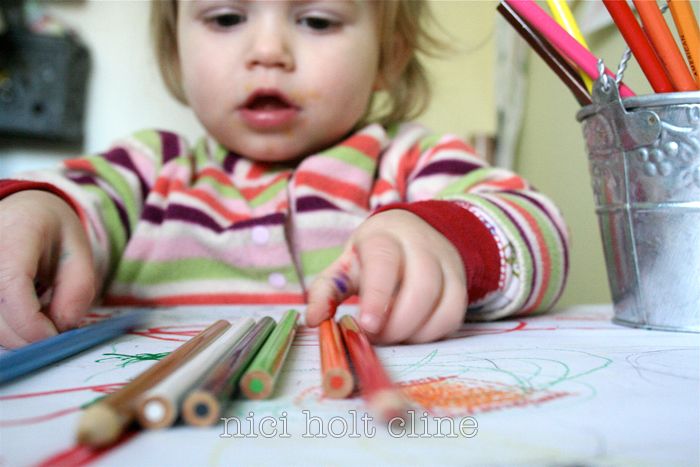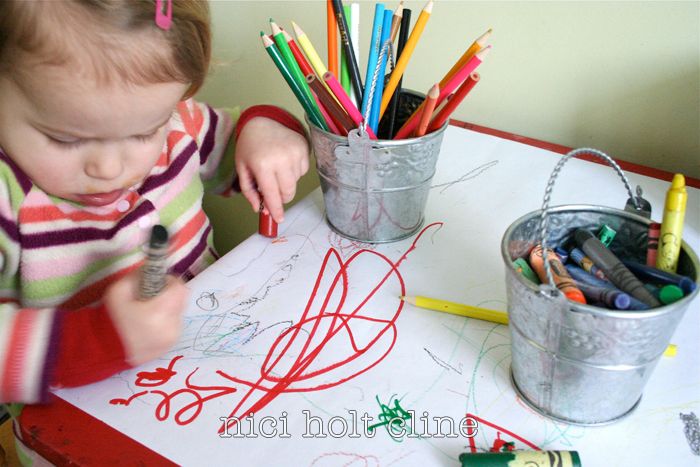 :: drying milk mustaches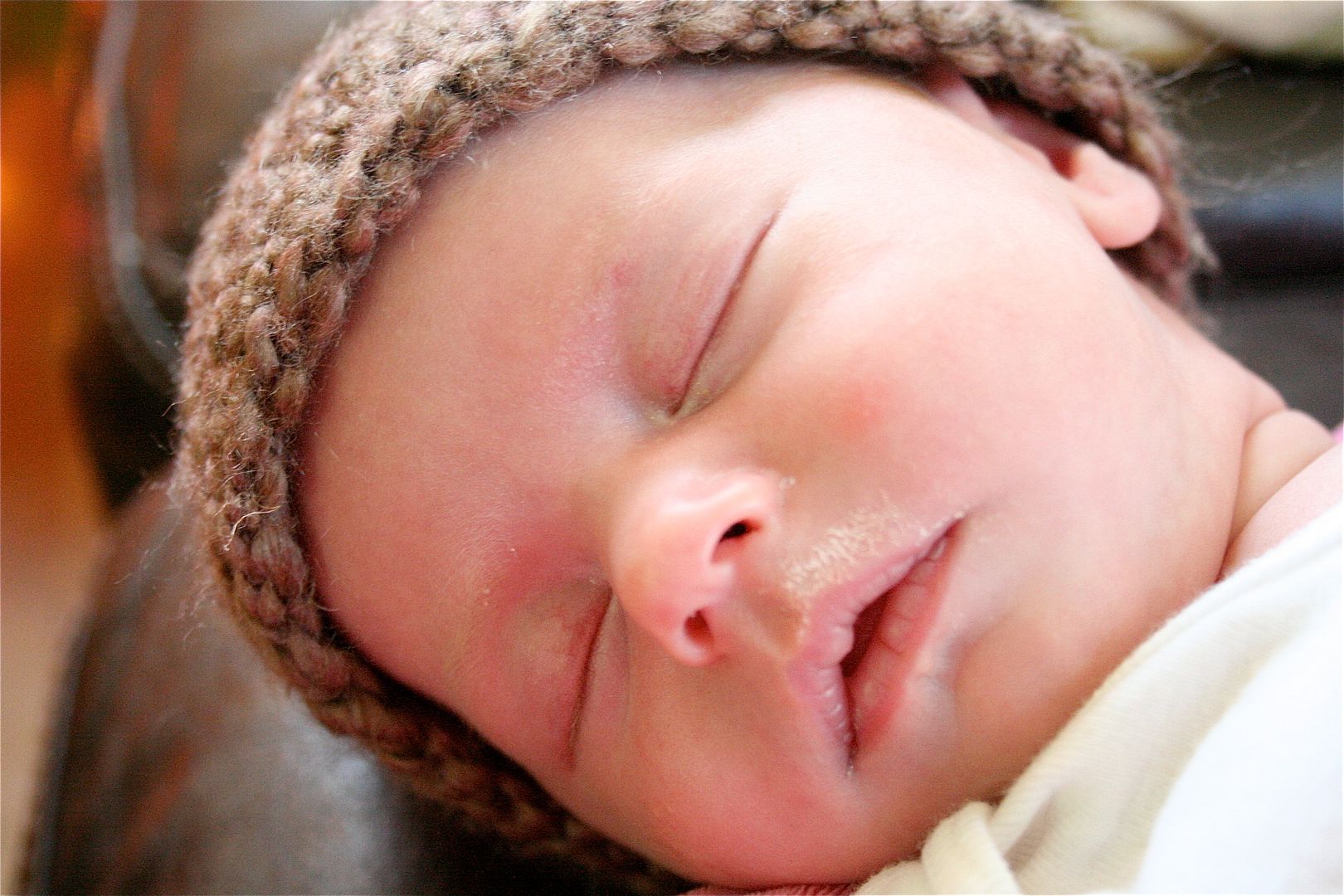 :: throwing of heavy balls down slippery lanes and the eating of fried food with my old co-workers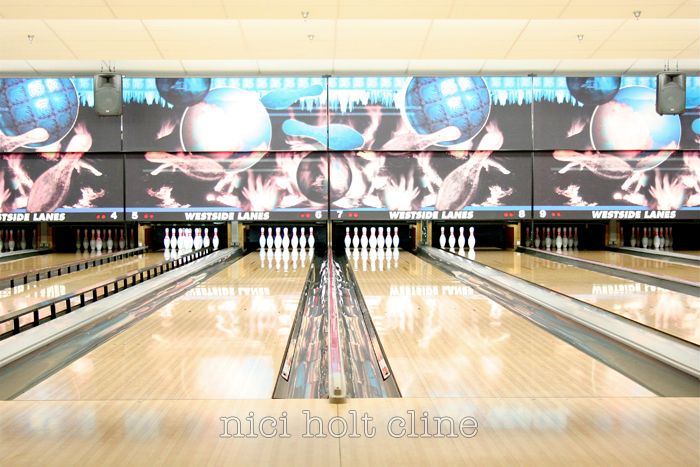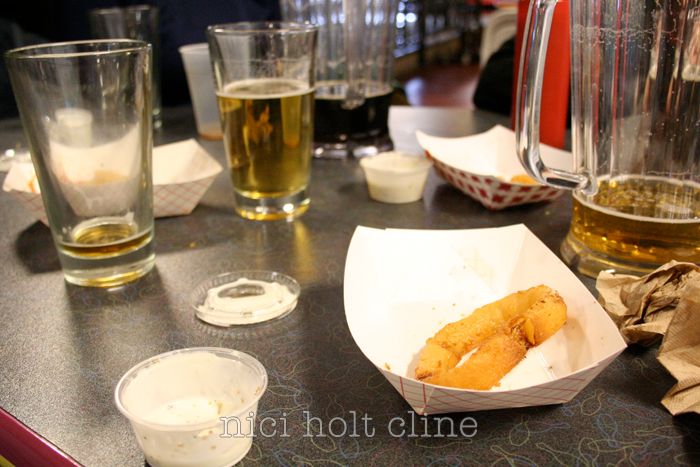 :: dancing and singing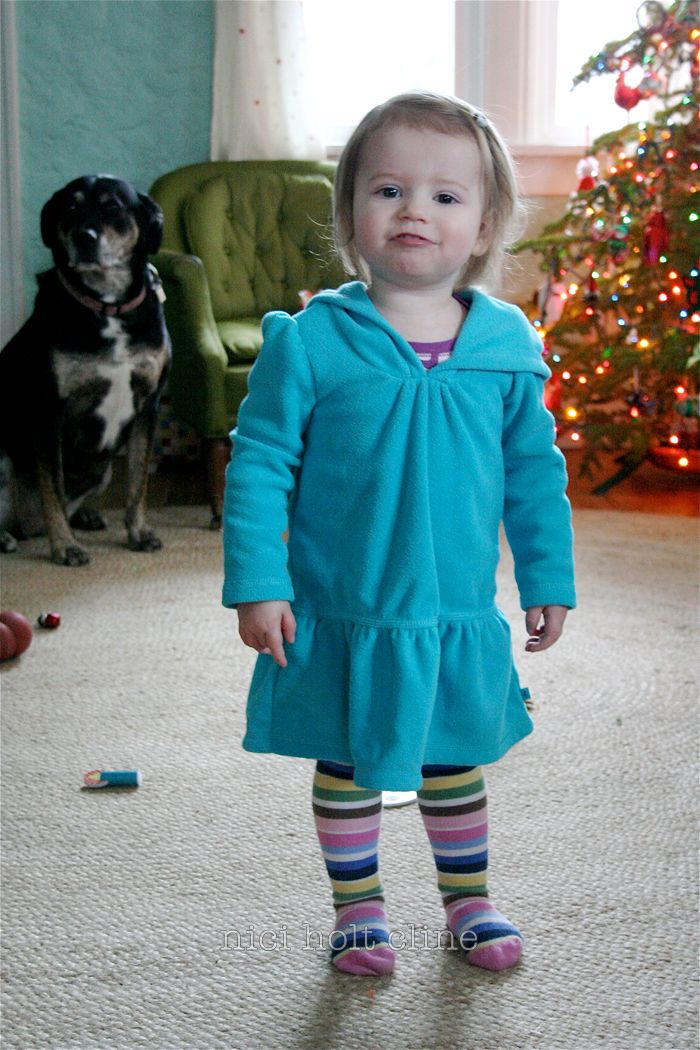 :: holding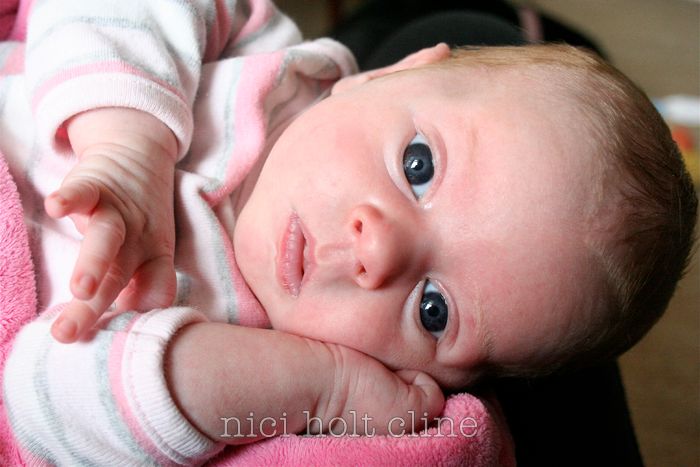 :: opening and not picking up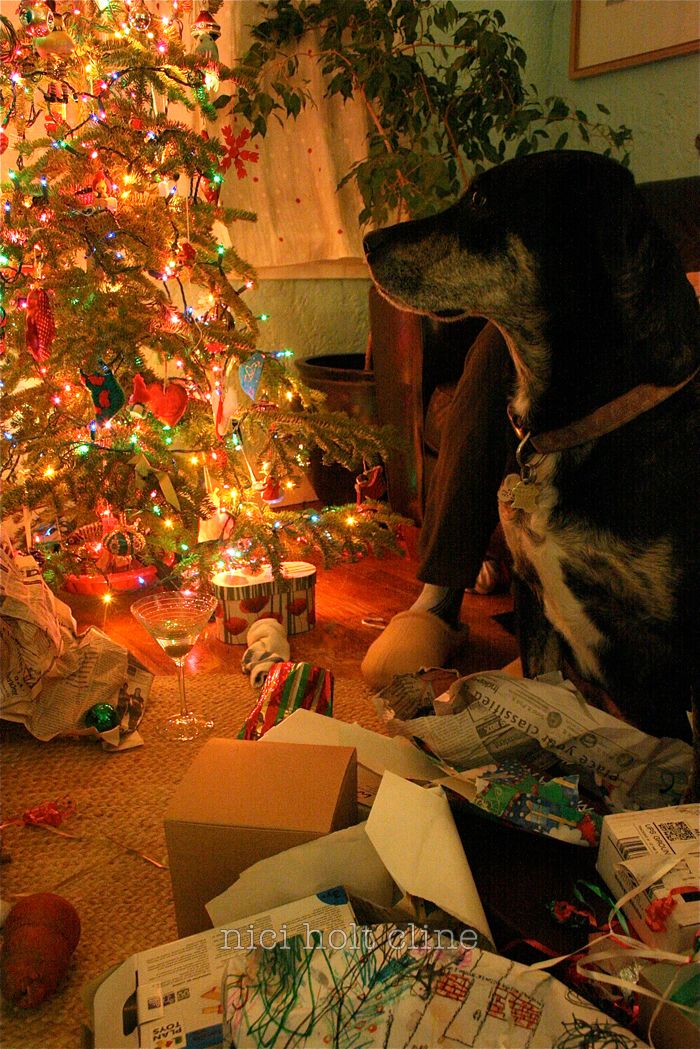 :: loving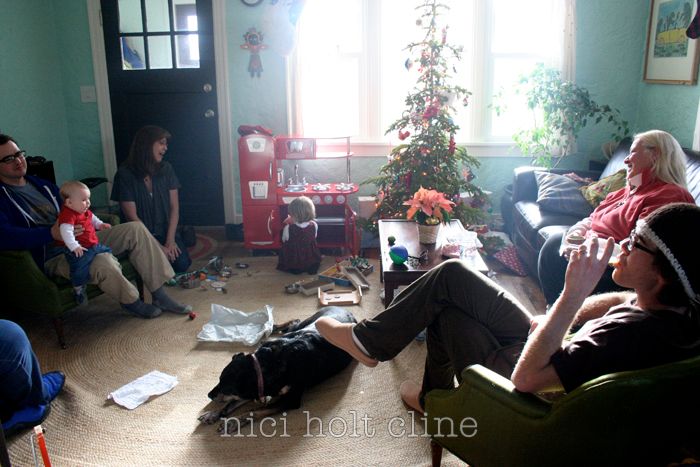 :: making food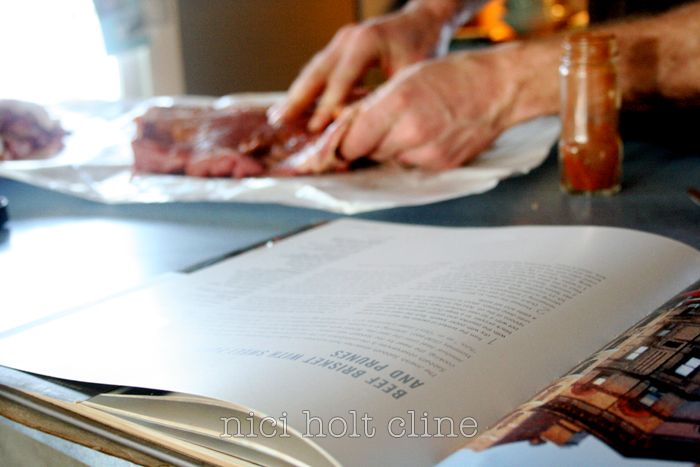 :: cheers-ing, at the insistence of bug
:: adoring Ruby Jane and the simultaneous bounding Margot Bea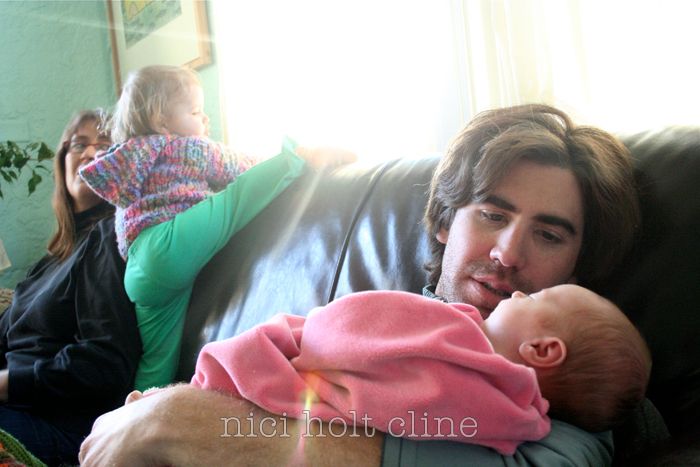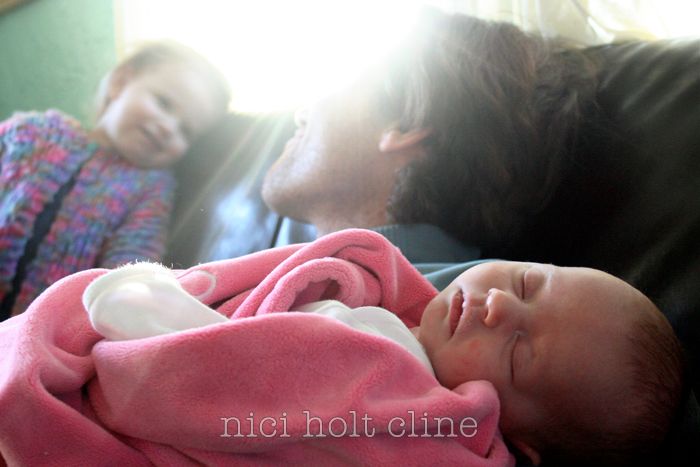 And so the next time I write it will be the New Year. Wishing you all so much love in 2010.
You might also like