hump day nuggets: little bits of the season in photos and words about the last week
Ready? A lot has happened in the last week and I have a lot to say.
:: We have been overwhelmed by the support and love coming our way. Three weeks of dinners, for example. Friends with two kids keep asking, how are you doing? They know the introduction of The Second Child is even more world-rocking than the introduction of the first. And it's true. More complicated, more intense, more tiring, more. And, more love, more purpose, more stop-and-smell-the-effing-roses-because-here-I-am-on-this-beautiful-meandering-path-I-chose-and-it-ain't-always-pretty-but-hot-damn-it's-rich. MORE.
But it's a hard question to answer because great or fine or any standard answer for above average just doesn't seem appropriate for such a HUGE question. An equally difficult question to answer honestly without a monologue: how was the birth? I want to say fucking hard, perfect, amazing, impossible, painful, spiritual, life changing but I think most people just want the great part.
:: Margot was upset when Ruby was born. We had talked about it daily for months, looked at photos of her birth. Upset might be mild. Margot was kinda pissed and hurt. Bug was around for about an hour of some fairly intense labor before she went to hang with two of her big people bffs next door. And she was swell as I breathed through contractions. Very supportive and funny. Ruby arrived at 10am and after the shaking and kissing and stitching, I wanted, needed Margot there. She came and she cried and said mama, no. No sister born. She wouldn't come to me but for one hot second. She wouldn't look at me. Mama no sister born. Oh it completely broke my heart into pieces.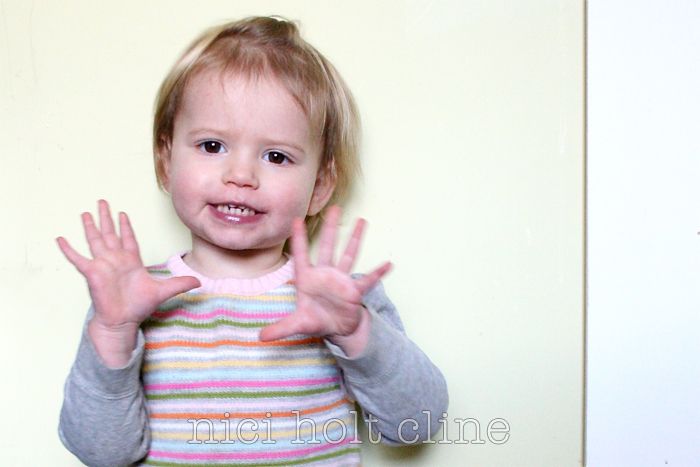 But then. Then, about two hours later, she was interested. And a few hours after that, she was in love. It was really that fast. She peeked over her bassinet late in the day and said, hi cutie pie. Hi sister born. (swear that is what she said). And because our babe was nameless for a bit more than a day, we called her sister and Margot called her sister born. And she still calls her sister born no matter how many times we say Ruby. When she is particularly thrilled she says sister born cutie pie. And she tickles her head and asks to hold her all the time. Um my bug is really cool.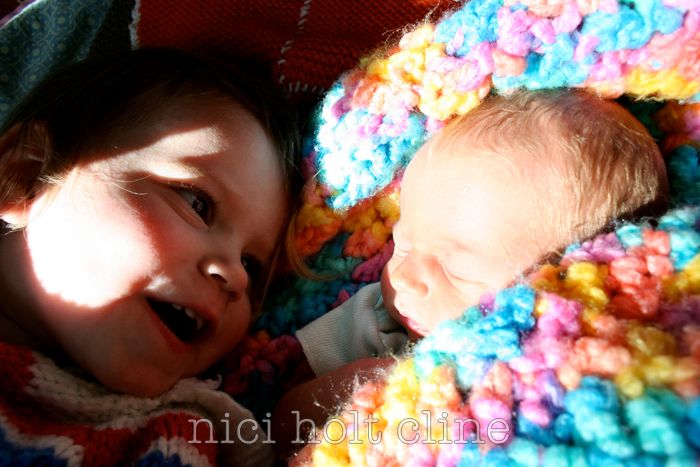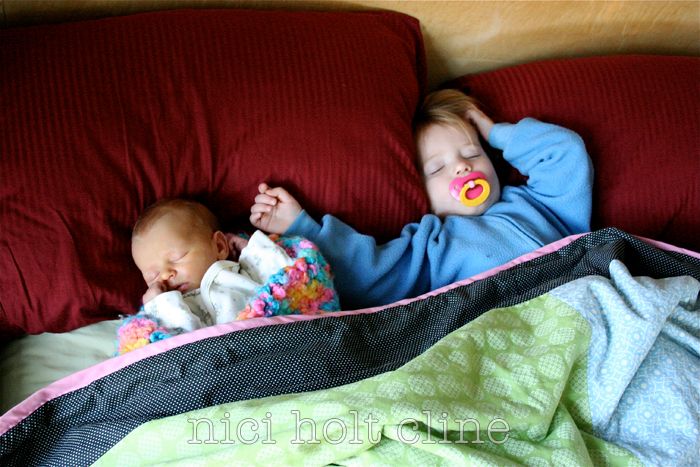 :: I do need to mention the tantrum moments. In between the beautiful, in-love experiences are these occasional, horrible I-didn't-get-what-I-wanted fits that render Andy and me speechless. Bug has always been so chill and in the last month, this possessed flopping badger sneaks into my sweet girl unexpectedly. At first it starts with her running in place (think high knees) while saying no no no nononononoNONOOOO. Then, dramatic swan dive to the floor, head in hands. Man, it's tough. Especially tough when it is just me at the pediatrician's office with a newborn in a sling as I am awkwardly scooping my writhing, yelping toddler up because she didn't want to say goodbye to the fish in the waiting room. We listen and tell her we're there for her when she's done. We quietly ask her what she needs while looking her in the eyes. Try to talk to her and validate her feelings and redirect her energy. We are just making this up as we go and thankfully it doesn't happen too often. Advice? Bring it.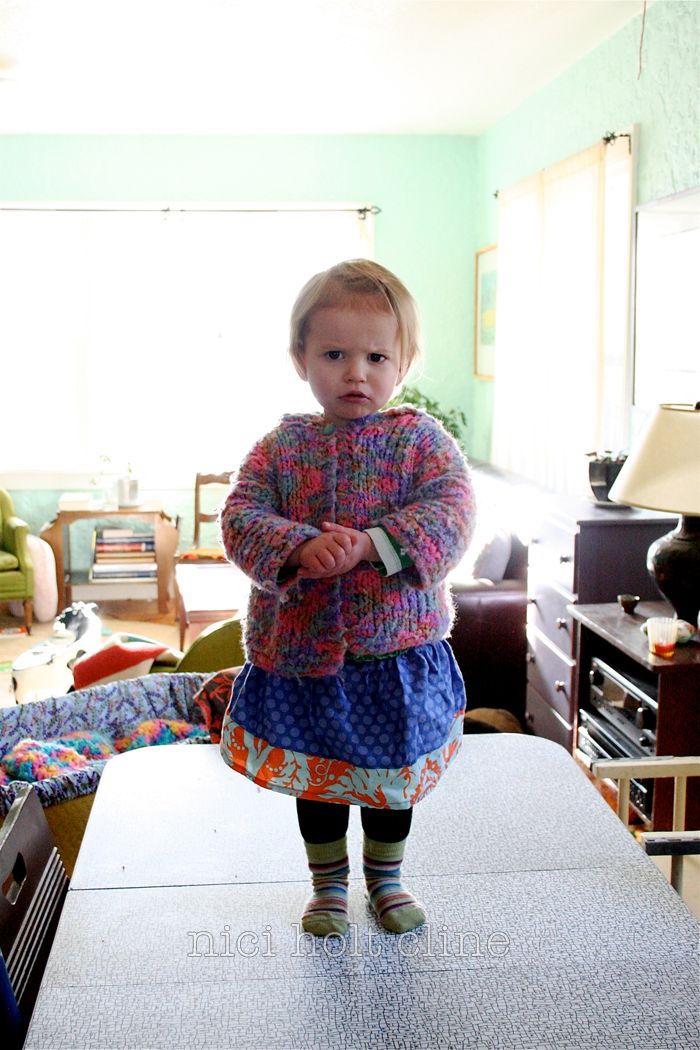 :: Monday morning I really wanted to take a shower. It was my first day at it alone because Andy went back to work. Margot reads books in the bathroom every morning while I shower to get ready for work but what to do with Ruby? I shoehorned her bassinet in the itty bathroom which made Margot mad because she was relegated to a stool under the sink. So I gave her ice cream. It was 9am. And I took a long, hot, luxurious shower.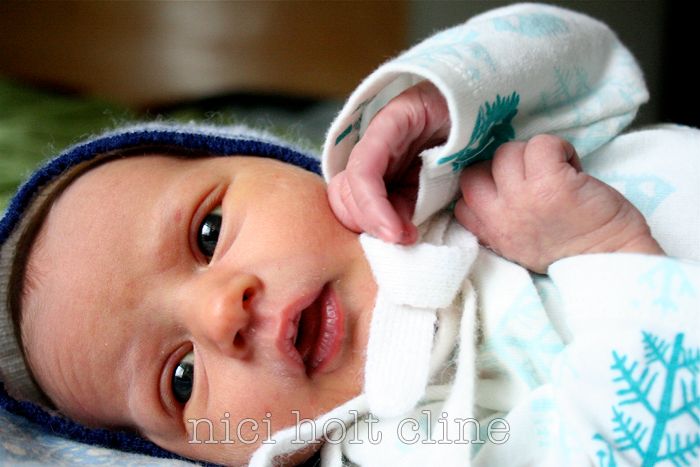 :: So it was wild and unexpected straight out of the gate. Margot's reaction really threw me. And it continued…Margot got sick with a fever funk on day one and so the first several days Andy was in and out of bed with her and she was in and out of bed with us while I tried to wake our new girl to eat. So far Ruby is a lot like Margot. Meaning, we make babies who sleep like crazy. We had like four difficult sleeping nights with Margot when she was four months old. Other than that, she slept through the night. I KNOW. So we play this nightly game of torturing our wee chicken with cold washcloths and tickling bare feet to get her to wake and eat. Otherwise, monkey sleeps.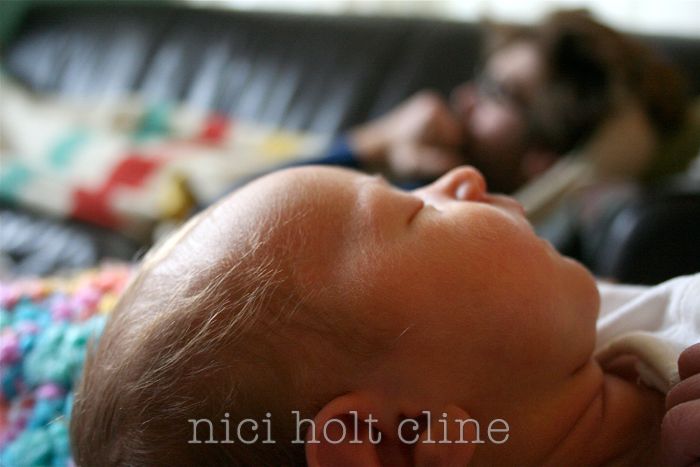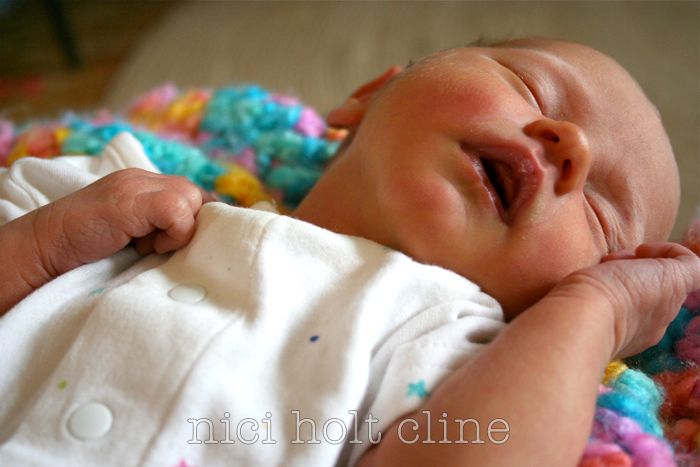 Anyway, this hot potato sleep arrangement was funny. We had to laugh because otherwise we'd scream. And, it really was funny. Alice and Sam are also needy right now so some of the time we had a six and half pound Ruby, 25-pound Margot, 17-pound Sam, 75-pound Alice and Andy and me in our bed. One night when Alice was whining to climb up while Ruby was crying and Margot was coughing, Andy said, ok, Alice, you can come up here but only if you bark. 3:30am humor. It works.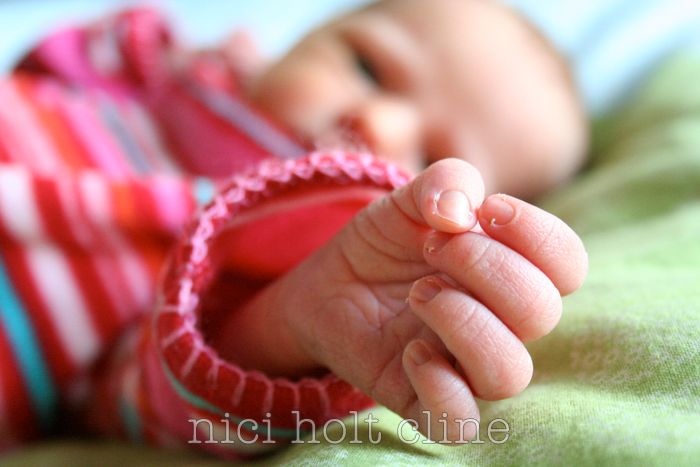 :: Yesterday I packed up my girls and we headed to get a tree. I used to struggle with the tree thing every year. I have tried buckets of boughs and wooden contraptions to hold ornaments and younameit to avoid the senseless cutting of a tree for one month of silly enjoyment. And nothing satiated my craving for a tree and so, now, I get a tree and I enjoy the heck out of that dude. I like to cut one but this year I bought it from a local nursery that is a few blocks from my house. It was cut right in the hills I can see from my back yard. And it is little. So I used very little fuel to get it and it used very little fuel to get to me and it was perhaps harvested from an area that needed to be thinned anyway….I love my tree. Margot had the most fun picking one out.
:: Being still, back-burnering my to-do list as a parent is an art. When Ruby is sleeping and Margot isn't, my instinct is to scurry about and do laundry, sew the zillion shirts and skirts I need for the craft fair I am a part of in less than two weeks, pick up blocks, clean the coop…but then, my bug grounds me by just staring into me and saying mama, sit down or my mama or mama hug or mama read chicken book. That's what I'm here for. That's what life is for. And so it all waits and we rally as if we were still just two with nothing to do.
:: And the same is true with Ruby. When I have time alone with my new girl, I try to take the time to be with her.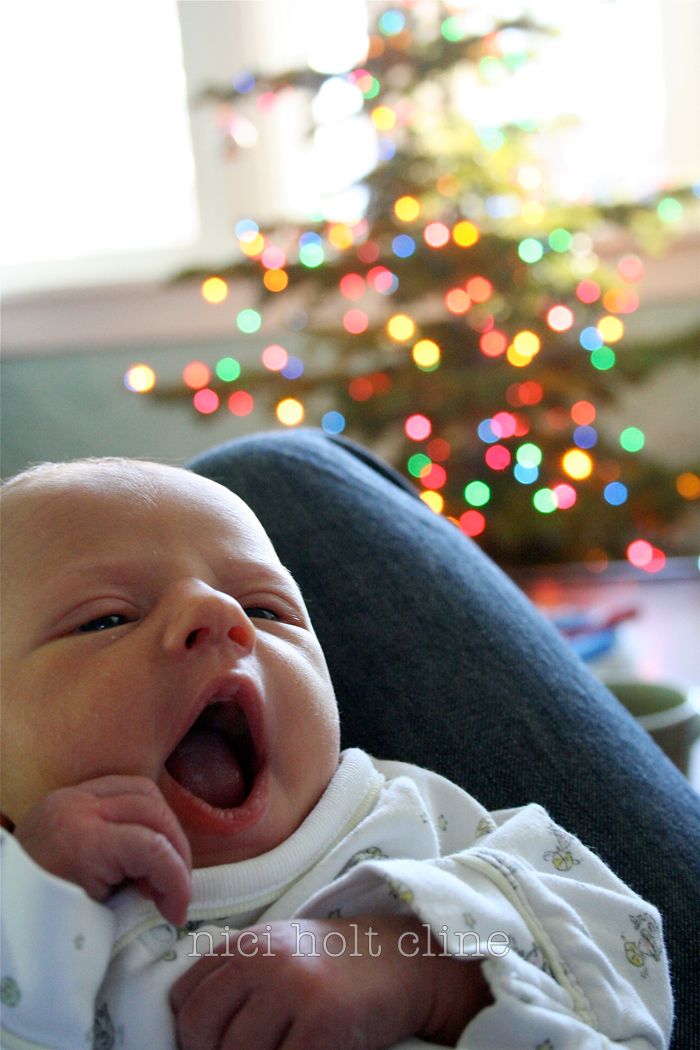 :: I've felt really great. Got out of the house the day after Ruby was born and went to the museum to introduce the peanut. I was the same way with Margot: energized by birth. And, back then, I think I felt the need to downplay my zing because people were all what are you doing out of the house? like I was compromising my health or something. But this time, I don't care. I want to get up and go and I do.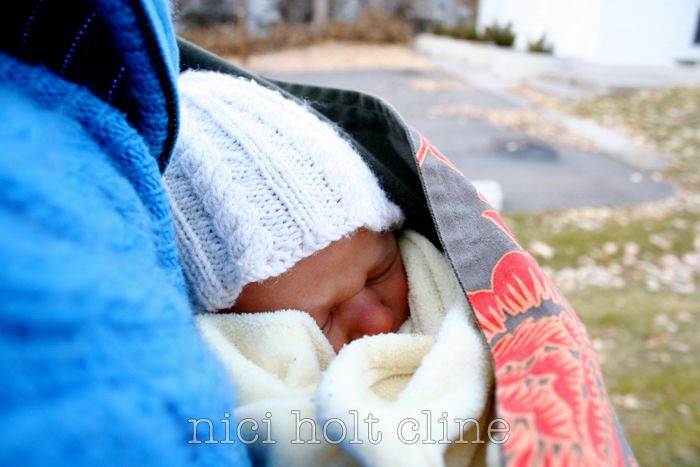 That being said, we've left our home pretty infrequently. We drank coffee and tea, strolled around our hood and received batches of visitors around most meal times. Andy and I listened to the radio, played scrabble, stayed up late watching movies, took hot showers, wore comfy clothes and inhaled our new world. It's so new. Nothing could be more new. What a Wonderful World. Andy and I danced to that song at our wedding. Still true.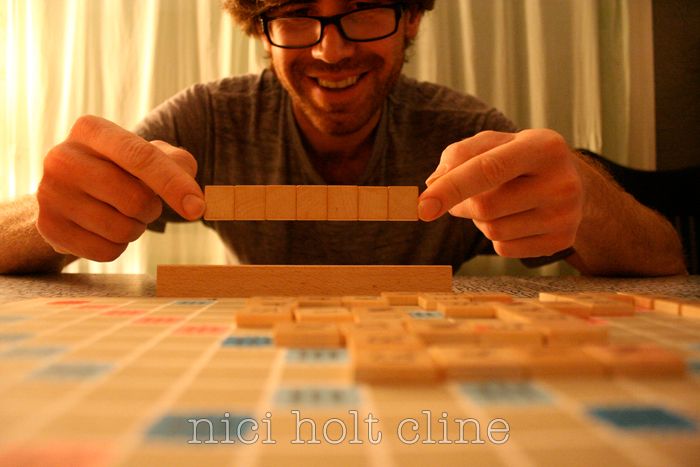 You might also like