hump day nuggets: little bits of the season in photos and words about the last week
A sweet dig reader sent a gift of four amaryllis bulbs when Ruby was born. She assigned each bulb the name of a person in my family. I opened each package to plant the bulbs and realized one bulb had come without its growing medium so I planted three in their separate pots and the other sat on our kitchen counter, waiting to dig its roots in and grow. It really bothered me to think of three family members safe and snug in the soil with promise of life while one lingered, languished alone and hopeless. I actually didn't sleep well thinking of the metaphor.
We had just come home from the hospital.
So the next morning, before my coffee (and that's sayin' something) I put on my winter boots and stomped through a snowy backyard to my garage to find some soil, some way to plant that bulb. Ruby needed her home.
I found a large pot and knew the answer. I dug up the other three bulbs and placed them with the fourth together. The three who had food and shelter would naturally share with the fourth. It's what families do.
I emailed Ann, the gift-giver, and told her the story to which she replied,
I think you can force an amaryllis bulb in gravel and water…Ruby doesn't need soil.
And she was right. That bulb shot straight up with a flower that week. No leaves. Just a flower. The other three leafed out first. In fact, the other three still haven't flowered and that bulb is in full bloom with its second flower.
Ruby Jane.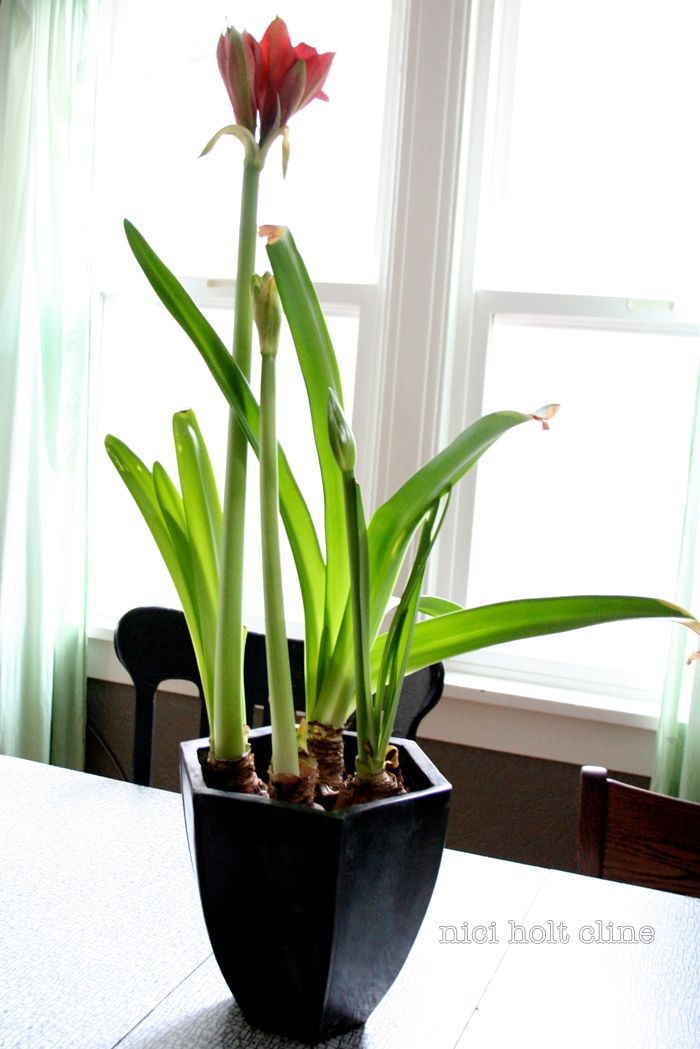 :: A friend made Margot some play dough for her big sister present and it is dreamy. Smooth and pliable, bright and long-lasting. And bug can't get enough of making dog bones. So we made some for her cousin Charlotte who turned three last week.
It's super fun to knead dough that looks like the Incredible Hulk's bread (Ruby on my chest, Margot napping).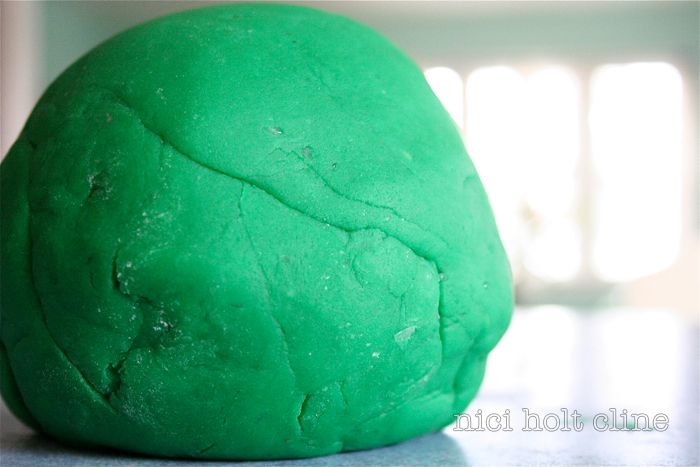 And, of course, doubled the batch so we could have some too. For making all those dog bones.
epic play dough
1 cup white flour
1/4 cup salt
2 teaspoons cream of tartar
1 cup water
1 tablespoon vegetable oil
1-2 teaspoons food coloring
Mix flour, salt, and cream of tartar in a pot. Add water, oil and food coloring. Cook over medium heat, constantly stirring. When mixture forms a ball in the pot, turn out and knead on a slightly floured surface. Store in airtight container or plastic bag.
Margot has something she'd like to share:
;;'k,"k]k]k]]jjk]kk[[[[[k]k[[[[==== =yyyyki kkkouy0—y0-0y—0p:?l;.>;/
:: I was in the kitchen while Margot was unloading bricks or riding a hippo or something in our bedroom when suddenly it was silent. So, of course, I went to check and found this.
She had put Ruby's vibrating chair on our bed, turned it on, found one of Ruby's pacifiers and fallen asleep.
:: A sweet little trip to Lolo Hot Springs on Valentine's Day with my valentines.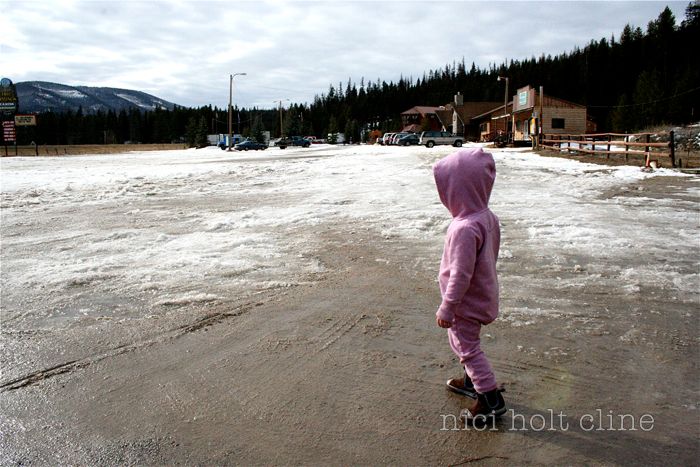 According to facebook and twitter, it appears I am the only person who enjoys Valentine's Day. I don't care if Hallmark invented it. Any excuse for a day full of kissing on the people I love and eating chocolate is fabulous.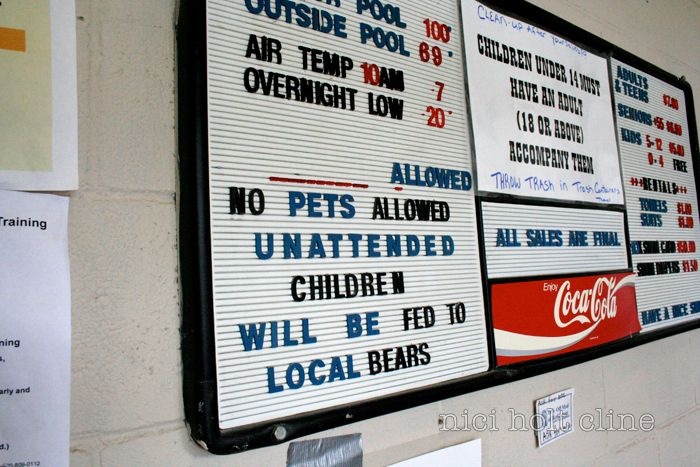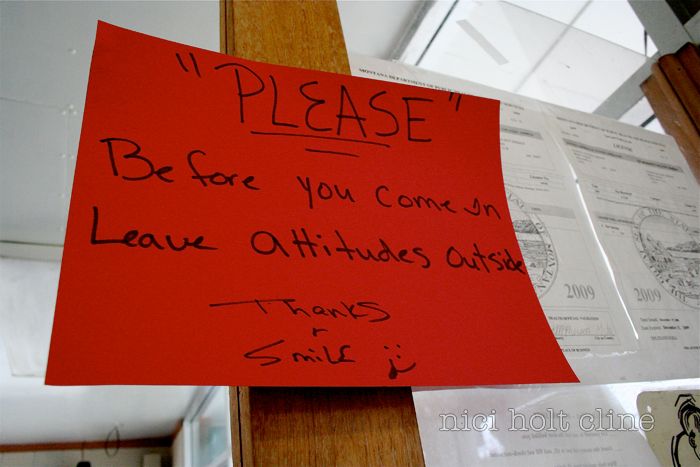 And oh my our fearless little water bug.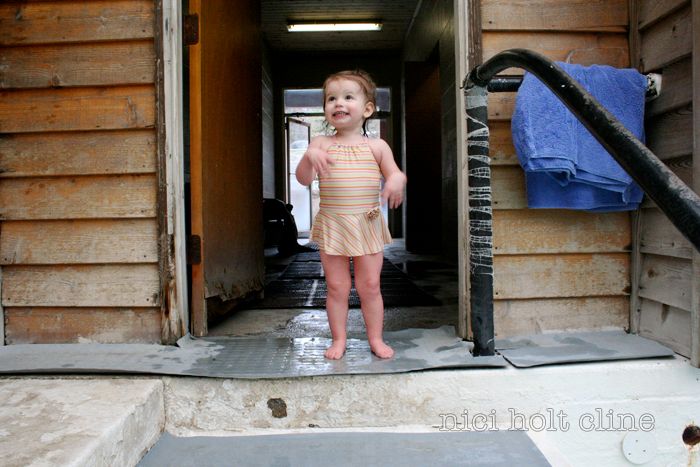 And sweet Rubes just slept in the warm water.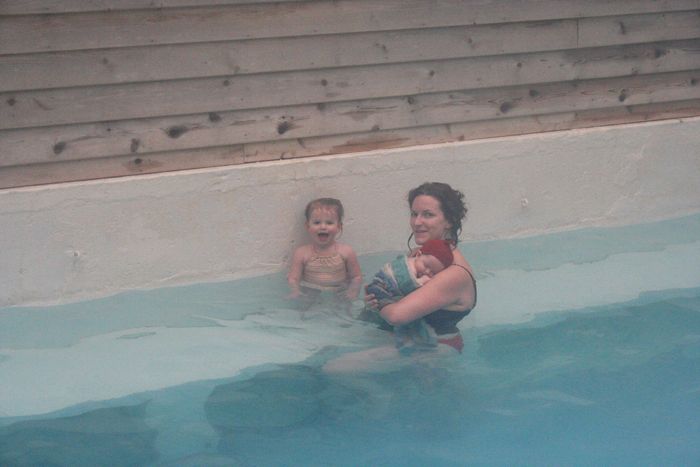 :: We always love a trip to our friend's store downtown (same creative friend who made the play dough).
:: Here is me sounding like a moron talking to my kids. But I took this video of Ruby and when I played it back remembered I had a similar movie of Margot. They are looking a little different, no?
:: Ruby doesn't sleep in her crib yet and so I regularly use it to store clean clothes waiting to be put away. And Ruby adores to lay in the pile and watch me straighten and fold. And she makes straightening and folding way more fun.


:: Margot LOVES to buckle anything that can buckle. Elmo cooperates better than Ruby for all of our daily bucking and unbuckling. (and YES that's a wee braid! Bug actually likes it, asks for it and doesn't pull it out.)
:: And equally exciting is my childhood cabbage patch doll, Kelsey Leigh, going poop. Good girl! I am so proud of you!, Margot declares.
:: My little food prep companion.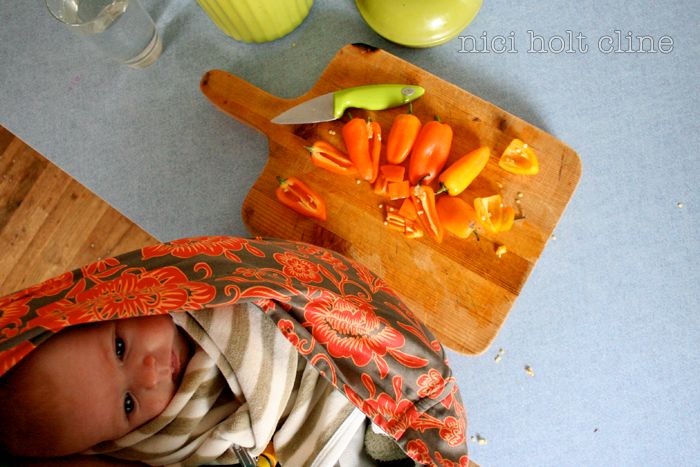 :: Mama lay with her?, Margot asks. And they just hang out and smile. Well, Ruby alternates between smiling and grimacing as Margot moves all about like a hot potato.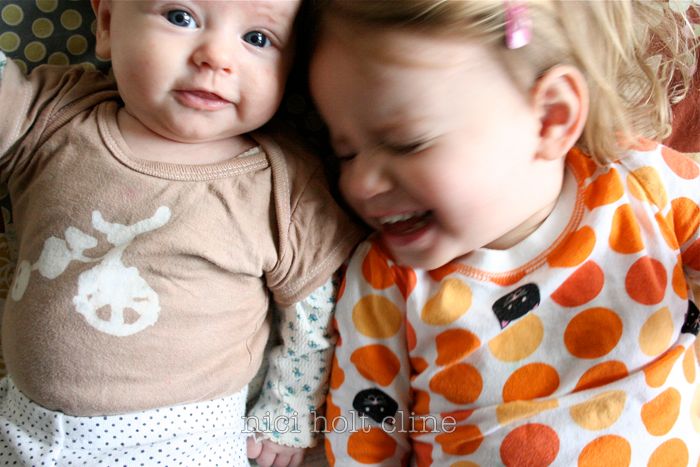 And Ruby's sweet batik bike shirt was handmade by our dear friends.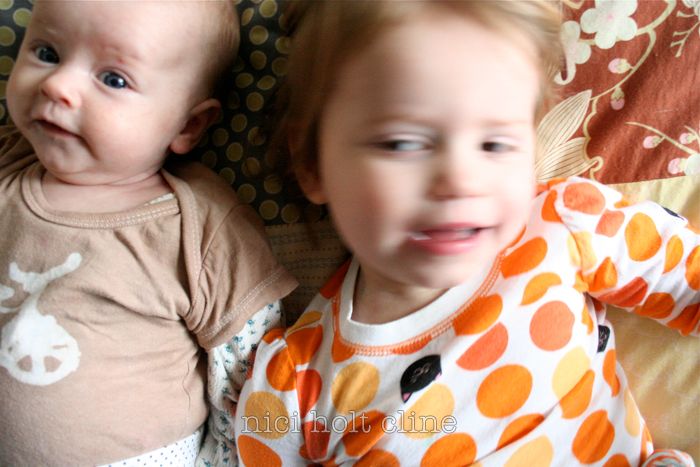 :: Really now.
You might also like