hump day nuggets: little bits of the season in photos and words about the last week
We were on our Sunday walk last weekend and both girls fell asleep so Andy and I had the luxury of talking without stopping unless we wanted to. So we walked all over Missoula, winding through neighborhoods, for several hours. It was slow and breezy and so nice.
We don't have much slow and breezy these days. These days we think about dinner at 5:30. These days we garden, skype with grandparents, build forts and make pancakes before 9am on a Saturday. These days our dressers sit empty and lonely and overstuffed laundry baskets lounge in every corner. But, just in case you ever wondered, it is always possible to fit more clothes in a laundry basket.
On our walk, Andy and I talked a bit about how we might rearrange and say no to loosen up our routine a bit. We came up with a few great solutions but, mostly, we realized we are a passionate pair with many needs, both together needs and autonomous needs. And all those needs that feed our souls and cool our fevers are part of us. Like an arm. And neither of us wish to be an amputee. So, we'll be full and at times freak out. And then we'll go on a slow walk and hold hands.
nuggets.
:: Ruby Jane is six months old. She tried and loved avocado on her half-year (really?!) day, just like Margot did.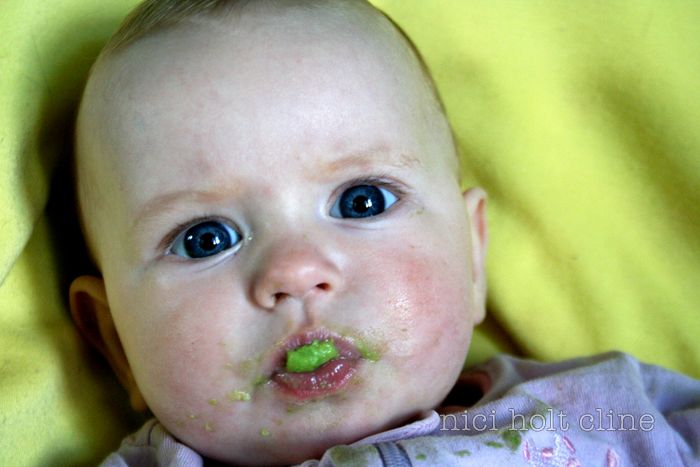 :: On a work day, we spontaneously met papa for a picnic in Greenough Park. Not much better than laying like seals in the sun after sharing a sandwich.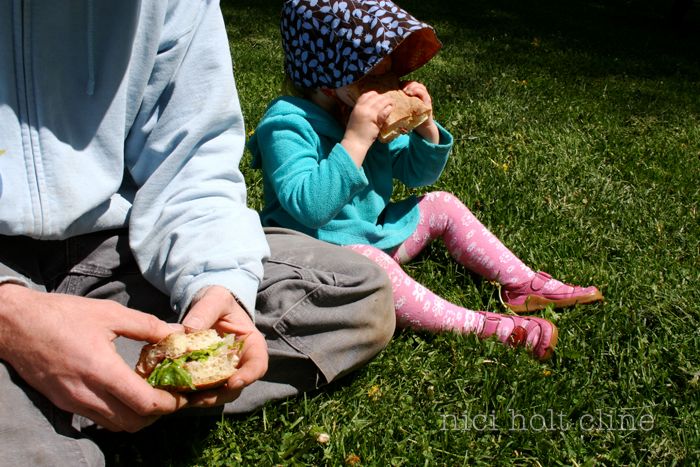 :: Thank goodness papa knows how to toss children through the air, spin them until they are dizzy with giggles and play hide-and-seek for hours. Otherwise, my daughters would miss out on a lot of fun.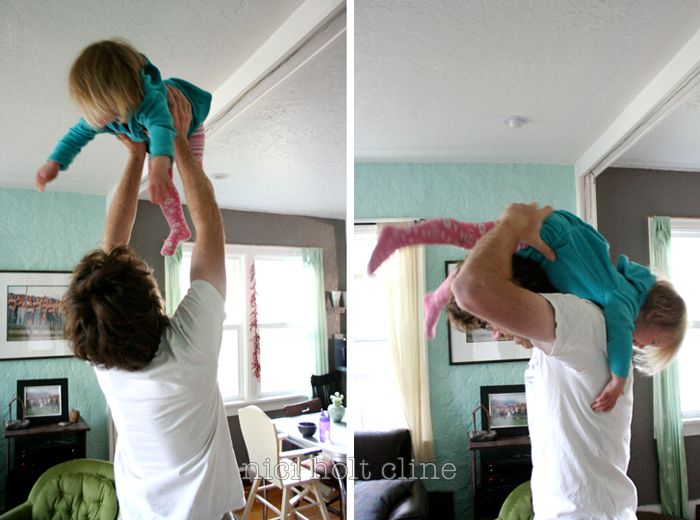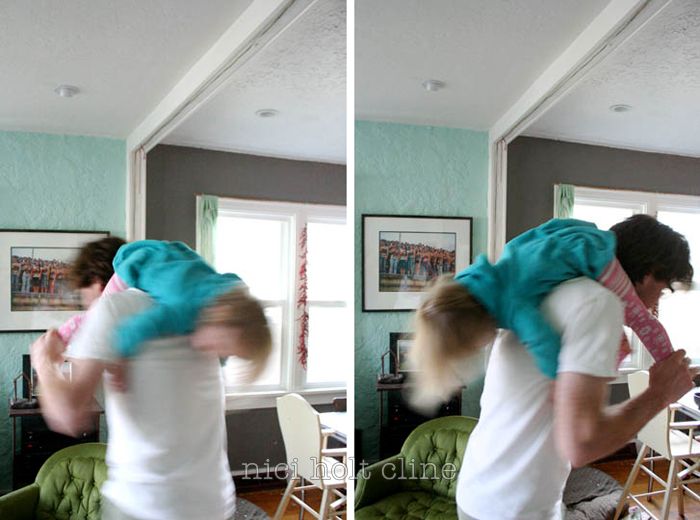 :: And the Epic Salad Marathon begins. By this time of year I am so starved for decent vegetables that I cannot imagine growing tired of anything fresh. I know zucchini will prove me wrong. But now. Now, we dine on meaty spinach and peppery arugula like we have scurvy.
:: Oh my little creative, independent soul.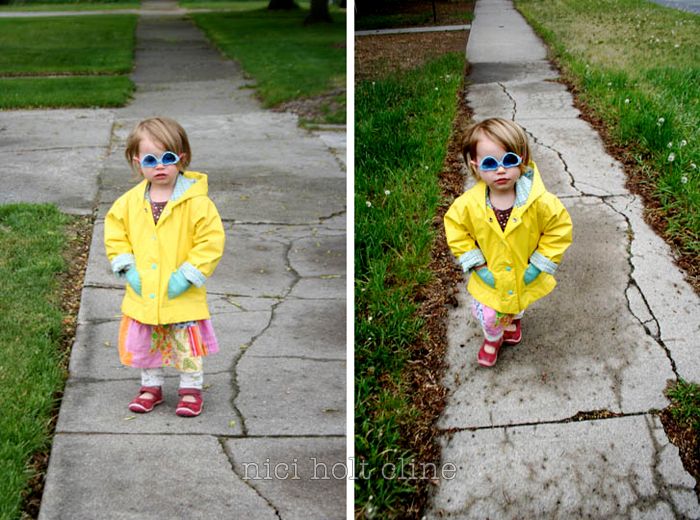 :: Several times a day, I hear silence. Half the time it's because Margot is playing Magnum PI with the increasingly limited number of items I can call mine and the other half is this: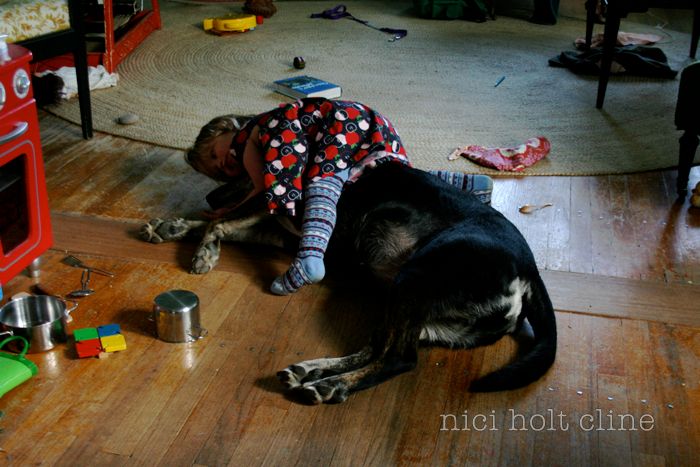 :: I have incredibly generous, smart, beautiful and inspiring girlfriends. They amaze me. I sincerely have daily reflections on my fortune in friends. And then, a few years ago, this amazing thing happened without any plan at all. A bunch of us had kids. Growing with my friends with our kids growing together is damn beautiful.
:: I think I could cut out a 'Montana' blindfolded with one hand. I know I can cut out a 'Montana' while holding one or two children and singing oh mister moon.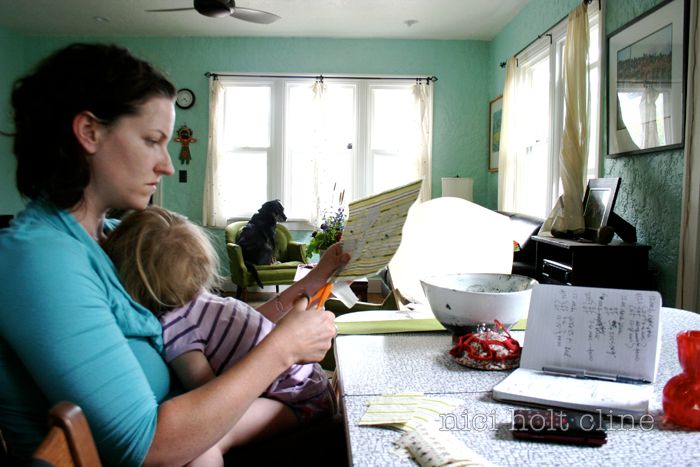 :: Moments before Margot tried to 'help Ruby' get out of her blue chair.
:: Oh and the morning romps. I know when I am older, I will look back on our mornings messing up the bed, laughing, jumping and cuddling with so much fondness. It's one of my favorites.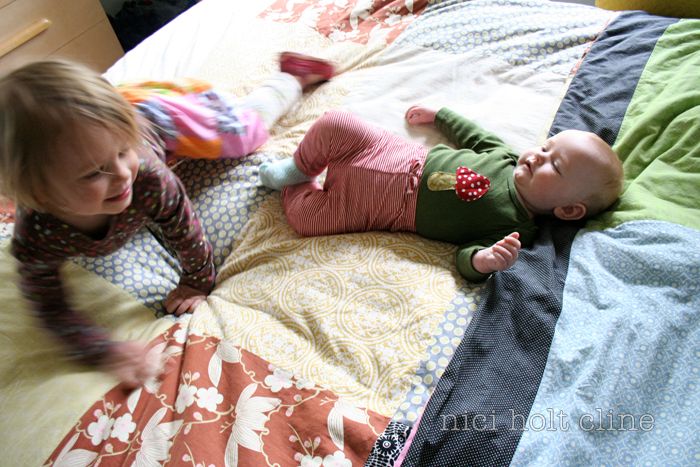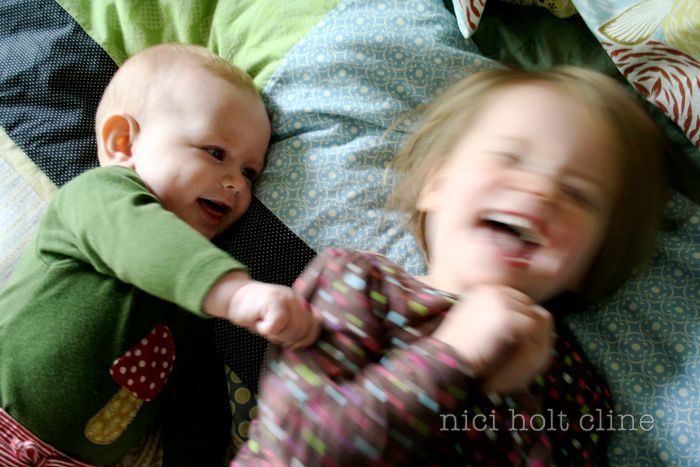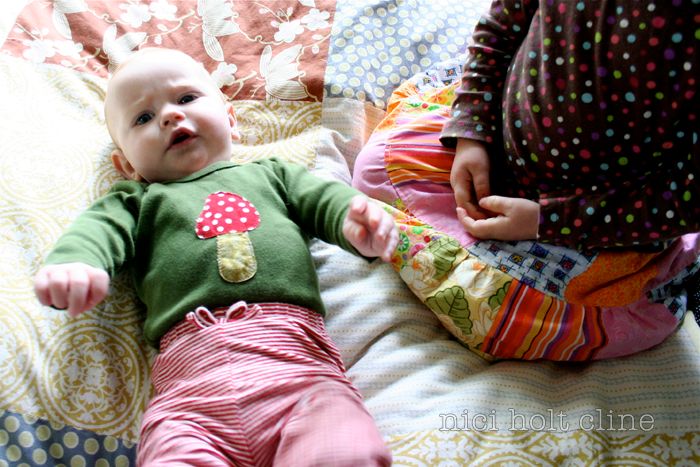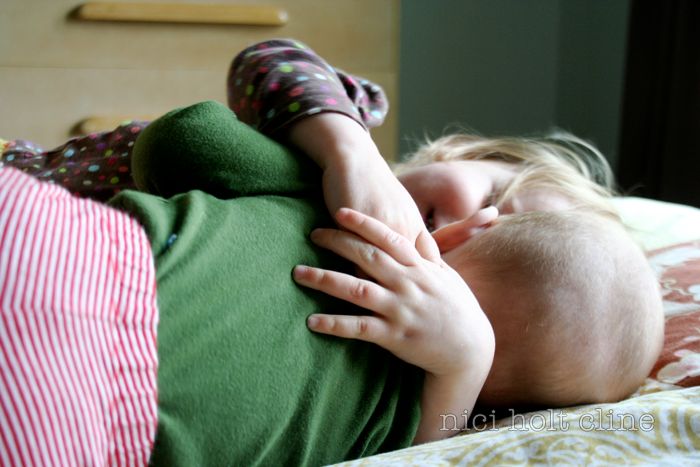 You might also like