As I mentioned, I am pulling dandelions like a mo fo this spring. This is the first time I have ever done this because I have never cared much before…our 'lawn' is a tiny plot of grass, dandelions, clover and exists only because sitting on rows of straw between lettuce and squash for a picnic isn't very comfy. Neither is croquet among calendula.
our 'lawn'
Now that I have two wee ones and am home, I have a more intense need for this 15 x 25′ patch to be lawn. I want to want to sit on the ground in my backyard.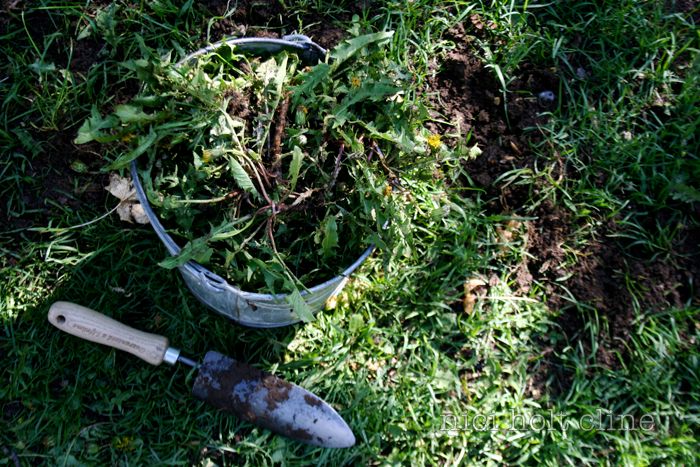 for those who inquired: my favorite dandelion digging tool is this study spade with a sharp tip
But
I suck at growing lawn
. I don't water it enough and certainly don't water it enough to start seed. I will never ever spray herbicide or pesticide on my plot of earth. With the increasing research proving links to canine cancer, leukemia in children, breast cancer and more, I honestly can't believe roundup is legal let alone sold by the gallon at costco…read some stats I found
here
and read more
proof
here
,
here
, and
here
).
So what's a anti-chemical girl with an aversion to watering to do?
I have a small, manageable area where I let my chickens scratch and poo in the off season. I pull dandelions, add a thin layer of compost and water *just enough*. Once the grass is thick and established, weed seeds son't be able to germinate and soil microbial diversity will increase vigor of the grass.
Plus, in a tidy little full-circle, the chickens LOVE dandelions.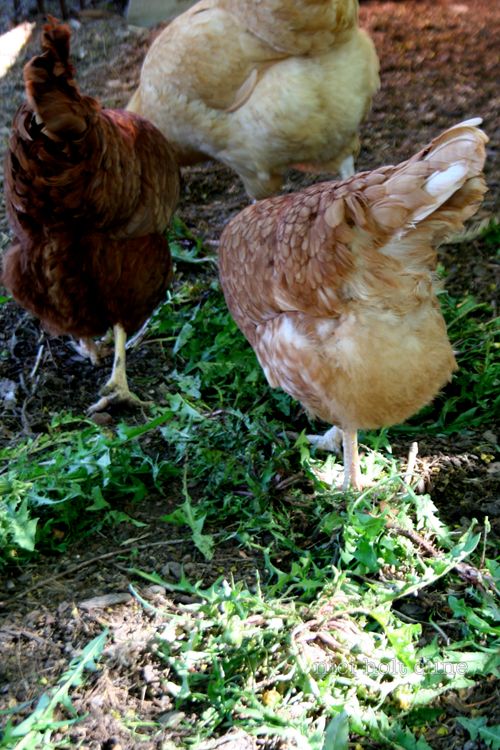 It's getting there! It's working! I am digging 50 dandelions a day (started out as 25 but I was getting nowhere…). Plenty of healthy backyard romps in our future. And, I really do enjoy a few yellow dudes among all that lawn.
You might also like