I've known Andy for 20 years, been together for 13, married for five. And of all the changes we've experienced and grown through together, getting to see him as a dad is the greatest, sexiest, most profound happening. Andy is an incredible dad.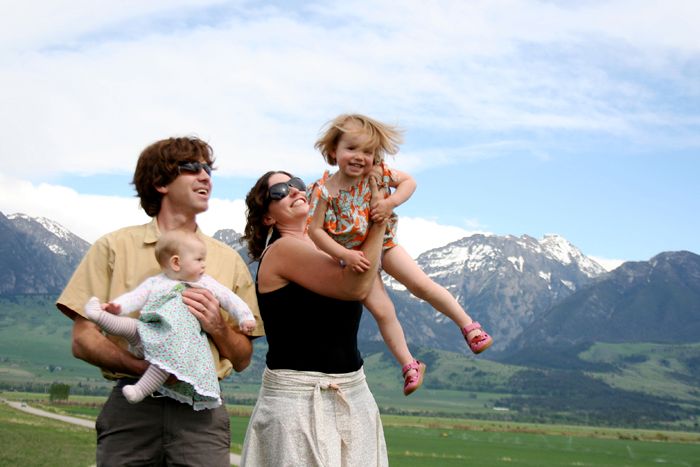 His Father's Day wasn't anything glamorous or glossy. (although, I read that while looking at the photo above and think, damn, getting to live among those mountains is pretty glam) It was actually kinda harried and pitted-out. It was a real life day, one where I inserted little extra special touches wherever I could. It was funny and he felt adored.
See, we traveled several hundred miles to a wedding last Saturday and traveled home yesterday. And, this mama said, ok, just one more glass of wine a few too many times at the wedding. Come Sunday morning, I felt as though a tiny man with a tiny axe was chopping at the bone behind my eyeballs. Needless to say, I wasn't much help for the first few early hours at Chico Hot Springs.
But, don't you worry, I recovered pretty darn quick and we enjoyed a lovely breakfast buffet (NO, thank you, I don't want a mimosa). We passed our daughters back and forth and back and forth while we ate omelets, blueberry bread pudding, sausage and homemade granola. We hung out with our friends and swam in warm waters. And, we drove home, stopping A LOT because Ruby and Margot pretty much wanted to be anywhere in the entire universe besides their car seats. Oh, I swear sometimes I wish it was the 70s and our kids didn't have car seats. It'd be much easier to nurse Ruby in the front seat instead of on my hip between two car seats in the back, abdominals engaged, hard plastic digging into my side, breast cupped with my hand and elongated to reach Ruby. Thank heavens we have tinted windows…
So the drive home was really tiring and also unnerving with Margot singing the abcs for over three hours. OVER THREE HOURS. She sang them fast, she sang them slow, she sang them high, she sang them low. She sang them when she saw a train, she sang them when she saw a plane. She sang them here and there and everywhere.
We arrived home to a messy house and I hopped right back in the car with the girls to go fetch father's day enchilada makings. I made dins while Andy played with the girls rough and fun the way only dads can. He and Margot took a bath together and I heard Margot say, Papa! I'm peeing! to which Andy replied, sweet.
Ruby asleep, Margot joined us at the dinner table where she made sculptures out of yogurt and corn tortillas until she dove into Andy's lap. She insisted her blue flip flops remain on the table and she insisted Andy eat his spinach stems. And she hugged her papa a lot.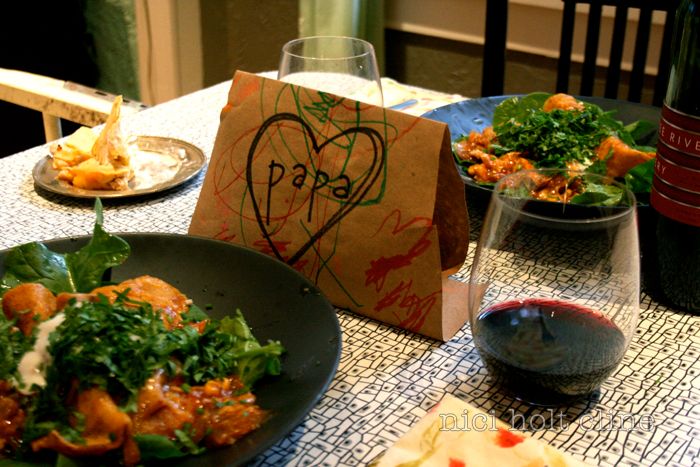 Through our nutty day, I fell more in love with the man I married. His even temper, his unconditional adoration of our daughters. His ability to find humor instead of frustration. His self-awareness and confidence with expressing his emotions and articulating his needs.
His love for good cake.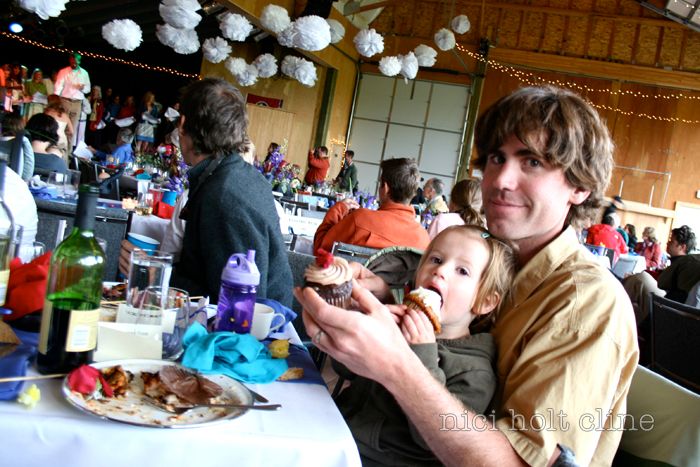 The way he cradles Ruby over his strong forearm.
Oh, he's a good man and a good dad. Happy Father's Day, love.
And, Happy Father's Day to my dad. I aspire to have as much fun and love as he does when I am 60. For example, he had a day of modified golfing yesterday due to a broken knee cap and he was all smiles when I talked to in yesterday.
:: :: ::
In
this week's mama digs
I talk about the NASA Posse. This is a real group of friends-since-childhood to which my husband belongs. They produce an annual hoodie that tells the world they belong to the elite club of boys-at-heart who love to ski, fish and tell dick jokes. Click here to read
NASA Posse and my daughters
.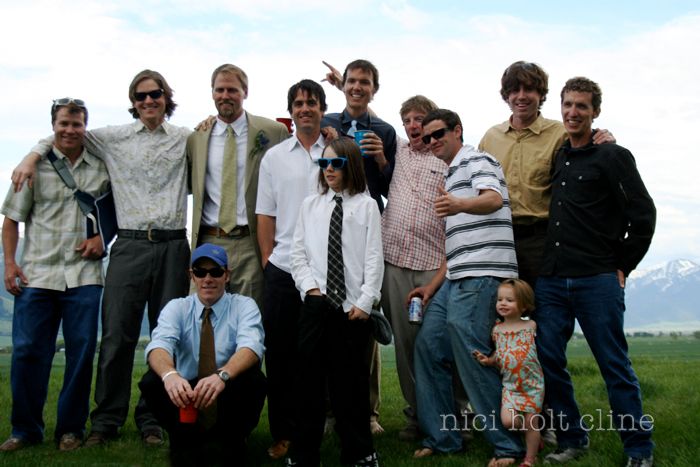 :: :: ::
Anonymous said…
Thirteen years ago was 1997 right? I was one year away from graduating from MSU and interning at an office furniture manufacturer. We lived in Coeur d'Alene that summer and swam in the lake and walked all over town that summer.
You might also like