As a zany family of four, it is really rare that we get one-on-one time with each other. And, I am finally starting to fully get that I need it.
I find it's easy to cartwheel through bedtime but there's so much to love when I slow down and trace Margot's face and
sipszsipsz
behind her ear and read one more book. It's easy to nurse Ruby while writing but there's so much love when I study her knee fat and lock eyes with her as she giggles her way though lunch. It's easy to do a passing kiss and
how was you day?
when Andy walks in the door but there's so much love when I stand on my tip toes, wrap my arms around his neck, kiss him and, with eye contact,
how was your day?
Of course I don't always do the
so much love
things. In fact I don't make that choice as often as I should. But, I have to say, I
never
regret it when I take the time. Never. Good to remember.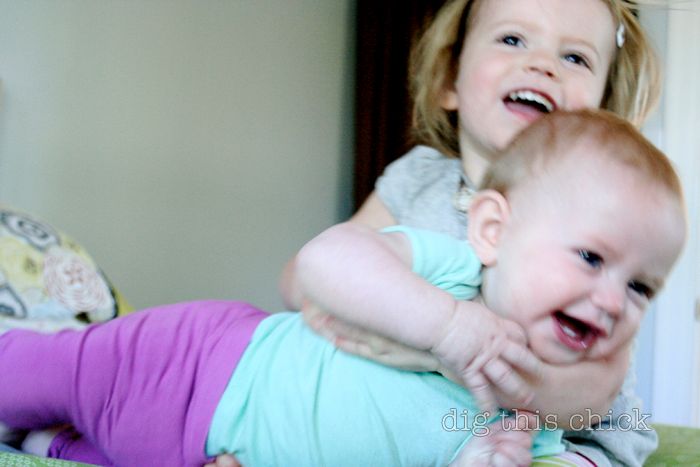 :: And then we landed in the cornucopia of California where Montana house plants grow like weeds by the highway.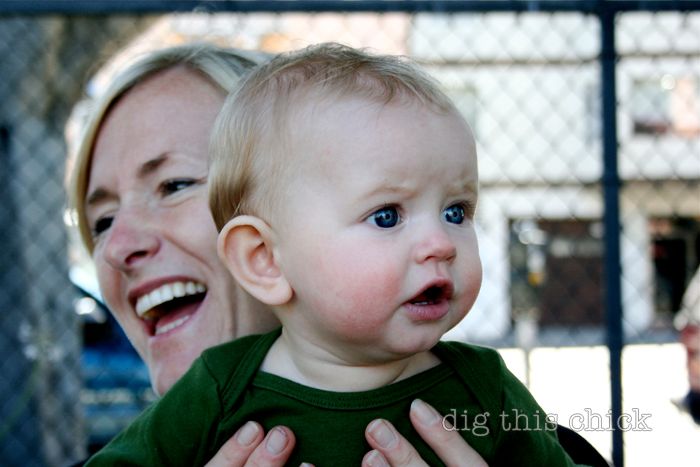 Where the light is always beautiful.
Where my best friends live. Lindsay, my friend of 21 years, eloped. I remember discovering Pearl Jam in 7th grade, studying for biology tests in her driveway, moving away together and then apart, shared holidays through our twenties…good stuff, old friends are.
When Paige, Lindsay and I are all together, we always take a mirror shot. This one was obviously hurried (the new wife had to rush off to France) but funny, no? My beautiful friends.
:: I always feel like the mark of a good vacation is when you are happy to leave home and happy to come home. I was so happy to come home. The first thing Margot wanted? She said,
mama, I want to cuddle with Ruby and you take a picture.
:: Andy walked into this a few days ago. She did a pretty good job, eh?
::
Wild Lupine Design
keeps rockin' the dig sponsorship! She offers a 10% discount to dig readers (and always free shipping!). Just mention 'dig this chick' at checkout and she'll refund 10% to your paypal account. Thanks,
Wild Lupine Design
!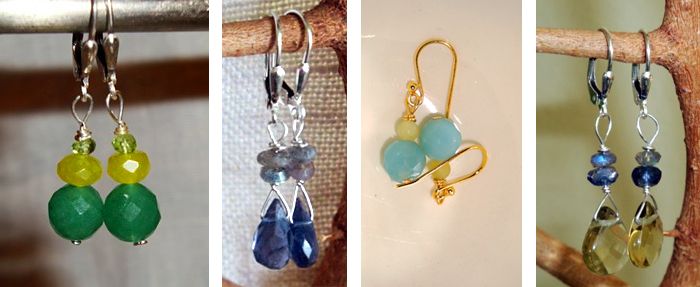 :: Margot's garden and the entire boulevard garden is mostly thriving. It is all a big experiment since it is so out there and public…like, check out her bed. Half is huge and leafy and half is puny. Same soil. Who knows.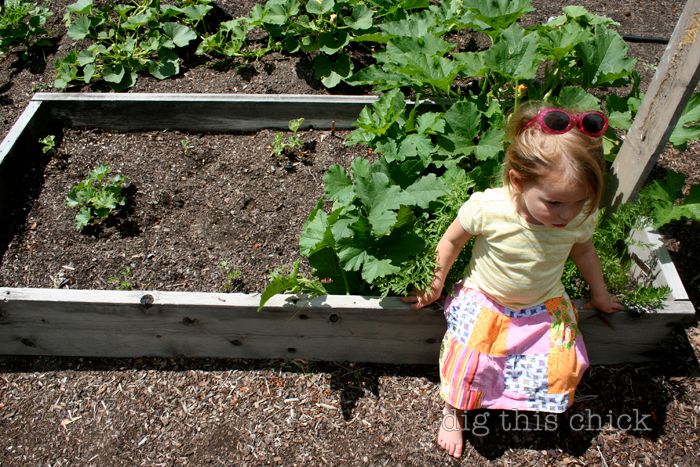 :: I love summer for spontaneous friend visits that double as a pea-picking, chicken-naming party. Three more pounds of picked peas (10 pounds so far!) and at least a pound eaten in the process. Also, Caroline named our silver laced wyandotte Maude. Perfection. So, now we need just one name for our rhode island red to join Paige, Peanut, 16 Months and Maude. (oh and YES Paige is still crowing! We can't keep her if she doesn't stop….)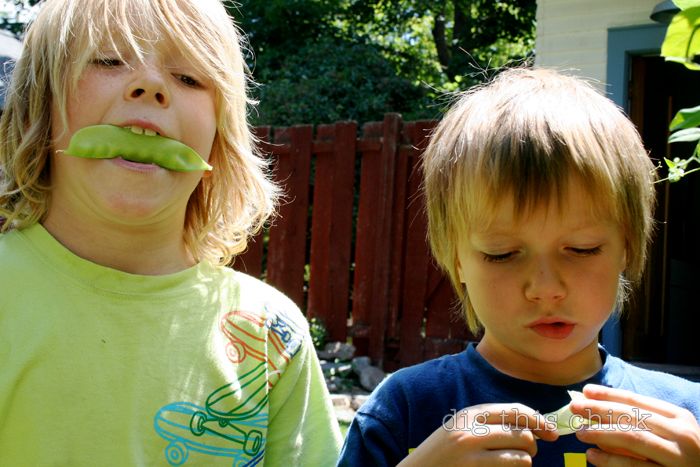 :: Here is how I often work. Sew a shirt, bounce a babe, iron a skirt, sing
the wheels on the bus
…I'd love an extra arm. That'd be cool.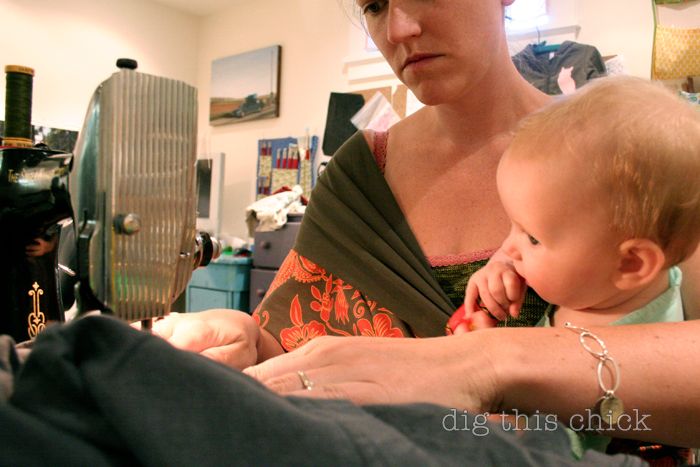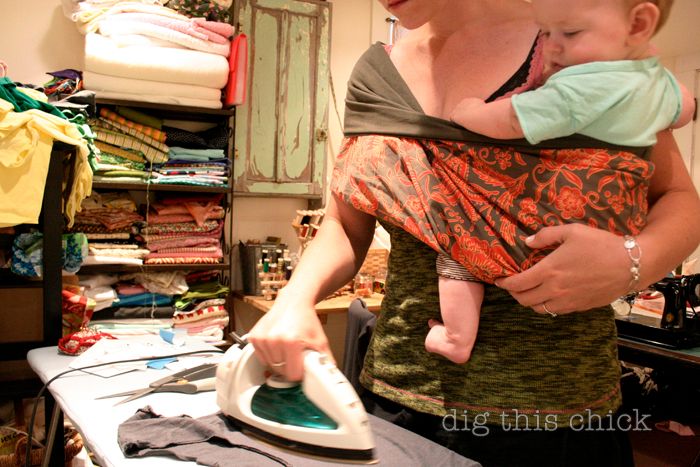 :: Last night, Margot and I spontaneously decided to make a jammied run to the park as I was tucking her in bed. Why not?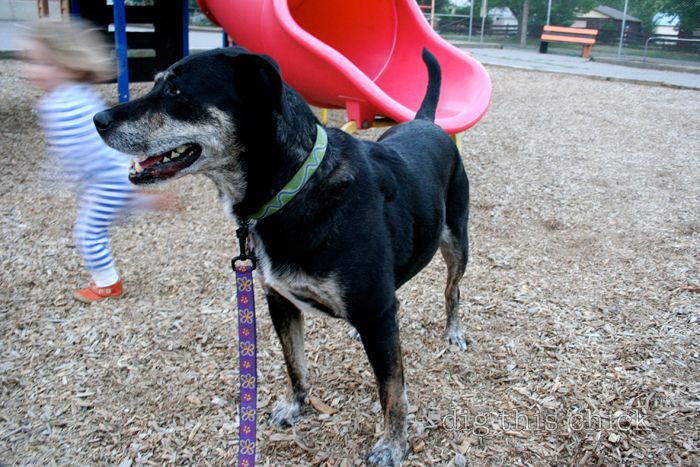 And this was the sky on our way home. Margot said,
oh Mama look at the orange and pink! It's so beautiful! That's my favorite sky.
And so one-on-one. Dates with Andy, trips with Ruby, walks with Margot where I meander and am thankful. There's so much love out there.