Hooray for this month's sponsor, Frayed Sew! And if you are wondering, can a shop live up to that stinkin' cute name? The answer is, yes.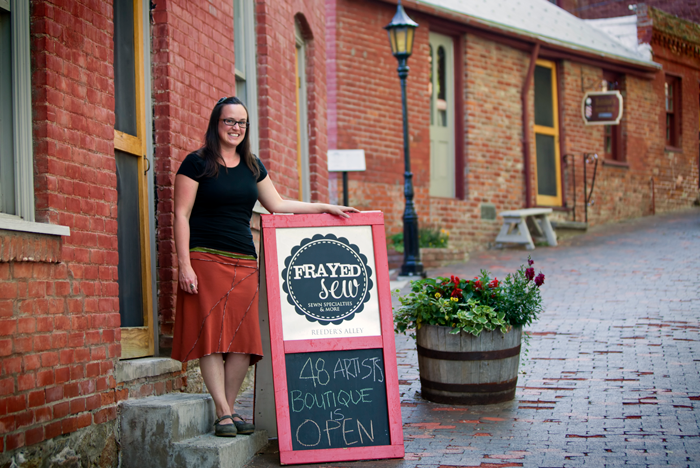 Frayed Sew
is a bewitching boutique where every little nook and hook holds cool stuff you can't live without. It's located in our charming state capitol, Helena, in the even more charming
Reeder's
Alley. The shop carries high quality
handmades
including everything from blank books, headbands and baby changing pads to plush toys, skirts and dog collars…seriously a ton of brilliance in there.
I have had the pleasure of getting to know owner Becky
Shreiner
a bit and am starting to understand where all that bewitching charm came from. She's a crackerjack.
Here's a little virtual chat we had:
Tell us a bit about Frayed Sew's history.



Frayed Sew sprang from my urge to bring high quality handcrafted items to the people of Helena. When I shop, and my husband can attest to this, I love to feel and handle my purchases. I want to see with my own two eyes the quality of the piece being bought.
In 2008 I was beginning to realize that I didn't want to sit behind a desk doing

GIS

work all my life, I wanted to bring artwork into the forefront in Helena. I wanted to have a

teeny

tiny brick and mortar shop to showcase my b. handmade designs sewn creations along with others. I wanted to pick and chose and combine funky modern pieces together, featuring many artists from across Montana, to form a shop. Helena is the prime location for this as it is going through a shift, a hip shift, and I wanted Frayed Sew to be a part of this shift.

What kind of items do you carry?



Don't be deceived by the name of shop, we are not a sewing shop, oh well I do accept b. handmade designs custom orders. Frayed Sew is eclectic. We have 50 artists in total right now, most are from Montana, all are from the U.S. We sell hip jewelry, clothing, prints, cards, hair accessories, hats, purses, clutches, and totes,

plushies

, baby gear, a little of everything. Oh and to plug Dig this Chick – yep Frayed Sew has her stuff in stock!


When you aren't making things or selling things others make, what do you enjoy?



I enjoy spending time with my hubby, Nick. He's my best friend and when he's not traveling, we are inseparable. We could be hanging out on the deck or motorcycling–my hubby has a way to make me realize everything will be alright. When I'm frazzled, he centers me. I really enjoy hanging out with family, even though I don't get to do this too often. I also enjoy spending time with my four-legged kiddos, Sunny (

Frenchie

bulldog) and Mr. Bean (Boston Terrier). I enjoy gardening and everything that has to do with gardening. I love cooking and baking. OK I'm a regular Martha Stewart, except the jail part. Reading is top on my list and I set aside some time to read. And, of course, I really enjoy my lunch dates, supper club, and desserts and drinks with the girls. And I enjoy

ice cream

and caramels quite a bit.

For people who can't visit the store, how can they get their hands on your goods?



Frayed Sew is working on a website and a possible webshop. And if you see any items you like on the Frayed Sew facebook page, I would gladly take orders over the phone (406.422.7725).
:: :: ::
As I get older and wiser I am more and more aware of the importance of making intentional purchases, to choose who and what I support.
Frayed Sew
makes it so easy because I know when I buy items there I am getting a killer handmade item while directly supporting artists and my community. Oh the warm
fuzzies
all around!
*****Becky is generously offering 10% off purchases from now through September 30, 2010 (excluding special orders)! Just call or head down to her new, expanded store, mention 'dig this chick' and it will magically happen. THANK YOU,
Frayed Sew
.*****