hump day nuggets: little bits of the season in photos and words about the last week
An equinox occurs twice a year, when the tilt of the Earth's axis is inclined neither away from nor towards the Sun, the center of the Sun being in the same plane as the Earth's equator.
The harvest moon is the moon at or about the period of fullness that is nearest to the autumnal equinox.
Turns out it was the exact same moment this year. Did you see it? It was, hands down, the best effing full moon I have ever seen. Round and sexy and hissing with excitement.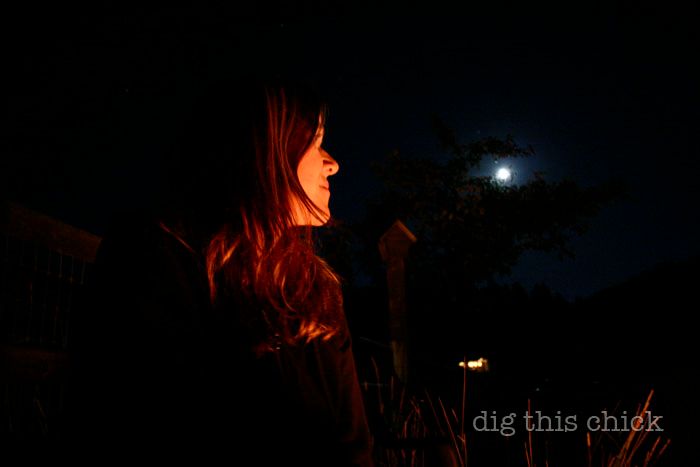 happy birthday Caroline!
The thing is, we don't need such scientific truths to announce fall 'round here. The air crunches, the leaves relax into rainbows. College students sit on couches on their front porches and bed time becomes more of a time. The sun yawns over the mountains sooner and insists upon sweaters.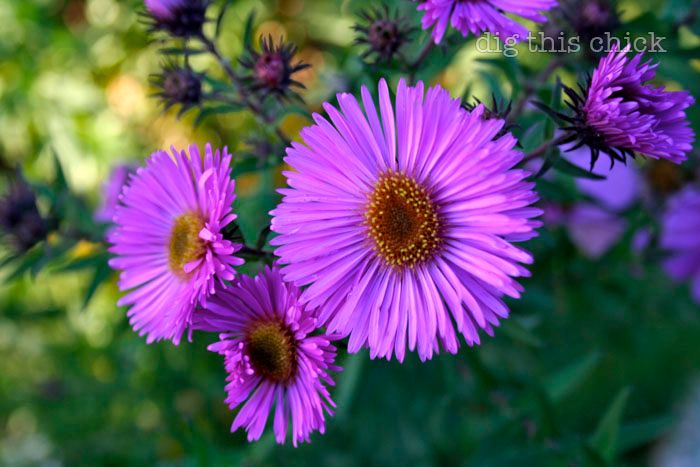 Here, we haul closet loads of stuff we can clearly live without to thrift stores and talk about weather-proofing windows. We wish we had planted more carrots and pick hundreds of pounds of fruit from neighbor's trees. We opine about the snow forecast and spread the down comforter over our bed.
nuggets.
:: Lots of surprises in the garden this year including one giant head of Kaboko cabbage.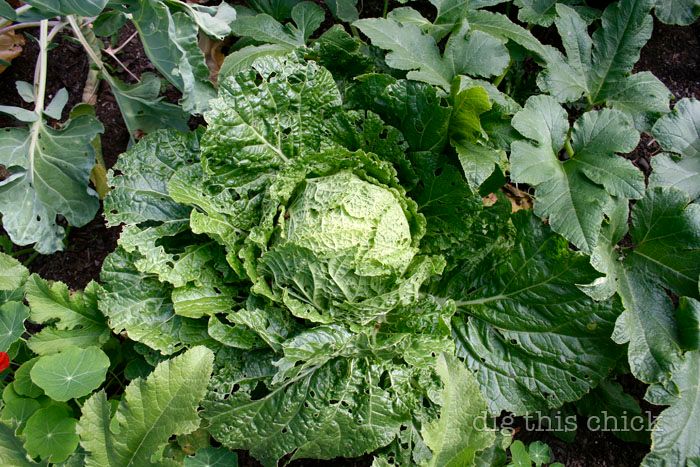 :: Annual peach butter making.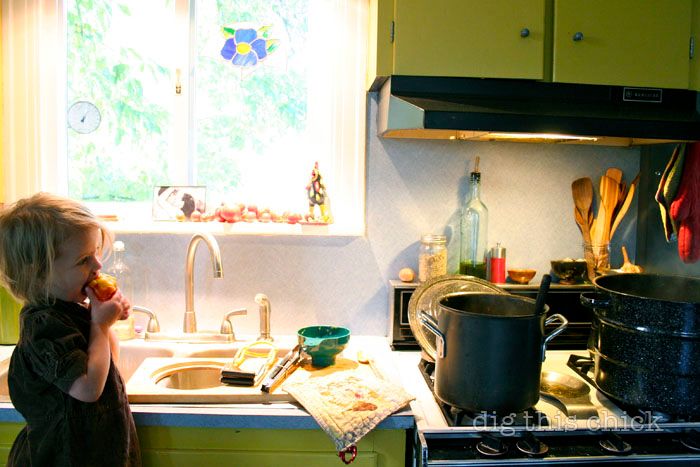 We did it over the course of several days this year. Breaking up the blanching and peeling from the cooking from the canning made it seem like a snap. However, I think we lost a good 20 pounds of peaches to hungry kids. We still ended up with 30 pints of summer heaven.
:: Pear-picking with friends.
 
As I was pliéing way up in a tree I remembered last year when I was up in that same tree negotiating a big belly. As I approach Ruby's first birthday and I keep thinking about one year ago I was _____. It's a crazy thing that she was in my body a year ago and now she's long and strong and here.
I'll make pear apple sauce. Method and recipe next week.
:: Our contortionist baby can bend in half to reach anything at all. Dare her and it's even more astounding.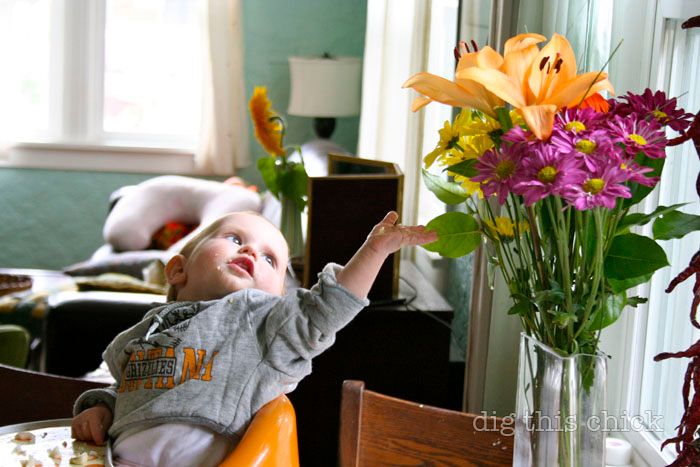 :: The winter squash harvest will be wildly successful in a few weeks.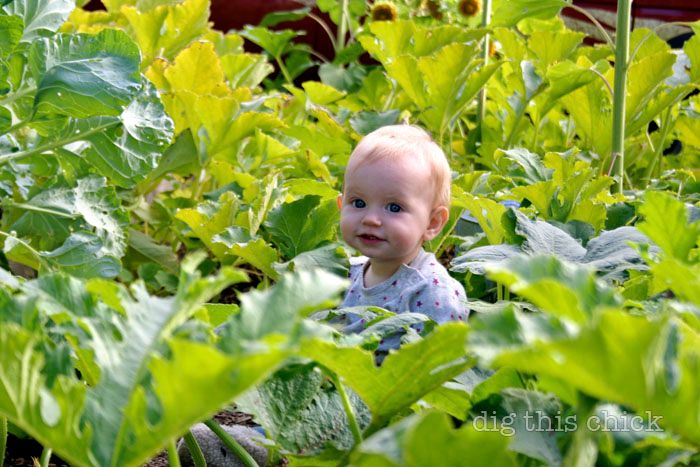 :: Lately I have insane twitches where I SEE Margot as a teenager.
:: WE GOT A NEW RANGE and it took a minor miracle to shoehorn it into our beligerant kitchen. Some day, a remodel. For now? I have four working burners, convection and lots of things to make without having to hop on one foot while singing supercalafragalisticexpealadocious.
:: I made a cake for my friend's birthday (in the schizophrenic oven) and it was good. Like, finishing-it-off-for-breakfast good.
Adapted from Vegetarian Planet cookbook:
Cornmeal Plum Cake
1 1/3 cups cornmeal
2/3 cup unbleached white flour
1/2 teaspoon salt
1 teaspoon baking powder
3/4 cup salted butter, softened
1 1/4 cups sugar
4 eggs, beaten
1 teaspoon vanilla extract
1/2 cup plain, whole milk yogurt
1 1/2 cups halved plums
Preheat oven to 350 degrees. Butter nine-inch cake pan. Mix cornmeal, flour, salt and baking powder in a bowl. In another bowl, mix butter and sugar with a wood spoon (don't cream them). Stir half beaten eggs into sug-but mixture. Then add the rest. Add vanilla. Add half of the flour mixture to the egg mixture and stir well (don't beat). Stir in yogurt. Add remaining flour mixture. Fold in plums. Pour into pan and bake for 45-50 minutes or until knife inserted into cake comes out clean. Let cool for 30 minutes and serve at room temp.
And because it stuck like crazy and was all fuhcockta when it came out, I fixed it up with a boulevard sunflower.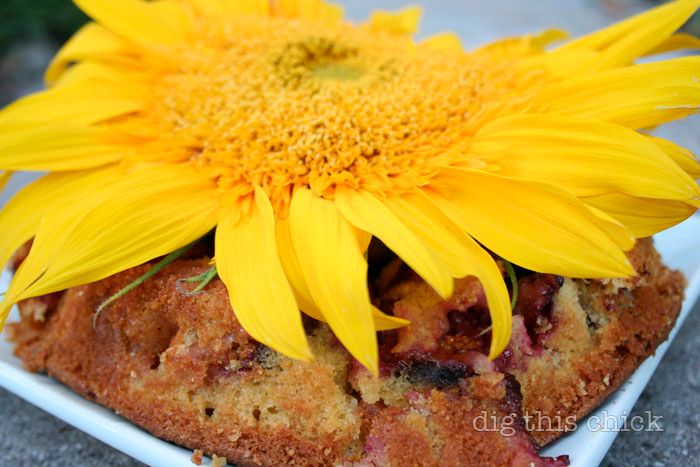 :: I hear all the time on facebook how people dork out at Target. I do not do this but I can relate. I can walk the aisles of my local hardware store like I'm on a secret scavenger hunt.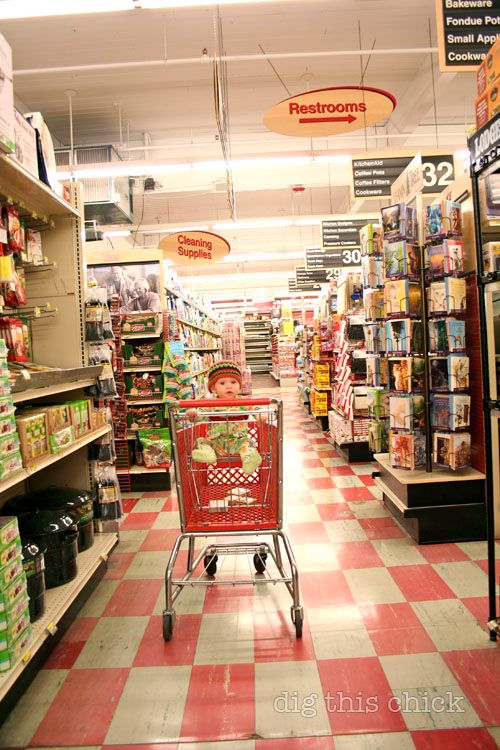 Especially when accompanied by a WIDE AWAKE baby before sunrise.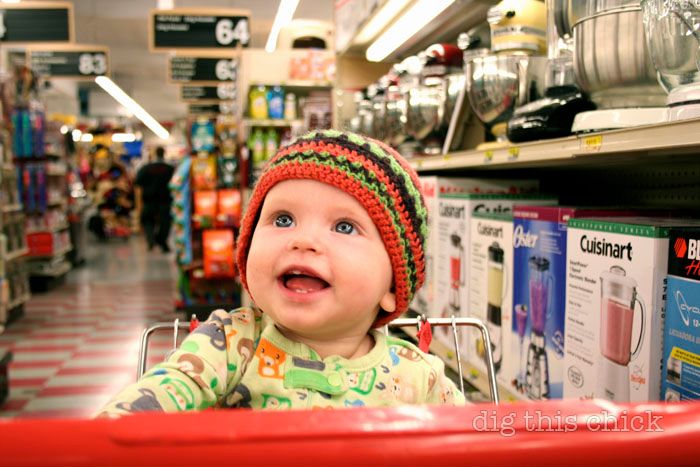 We left with canning lids, Barkeeper's Friend and a dog poo shovel. What were you doing Saturday at 7am?
And, even though I CANNOT WAIT TO SLEEP PAST 5AM, I always feel lucky to witness sunrise.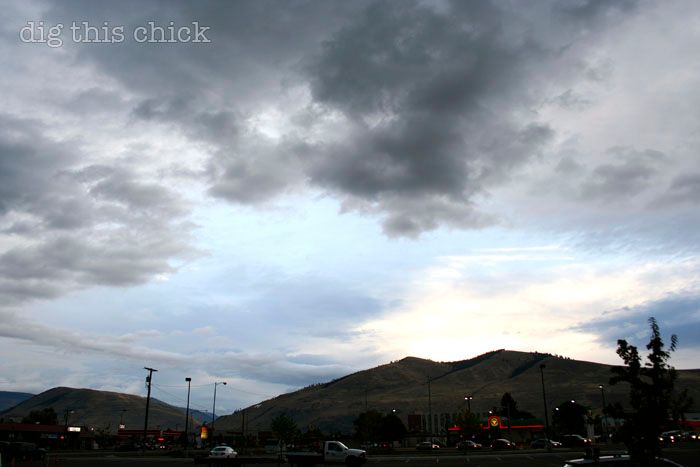 :: I think plums are nature's most perfect color combination.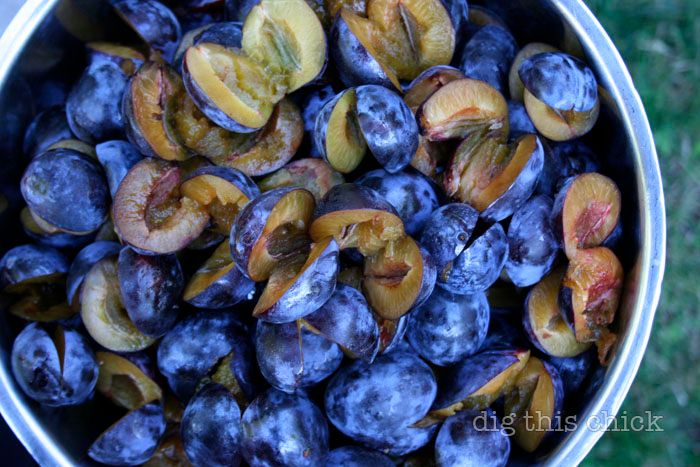 To preserve plums I simply halve, pit, toss in bags and freeze. We add to muffins, cakes and desserts all year.
:: We have a farm seven blocks from our home. It's absolutely one of my favorite things to wake, make coffee and walk to Benson's for produce that was picked that morning.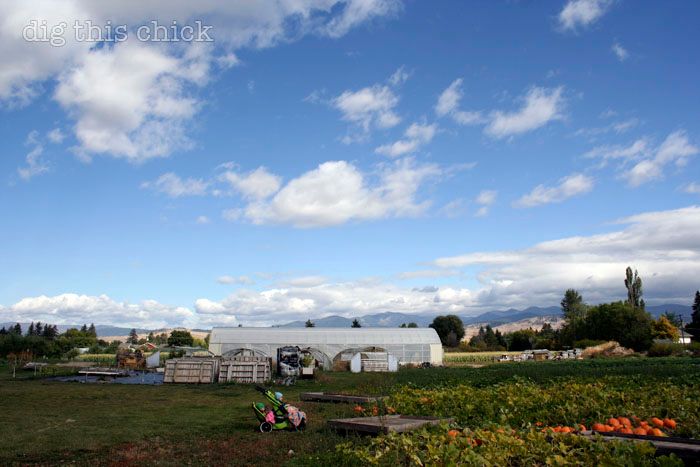 And my true Montana girl. It was cold on this morning and she insisted flip flops were fine if she wore a hat. Yep.
We loaded the stroller with as much corn as it could carry (leaving room for two small children) to freeze for the winter.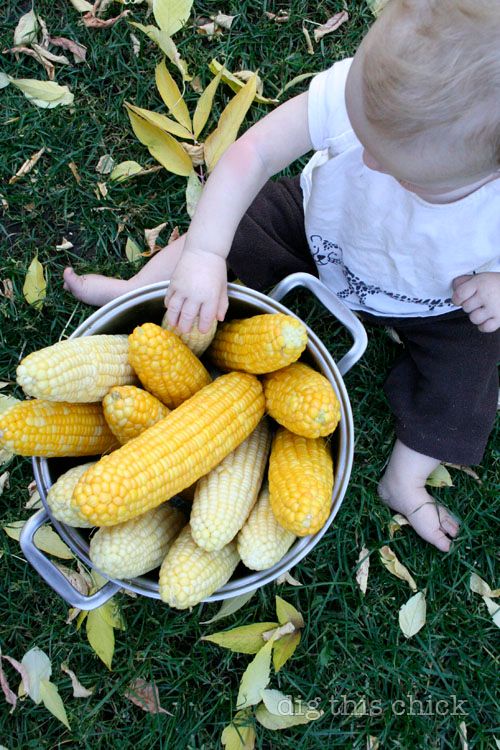 Swear, corn is the easiest, most satisfying thing to preserve. Once you taste fresh summer corn in a Rocky Mountain January, you'll never go back. Here's how we roll: blanch for three minutes, cool immediately, let dry a bit, cut of cob, spread on cookie sheets (to eliminate corn wad), place in freezer, wait until frozen and then flake the kernels into bags, label and store. Do it.
:: I love my dog.
So that's a week on our stead. This next week we will tackle the pounds of pears and tomatoes that are keeping each other company in our entryway at the moment. And we will ride the biggest pumpkin we've ever grown like a champion bull.
I had so hoped to grow enough food to feed our family through the winter. It didn't happen. But every year I am closer to maximizing the yield from our plot. The good news is that I am surrounded by generous souls who want their trees picked and want their tomatoes adored. I think we'll make out just fine. Just like Margot picking out her own clothes, it always works out, no?