hump day nuggets: little bits of the season in photos and words about the last week
Fall is completely here but summer is taking her sweet time retreating. The leaves are turning and the air is crunchy but the sun is brilliantly warm. This window doesn't last long.
The sweet spot.
In my car in the morning, I clutch my coffee cup and give a stiff shiver as I crank the heat. By 10am, no heat, windows up. By noon, sweater in a pile in the passenger seat, window down. By 4pm, all windows down, flip flops and tank top.
I feel conflicted this time of year. I want to be outside absorbing the sun and I want to be inside near the stove (MY NEW STOVE!) preserving summer. So we do both. Out for a walk, in for canning tomatoes, out for bean-picking, in for baking cookies. It's kinda perfect in its fleeting hear nor there-ness.
Sweet spot nuggets.
:: We know fall's here when cool mornings encourage prolonged bed romping.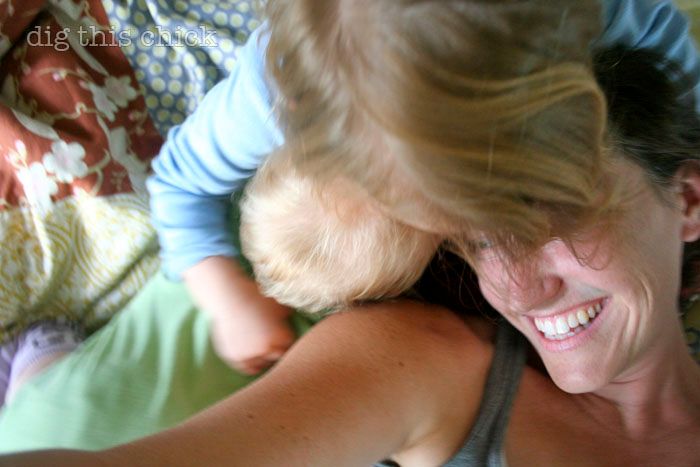 :: My second kid is: quiet, loud, red headed, needy, hilarious, lovable, coy.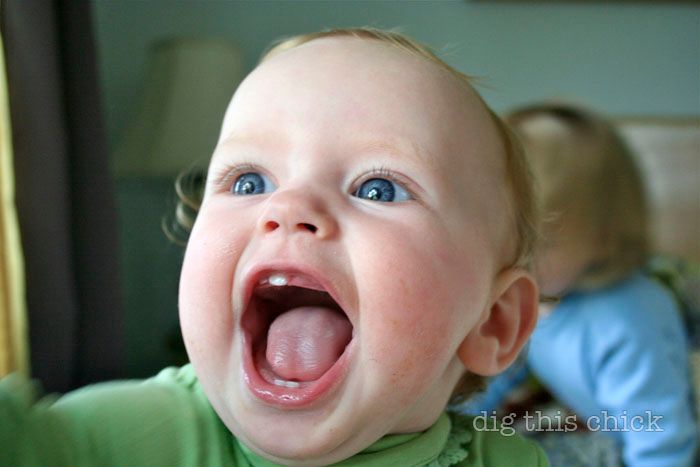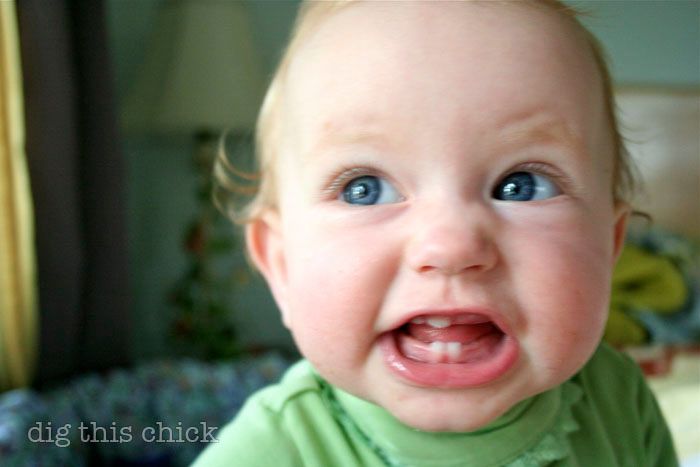 :: Reason #764 why I love my town: I mention I have a crummy tomato show and promptly receive several dozen pounds of tomatoes from friends. Tomato sauce, oven-roasted tomatoes, tomato pie. I LOVE TOMATOES.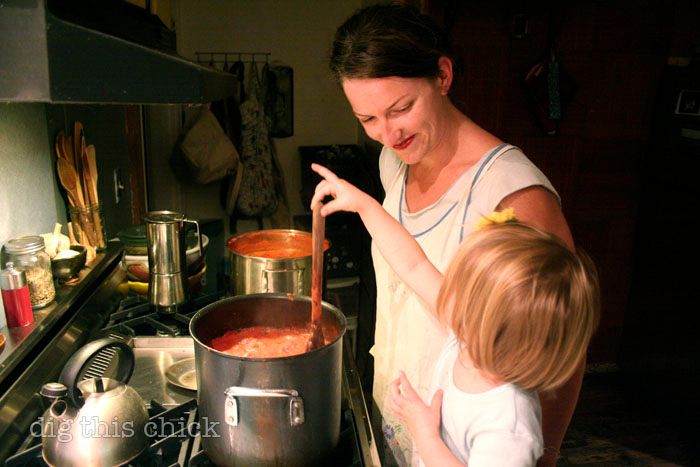 :: Ruby got a new bike helmet.
:: We've been watching our front-yard wolf spider all summer. She is about to have her babes. She's huge. Like her abdomen is easily the diameter of a quarter.
:: The boulevard garden is bursting. So is Margot.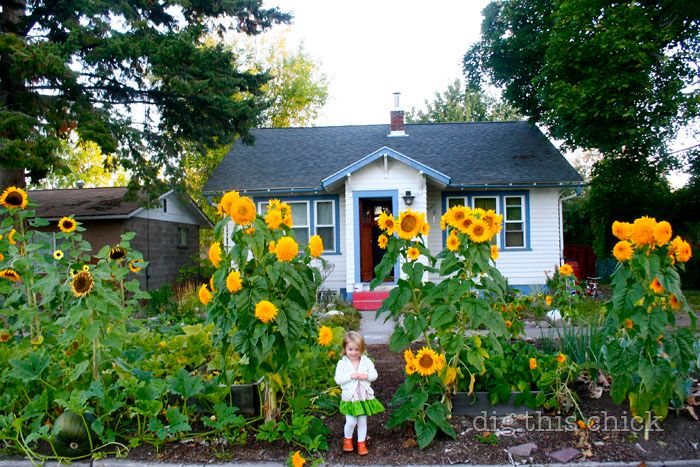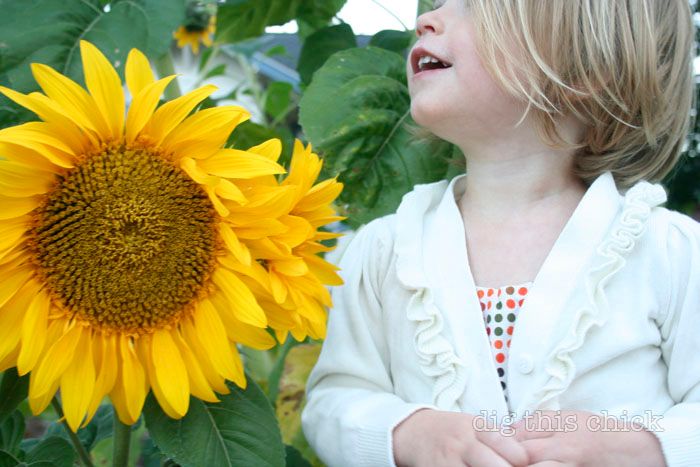 :: And the freakishly large pumpkin! Bug couldn't be more proud.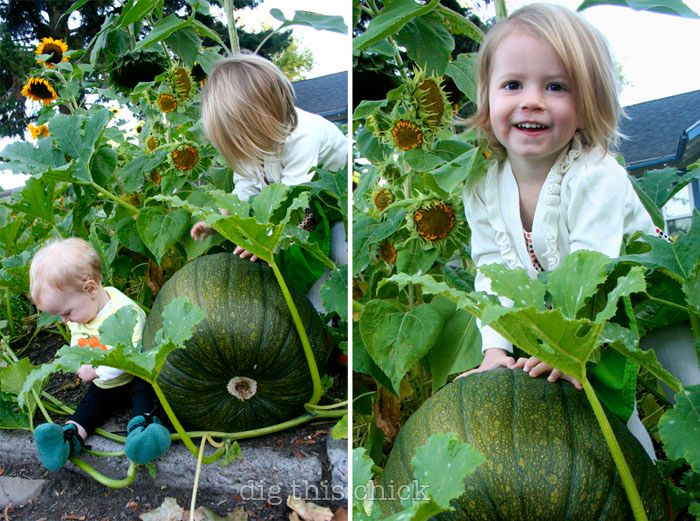 I cut the leaves back and she's orange-ing right up.
:: While I sometimes cringe at my alone time cut short when Ruby wakes early from her nap, I always end up cherishing the quiet, dedicated space with just her.
:: The perpetual, fabulous state of our kitchen window sill:
:: Studio reorganization led to the realization that it's time to clean out some inventory. So, 20%-40% off my etsy shop this week! You should totally buy some stuff.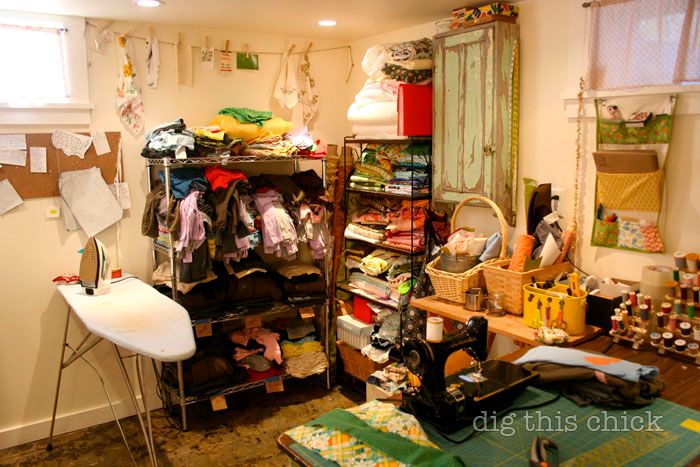 And what's organization if you don't have a little mess-maker by your side?
:: Curly red hair. Really? Really.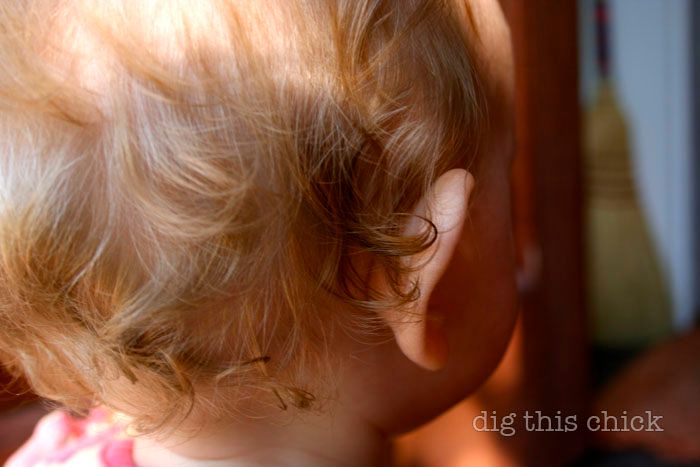 :: And she'll walk soon.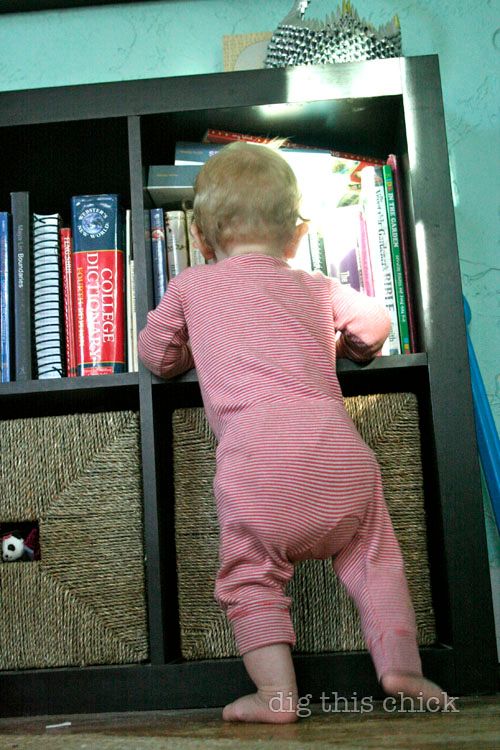 :: I am so glad so many of you asked for range porn because I am thrilled to deliver. We baked and fried, we slow roasted and sautéed, we scrambled and boiled. I LOVE MY NEW RANGE.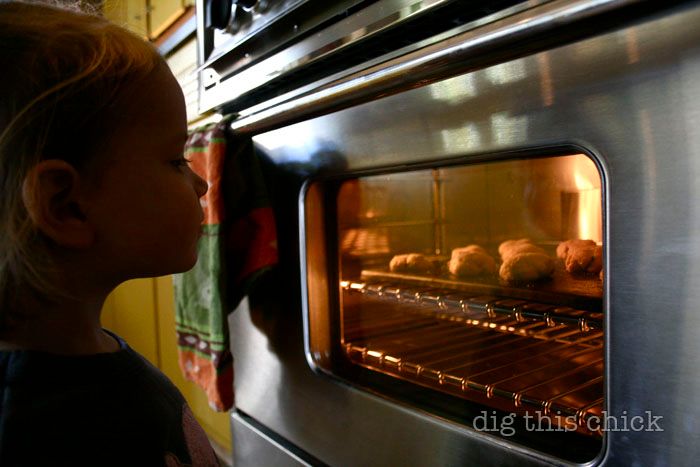 Never before had a window or a light. Oh, baker's heaven.
:: Waiting for papa to get home. I adore these photos. They didn't know I was snapping away and do you notice how their body language mimics each other? Margot and Alice are best pals. Love that.
So we'll kiss that sweet spot until it's tucked away safe for next year. And then we'll love on piles of warm leaves, camping in the Big Hole Valley, visible breath and thick scarves. It's all good really. Made better by the fact that it doesn't last forever and one never really knows when it will end nor what's next…
You might also like