Despite the untrusting hairy eyeball I gave the growing season this year, it turned out alright. And, at the risk of rolled, she-always-says-that eyeballs, it really does, without exception, work out.
Today, I address tomatoes. Because enjoying them at the exact moment they ripen is orgasmic and if one preserves it at that moment, then one is preserving an orgasm. Get it?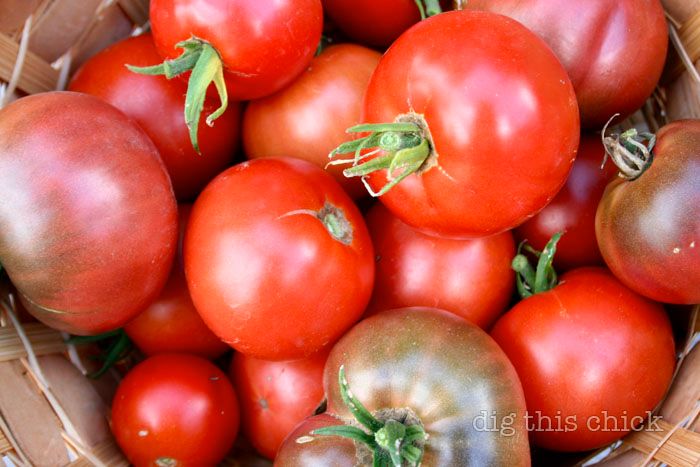 yesterday's harvest from our garden
We had a crummy mater show this year because I started my plants from seed in April and then we had a cool summer so the dudes didn't stand a chance at flourishing. I think I'll be buying starts from now on because starting plants in January sounds like pure heartache. BUT thanks to the generous souls in my community, we ended up with pounds and pounds of tomatoes in our mud room. So that's why I can talk about the following recipes.
:: Tomato Pie ::
Oh my oh my. Have you tried tomato pie? All the recipes I found were very buttery, mayonnaisey and cheesy. AND DELICIOUS but because I want to eat this everyday and not have cardiac arrest, I set out to create a less saturated recipe that showcased TOMATOES. I did it by using yogurt instead of mayo and butter and doubling the tomatoes. It rocks.
Your favorite pie crust (here's your new favorite)
3-4 large tomatoes, thickly sliced
3-4 cups shredded cheese (two great cheese combos: 1. gouda, cheddar and parm 2. havarti, feta and parm)
1 cup whole milk or low fat plain yogurt
5 cloves of garlic, diced
large fist full of chives
piles of herbs
salt
pepper
Mix yogurt, cheeses, chives, garlic. Place half the pie dough in the bottom of your pie pan. Spread cheesy mixture over crust. Layer tomato slices, sprinkling with salt and pepper as you layer. Cover with other half of crust. Bake at 350 degrees for an hour (?). I lost track of time but you know when a pie is done, right?
It was super liquidy when it came out but set up as it sat. If we had let it sit, that is. I, as my friend Pam says, am overly optimistic about the number of hours in a day. We had a friend over for dins and I was canning pears and picking up the same toys for the seventeenth time that day thinking it would be a quick snap to make the pie. But then, of course, both kids, the dog and cats all needed me when I needed to make crust and one thing led to another and, well, dinner was served at 9pm instead of the 7pm time I had planned on. So we ate it runny is what I am saying. But about 30 minutes later it was beautifully set. SO let it sit yo.
:: Oven Roasted Tomatoes ::
So after preserving tomatoes this way IN MY NEW OVEN, I don't think I'll ever can sauce again. It's easy and the result is so delicious it's hard to believe your mouth.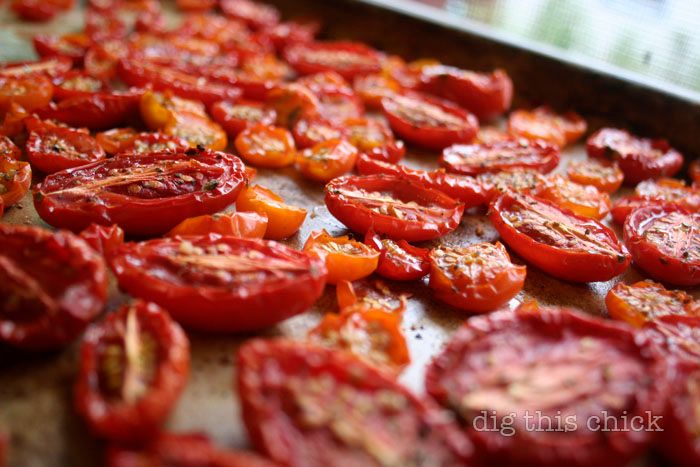 It works with small tomatoes like cherries and such. Halve them and place on a cookie sheet that is barely greased with good olive oil. Sprinkle with the tiniest amount of salt and pepper. Bake at 225 degrees for 3-4 hours. Let cool and place cookie sheets in the freezer for an hour or so. Remove from freezer and scrape maters into freezer bags. They can be used as a base for sauces, tossed into eggs, dips, thawed and eaten like CANDY. I think Andy and I ate a good 12 tomatoes each as we bagged.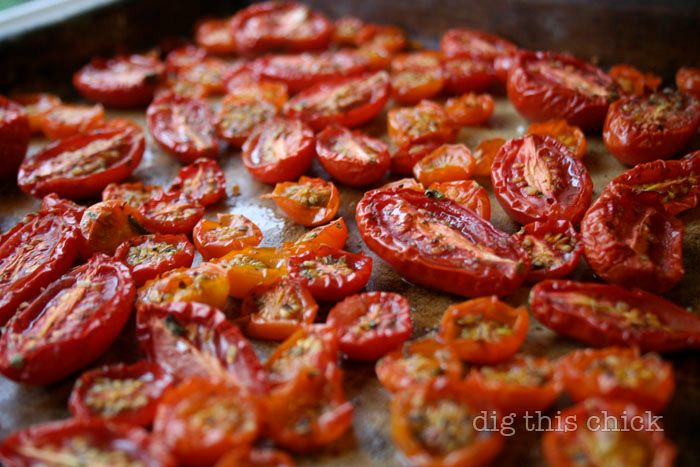 :: Tomato Sauce ::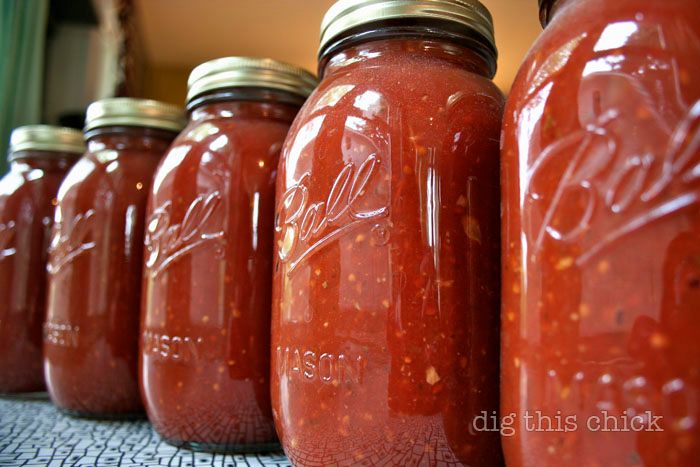 So even though I *just* announced that I won't make sauce anymore, I did this year. Many asked for my recipe so here it is although I didn't put lemon juice in the jars which it recommended by many. My understanding is that it isn't really necessary with homegrown, ripe-picked tomatoes because the acid level is high. I haven't had a problem. However, if you want to be extra certain of your ph levels, add one tablespoon of lemon juice per pint (click here for my tutorial on high-acid canning).
We can simple sauce round here that can be spiffed up with garlic, herbs, veggies and whatnot as it is used. The flavor is better with those things added fresh. So, my method is easy: blanch tomatoes, peel, purée and cook until reduced by half. I leave the seeds in. And, then process in a boiling water canner for 35 minutes (we have to process for 45 minutes because of our elevation. Consult this chart to determine processing time).
:: :: ::
I am also excited to announce a new dig sponsor on this tomato-loving Friday: Hip Mountain Mama. This fabulous business describes itself as a small family business that strives to offer the best Hip and Natural Products for Babies, Kids, and Mamas. We have a strong passion for preserving the Earth, raising our children in a conscious and natural way, and promoting other small family businesses. Very cool. A few Hip Mountain items my family adores: reusable snack bags and block crayons. Stay tuned for a giveaway! Thank you, Hip Mountain Mama!