Last weekend, our family hopped over to Spokane real quick. And by real quick I mean the duration of the trip not the pace at which we traveled. That is more accurately described as trying to run in a giant bowl of honey.
Nursing Ruby road-side
I wonder if amazement will ever cease at how much stuff we need for one night away. I wonder if I will ever plan an appropriate amount of time to get ready. I always think we'll pack up and be on the road in 12 minutes. I mean, all we need is a change of clothes, a few diapers, some fruit leathers and my camera. Oh yeah, and to feed and water the chickens, scoop the cat litter, take Alice for a walk, arrange pet care, turn the hot water heater down, fill up the car with gas, get an oil change, take the compost out, change Margot's pink bear's diaper, and have at least three pacifier scavenger hunts and two emergency potty breaks. By the time we are in the car and pulling away I inevitably have forgotten my sunglasses. By then we are at the next meal time so we also have to order in some sandwiches to pick up.
"Safety first", says Darker Pink Panda Bear
It was quite comical and definitely an adventure. Made even more adventuresome by our re-entrance into Missoula. We pulled off I-90 at 6:40pm and Andy rolled up in front of the grocery so I could leap out with Ruby and grab dinner ingredients and a few bottles of sparkling reisling. We raced home where Andy changed the girls into their pjs, fed Margot a tofu dog and took them to a friend's house while I made pad thai and readied myself. He then picked me and pad up and we headed to our bistro dinner club thai extravaganza. We were there by 8pm. Amazing, no?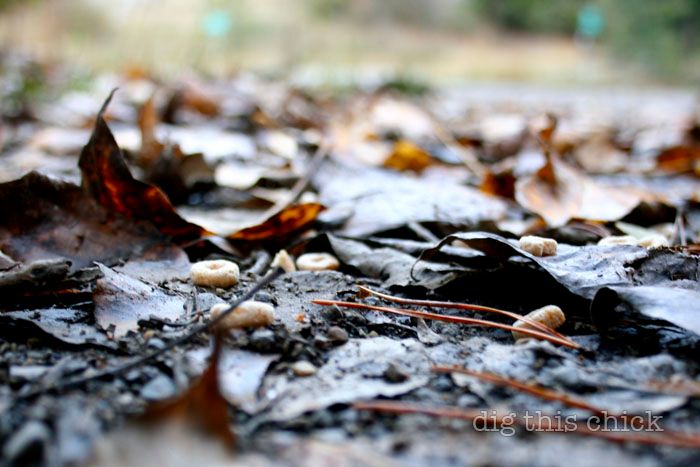 We left a trail of cheerios from Missoula to Spokane
So yesterday we rewarded our gogogogo weekend with a lazy Sunday. A bit of a walk, a bit of garden harvest, lots of coffee, not unpacking.
The drive to and from Spokane was led by golden larch and I couldn't stop thinking about how we did this same drive at this same time of year three years ago when I was pregs with Margot. I wrote about that reflection in this week's mama digs, like a larch.
You might also like