Holidays and traditions have renewed importance now that I am a mama. I remember, in my bones, the wonder and fun I experienced as kid when I slipped my mama-made fifties girl costume on my ten year-old frame and I got to wear lip gloss. The breathless amazement at stockings overflowing with goodies brought by Santa in the night while I pretended to sleep. The scavenger hunts the Easter Bunny left at our house and drinking sparkling cider out of champagne glasses on Thanksgiving.
I have struggled with the make believe critters who slip into houses and leave money under pillows and eat cookies. I have such wonderful memories that I want my kids to have but I feel weird deceiving my kids…Before you gasp and call me the biggest drip of all time, you should know that I was devastated when I found out the magic was my thoughtful parents and not a team of elves. Granted everything is more severe when you are nine but I was supremely bummed out.
I have yet to meet other people who felt this way. In fact, most of my friends can't even remember finding out…they believed in the magic, and then didn't and loved their parents for their thoughtful creativity.
Perhaps I found out before I was ready?
See I was living up to my Big Sister duties by harassing my brother one Easter morning, telling him the bunny didn't exist. My mom overheard and called me into the kitchen where she whispered, Sweetie, your brother still believes so please let him continue to enjoy it. My ears started ringing and I my vision clouded with tears. My mom immediately understood what had just happened and I honestly don't remember much of our subsequent conversation. I remember her hugging me a lot and I remember that night my mom sat on my bed's edge in the glow of my ceramic doll light. I now know what my poor mom was feeling as she stroked my hair. I said, So, what about the tooth fairy? She's real, right?
Anyway, we'll get it sorted out. Andy and I just ride the wave, navigating each swell as it comes. For now, we love the spirit of Santa and we're going with it. Ho ho ho.
Geez. HALLOWEEN already. I had no idea I was going to write about all that. I thought of it because Halloween is so easy and fun! The ritual and spectacle is in realizing an alter ego, running with friends and acquiring a massive amount of candy! What's not to love?!
Margot was so endearingly committed to her costume. She dreamed it up and didn't waiver.
She directed the face paint colors and placement.
I loved her Chicken-Frog-Duck-Rainbow idea so much and I hoped it would happen but I also know toddler whimsy. One day she loves to read Three Billy Goats Gruff and the next she throws the book declaring supreme dislike for even looking at the book. But when it comes to vision, she decides and runs with it. Love that.
The costume was super easy to put together. I sewed the hooded wings and frog legs by tracing and altering existing clothing and attached hair elastics (for her wrists) to inside of the wings. My mom made the rainbow headband (thanks mom!). I didn't have an orange scarf but had a ton of other colors and Margot decided green would work. She put it on and then wrinkled up her little nose and said, Mama, I just really do need an orange belt. Sorry. So I fashioned my chicken-frog-duck an orange belt.
A Chicken Frog Duck with Rainbows and a Wee Tomato
AND, my little rhubarb was a tomato. Goodness, I am so in love with this kid.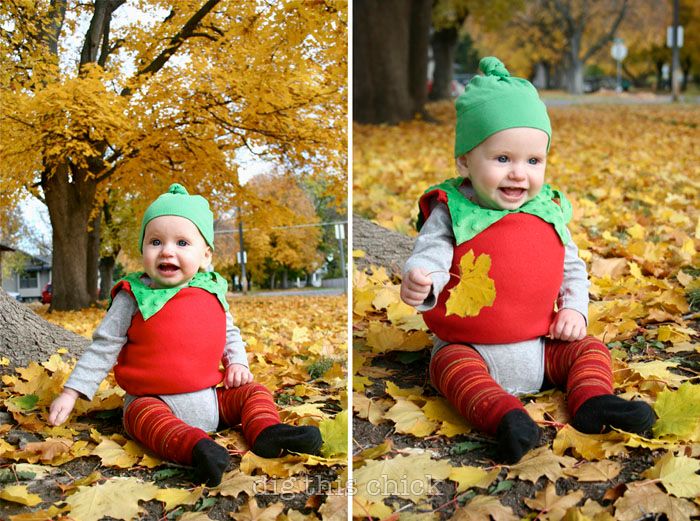 Best part? Remove elastic, batting and green and my rhubarb has a fleecy holiday dress!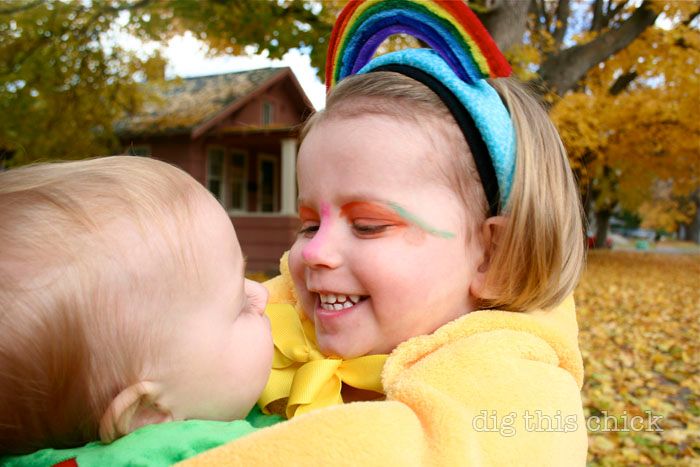 Saturday night I went to a friend's party as a Beet Queen. I wore a beet colored outfit, beet earrings and pounds of beets glue gunned to barrettes (HEAVY!). I accidentally left my last-minute wand at home. The next morning my mother-in-law was laughing so hard when she found it. She said, "Now that's a woman desperate for a Halloween costume." True. Margot was thoroughly confused as to how/why a beet was stuck to her wand…
We trick-or-treated with a giant posse of kids. It was so flippin' fun and photogenic. Love my town and my tribe.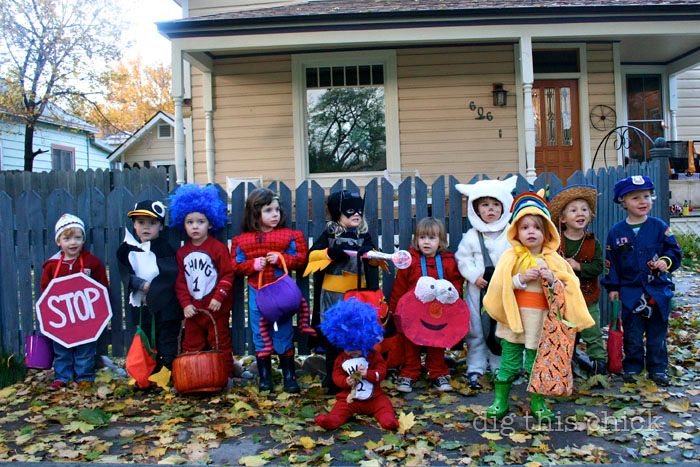 There were 16 kids total!
:: :: ::
As I was looking through these photos I remembered a time when my animals were the subject. Everyone told me our dog would find a place on the back burner when we had kids. I scoffed. Now I'm eating my scoff with a side of guilt. Oh, Alice. I promise days of uninterrupted ear scratching and long runs with just me will happen soon…wrote about it in this week's mama digs, Alice.
Alice with wings, Halloween 2007
You might also like