hump day nuggets: little bits of the season in photos and words about the last week

From the moment fall begins exhaling deep-hued leaves, we eat soup more than we don't. Before I can even think about what to have for dinner I have chopped an onion and tossed it into hot olive oil at the bottom of a pot.
I love soup in all it's wonderful brothy, stewy, chunky, smooth variations. Trouble is I am married to a man who enjoys dinners that are served on a plate and involve cutting and using a fork. To him, soup is the prologue, not the climax.
I have tried for 13 years to change his mind. And he's tried for 13 years to tell me his mind isn't changing. Our compromise is that a thick, nook-and-crany loaf always accompanies our soup and he smiles while gratefully eating the spoon-only meal I prepare. Also, he is a wonderful cook and never (like literally never, not even one time EVER) makes soup.
Ruby is signing like crazy! It is such a relief to know what she needs. Here, she is signing 'more.' See, she loves my soup.
I worked one college summer at a health food store and I made the daily soups. I think that's where my soup obsession began. See I was the $8/hour employee but the owner was gone a lot (and that's being generous) so I opened and closed the store, made the food, placed orders. It was such fun and I learned that a great soup can be made out of anything. Oh how I loved the challenge of a wilted bunch of spinach and sorry pile of ginger. I swooned over taking a neglected pantry and cooking up a mouth-watering meal.
So, yes, I love soup but I wish I wasn't so predictable with my cool weather menu. BUT soup is just such a *perfect* way to use all the food we grew this summer. And, one ingredient can inspire the greatest soup. Thai chicken with rice or beet carrot or squash sage….ah, like I was saying…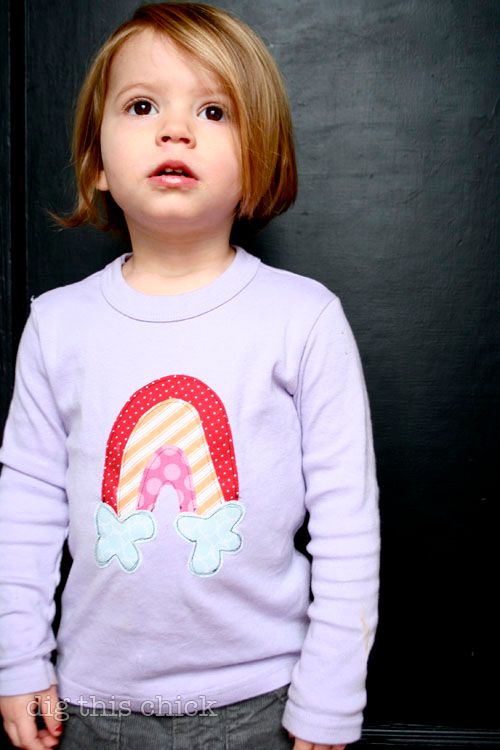 Mom, stop talking about soup.
A few weeks ago I set out to get some creative non-soup items in my winter recipe tool belt that:
– are easy
– use food we grew and preserved last summer
– every single person in my family will eat without grimacing
SO, after some trials and errors we have several new-to-us delicious meals that meet the above criteria. I'll share them little by little with you all, starting with one recipe this week. And, I would love to hear any recipes you have in your favorites file!
:: Every once in a while I am struck by a moment that I know will be one of those snippets I remember with warm, fuzzy nostalgia. Often, these moments occur as I am feeling depleted and hurried and then I realize my zipper has been down for five hours of errand-running. I am madly chopping and then I stop and look up to see one of those moments.
So the twitchiness melts and I watch my girls. Sisters. And then they catch my smiling eye and come screaming in the kitchen to help.
:: Yam and Black Bean Burritos :: serves four
I posted a what are you having for dinner? inquiry on my facebook page a bit ago and someone mentioned yam and black bean burritos. I seriously couldn't stop thinking about this brilliant flavor combination. We had an ok, could be better experience last week and, then!! Then I perfected the wrapped deliciousness.
– olive oil
– two cups black beans (Whenever I take the time to make beans, I am BLOWN AWAY at the flavor difference.)
– two yams, chunked
– one onion, chopped
– 1/4-1/2 cup water
– six cloves garlic, minced
– 1 tbsp whole cumin
– salt
– cilantro, chopped
– plain yogurt (whole milk really is the best)
– purple cabbage, shredded
– flour tortillas
     *local food used: onion, garlic, tortilla, cabbage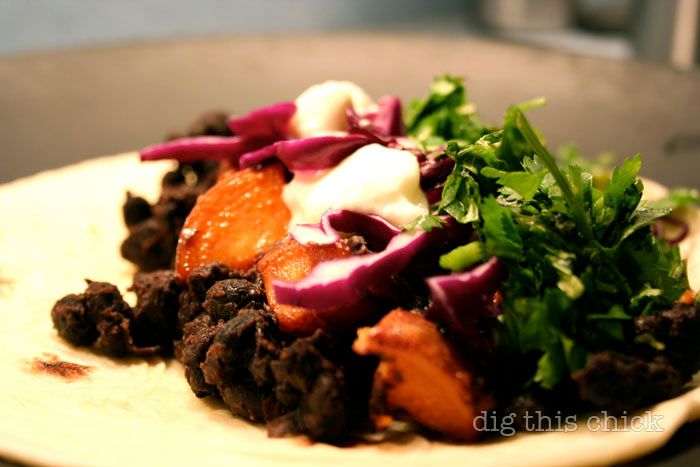 Make beans or open a can. Add a bit of oil to a skillet with the cumin. Heat on high until fragrant, about three minutes. Reduce heat to medium, add onions. Cook until onions are transparent, about five minutes. Add yams and garlic. Add 1/4 cup of water, reduce heat and cook, covered, for 15 minutes or so, stirring often. You may have to add a bit more water to keep it steamy in there. Let it get gooey and caramely. Turn the burner off and let it sit while you put your kids to bed, even better. Add salt. Heat tortillas and layer this way: beans, yams, cabbage, cilantro, yogurt. The whole fam loves it.
:: Ruby yells all day long. Like, piercing screams. Sister likes her voice but Margot and mama are not so smitten. I call her my little pterodactyl.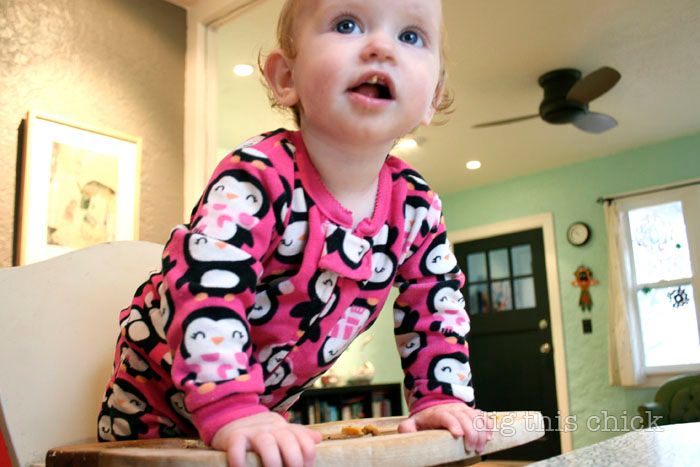 :: Margot painted my toenails. Which it totally great with me. In fact, probs the only way I feel normal with paint on my toes is if they look like this. I am just not a colored toenail girl.
:: I adore our new sponsor, tart! Owned and operated by the tartress, Anna Visscher, tart is a boutique featuring handmade jewelry, clothing, accessories, art, pottery…tons of wonderful stuff, definitely something for every person on your holiday shopping list.
Speaking of holiday shopping, a few years back my family decided to give the gift of handmade for holidays. It's great fun to either make gifts or hunt for the perfect, handmade object to give. The smokin' hot tartress featured to the left makes it easy to directly support artists. Yay, tart!
The boutique is located in Bozeman, Montana and, lucky for you, online!
you could win me!
tart is offering dig readers a few fabulous opportunities:
* A CHANCE TO WIN! Visit the site, pick out your favorite item and leave a comment telling us about it for a chance to win the Drop Dirt Gorgeous Necklace, made in Bozeman by tartist Melissa Steinhauer, using real Montana Dirt as a pigment! You know I love dirt and here's a chance to wear dirt around your neck! LOVE it. (Comments will close on 11/21 and winner will be announced at the bottom of this post.)
* FREE SHIPPING! Mention 'dig this' and get free shipping through the end of November OR if you happen by the boutique in Bozeman, mention 'dig this' to get $5 off your purchase of $25 or more.
Thank you, tart!
:: A group of us mamas have this Thursday night happy hour thing happening. Last week it was at my house. Four mamas and eight daughters. I am still discovering purses full of play dough and baby doll shoes around my house.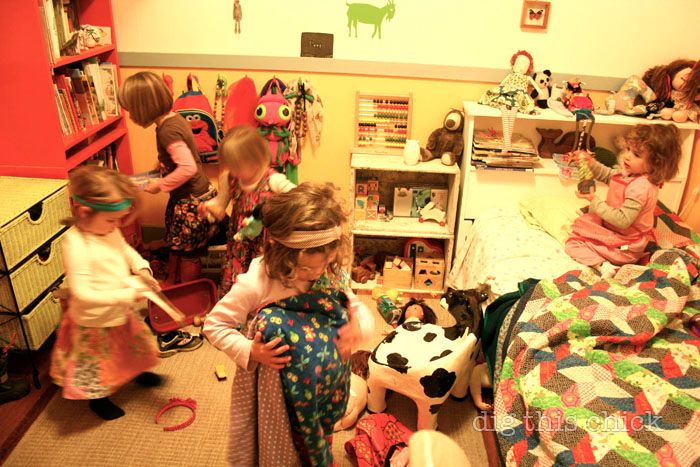 :: Rhubarb playing peek-a-boo. She doesn't quite get that the peeking and booing happens because of hands over eyes. When prompted, she just sweeps her hands up to her head and then giggles uncontrollably.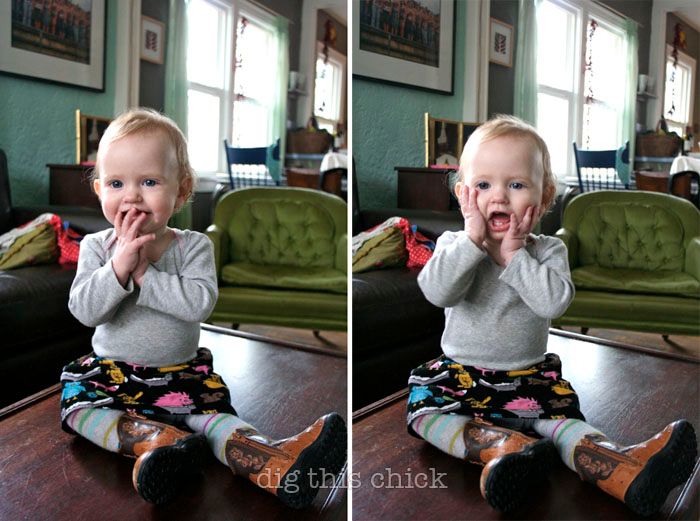 :: Walked into the studio to snag my fam and this is what I saw:
:: A recent conversation:
"Mama, I want to watch a movie."
"Margot, it's not even seven o'clock. How bout we have breakfast and go to the library…"
"MAMA. I want to watch a movie. And drink juice."
"Bug, let me make some coffee and then we can…"
"This is MY life."
I laughed so hard. I asked where she heard that and she told me that she heard it from herself.
:: We did make it to the library.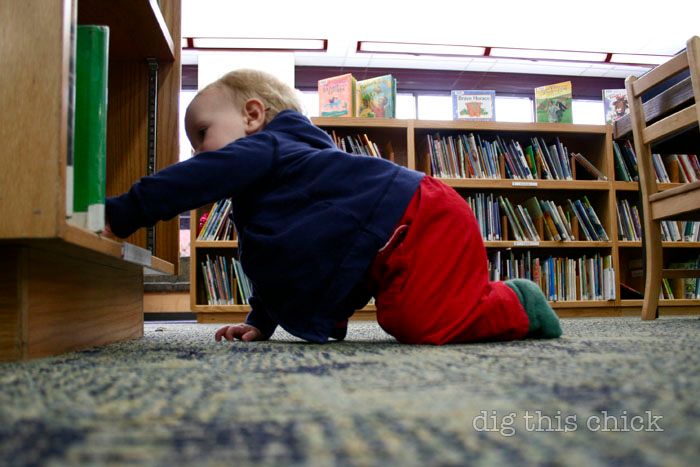 :: I really can't get enough of the girls playing together. Although I'll be excited when Ruby can fend off Margot's steamrolling, dragging and tickling.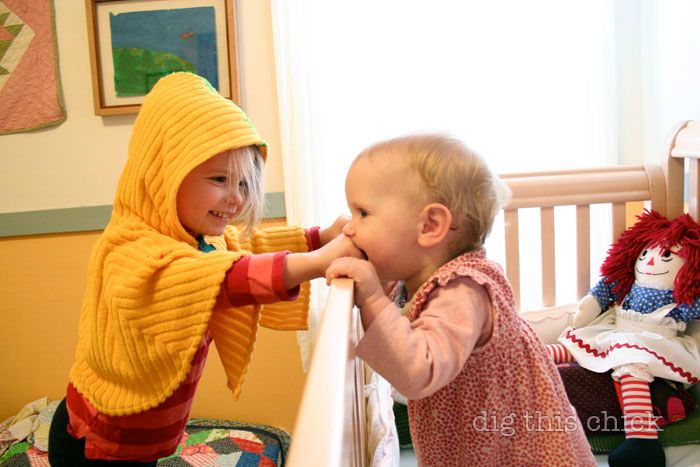 :: My little creative soul can often be found at her art table.
:: Next nuggets, she'll be one.
************COMMENTS CLOSED************
Random winner of tart giveaway:


Happy Birthday Ruby! Love your shit kickers. Margot – you're a force of nature that cracks us up. Love your style. Love your comments. Sending me to a store like Tart and asking to pick 1 thing is quite impossible. I will go with the get hammered belt buckle. Love, love, love upcycled jewelry. Now I gotta go back to the comment from Melinda and check out her 3 different soups! Love soups. Made a hell of a lot of squash-based ones so far. Yum. Have a great week. -Jennifer