When Margot was born, there were certain things I couldn't wait for. I mean I loved the whole wee baby thing but I daydreamed about her toddling around the garden with me and I couldn't wait to witness her uninhibited self-expression.
I love it: Margot visits her art table regularly throughout the day.
We lose that. I am not sure when but, eventually, we become self-conscious about making art. We start to compare our abilities to others, we decide we aren't "good" at some things. We stop painting purple amoebas and calling it grass. We start making vertical green lines at the bottom of the page because that's what grass looks like.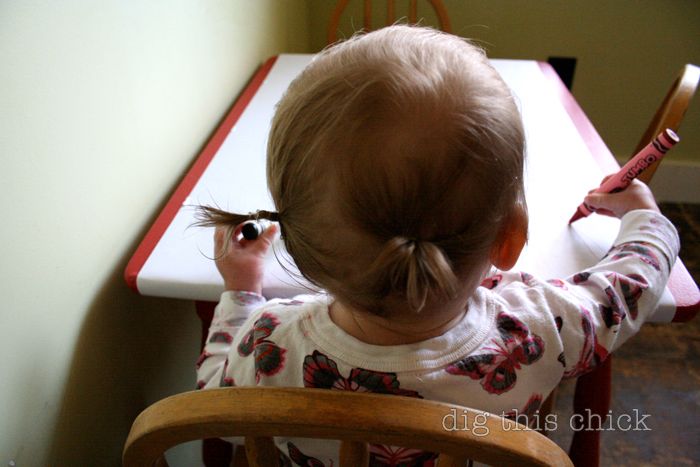 Art is really important in our home. We prioritize making it, looking at it and purchasing it. So, Andy and I really wanted our kids to have a dedicated creative space where they could have unguided art making experiences whenever they wanted. I don't want to be a freaky parent all crazy obsessed with my kids being creative geniuses, I just want my kids to have fun exploring art (although, honestly, I do swell at how Margot talks about
the museum
and
how she recognizes the subtleties of different tones and knows how to mix her own black…).
So in the last three years, I have learned a lot about making art with kids and how to encourage without restricting, how to create space for expression. I have gathered my information from my colleagues at the museum and through trial and error. I rarely do 'how-tos' on my blog but I get asked about our approach quite a bit so today I am sharing some of what works for my family.
Having a designated art spot eliminates the time and effort of lugging out supplies, cleaning up and putting away. It's all always available whenever a mood strikes and since we created this space, the mood strikes many times a day. For more info about how we created this space,
click here
.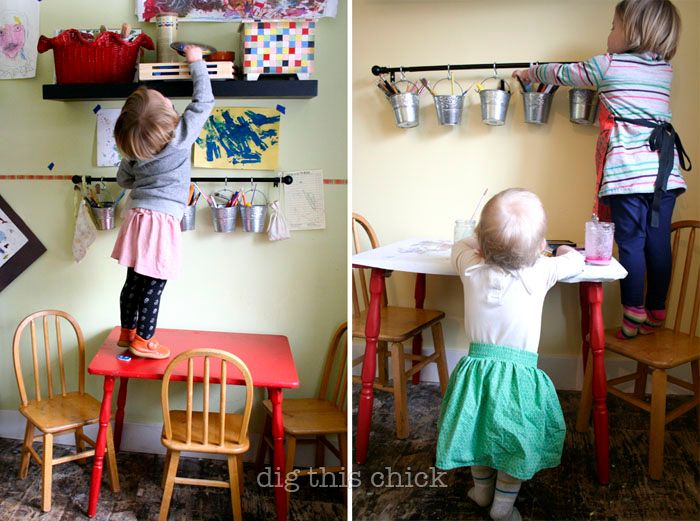 Buckets are out of reach for smallest kids and shelf is out of reach for small kids (or so I thought).
Sure we always have a little supply of pencils and crayons but new tools generate new enthusiasm. Many of our favorites come from Walking Stick Toys and I am happy this cool, environmentally-friendly, family-owned, Missoula-based business is a new sponsor!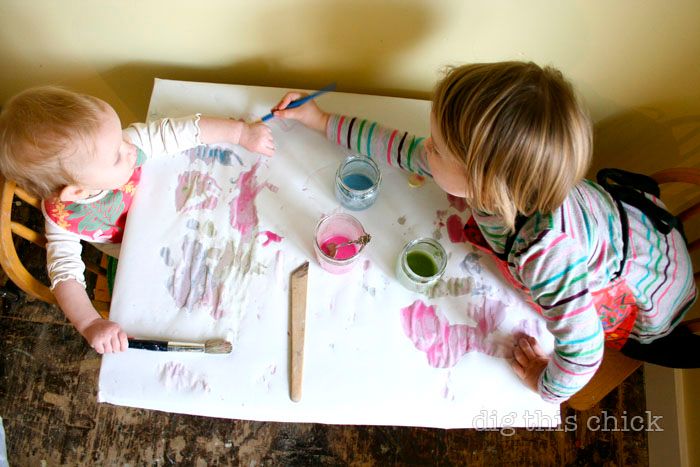 eco paint
: it comes as a powder and Margot loves to mix it herself.
Also, it's handmade with flour, cornstarch, seaweed, natural and organic fruit, plant and vegetable 
extracts from beets, spinach, paprika, carrots, purple sweet potato, red cabbage, blueberries 
and tomatoes. In other words, when Ruby inevitably puts it in her mouth, it's totally ok. 
A lot of the time I just dig through what we've got. 'New stuff' doesn't necessarily have to mean brand new, purchased at the store. And while I don't might investing in high quality art supplies, I do not like buying craft store tsotchkes that end up in the trash. Ball point pens, dad's carpenter pencils, shaving cream with food coloring, fabric scraps, dried grass. It more about re-purposing something, finding new use. In the summer we take our paint outside and paint rocks (easy to do with paint made from food).
Mudworks
is a fabulous book with more than 100 recipes for making clay, dough and sculpting material. 
Speaking of sculpting material, play dough is a favorite in our home. It has endless possibilities for cramming into containers, shaping, cutting, stacking, stabbing. We just open up the kitchen utensil drawer and have at it. Play dough is never boring.
I won a Hello Kitty coloring contest when I was six and got to have BREAKFAST WITH HELLO KITTY. I loved coloring books just as much as the next kid…but…blank paper allows for so much more. Kids don't draw a sun like a circle and lines coming out the sides until they are told or shown that is what it is supposed to look like. I want to avoid this kind of imitation. I want to see how Margot sees the sun.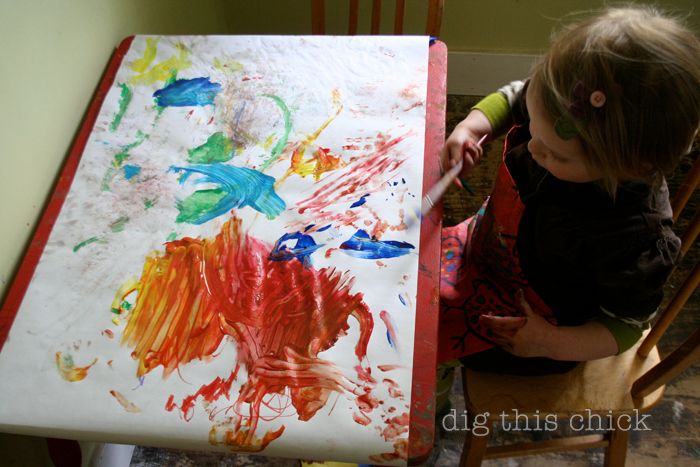 A side note: I am becoming increasingly agitated at all the pre-fabricated kid toys out there. Everything is a kit. It's hard to find a box of legos, you have to buy a particular truck and then build it just like the instructions tell you to. Remember legos and making up your own truck never to be duplicated? 
Anyway, we buy rolls of newsprint or banner paper and keep a piece always attached to the table. This also reduces waste because one piece is added to for many days. When it's done, it's wrapping paper.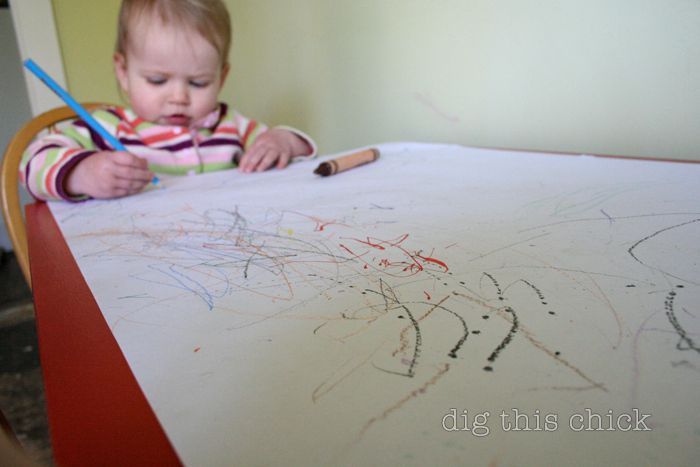 Ah! Margot is so teeny here!
When on the go we love scrap paper from recycling and blank books.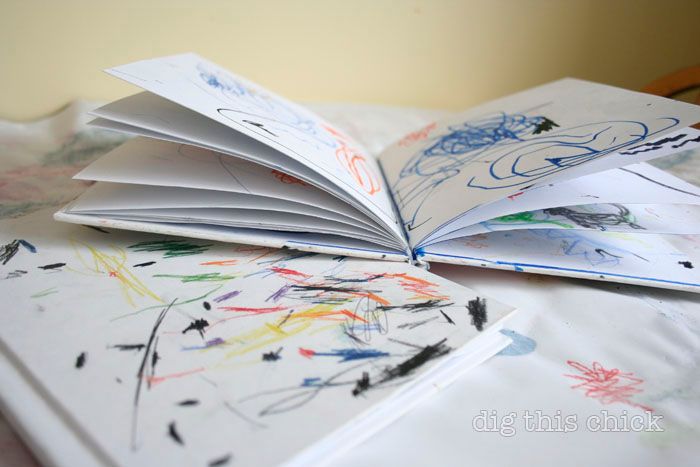 Margot loves to do what I do. Whether it's weeding, washing dishes, applying lipstick or skiing. 
I bristle a bit when people declare that they don't have a creative bone in their body or they can't even draw a straight line. Because I just don't believe it and, also, little spongey kids may start to wonder the same thing about themselves…it's like all things with parenting (I have to remind myself daily), modeling is the best way to teach. You know, like, I should say thank you if I want my kid to say thank you. Same goes with art-making. When I sit and create, push myself alongside my kid. It's amazing what happens for both of us.
:: observe, ask questions ::
More than anything, Margot just wants me to notice what she's doing. She wants me to pay attention. Sometimes I don't need to say a thing. I try to be specific when I tell Margot what I like about her work. Instead of 
good job cutting!
 I will say I
really like that shape right there. It looks like a flamingo to me.
 It encourages her to start looking more at art, both at her own and others. 
What do you see? is pretty much the only question I ask Margot when we look at art. It leaves a lot of room for many good answers. And, now, she asks me that question. We'll be in a gallery looking at a sculpture and she'll say, mama, what do you see? And I tell her and then she says, Oh, well, I see…it's something.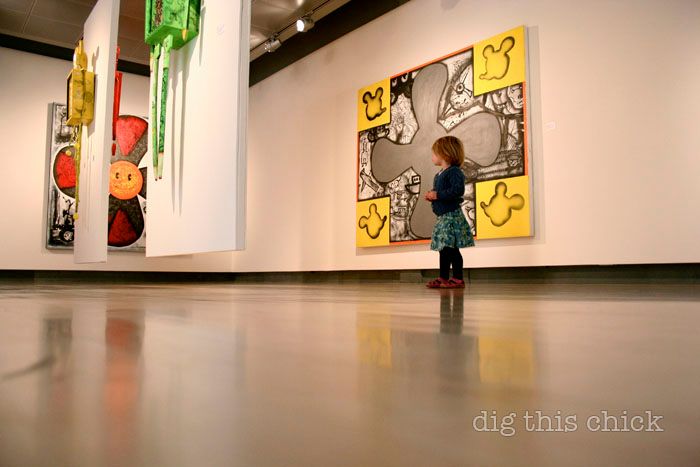 Walking Stick Toys has a special deal for you: 20% off your purchase! Use coupon code 'DIGCHICK' at checkout. Baby toys, art supplies, books, dress up, instruments, games…there's something for every kid on your holiday list. Thank you, Walking Stick Toys

!