hump day nuggets: little bits of the season in photos and words about the last week


We had an exceptionally awesome week here. The snow has been falling like I remember it from my childhood. The flakes come fat and meandering, they come tiny and whippy. They come and the temps hover around rosy cheeks and mittens-a-must. Those low temperatures mean the snow sticks and accumulates. Margot keeps saying, through the most giant grin you can imagine, "mama my eyes are freezing!"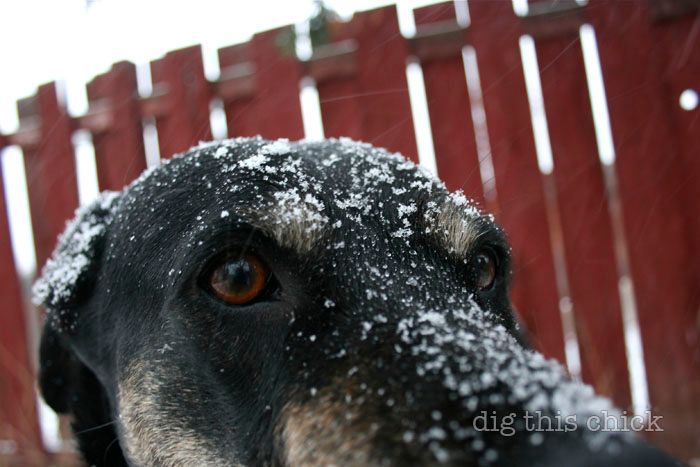 Life has challenged me a bit in the last few weeks as holiday orders come in to our home. I am working late into the night and in the wee hours (with the help of my seamstress!) Then there are these two pretty cool kids who want to play play play eat play play eat play in between those late night-wee hour sessions. And so it is full and I feel so appreciative. Thank you for reading, thank you sponsoring, thank you for buying my stuff. Sincerely, thank you for your support.
At this point perhaps you wonder, why funky norman? Well, because as I was editing my photos from this last week they were all so picture perfect, Norman Rockwell-esque. And that's right on, actually. Our snowy holiday was entirely fun and photogenic. But with all of these photos I am reminded of the actual moment the photo was taken and, usually, the moment the shutter snaps to capture is wacky, funny, funky.
:: The snow started like this: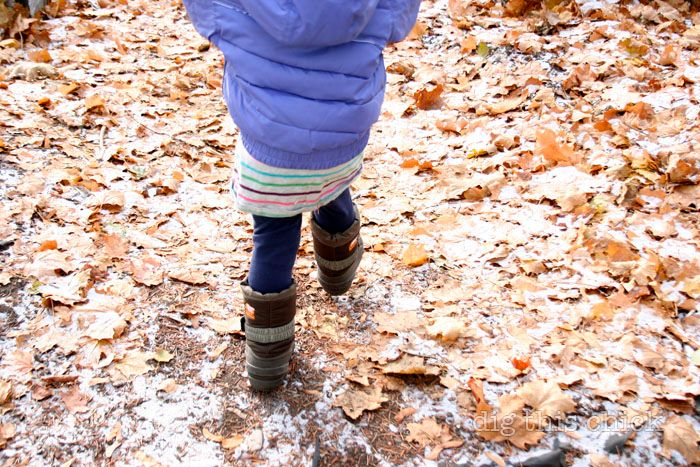 And, within a few days, it was like this: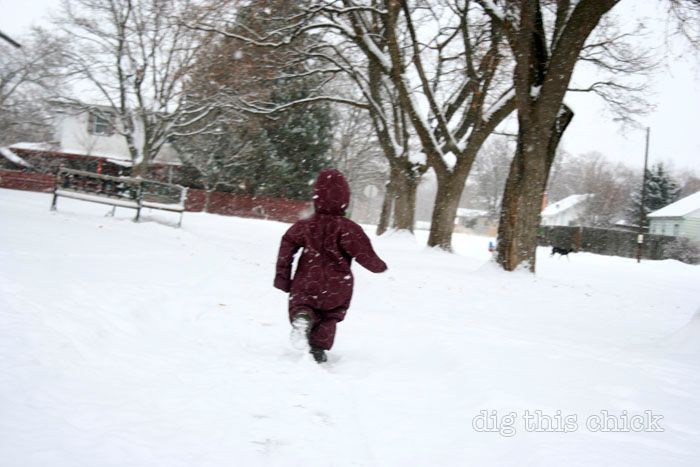 :: We lost two sticks of butter last week. They were on the counter and then not. Naturally, we blamed Alice who has a habit of eating four pounds of Halloween candy if given the opportunity. Later, we found a half-eaten stick of butter on Margot's bed and Andy said, "huh, there aren't any teeth marks…" And Margot said, "I love butter. I just like to sit in my bed at nap time and lick butter."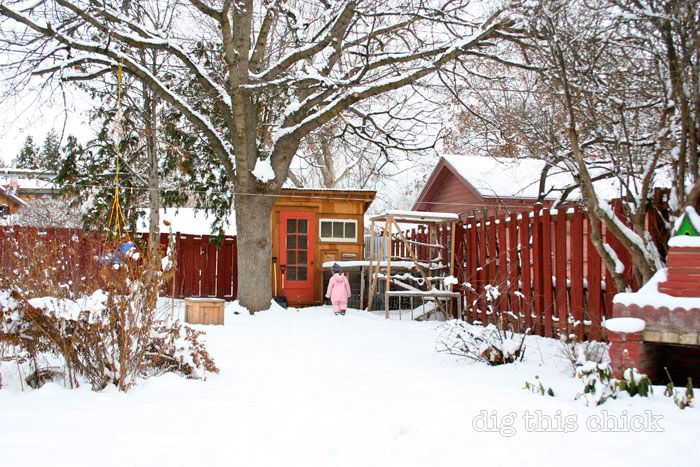 Hens haves slowed egg-laying a bit but a light, on for four hours every evening, helps keep up with our fam.
:: Our Thanksgiving was glowing and perfect. We were with a whole group of foodies and our meal yielded many pleasurable groans. I food shopped the night before with just Margot. The store was surprisingly empty and we had the most fun. She, freaking out over turnips and cut flowers. Me, freaking out over her.
Are you wondering what we made? I'd love to tell you!
1. Apple Pie.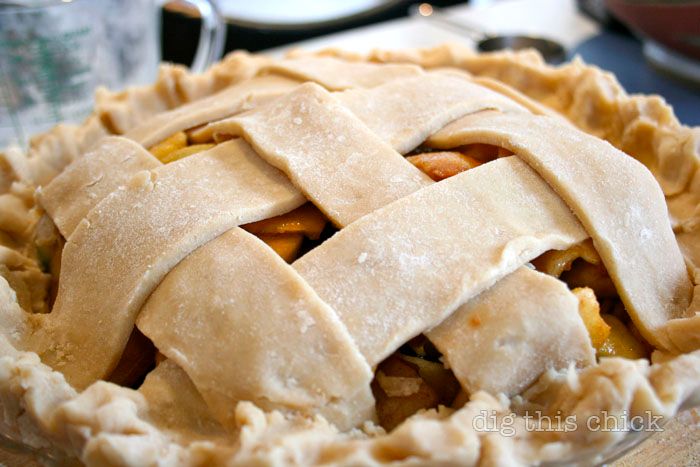 My first ever lattice crust.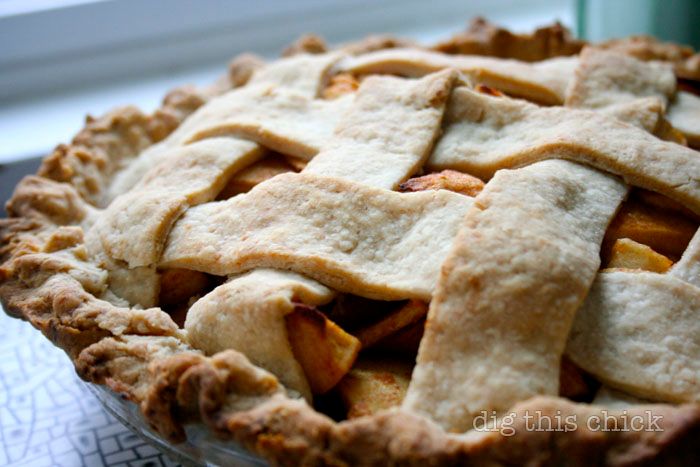 My apple pie filling:
five giant granny smith apples, peeled and sliced
juice of a lemon
2 tablespoons flour
1 cup sugar
1 teaspoon cinnamon
1/4 teaspoon nutmeg
And, of course, the Epic Crust.
2. Chocolate Pudding, made by my handsome, red-bearded husband.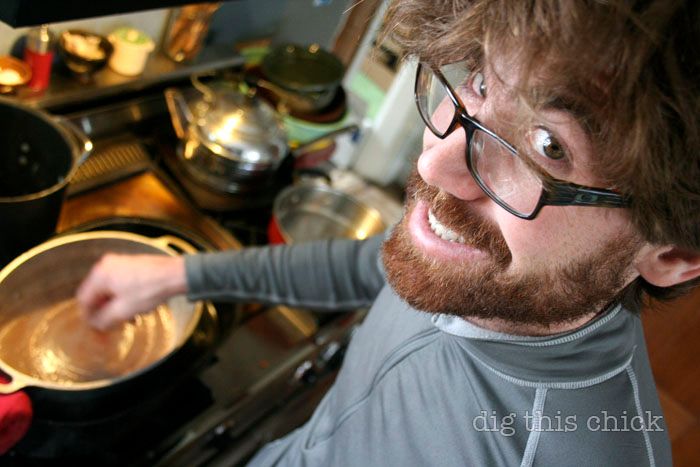 Here I think he is saying, "I love you more than ever before (this is going on the blog, isn't it? shit)"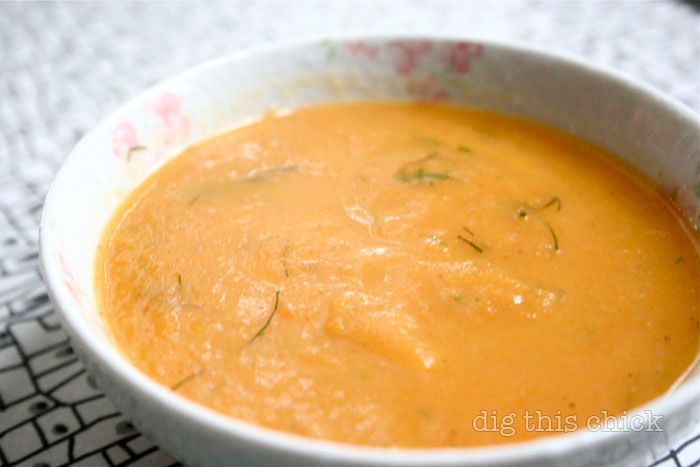 :: We were cooking, our heads down in the kitchen, listening to Kanye when we looked up to see still, quiet snow covering our neighborhood. So we left all the chopped and measured food as it was and went for a walk.
And bumped into our neighbor who managed to take a photograph where we are all looking in the same direction and nobody is crying and Margot is not trying to strangle Ruby under the guise of giving a hug. I often race into the bedroom because it sounds like Ruby is being tortured. I find Margot on her back holding Ruby who is also on her back on Margot's belly flailing like an upturned turtle. Margot says, "No worries. We're just playing a game."
:: People wonder why Montanans wear flip flops when the temperatures reach the thirties. It's because this is what our feet look like for months: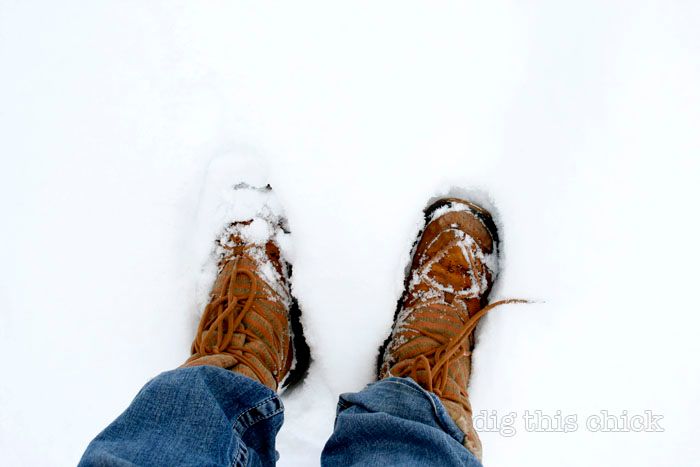 It's stinky in there.
:: Margot's interaction of choice while in public:
"This is my sister Ruby. Want to say hi?"
"Hi Ruby!"
"Sorry. She can't talk. She's just a baby."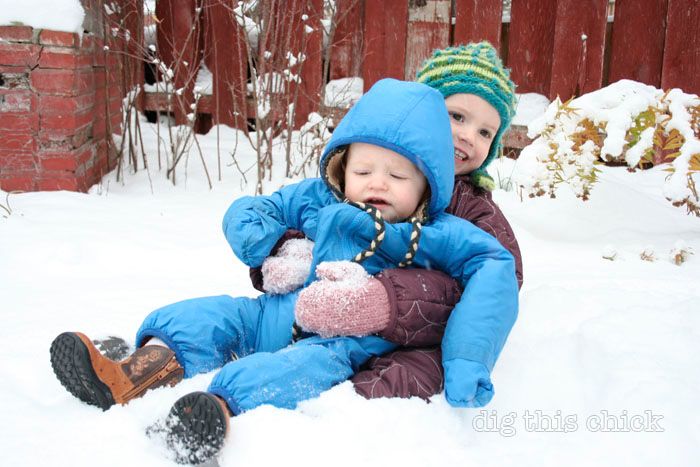 The beginning of the upturned turtle "game".
:: Ruby is signing like crazy and it totally blows me away. And chicken is so so proud when she gets what she asks for. Water, milk and food are the three she wants with regularity although I keep trying to encourage her to want sleep…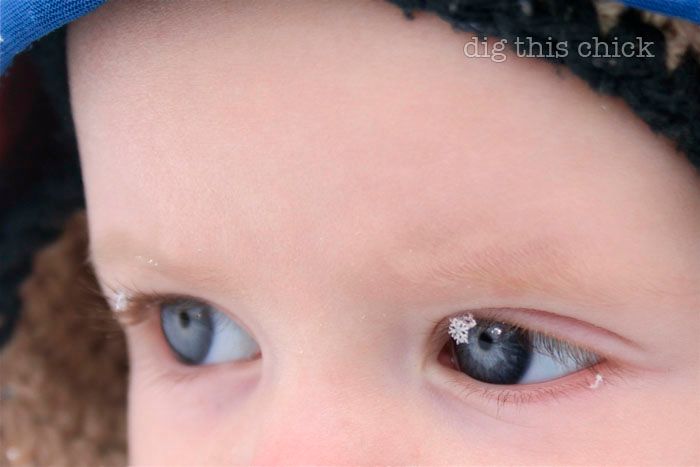 See that INSANE, perfect snowflake? A total Norman moment.
Ruby wanting to nurse is like Margot wanting the crazy movie, as she calls it (also worth noting: I have a crush on every band member, Margot likes the bald guy). Whenever Margot is bored she asks to watch the crazy movie and whenever Ruby is bored she looks to me and signs for the boob. Often, after she gets what she wants, she just laughs. Must feel pretty cool to FINALLY be understood.
:: Cold weather can make us feel a bit cooped up at times. In these moments, Margot does the same, weird thing repeatedly and insists I watch her again and again. The other day, she went from chair to chair in our home to assume this position: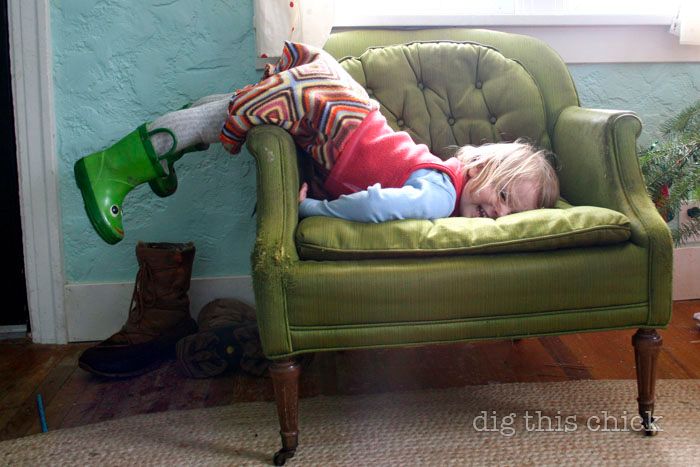 "Mama, watch this."
Also, she loves to take photos of Ruby and me and it makes us both laugh.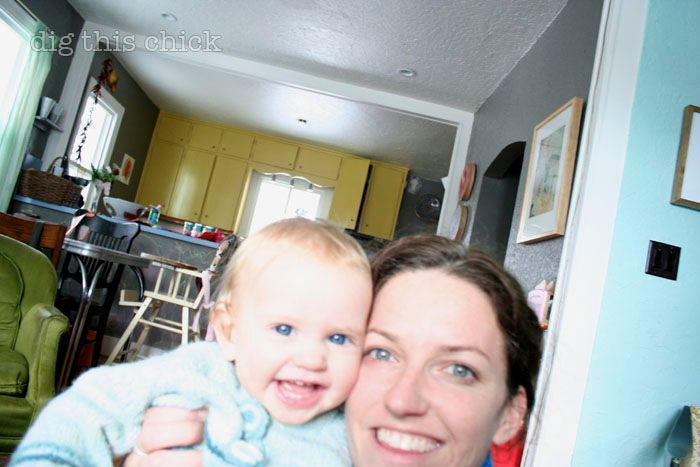 :: The other day Margot picked up a Sierra Trading Post catalog and looked through a few pages and then said, "Huh. Look, right here is says Margot really needs a bandaid."
For the many inquiries about where oh where we get these great, reversible, lightweight,
able-to-be-worn-in-a-carseat, super warm snow suits: Patagonia. We love our outlet in Dillon, Montana. And,
did you know you can just call them to see what they have in stock and they will mail to you? True.
:: Margot is very excited about plugging in and unplugging the tree. My Husband The Electrician wanted to talk to her about the implications of her desires. While she danced and tried to tickle him he told her about electrical current, conduction and shock. He asked her if she remembered her bee sting last summer and she said yes. Then he said shock would be much worse than that. She laughed and said, "watch this" as she jumped as high as she could. I said, "Margot, please don't touch this white rectangle or the cords that plug into it. It will hurt you." And she said ok. Later, Andy, feeling defeated by my explanation resonating and not his, shrugged and told me she wouldn't get continually shocked anyway because it is a gfci breaker. Good to know.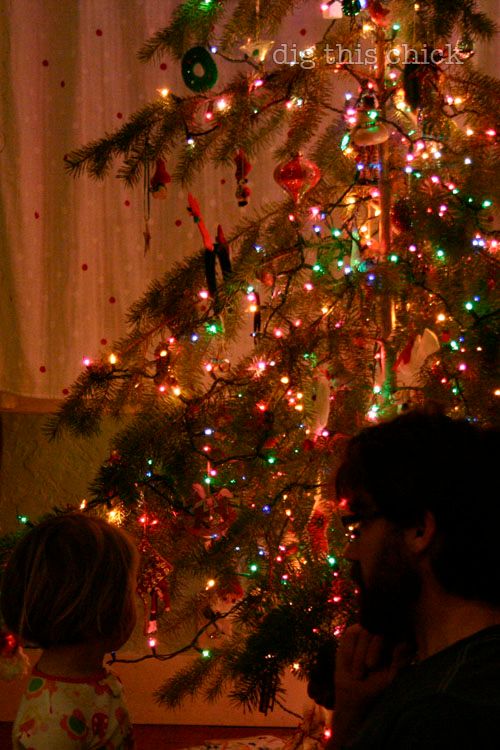 a very important conversation
:: I am surprising myself with how sentimental I am about the holidays this year. I cried while reading the Polar Express the other night. And, I was super anxious to get a tree. And, Andy has already started audible exhales when I put Pandora on 'Ella Fitzgerald Holiday'.
Our friends needed thinning on their property down the Bitterroot so that's where we cut our tree. 
Also I was all gushy as we hiked up a steep incline to find our tree. Ruby was snug on Andy's front,  Margot giggled so purely I thought I might burst and Alice literally tripped over herself she was so psyched.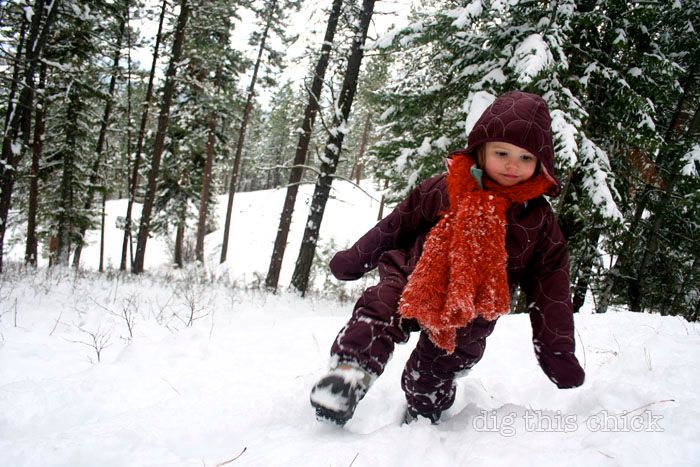 :: 'Tis the giveaway season don't you know. This giveaway is dear to my heart and my family's health. We have fallen hard for theraputic grade essential oils. We use lemon daily in our water, lavender to make bruises and bumps magically heal (used on Margot's horrible skinned lip in the fall), thieves when an illness looms, peppermint to break a fever, peace and calming for just that and have even become used to (and grateful for) the funky (norman) smell of frankincense. Once you have and use a bottle and realize the simple, natural, effective properties of the oils, I promise, you won't go back. Also a great stocking stuffer? Yep. Click here to buy.
AND Mama Loves Oils is giving away a bottle of peppermint oil! Leave a comment for a hot, pepperminty chance at a bottle. Not sure what to comment about? How about your funky norman. (Winner will be selected at random on Sunday, December 5 and winner will be posted within this very post so check back!)


******COMMENTS CLOSED******
The Winner:
Natalia said…Wow, the snowflake on the eyelash is amazing! But the photo I like best is the family portrait, as I know how hard it can be to have all of you in one shot, looking normal. Though you guys look much more than normal – you look happy, content and together. Enjoy the snow!


Congrats! To claim your peppermint oil, e mail me at [email protected]
Just in case you missed our purt near perfect family photo: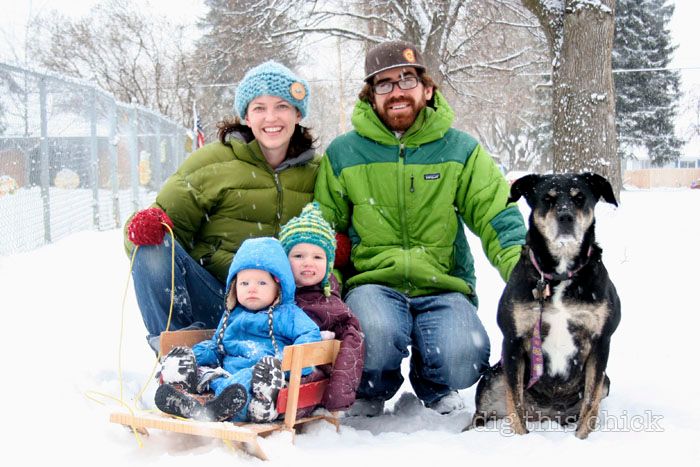 I see this photo and I think of an endless string of adjectives:
Me: optimistic; Andy: charmed (but no doubt dreaming about skiing);
Margot: enduring; Ruby: all-knowing; Alice: regal.
Happy hump day out there.
You might also like