hump day nuggets: little bits of the season in photos and words about the last week


I was up late Monday night making gifts thinking how I'd be so privileged to see the solstice eclipse but between dreaming of the once-in-a-lifetime opportunity and making my way out of my studio and up stairs I forgot. I fell into bed next to my exceptionally warm husband. But he stirred which is unusual and heard a noise he wanted to investigate. He got up, I fell asleep. I woke to him standing over me wrapped in his grandma's wool blanket.
"Babe, wanna see the eclipse?"
I jumped up, thankful for the nudge. It was so cold, even with the heat humming. We huddled on our front steps in three degree air, wrapped in Dolly Mae's thick blanket and watched the red moon, our girls asleep inside.
The moon often makes me tear up. The same moon the whole planet sees, it circles every living thing once a day. A lunar hug. It's so consistent, always showing us the same face, waxing and waning, pushing the ocean in ebbs and flows. The moon makes me feel calm and generous.
:: elving nuggets ::
The verb elving has been popping up all of the interweb and I think it is a strange word but elf is one of my favorite words in our language and the concept of elving is a lovely one. So, we've been elving.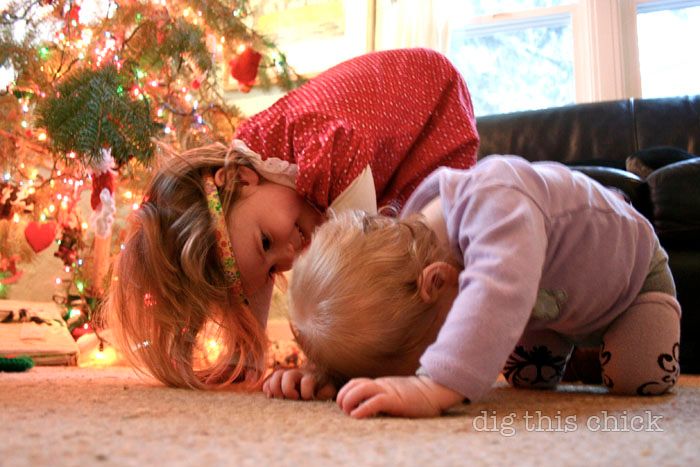 elving with little breaks for down dog
:: I got all my holiday sewing orders complete and closed shop for a few weeks. But, it's not really closed because I am making gifts for my people and having the most fun (mostly fun. there have been a few seam ripper swear sessions).
I do a lot of gift-making while the girls sleep but I also do a lot when they are with me. It's less productive and often insane but I think it is important for them to participate in the spirit of making and giving, a complex concept for a three year-old (three year-old!). I am not saying that I am wiggy about a kid's love of receiving gifts. In fact, I celebrate Margot's excitement to open packages and presents. It's just that I want my kids to witness and eventually know the total joy of giving.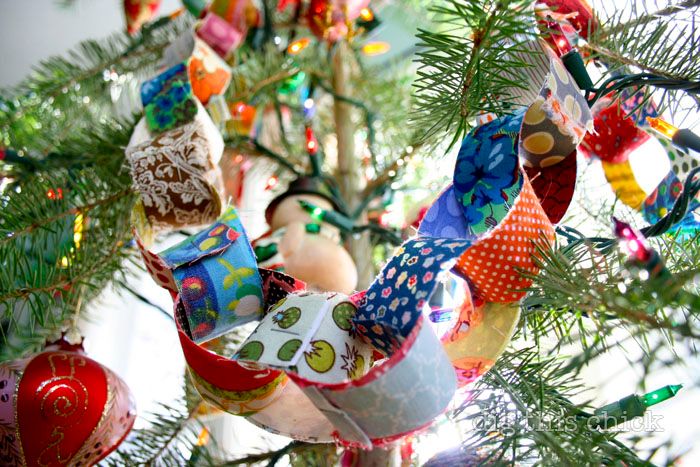 fabric scrap garland: two 1×6 inch pieces of fabric fused together with interfacing (like heat n' bond)
and then stapled just like the paper chains.
:: Rubes and bug have been hanging out in their 'nest' in the mornings.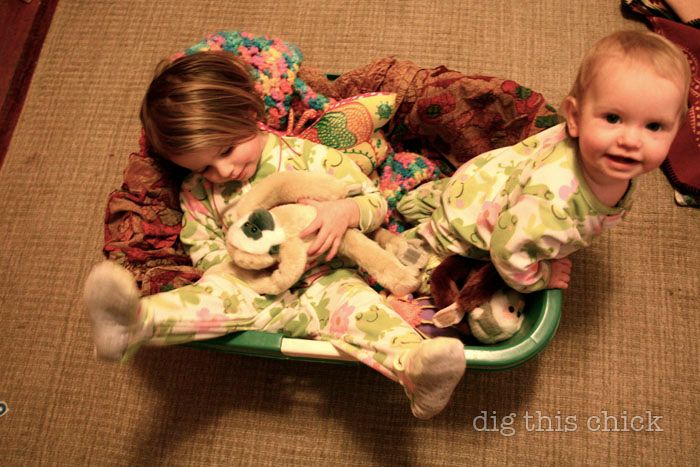 Which I, of course, think is pretty dang cute.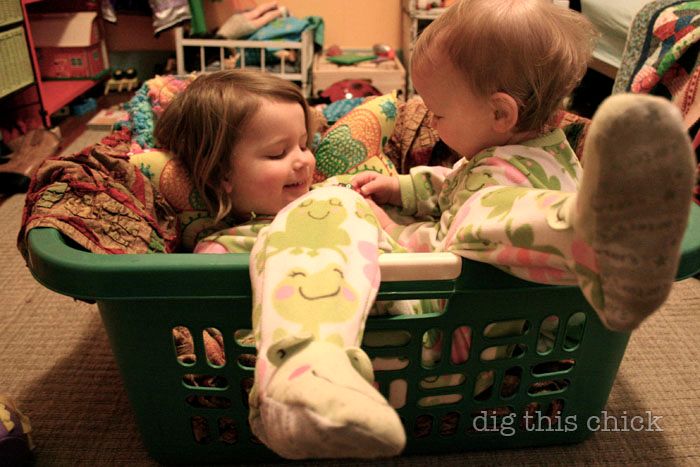 :: We made ornaments and Margot picked which creation goes to which friends.
The whole fam drew on shrinky dink plastic.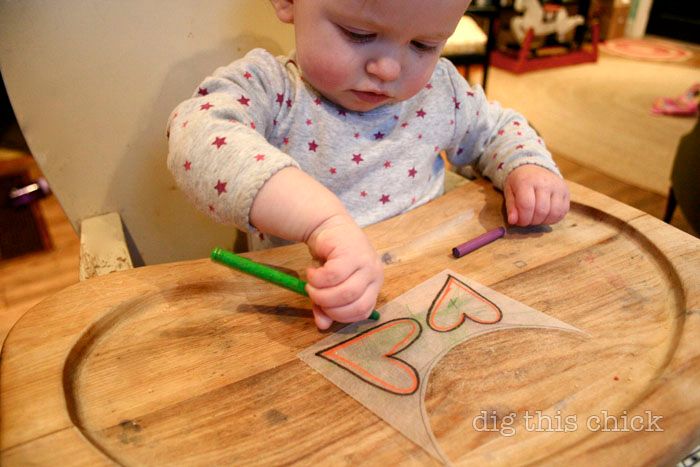 Mama drew hearts and stars and cut and punched holes and we got to watch the magic folding and unfurling of our creations.
Tomorrow, the girls and I will drive all about Missoula dropping little gifts at friends' homes.
:: Our city is blanketed with snow. It's like baking powder and squeaks when you walk. It makes 12 degrees feel a lot warmer to me.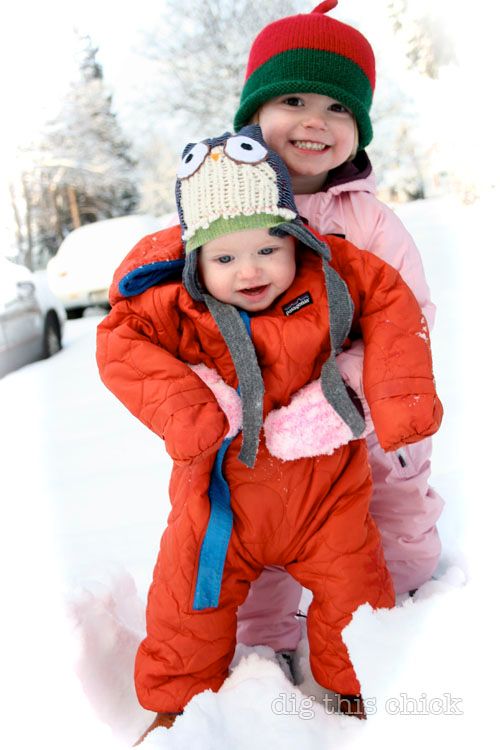 :: Cinnamon snaps for the museum staff.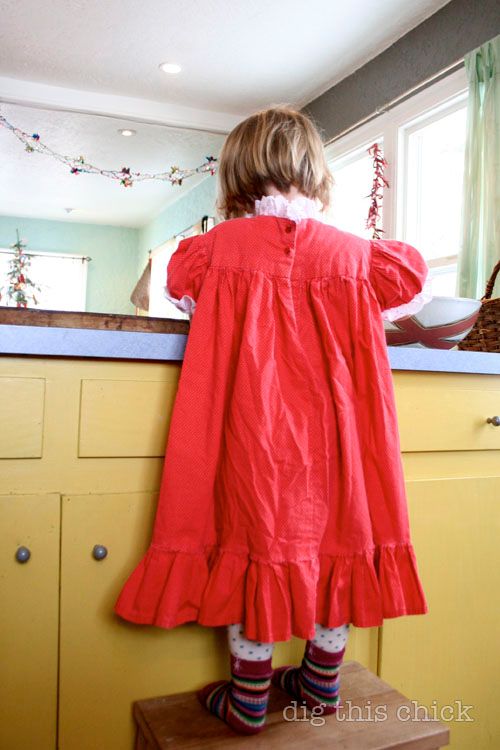 Margot rolling dough in sugar in my fourth birthday dress (made by my ma) that is obv way too
big for Margot but, boy does it twirl.
:: Margot picked the fabric for family presents. Well, I guided a few choices. Like, I am pretty sure my dad wouldn't love pink fleece with orange hearts and elmo. For the most part she did a pretty rockin' job and is adorably invested in which fabric goes to which person.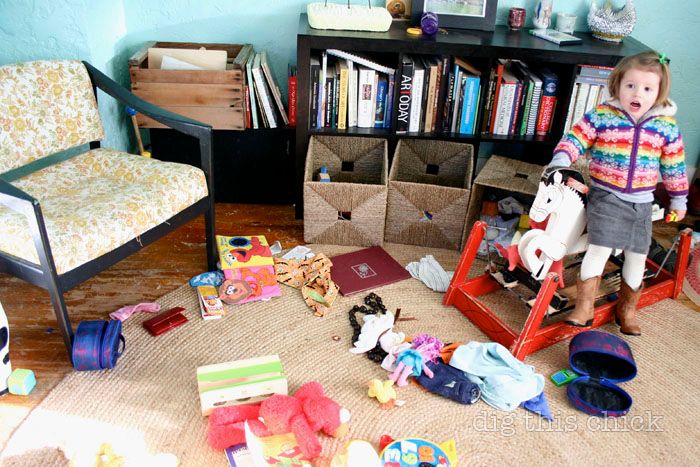 The general state of our home these days: Ruby on my hip, Margot wearing Ruby's coat and boots on the
wrong feet, making up a song about her grandmas amidst the smattering of toys.
:: We are a big stocking stuffer family and I had SO MUCH FUN buying little treats for my kids. Margot is going to flip out over Curious George bandaids, stick on earrings, guava lip balm and rainbow socks. And Ruby will flip out over canning rings, wine corks, fabric balls and other stackable/rollable objects.
My mom made these incredible stockings. They are sewn, hand-embroidered and have secret little
animal buttons in the toes so when the girls are at the bottom they 'find' their own special button.
:: Ruby 'helps' in the kitchen like a good little elf.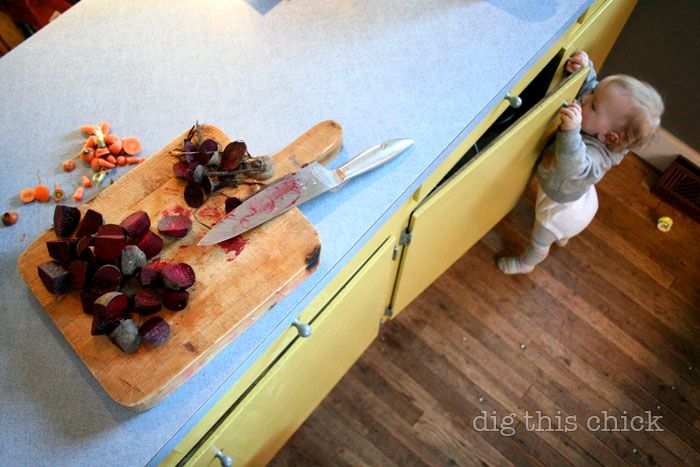 :: We made play dough and shopped thrift stores for tools. I gessoed the lids and Margot and Ruby decorated.
For pennies we bought wooden forks, measuring spoons, butter knives, small spatulas,
cookie cutters, etc. to accompany the play dough.
The key to Margot's participation in the giving is that she also gets to give to us. Like, she picked an ornament for our tree, picked six cookies for us to keep, picked fabric for herself and picked play dough tools for she and Ruby. This seems to open her up to giving with enthusiasm, getting really excited when she knows a gift will be a perfect fit for a friend. It's very sweet.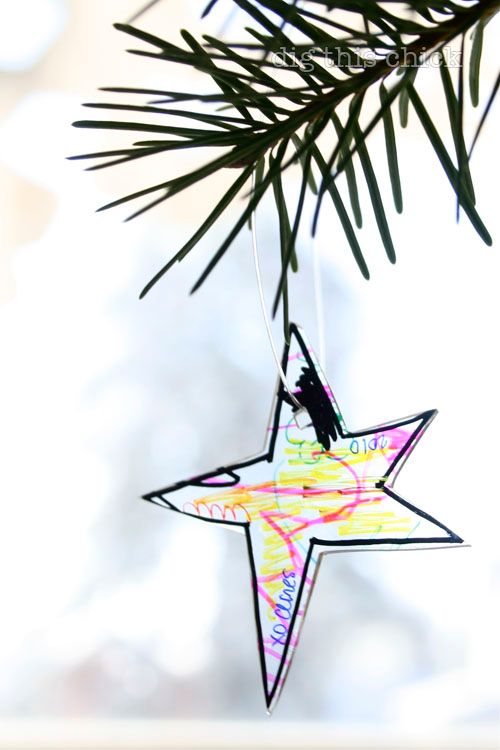 We are off to Walla Walla for the holiday. And between now and the time we pull away from our home with food for five adults and three kids for four days, a dog, our family, gifts and essentials, we will be alternating between romping in the snowy wonderland of our valley and finishing up all the festive preparations. I'll be away from here and back on Monday with mama digs from southeastern Washington.
Wishing all of you love, laughter, good food, waxing and waning, ebb and flow,
Nici (and fam)
You might also like