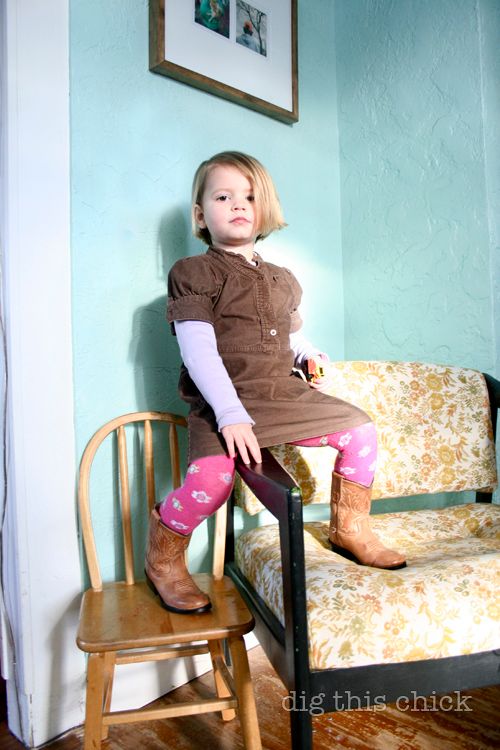 She's kind, compassionate, fiery, opinionated, adoring, independent, hilarious, wise. She likes twirling on one foot, digging through my grandmother's costume jewelry when I'm not paying attention and making Ruby laugh. She plays hide-and-seek every night with her papa and her giggling gives her away every time. She makes me feel proud, purposeful, important, humble, alive and in love.
:: :: ::
We were playing airplane the other night and I said, "Margot, I love you so much."
"I love you so much mom," as she hovered over me, my heels against her belly button.
"I can't believe you were in my belly three years ago."
"You pushed me out? You pushed so hard?"
"I did."
"You pushed me out of your body?"
"Yes. Do you remember it?"
"Yep. It was dark and I was stuck. And I went weeeeeeeeeeeeeeeee!"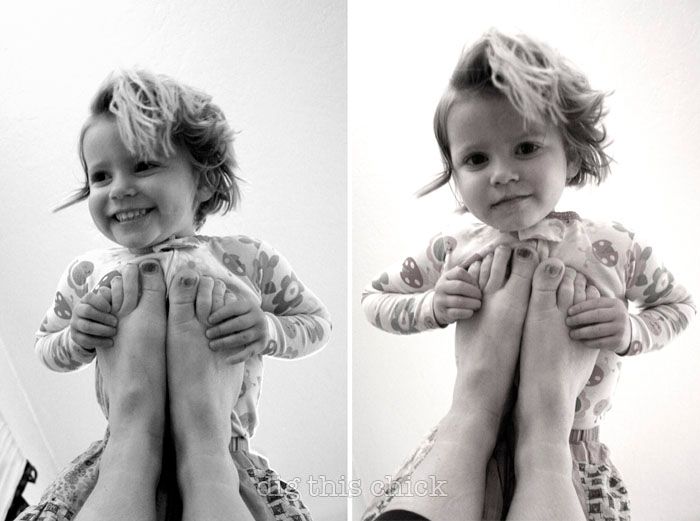 :: :: ::
We were at the grocery store fetching ingredients for her rainbow cake when she spied a display of giant foil number balloons. "Oh wow! Oh mom! Can I please have one?" In a nanosecond, I went from autopilot-no-way-am-I-spending-$10-on-a-balloon-mom to absolutely-YES-mom.
Here, Margot lassoes three.
"I want that blue sparkley one! It's so beautiful!" I said ok thinking it was hilarious that she would have a number 8 balloon or something but, sure enough, of the dozens of balloons, there was only one "3" and only one dark blue balloon and that was the ONE Margot loved. She said it was the letter "C." I fetched it and she ran off clobbering unsuspecting shoppers (balloons are silent but deadly attackers when being pulled by a three foot-tall person), talking to the balloon saying things like, "I love you so much! I am so exciting to meet you darker blue letter C!"
Playing with her son and darker blue letter C
I couldn't stop smiling. I was actually laughing out loud. Her thrill, excitement, pure joy sent my heart to the moon and back. Right there in the aisle as I was talking myself into pouring pints of food coloring into my daughter's rainbow cake, as Ruby was trying to climb out of the cart to get a better look at her sister who was running in her cowgirl boots with an audible clack clack, clutching a balloon twice her size and her truck son, I felt giddy with happiness and thankfulness. I felt so right.
Every single person we passed, she had the same questions for them, "Do you see my balloon?! Isn't it awesome?"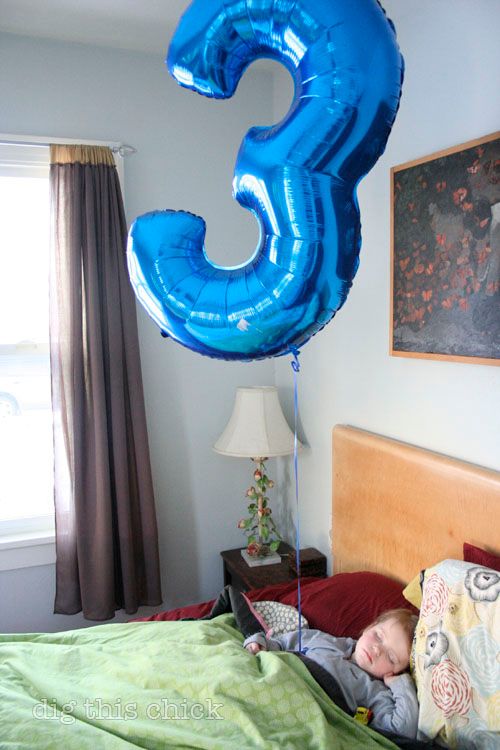 :: :: ::
The night of her birthday I went to bed with her. We laid there for a bit and I turned over and whispered, "Bug, you still awake?" She whispered back, "Yes. Tell me a story about Sam, Olive and Alice at the carousel." I've been spinning this story for a while now and she loves it. I made up the next chapter and asked her if she would tell me a story. "I can't because I am only a kid." I asked if she wanted to try and she said ok.
"There was a bug. A giant, giant bug that was so HUGE. And he was in our backyard. He played and played and then found a leaf and ate it and took it home to his lighter red house. He took a nap and then woke up and played again."
:: :: ::
I wrote about Margot's third birthday and the cake I made and then remade and how I pretty much learn everything I need to know about life from her in this week's mama digs, a rainbow cake for my girl.


I remembered to take a photo on our way out the door. Hence the rainbow cake with lighter
blue and darker blue and blue sparkles in our entry way.
You might also like