Right now my muscles are warm and tired, my face itches with life from the day's cold air, my feet still ache a bit from those super cute patent heels. Outside snow has been dumping for hours. Eight inches and growing. Last night I ate a late dinner of pretzels and IPA and I thought 
I should eat this for dinner more often
. I had a really good weekend.
It's not like anything all that notable happened last weekend. It's just that it was an ordinary few days that I witnessed through a clear lens of presence and appreciation. An ordinary few days that involved dressing up, dressing against the cold, not dressing at all. Cooking, swinging, scooping chicken poop, laundering, lounging.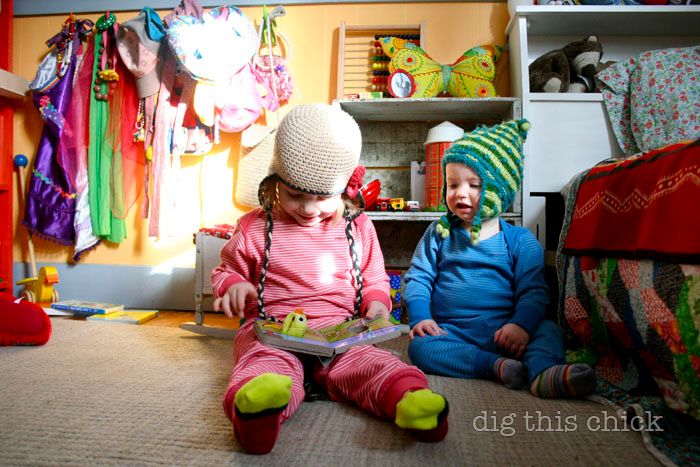 Getting ready to go skiing. (I added some additional detail about how we layer in cold weather in
last Wednesday's post. 
I love all the enthusiasm!)
A smaller photo = I am comfortable sharing
my scandalous dress with you all. 
I went to bed at 9pm last Friday night. I fell asleep in my jeans while reading Ruby Sings the Blues (love this book!) to Margot and woke up the next morning. Saturday night I wore my first ever push up bra with a tight red plungey dress. I didn't know my girls could look so…buoyant. We went skiing, we had friends over. We cooked a lot.
I turn 33 tomorrow and I always feel introspective and retrospective on my birthday. It's an opportunity to celebrate where I am and look forward to what's coming. More in the nuggets, don't you know.
This week's mama digs is about a pleasant little kick in the ass we got last weekend when we realized we are emerging (or maybe even have emerged) from the last 14 months of sleepy fog. It's about leaving my house with my husband and without my kids and not pumping milk or needing to be home by a certain time. It's about a little liberation. Click to read mama digs: the labyrinth.