hump day nuggets: little bits of the season in photos and words about the last week
My camera is broken. I feel a little sheepish admitting the heartache I feel over it. The thing is, sure, I use it for my work both here and on etsy. I need it for my upcoming art exhibit. I want it because I love to document. But, more than any of that, my camera is daily creative outlet that is really important to me. You know.
she was a present from my parents for my 30th birthday
I have been talking about, thinking about, dreaming about cameras a lot this last week. I can't afford a new one and I just keep waiting for the perfect answer to emerge. It'll come.
In the mean time, Margot is now the member of our family with a camera.* And, at the suggestion of a reader (Whitney!), this week's nuggets come from her unique, hilarious perspective.
The photos in this post are taken by or directed by Margot Bea. And she helped me with the commentary which was one of the funniest experiences I have had as of late. She's a great kid, that one.
nuggets.
:: Margot and Ruby play with three pals two mornings a week. She took her camera on Monday and when I asked how it went she just shrugged her shoulders and said, "Well, fine I guess. The memory card is, like, full." Getting nuggets together is tough work I tell you.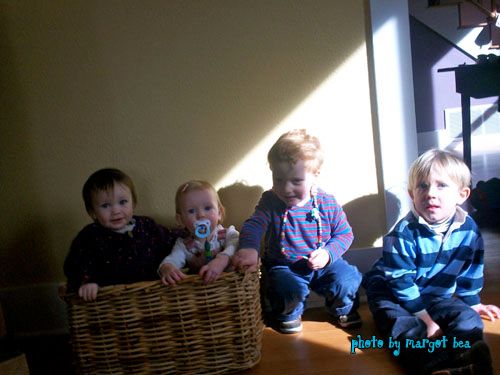 :: We go through an unreal amount of bread in our home and, no matter how much I make and buy, at least once a week we find one lonely heel where we thought the loaf should be. Consequently, I have been searching, tweaking, hoping for a perfect, quick, healthy, quick, very quick biscuit recipe. And, beloveds, I am there. And it is good.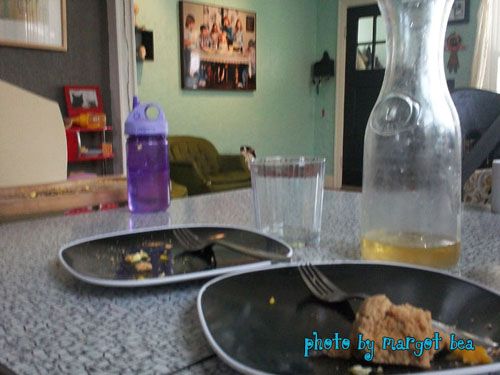 Supa Quick Whole Wheat Honey Biscuits The Whole Family Loves
2 cups whole wheat flour
1/2 teaspoon salt
1 tablespoon + 1 teaspoon baking powder
2 tablespoons ground flax (optional)
2 tablespoons honey
1/2 cup (1 stick) cold butter
1/2 cup milk
Mix the flour, salt, baking powder and ground flax in a bowl. Cut in butter. In a separate bowl, whisk honey into the milk. Add honey milk and stir until just mixed. It's pretty dry so, at this point, I just get my hands in there to form a dough ball. Divide dough into 12 biscuits and bake at 450 degrees for 10-15 minutes. Easy. Delish.
:: "Margot, tell me about this photo." A little annoyed, with an exhale, "That's Ruby, mama."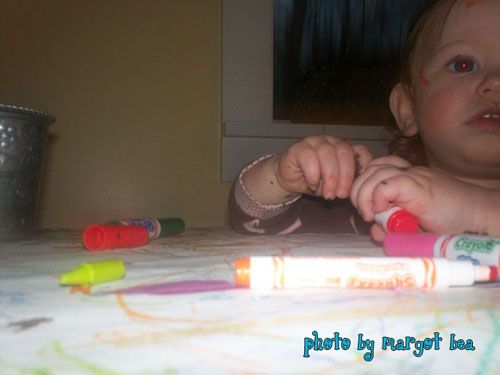 :: We took Margot skiing last weekend, her first time on real skis with hard boots and oh my. I found myself teary more than once at the total happiness and beauty of the day.
When seeing this photo, bug said, "That's me skiing, mama. Skiing is fun and that's the ski hill, mama. I love skiing!"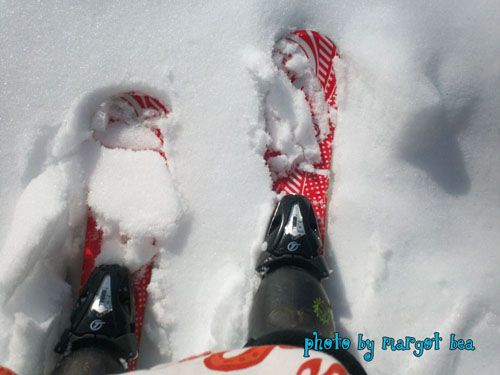 She skied on our backs when she was one, on strap-on skis when she was two and, now, at three, she's skiing.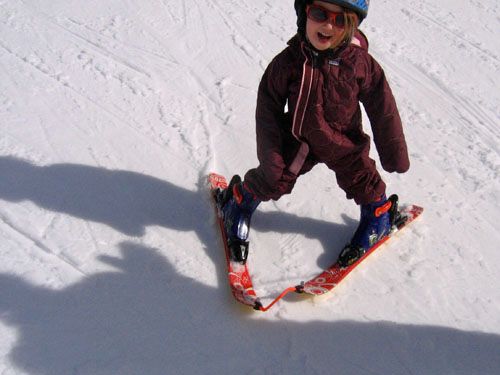 It was awesome and completely exhausting in the most wonderful way. I was a ski instructor in college and worked a lot with three year-olds. It is quite cool to teach my kid to ski. And, holy holy, what a proud mama I was. She was spirited and fearless. And, after two bunny hill runs, she was skiing begging me to "just move please mama because I want to go really fast."
These photos by Andy and Gramma Joan, assisted by Ruby.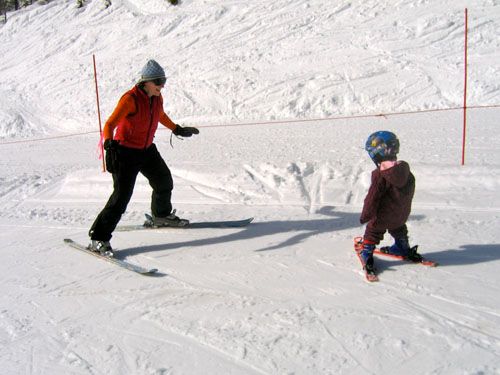 :: I transcribed Margot's birthday card message to her bff, Owen, on his third birthday:
Happy Dear Owen,

Happy Birthday. That stick really did hurt. I love you.

Love, Margot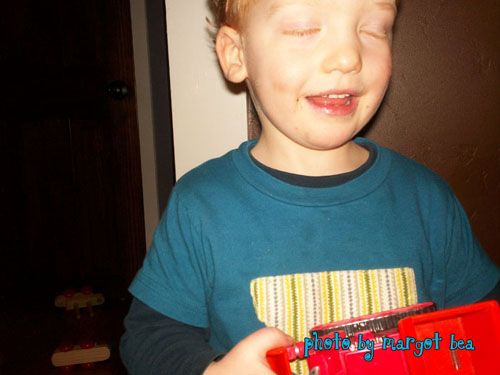 "That's Owen! Owen Bruno. Come here big sweet potato! Owen is my best pal."
:: "That's Gramma Joan. That's my grandma. I miss my grandma all day long night."
:: I love her interest in photographing her everyday favorites and activites. She will often aim her camera at Ruby and me and I'll grab Rubes close and hold still anticipating her sweet delayed button press. Instead, her camera migrates away from her family subjects and toward a bowl of salt.
"Margot, how about this photo?" 
"That's my kitchen. I play in there of course."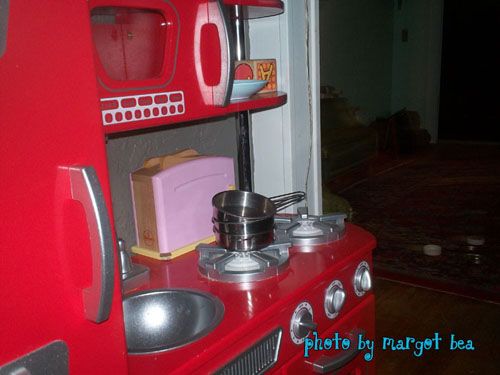 "And this one?"
"Awe! That's my favorite headband! It's just adorable!"
"That's just you and Juicy. You are changing Ruby's diaper at Owen's birthday party. Or something."
:: Our Valentine dinner reminded me of those machines that blow the numbered balls in the air for the lottery. I spilled one glass of champagne and one glass of wine. Anyone who knows me is nodding like 
yeah, so?
 because I tend to spill a lot of beverages. I just get excited and can't pay attention to objects in the way of my expressive hands. When I knocked over the second glass Margot said, "Daddy, what is happening?" Andy smiled and replied, "Oh, it's just your mama."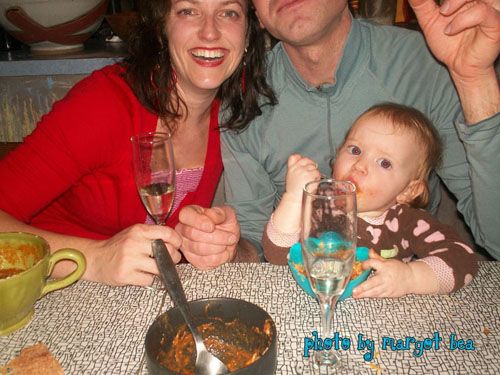 Margot said of the evening, "Dinner. Family dinner. I can have a fruit leather 
after dinner. And that's the end of the story."
:: Margot sang the caption for the following photo like a poem in a shrill high squeak.
I am in the swing
Mama
and Margot
are outside
playing
but there are no toys out there
and we're siiiiiii i i i i i ngiiiiing
:: Not sure if I've mentioned this here before but Andy is sweet nut. Me, I'm more savory. So, he makes dessert a lot more than I do. We often (usually) have a container of cookie dough in our fridge so he can make a small batch in the evenings after dinner. Dude knows his cookies. And while Margot and I made these heart-shaped lovelies on Valentine's Day, he was directing from the couch.
:: You'll have to wait for next week's mama digs to learn why we are dancing in these photos. It's a good, crazy story that caused Margot to exclaim, "Let's dance! Turn on 123!"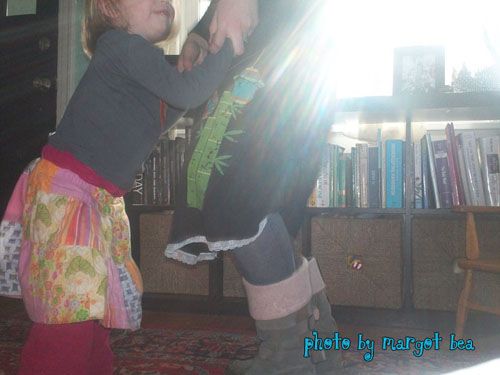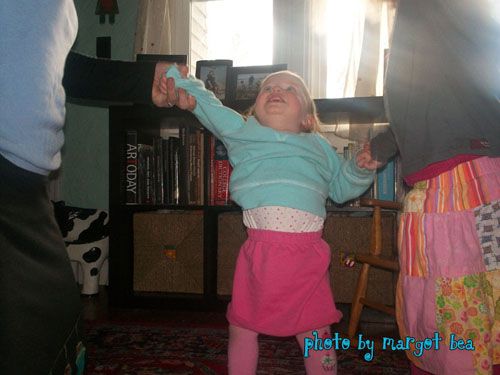 :: Margot (post chocolate chip cookie): "Watch this you guys. You just do down dog and then you put one leg up like this and then you do like this," as she gyrated her hips up and down and in circles while cawing like a wild animal. "And then you just keep doing down dog and then you stand up and take a bow."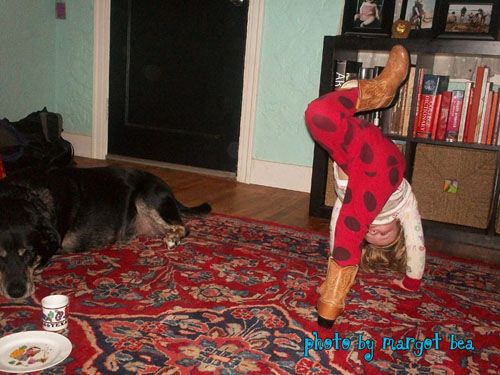 Alice wasn't into the performance.
:: Girlfriend painting her papa's funky winter feet.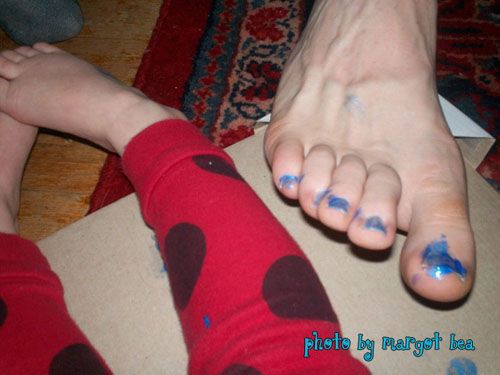 :: Still life with half-eaten apples, mama's boot and dog ear.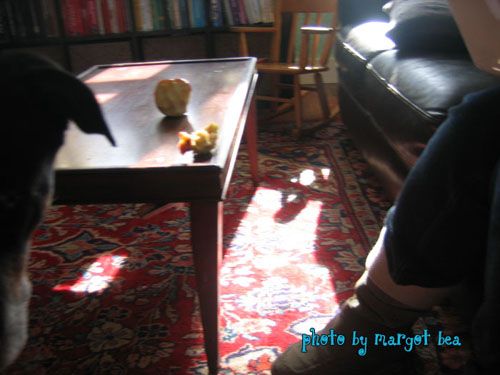 :: Customized cookie for dad. Message by Margot. I love this happy dear thing she has going. It's so jolly.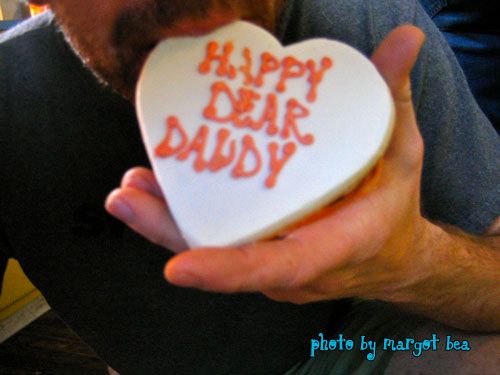 And, that is this week's nuggets, brought to you by Margot Bea Cline.
Happy hump day out there.
* edited to add: Margot's camera is a Kodak Easy Share CD22. It appears they aren't made anymore.