hump day nuggets: little bits of the season in photos and words about the last week

I spent yesterday in the gallery installing my art. On the drive to the gallery I was…I kept trying to name my feeling. Anxious? Excited? Nervous? Happy? Terrified is where I landed.

I saw this lily on my way out the door. Dude burst up practically overnight. I decided he was a sign of good things.
My work is tricky in that it largely relies on space, shadows, structure. It's all in my brain and in piles around our home until it's installed. I left my house Tuesday morning with cartons of eggs, boxes of photos and dryer lint and an unruly stitched paper tree. In my terror I asked Andy what he thought of my work. He is always my best, most honest, most productive critic (plus, he is an amazing artist). He said, "I think it will be great babe." I asked why the non-specific encouragement? and he explained that he really had no idea what to expect but he knew I'd pull it off. Terror. Pull it off.
We talked more about my approach to making. See, my creativity is fueled by urgency. I wish it wasn't, but it is. My whole life I have apologized and made excuses for my proclivity to pull an all nighter to write a 20 page paper, to sew 27 skirts the night before they ship out, to get a grant application in the mail on the due date. It isn't that I don't care, it is simply when I do my best work. I think thoroughly about stuff and when I actually set out to do it? It all happens in a quake of adrenaline, focus and inspiration. I don't make excuses for it anymore. It is 100 percent me.
Andy confessed he found this behavior charming when we were young lovebirds and he now merely rolls with it, knowing me to the core, wishing it wasn't so with two wee children swimming underfoot. He smiled when he said it, like he had been thinking it for a while and could now say it with a sweet smirk because we are on the other side of that mountain and I am piling my piles out of our studio.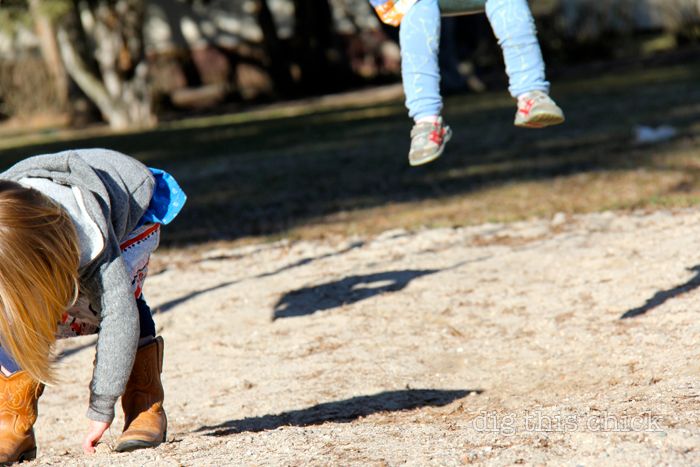 two wee children who swim underfoot
My mom always says long story short and my whole family knows this really means long story longer. So, long story short, I was terrified yesterday morning, pitting out with my heart all splayed across the trunk of my Subaru.
I called Paige and left a message. She texted back just what I needed to hear, as best friends are able to do: Nerves are good. It means your heart is in it.
And, by last night, I felt calm and proud and energized. After a day of putting the ideas in my brain on the walls of the beautiful Brink Gallery, I let myself feel a little confidence with my nerves. All nighters? Pshaw.
I feel good. We still have some installation to do but that can totally wait until Friday afternoon…just kidding. I am not that much of a deadline dork. I will be working in windows, with and without kids, in the next few days (and posting riveting updates here if you are interested). And then, on Friday, happy exhale.
nuggets.
:: The snow in our yard is totally melted and the soil is finally ready to hold seeds. The girls and I raked the leaves off our garden to reveal joyful evidence of last fall's garlic planting.
Well, I raked while Margot and Ruby hunted for worms, put dirt in in a bucket and planted "seeds" (rocks).
We planted arugula and lettuce and I was in bare feet! And then the sky opened up and hailed so we raced inside. Spring.

Parsley!

:: I miss my mom.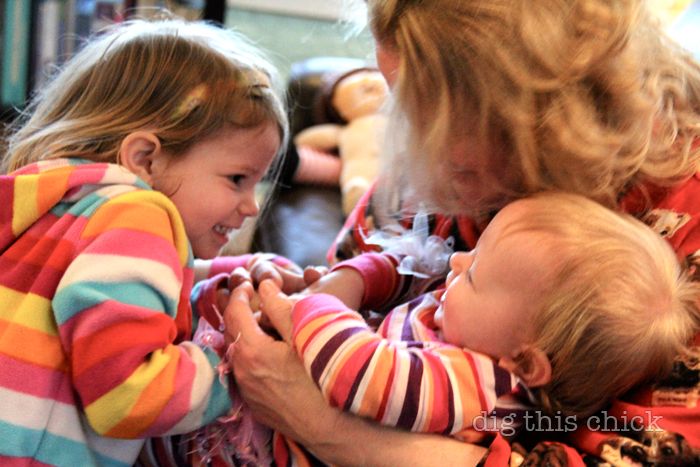 She still cuts my sandwiches in quarters

:: My dad couldn't come on this trip and goodness I am thankful for Skype.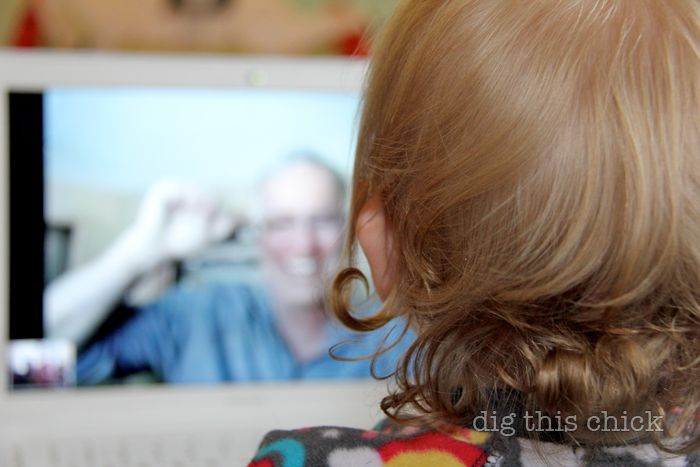 :: Ruby thinks walking is the most amusing thing she can imagine. And I think she is the most amusing thing I can imagine.
:: Margot and Andy had a ski date.

She rode the chairlift for the first time!

:: Margot has been saying the same thing to any person or chicken we happen by. "Wanna see my thumb? It's definitely swollen."
:: I love my zoom lens on my Dreamboat. I love it for many reasons one of which is because I like to take photos that capture a moment that doesn't see the camera, I don't often choose the eye-contact photo. And my zoom allows me to be like the paparazzi with my family. Like, here, I caught Andy spinning Margot as fast as he could in the swing (I always tell her no because I think she'll be miserable and puke. And I always tell Andy to slow it down. Turns out, daddy does it all the time and she doesn't puke.)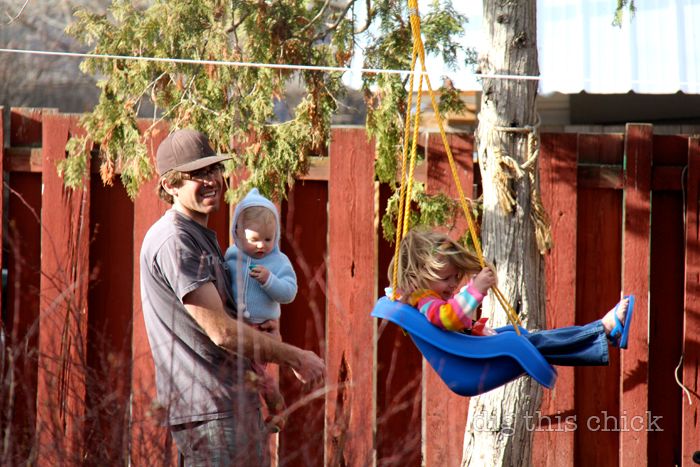 :: Rubes continues to be an early riser. While the moment my tired feet hit the cold wood floor is less than desirable, I do so enjoy having her all to myself while the neighborhood sleeps and the sun peeks over Mount Sentinel.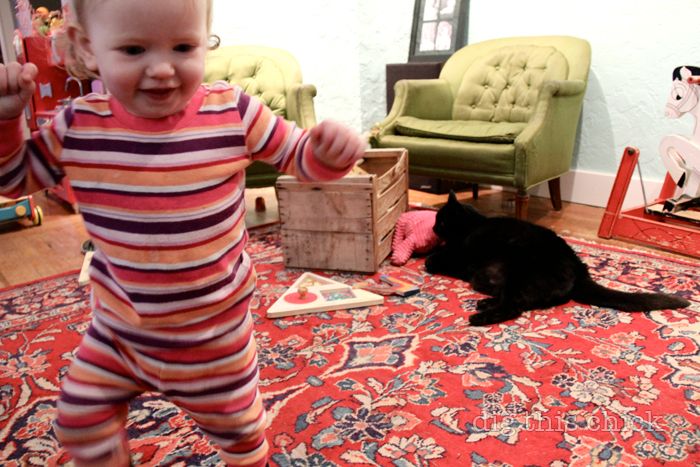 She also continues to sleep through the night! Anyone having difficulty with this: I highly recommend Good Night, Sleep Tight. The author, Kim West, generously gave me a phone consultation and her knowledge and approach is gentle and effective.
:: Sisters.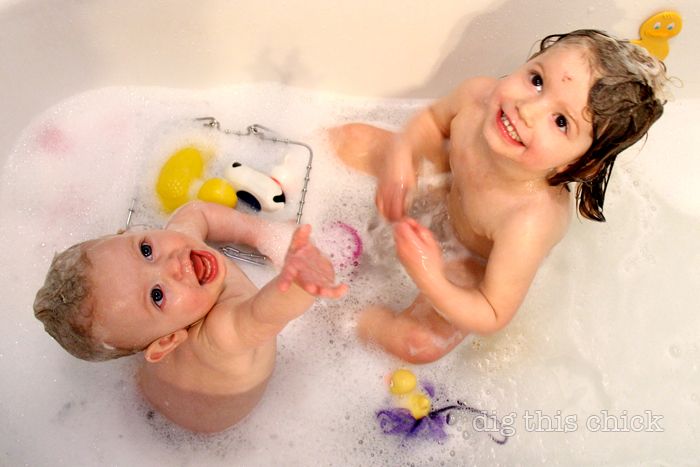 :: Dig sponsor, Feeleez, is an empathy game for kids (and adults!). We use these cards all the time to facilitate conversation and explain feelings. I find them particularly helpful when feelings are sharp or elevated. We grab the cards, often at Margot's request, and everyone picks the illustrations that best explain their feelings. It's a starting place, it's compassion. I think Feeleez is brilliant.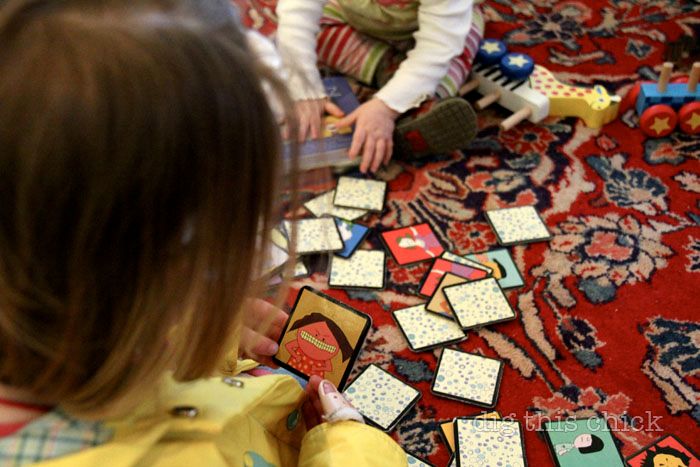 Right now Feeleez founders, Natalie, Kris and Nathan, are generously donating a number of games and posters with small scratches and dents. In their words:
These blemishes in no way prevent complete enjoyment of the product, yet we can't sell these as "new" in good conscience. And because we believe so strongly in the power of empathy and the effectiveness of Feeleez in opening up the minds and hearts of children to the world of empathy, this spring we are DONATING every last game or poster that shows the slightest sign of damage.

Team up with us. If you, our donation partner, pay the cost of shipping, we will send a game or poster to any school, or child-centered organization, anywhere in the world.
Awesome. Email [email protected] if you are interested. Thank you, Feeleez!
:: We always warm our tortillas over whatever we have cooking and I recently discovered the *best* way to steam those puppies! On top of the pressure cooker. The steady stream of steam results in the perfectly warmed tortilla.
:: Ruby practices walking while Andy mends the fence.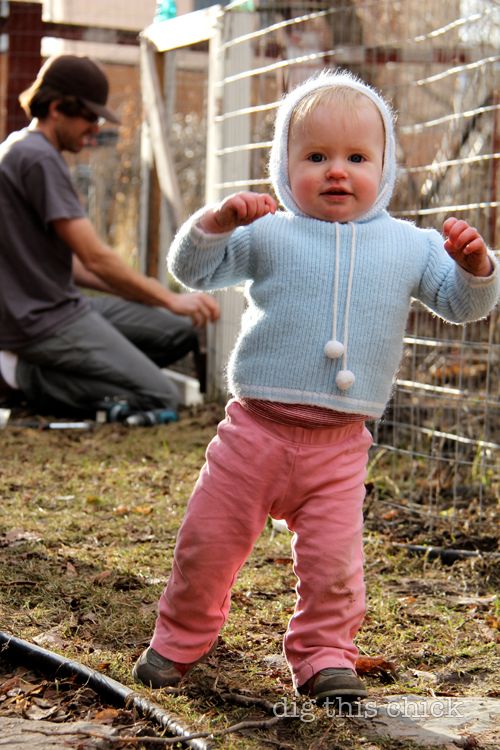 :: Oh it feels like summer is nearing. We hang in the evening and daylight pours through the windows!
And shared meals are happening with more regularity.
And my kids can wander our yard without obstacles like ice and over-wintered dog poo.
To make a long story short…

When I was in college my art crit teacher had us write a paper answering the question, what is art? It is hard to define. I wrote that I didn't think it has much to do with the finished piece or learned skill. It has everything to do with intention and process. An elephant with a paintbrush doesn't make art. But then I also think that art is in the eye of the beholder. So if you think the elephant painting is art, then perhaps it is…see, it's hard.
It has been a wonderful experience raising kids around art. Margot often points to something and asks if it is a sculpture. Or asks, "Can I touch it mama or is it art?" My kids are by my side and on Andy's lap while we make art. It is cool to witness what Ruby wants to touch. It is fabulous to hear Margot's uncensored opinions. She loves the beeswax eggs, says they are beautiful, her favorites are the ones that are most broken. She studies them. When she saw one of my sculptures she said, "Mama, what the hell is going on here?" Indeed I was wondering the same thing at that moment.
Through my daughter's eyes I realize art is everywhere and in everyone. It doesn't need a tidy definition or boundaries. Art is a peacemaker, a conversation, a reveal. Art needs a willingness to understand, honesty and desire to seek beauty. It's boundless.
Happy hump day out there.
:: :: ::
all photos taken with a Canon Digital SLR from Vanns.com