hump day nuggets: little bits of the season in photos and words about the last week
We have been planning and dreaming about a family vacation, one that isn't to visit family or friends. Like we go to a place where we don't know anyone and do whatever we want. Of course we love traveling to see our beloveds but there's something so unbound and lovely about a trip somewhere we've never been, where we don't know anyone.All of our exotic plans have been swallowed by other life necessities. So, on Friday morning, we decided to load the station wagon and head east to the charming city of Butte, Montana where
a colorful toxic pool
sits above a town rich in history and then south through one of my favorite valleys on the planet to Dillon, Montana.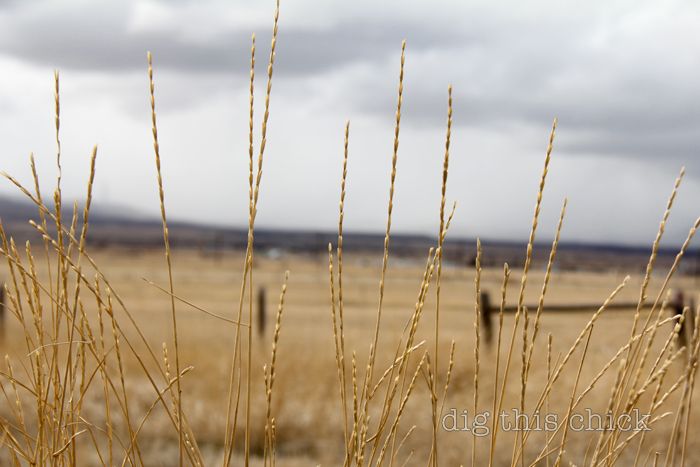 It was a good trip although I wonder if I'll ever get over how effing long it takes us to get out of the house. I always think I can grab a toothbrush, wallet and jar of peanut butter and we're off! But then we have to water the chickens, get the oil changed, pack diapers, dig out gear. Right about the moment when I am shoehorning down coats, dog food and board books under the girls feet, I seriously fantasize about ditching everything and living in a yurt in the middle of nowhere.
But once we hit the road and forget about the pile of dishes and puzzles we tripped over to leave, we are off.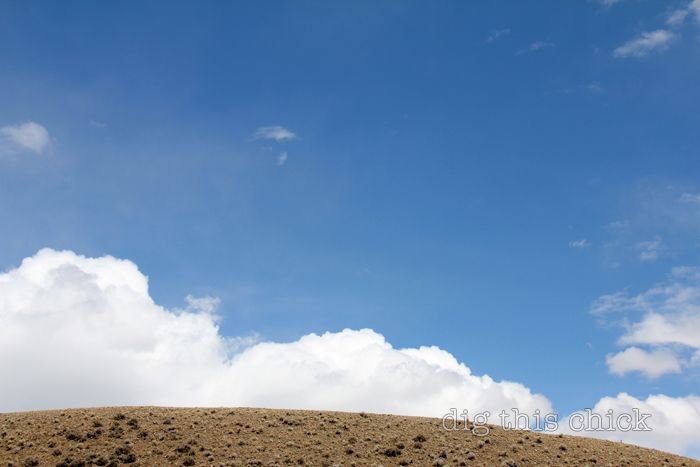 Friends joined us at the last minute and our trip was good, maybe even a bit exotic.
nuggets.
:: Just last week I noticed Margot's baby belly is flattening. I find extra joy when Ruby walks about with her shirt lifted, rubbing her round belly.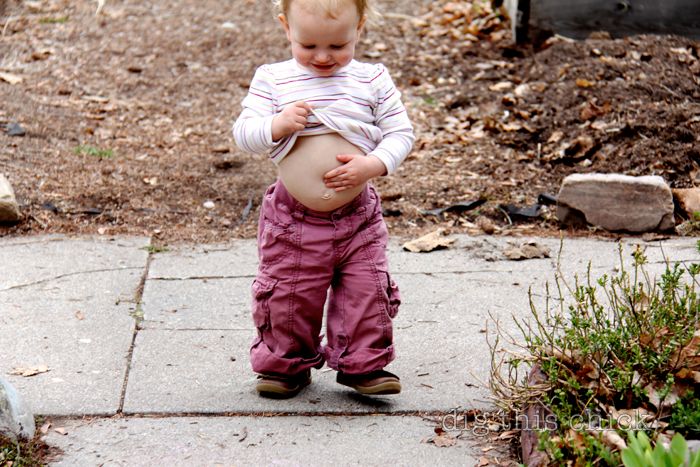 :: So much of art making is about exploration, experimentation and tactile experience. Sometimes it's hard for me to paint with Margot when I sit next to her poised with my brush, ready to render shapes and she wants to palm the color and mix it all into brown. But I remind myself feeling the paint is cool, coloring inside the lines is boring.
Art making with kids is rarely about a finished object.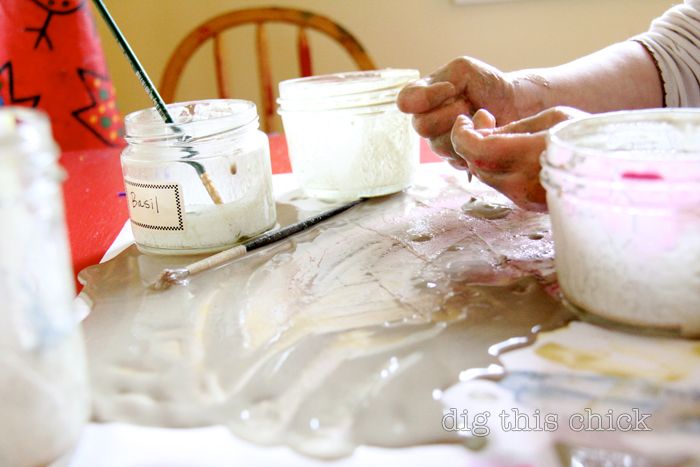 This is for you, mom. It is still stuck to the table and I am not sure it will make it in an envelope.
:: April wins for turquoise sky.
:: We stopped at Fairmont Hot Springs on our drive (exotic!). We had the most fun at that funky old pool.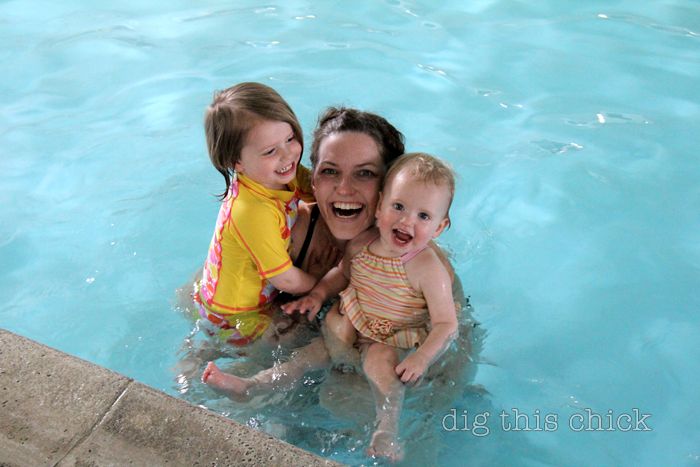 :: Our friends shared a family apartment in Butte and the view knocked my socks off.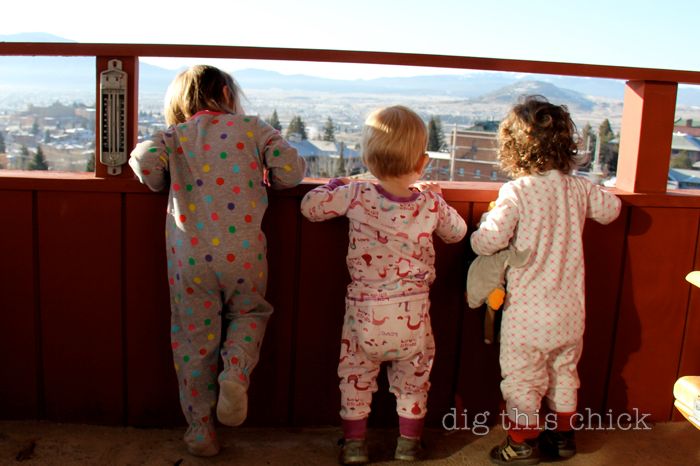 :: Plus we could hike right out the door.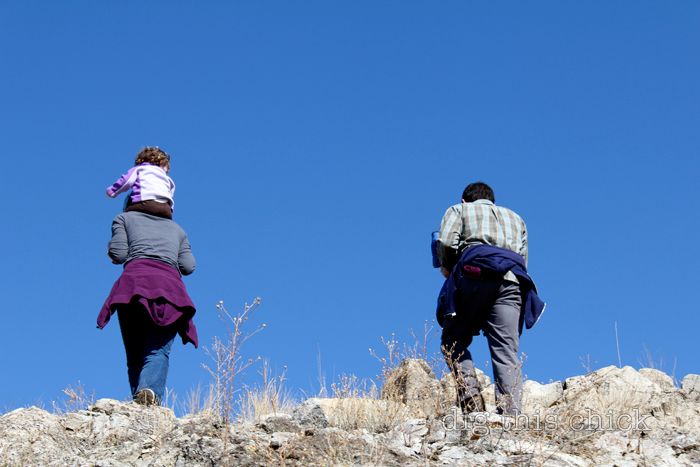 We did a lot of adventuring before kids and while it is different now, we are safer and milder in our pursuits, I find the thrill of being on the tippy top of a rock with my daughters to beat just about any other summit.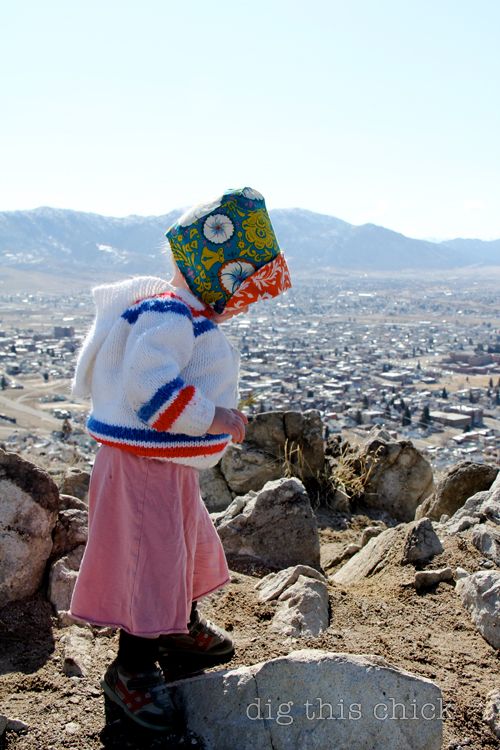 :: I wrote Monday about our current parenting challenge, which happens to be the most challenging so far. I got so much response and was left wondering why so many people all of the sudden felt got when it appears we all experience this. I think the hard parts of parenting are so quickly eclipsed by the beauty that by the time our friends ask what's new? or we sit at the computer to write, the challenge is blurry and the love is in sharp focus.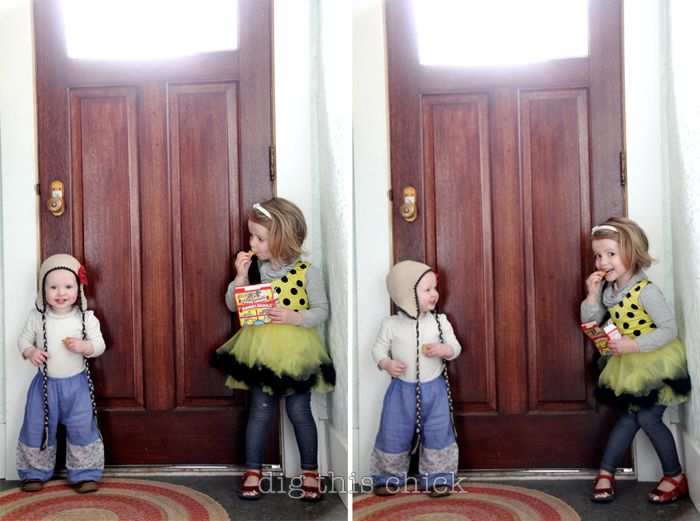 Anyway, I am really thankful for the comments and emails, your sincere support and empathy. I am also happy to report things feel better. I so enjoyed hearing what works for your families and, I'd like to share a few things that work for our family.
Andy and I had a "meeting"(we get good work done on road trips with both kids snoozing in the back.) We decided we'd place extra focus on making sure Margot feels heard and seen. We embrace empathetic parenting and decided to dig a bit deeper, resist hurrying and prioritize listening. Often all it takes is literally saying, "I hear you. I see you." when feelings boil up. The total opposite of the ignore undesirable behavior and they'll stop approach. And you know what? So far our deep digging is working so well.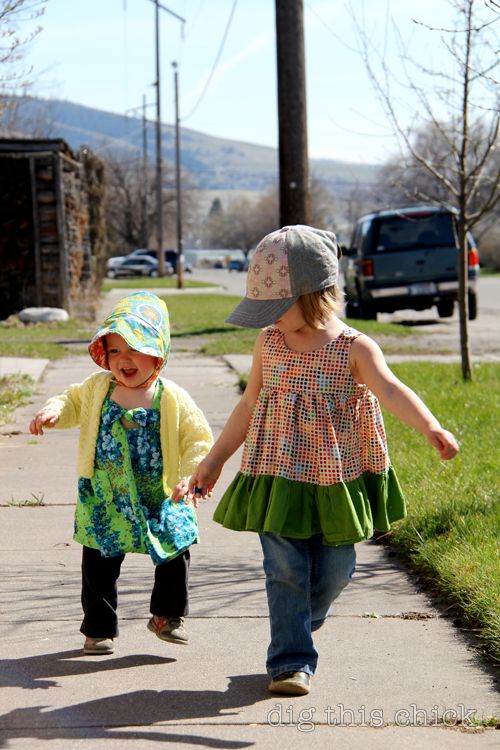 We also made a few scheduling guidelines for ourselves, to provide a bit of predictability and structure to our busy evenings and weekends. The one I am most excited about is family night on Wednesdays. We make dinner together and take turns picking the menu and post-meal activity. Next week is Margot's turn and she is over-the-moon excited for her evening of cheesy noodles and bowling.
:: Speaking of all that empathy, I am excited to present new dig sponsor Natural Parenting Center. Founder Kris Laroche is an inspiring mama and is offering an e-course in May called Magical Mothering: Befriending Ourselves. She asks, What is possible when we rewrite the stories of our lives to claim our honest and true brilliance? What transpires when we take our rightful seat in a circle of non-judgmental, loving and empathic support?
Click here to learn more and register! Also, Kris is generously giving away a spot in the class! Leave a comment for a chance to win.
:: Trip to the museum.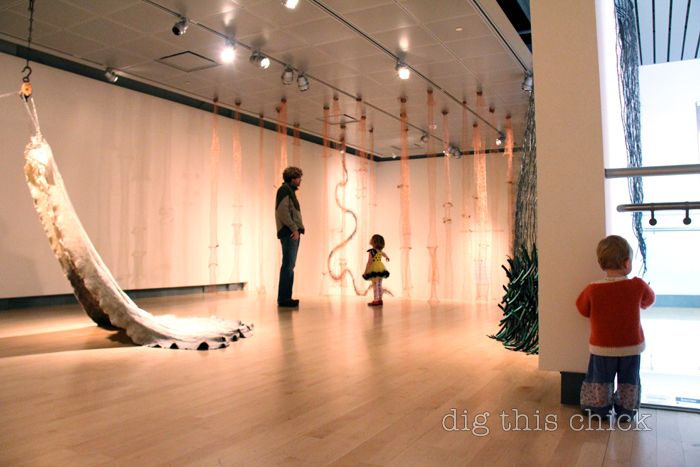 :: My running partners.
:: Easter Sunday was amazingly beautiful in Missoula.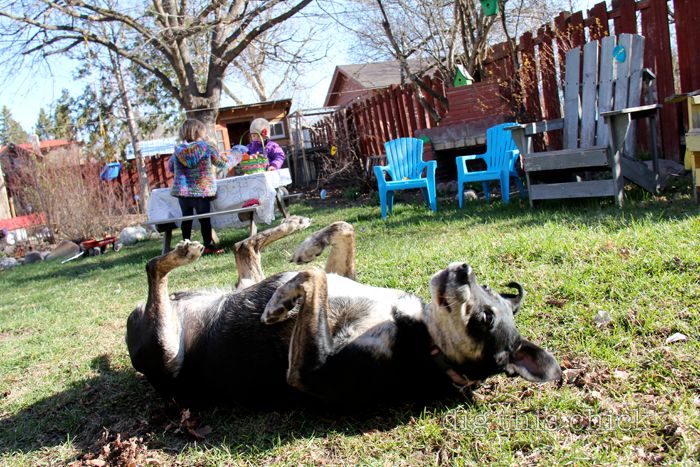 The bunny left baskets full of goodies on the back picnic table and eggs around the yard. The whole thing was super fun.
:: Last year I made paska bread and this year I made challah (silent 'c') bread. From what I can tell, the big diff is that the paska is sweeter.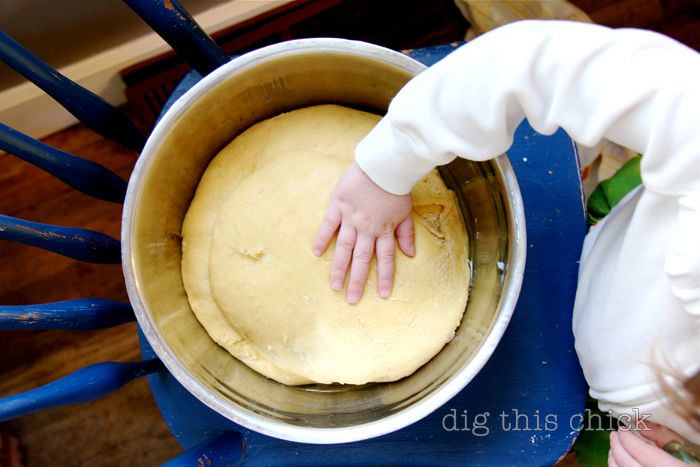 I like the challah better even though I about challahed myself into a snit trying to braid six strands of greasy, warm dough.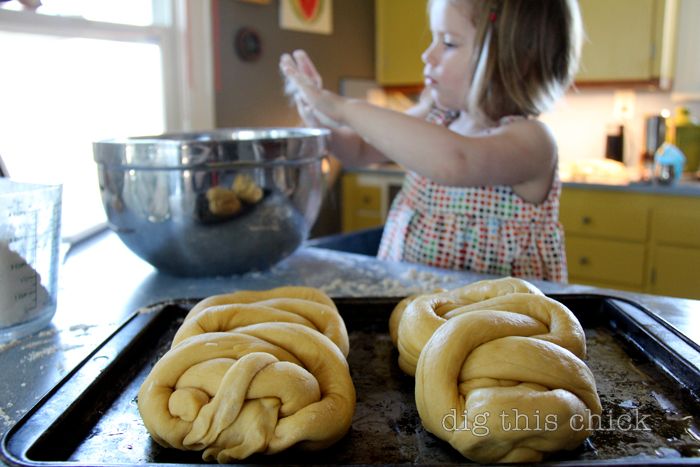 Margot LOVED painting with the egg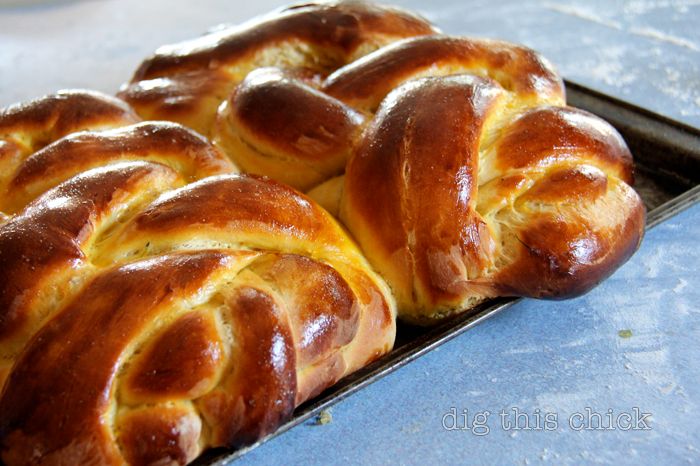 The braiding exhausted Alice.
:: Exotic is relative.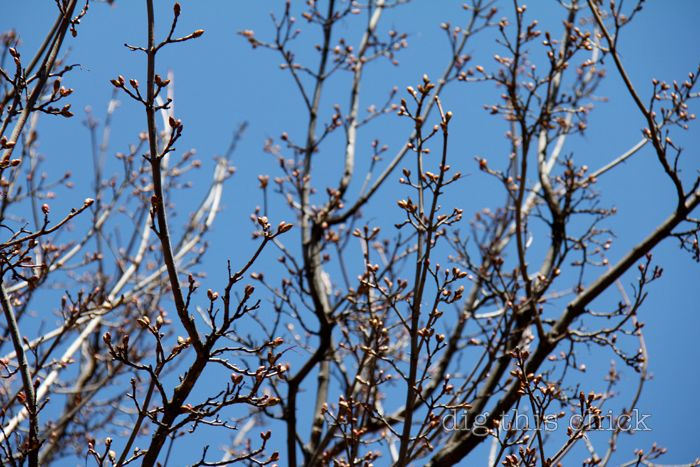 Happy hump day out there.
:: :: ::
all photos taken with a Canon Digital SLR from Vanns.com