hump day nuggets: little bits of the season in photos and words about the last week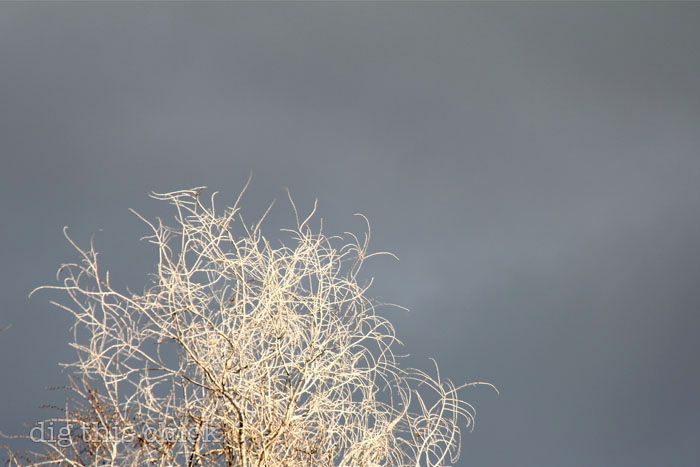 Right now, Margot is very proud of her family. She refers to us constantly in public like in the grocery store when she wanders to the pears and we are at the broccoli, she declares, "Oh, wait family! Wait for me! I am the other daughter!" Or at the dinner table she'll put her fork down and announce, "I love my family a lot."
She reminds me of those motivational speakers who bring camaraderie to disparate groups. Close your eyes and lean back, trust your colleague to catch you…Margot could totally do that. She has always been a big fan of the group hug and can push any random, awkward pile of people into giggles and embracing by her not-taking-no-for-an-answer need for everyone to just hug all together. And again.
My sage little three year-old regularly referring to us as her family makes me smile. We are a family.
nuggets.
:: Yesterday Margot eagerly lifted her shirt to Ruby and said in a high voice, "Come on, Rubes! Do you want milk from my boob?!"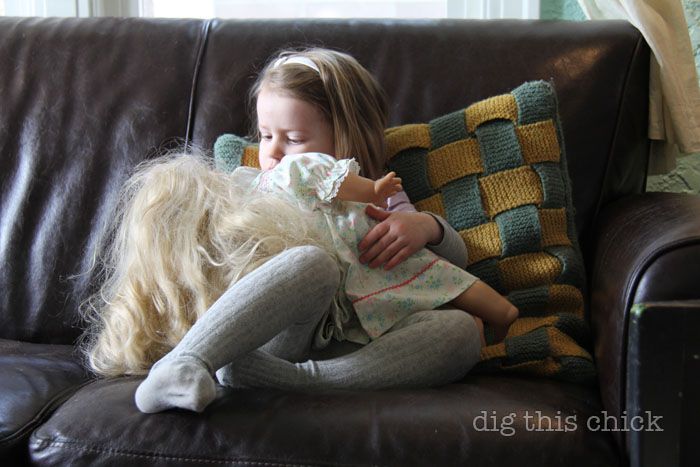 Margot breastfeeding Elizabeth before her nap
:: Ruby's favorite game: I put her down in the kitchen and run to the bathroom while shrieking "Ruby! Come find me!" and she swaggers down the hall, arms overhead giggling to discover me. It might be my favorite game too.
:: I discovered our chickens' secret nesting spot behind the coop.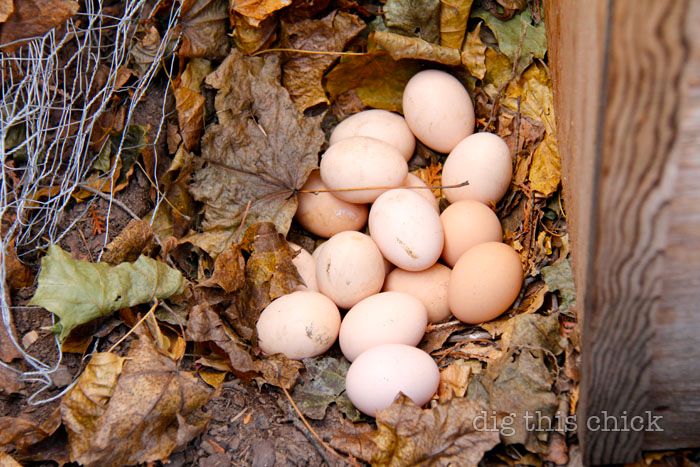 :: I climbed into bed and reached into my little wooden box on my nightstand to discover it was empty. I tip toed into the girls room and woke Margot.
"Margot?"
"What are you doing mama?"
"Do you know where my mouth guard is?"
"No"
"It was next to my bed in that little brown box. Did you move it?"
"No."
"Really?"
"Maybe it's under your bed."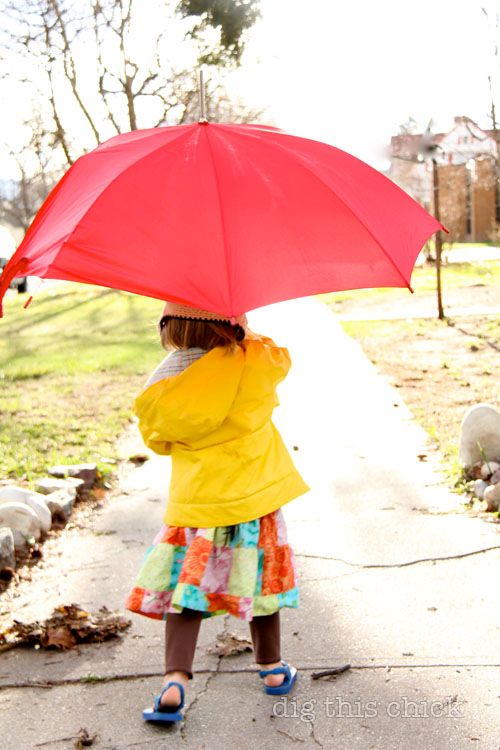 I asked her to see if she could find it and she plopped on her belly, slithered under the bed and promptly found it under a sock. "Here you go," she said cheerfully. "Good night mom and dad." And she walked back across the hall, closing the door behind her.
:: It's rare I choose to use a flash. But sometimes, it captures the image I see better than any combination of iso, aperture and shutter speed. Like, when bright yellow forsythia is in bloom against the tumult of April evening skies.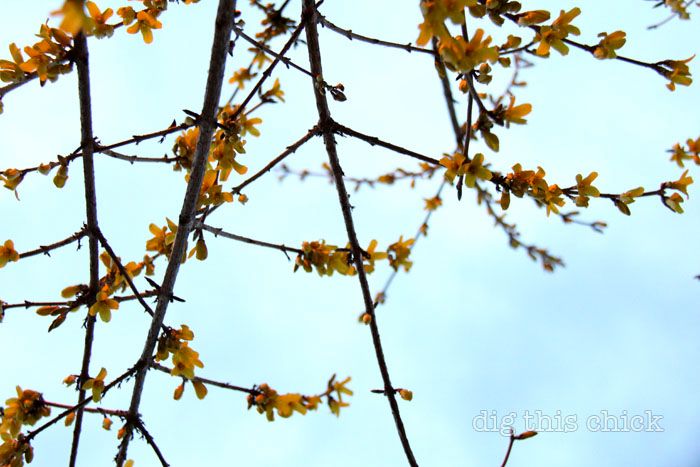 without flash (iso: 2000, shutter: 1/50, aperture: f/4.0)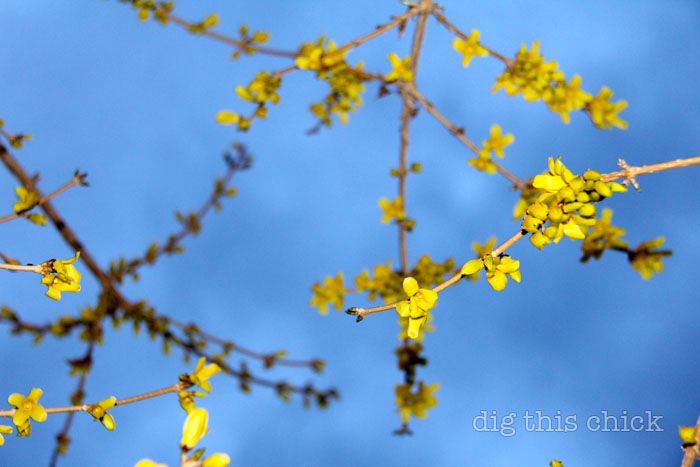 with flash (iso: 1250, shutter: 1/80, aperture: f/4.5)
:: I am a thrifter, lover of well-made. When it comes to my kids' clothes, I usually buy secondhand and when I choose to splurge, I love to buy handmade, from the maker. This eclectic combination of who-knows-what-the-story-is and I-bought-this-from-that-sweet-woman-on-the-corner-who-likes-to-knit is really fun for me. I love a good score and I love supporting a good crafter.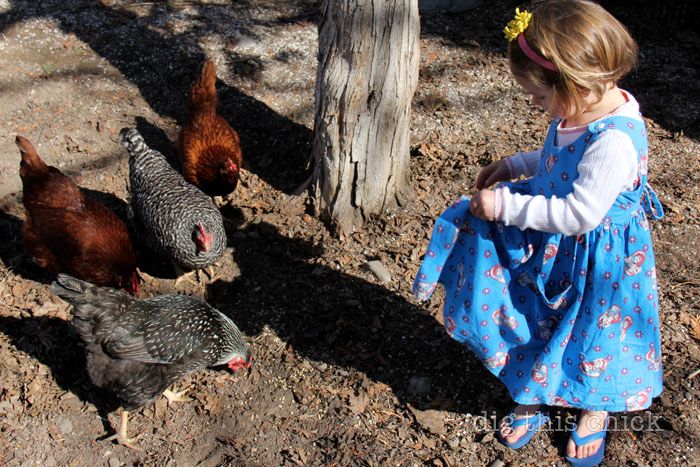 headband from b. handmade designs
So, I found the most perfect Margot dress on the planet last week. I saw the wrinkled, overlooked hem hanging out at goodwill and I knew it was handmade. And, it is Margot's favorite color, darker blue, AND with Raggedy Anne AND with heart pockets. Oh how Margot loves pockets. $2.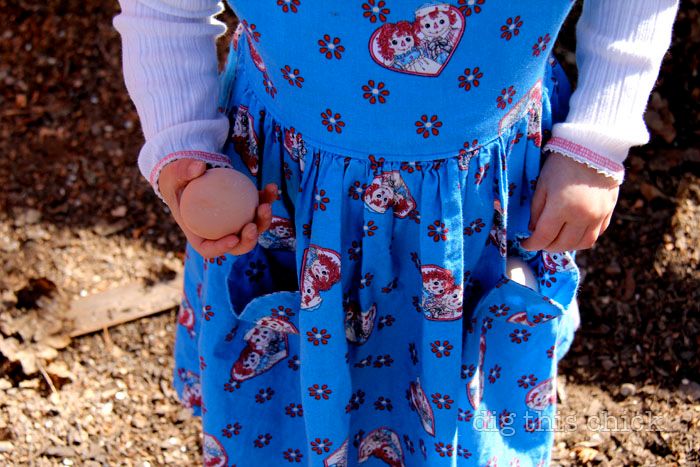 The pockets perfectly hold eggs, just like Margot predicted.
:: Skiing is almost over for the season. But there's still a few good days out there.

April in Montana: snow boots, long underwear, sun bonnets, digging in the dirt before heading up to ski.
Goodness, Margot is off.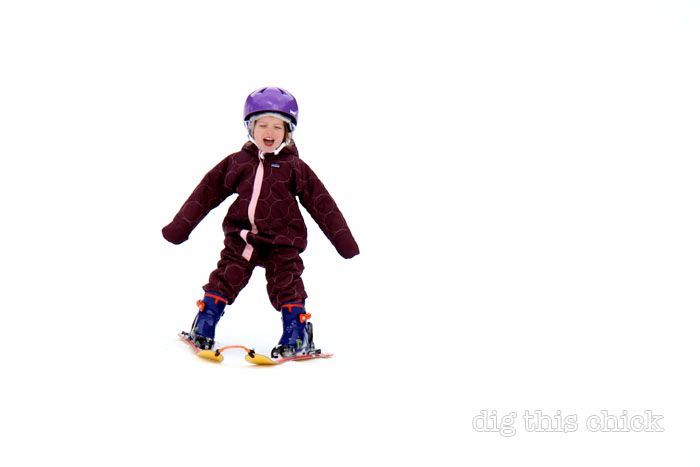 And now that Ruby is walking, her enjoyment of the bunny hill is over the moon.
She also loves lounging in the snow, laughing at everything.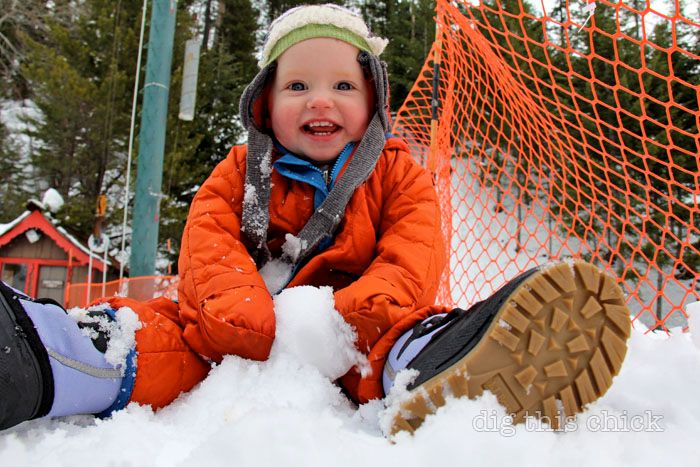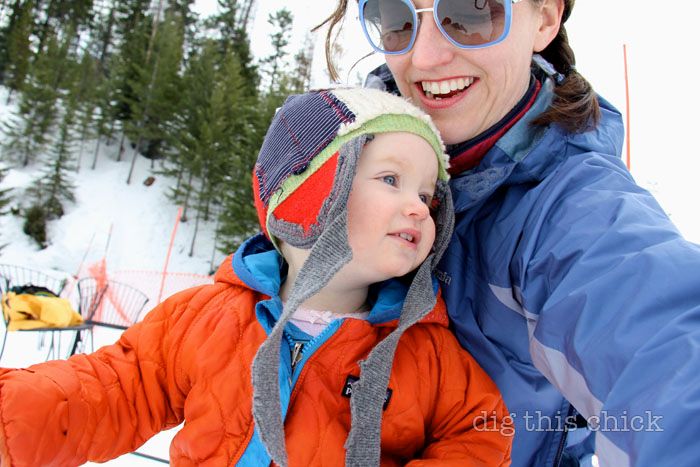 After skiing Margot cuddled into me with her staticky hair and warm little body. She sang while eating Pirate's Booty and then, suddenly, she fell asleep mid-lyric. She slept from 6:30-8:30 (14 hours, not 2).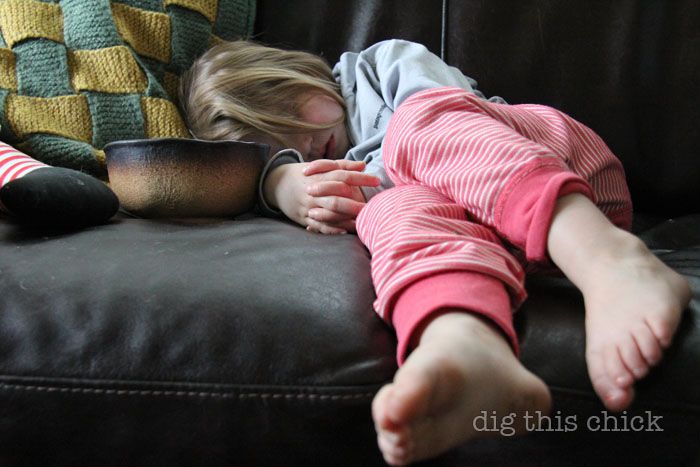 :: I cut my kids' hair. And, usually my own. I used to cut my husband's until that one time…
A few days ago, I gave Margot an edgy little bob, angled up the back, choppy layers in the front but still little girl. It's so her.
     before :: after
:: The girls were pretty proud of the windsocks they made at art class last weekend.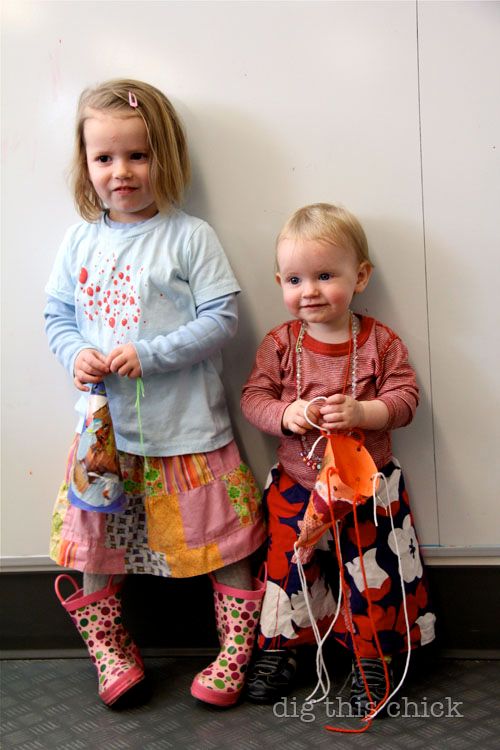 :: Auntie Pam is the best.
:: Last Thursday, Ruby broke our alarm clock by pounding the buttons while maniacally laughing. On Sunday night Andy sighed and said he'd go fetch the guest room clock. Then, we started an in depth investigation of the clock. Turns out, it was unplugged. Two things: 1.) I want to unplug our alarm clock every weekend. 2.) I think our brain receptors are still catching up from so little sleep last year.
That Ruby is super sneaky.
:: I made spring rolls for a dinner party because we had the ingredients on hand. I thought, why don't we make these puppies more often? So easy.
We roll tofu, cucumber, cilantro and carrot in rice paper and serve with plum jam and soy sauce for dipping.
:: High-stepping, super-proud-to-be-walking Ruby.
:: We were at a box store and Margot was going bananas for all the toddler-height easter candy displays around every corner. She was skipping around a towering jelly bean display singing a song that went something like I like jelly beeeeeeeeeans! I do I do I do! and then she stopped and said flatly and seriously to an onlooker, "You know, little kids really do like candy."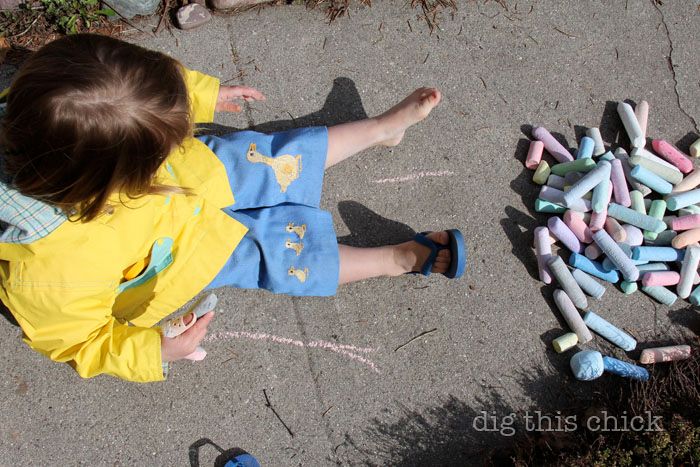 pants were mine, embroidered by my grandma
Those marketing people who set out to push parents into submission by placing giant chocolate bunnies three feet off the ground know what they are doing. We left with two bags of jelly beans.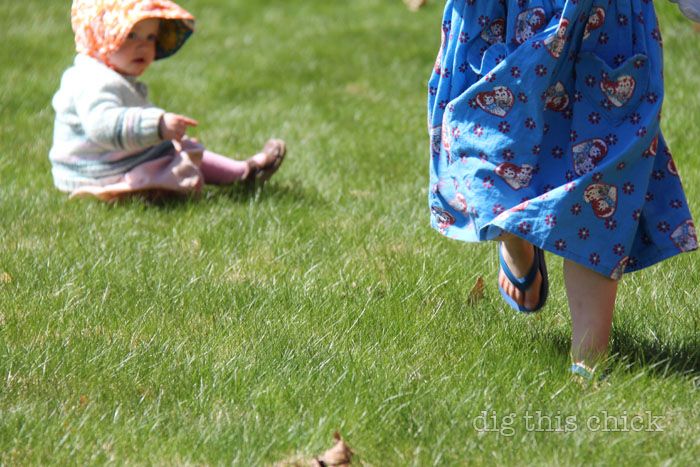 The sun is creeping higher in the sky, lingering a bit longer every day. The sidewalk is dry and warm. Fleece hats and down vests bookend flip flops and bare arms. It's spring.
When we woke up this morning, before coffee or breakfast, as the sun's brilliancy poured through the curtains in my room, Margot looked to Ruby and me through blond wisps and said, "It looks like a beautiful day today. Ready to go, family?"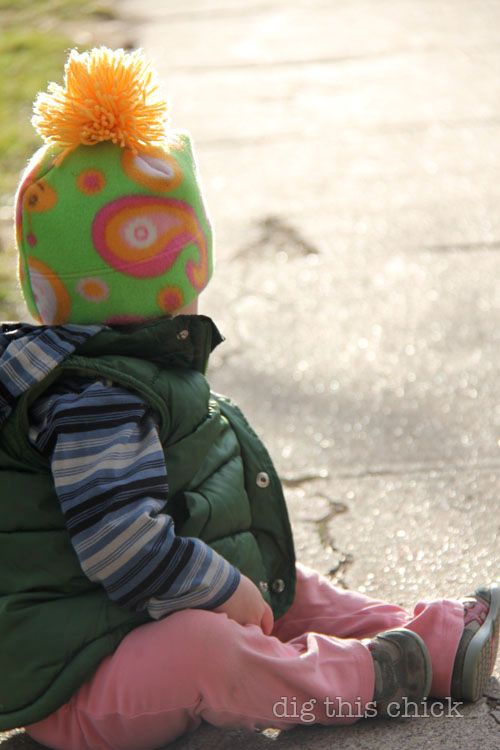 happy hump day out there.
:: :: ::
all photos taken with a Canon Digital SLR from Vanns.com