Well.
We've been lounging about, continuing the celebration of accomplishments, loved ones and spring.
On the heels of our big, full week, we spent time around our home doing favorite things.
In the garden, peas found their way under dirt. Oh, peas. I 
love
 peas.
I have so received your Virgin Harvest emails! I am behind at updating the list and will do so soon. In the meantime, join the flickr group. Some good conversations and photos happening over there.
In the kitchen, I made a really, 
really
 delicious soup.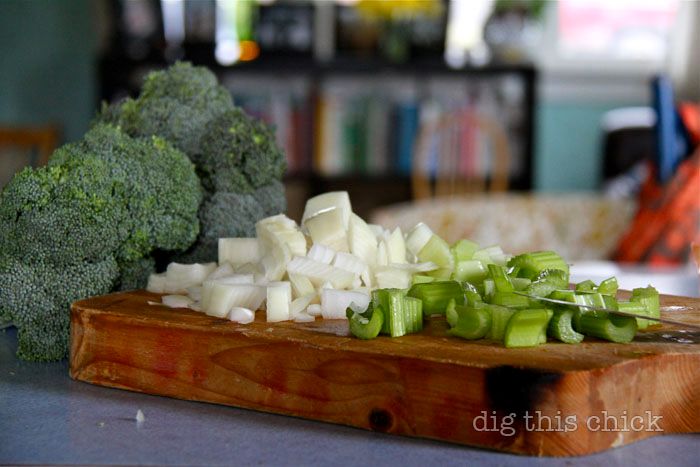 My husband made this cutting board in high school shop class. It is nearly 20 years-old.
Creamy Broccoli and Cilantro Soup
serves 10
4 tablespoons butter
1 onion, chopped
3 celery stalks, chopped
3 cups vegetable broth
2 big broccoli crowns + stalks (don't tell my husband who doesn't like stalks. hee!), chopped
1 teaspoon coriander
1 1/2 cups whole milk
3 tablespoons flour
1 1/2 cups shredded parmesan (or more?)
salt
pepper
1 bunch of cilantro, chopped
Melt 2 tablespoons of butter, celery and onions over high heat and cook until onions are transparent. Add broth, broccoli and coriander. Cover and reduce heat to low. Cook for 15 minutes. Purée in a blender or with an immersion blender. In a separate pot, melt 2 tablespoons butter over medium heat. Stir in flour. Add milk and bring and stir until thickish and bubbly. Add to puréed soup. Cook over low heat, add parm, salt, pepper and stir. At the last possible moment, add the giant wad of cilantro and purée again. Serve straight away.

Adding the cilantro at the last sec makes the soup a beautiful spring green and the fresh flavor will knock your socks off.
Also, my kids don't like puréed soups (I wonder if they inherited the aversion from their dad) so we cooked some basmati rice and served the soupy broccoli rice to the girls. They loved it.
I wrote a simple, fun piece for my column this week about the good things that happen while digging in dirt, while stirring over the stove with my kids. Read mama digs: in the garden, in the kitchen.
Sweet dreams.
:: :: ::
all photos taken with a Canon Digital SLR from Vanns.com
You might also like