hump day nuggets: little bits of the season in photos and words about the last week

I think May is my favorite month. Color and warmth that demands I run and feel, rain and chill that pushes me to sit and witness. Oh, May, you manic, lovable creature.
Forming nuggets kind of quick(ish) today because my best pals  get to town tomorrow and, currently, their little vacation suite needs some love. Specifically, the entire surface of their bed is covered in laundry.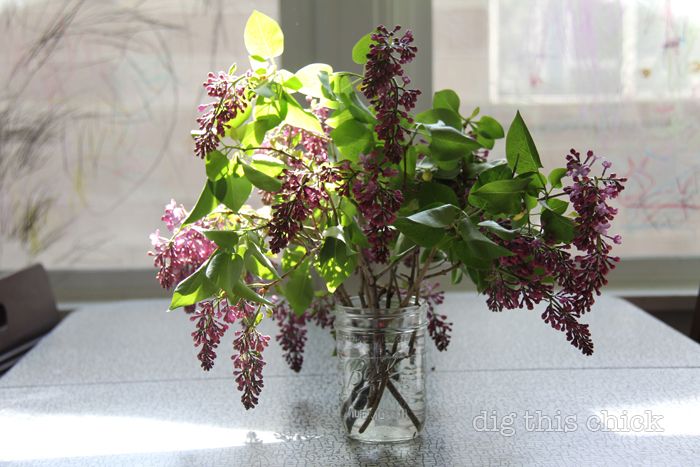 Anyway, laundry is boring. More interesting is the reason for the heap: we have been outside, only passing through our home. How can we possibly focus on socks when peas are growing by the minute? How are we to fold napkins when the rivers sprint to kiss the pedestrian bridge? How can I prioritize anything other than walking among the arrowleaf balsamroot and snow-covered peaks?
I know you are picking up what I am putting down. After months of a long, cold, gray winter, my skin craves to touch the air. It's irresistible.
Nuggets.
:: We biked to our lovely local family-run farm to fetch flowers and starts. Margot's choices surprised me. In a greenhouse full of every color imaginable, she chose oregano and a spiky green dude for her pots. Sister knows what she wants.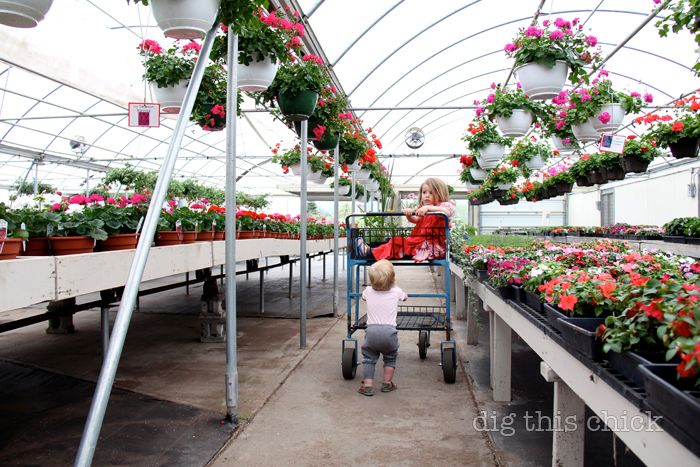 :: The bliss of shared backyard meals.
:: Busted out the kiddie pool and just as I was smiling at how peacefully and happily the girls were playing while I planted tomatoes I saw Ruby giggle with excitement, my phone in her chubby grip. It remains quite waterlogged but the bag of rice thing worked.
:: My sewing business is growing a bit and involving some travel. Nothing far but every time I follow a river out of our valley, I am gobsmacked at the beauty of where I am from, where I live.
:: Squirrel Slayer's beautiful blooming trees hang into our yard. No squirrels on this tree.
:: "See Ruby? You just put your feet up like this and then your hands like this and then swing like a big kid. Some day you'll be a big kid. Maybe next summer."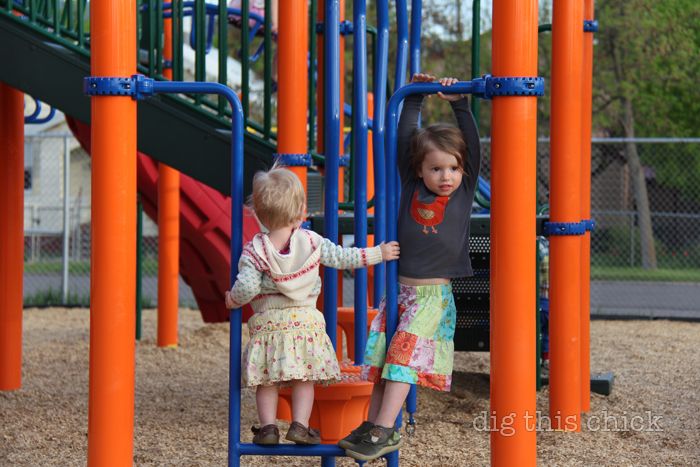 :: The magic of compost.
This:
Turns into this:
Several have asked about my compost method and I must say it is highly unscientific. No, you don't need sun. Yes, you need to add water if it gets too dry. No, it doesn't smell. We pile all of our kitchen and yard waste and chicken poo, turn it every few months and voila.
:: Our boulevard garden is going to rock this year. I am less afraid of illegality now that boulevard plantings are sprouting up as quickly as spinach in Missoula. Ruby helped me plant squash.
:: It was my turn for last week's family night. I made spring rolls and steamed up the last of 2010's beans and we then ventured off to find ducks (even when it is my turn, I am heavily influenced by a certain three year-old) and play on the big blue slide. Tonight, Margot has chosen cheesy noodles (shock!), carrots and ice cream followed by the library. I wonder if I can sway her into putting laundry away?
Y'all have asked for our cheesy noodle recipe and, like the compost, it isn't very scientific, but here's a stab at a "recipe":
:: Margot's Cheesy Noodles :: 
–
cheese
, shredded (any combination will do…cheddar, havarti, parm, mozz, swiss etc.)
– butter
– flour
– carrots, shredded
– spinach, chopped
Prepare noodles. Make a roux: Melt a generous scoop of butter in a sauce pan over lowish heat. Add enough flour (about the same amount as the butter) and whisk until thick. Add milk (~1/2 cup) and stir until warm. Add shredded cheese (~1 cup) and stir until melty. Add crumbled tofu, shredded carrots and chopped spinach. Mix with noodles and serve.
:: While cheesy noodles aren't gourmet, I do love that it is an entirely local meal (I linked above to our family staples). And the locality is made even easier by my favorite way to grocery shop: Farm to Family Montana. I am so happy this inspiring business is joining us as a dig sponsor.

Margot and Ruby love F2F deliveries, diving right into fresh produce.
The gist: I shop from my home and a pile of local and organic food is delivered to my home days later for a $5 delivery fee. I support Farm to Family and local farmers and makers (like dig sponsor Wee Chef) and my family eats fresh, awesome food. The prices are competitive (check out the CSAs and produce boxes) and the food quality is outstanding. I really love Farm to Family.
Place and order and use coupon code 'dig this chick' to get one dozen dozen (free-range, organic-fed, from the Rattlesnake Valley) for free! Thank you, Farm to Family!
:: We made dog treats for a certain canine friend who is sick. It was supposed to be a surprise but, while skyping last night, Margot proudly announced to my mom, "We made cookies for Annie!" Annie will still be surprised.
I used my recipe but used almond butter and flax instead of peanut butter and cornmeal. They turned out great and my kids like them too.
:: Ruby is 18 months old. Goodness, a wonderful age.
Holes in the knees of tights, insisted-upon snow boots, wonky haircut given by older sister, always smiling and curious.
:: Margot dropped her sparkly darker blue heart hoodie downtown earlier this month among the thousands who were out for our monthly art walk. To her disappointment, we couldn't find it. And then? Then, I got an email from a reader who found and recognized it from my blog. So we brought Lee a cupcake and fetched the hoodie. Love my town (and readers!). Thanks, Lee!
This week, I am looking forward to: staying up late with bffs, an outdoor concert, first lettuce harvest, planting pole beans, bouquets of lilacs, green trail runs. I know June will soon be my favorite. What are you looking forward to this week?
happy hump day out there.
:: :: ::
all photos taken with a Canon Digital SLR from Vanns.com