Today I attended my local YWCA luncheon celebrating 100 years of empowering women and eliminating racism. A lot has happened in 100 years. First and second generation feminists have paved my way. I am grateful to be a mom in 2011. I have high hopes for my generation. An E.B. White quote was shared at the end of the inspiring hour:
I arise in the morning torn between a desire to improve the world and a desire to enjoy the world. This makes it hard to plan the day.
epic sunset over an outdoor meal at our neighbor's last night
Thanks for your kind thoughts on my last post (also, no I didn't delete your comments. Blogger was broken for a day and many of your comments disappeared. boo.). I want to distill my thoughts: Writing and I have always galloped creekside, hand-in-hand. Occasional trips over rocks and bouts of dehydration but, for the most part, we get each other. A little blissed out lovefest replete with challenges and satisfaction, driven by an understanding of our foundation. Writing and I went through a rough patch for a few weeks. Too much diversion. We went to therapy. We are once again lovers.
I am interested in being better. That means questioning, pushing. Sometimes my brain exhausts me. And, sometimes, I write about that.
So, hey! It is the weekend! I have lots of social and outdoor things to look forward to. And I sewed myself some new things which makes socializing and outdoorsing fun and exciting.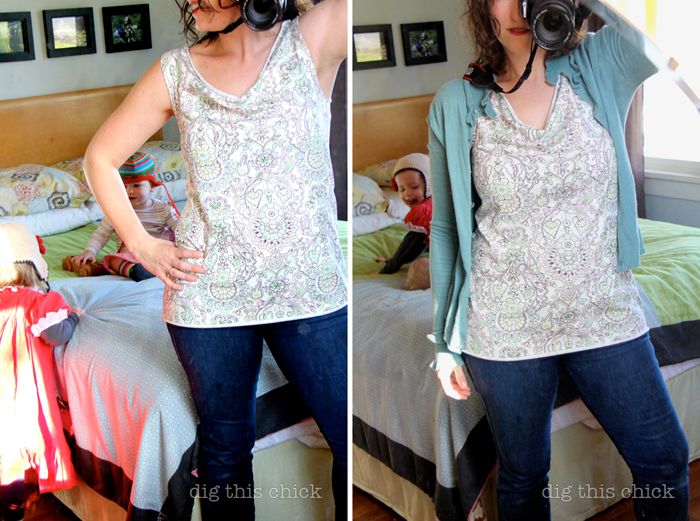 super simple little sleeveless tunic: two pieces of fabric, four straight lines of stitching, no hemming
I am really getting into making my own patterns by tracing parts of other articles of clothing and shoving them together. My approach isn't very sophisticated. I cut and piece things together as I go, I leave raw edges, I make spontaneous decisions with scissors late at night while sipping wine. It is seriously so fun and I think I am getting better.
I didn't have enough fabric for two long sleeves so the green (with tiny pink skulls) sleeves were a last minute choice. At first I had long bell sleeves but chopped them off and added a matching stripedy cuff. My mistake was cutting the neck opening a bit too big. 
I actually have a little summer line I am making for myself. Why not? I can use fabric I have in my stash and hijack my favorite components from other pieces of clothing and stitch up new favorites.
Also in the studio: I, with the assistance of dig seamstress Kathie, have been making many new upcycled kid skirts, potholders customizable with your favorite state or country (hello perfect gift item!) and a smattering of tees and hoodies.


I only have a few kid skirts listed, many more in all sizes coming soon. 
In March, I donated 20% of one week's sales to Global Giving's Japan Earthquake and Tsunami Relief Fund. Thanks to your purchases, a small but important donation went to that effort. I am going to begin doing this regularly for different organizations whose work I value.

From now through May 18, 20% of my shop sales will be donated to the Missoula chapter of the YWCA. See, this way we get to enjoy little bits of both halves of E.B. White's sentiment.
Wishing you all a fantastic weekend with a healthy balance of improving and enjoying.
xo,
dig
ps Hop on over to dig sponsor Walking Stick Toys facebook page and leave a comment for a chance to win a super sweet marble track.
pps Another by E.B. White:
All we need is a meteorologist who has once been soaked to the skin without ill effect. No one can write knowingly of the weather who walks bent over on wet days.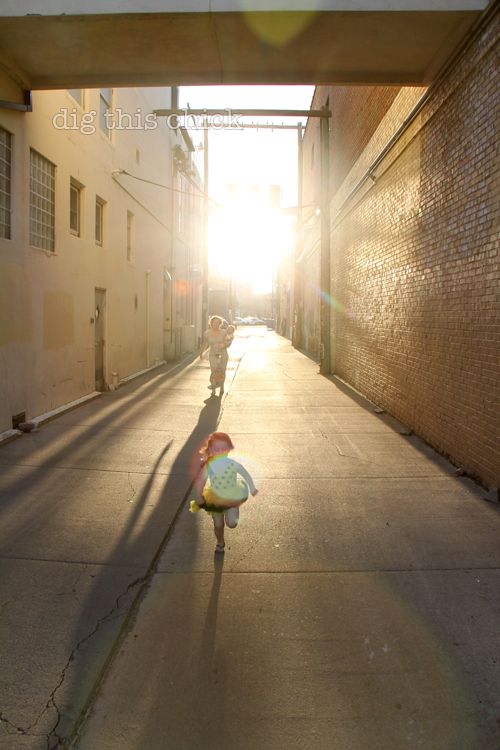 :: :: ::
all photos taken with a Canon Digital SLR from Vanns.com