Been writing this post all day it seems. Summer and one thing after another. You know. And I am finishing it up from a tent in my back yard, listening to Margot's heavy and satisfied breaths, occasional residential traffic and those awesome night sounds that blend together and sound like a river.
:: :: ::
First, this week's mama digs is about this primal, wonderful alone-but-connected experience I had in a storm last week. Click to read mama digs: storm chase.
:: :: ::
I have wanted a sandbox for the kids for some time and meet resistance from Andy on a few fronts:
a) he imagines a giant kitty litter box.
b) he needs a new project like a kick in the shins.
So I've been imagining my own building plans (which is always tricky because, while capable, he is much much better and faster) and, even more so, been on the hunt for something that would work so I wouldn't have to build a thing.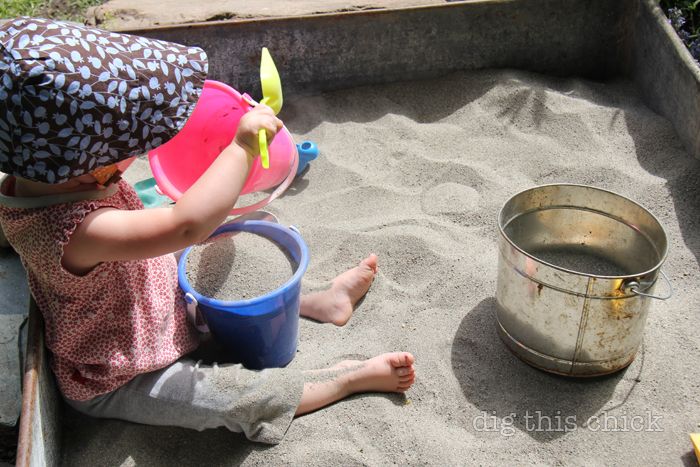 Last week, it materialized. Our friends had a yard sale and, lo, my future sandbox was sunning herself in between a pile of table linens and a pair of camel colored clogs. My favorite part is that the husband bought it at a yard sale, imagining his tall, beautiful, blond wife using the 3×4′ metal trough as a pool in their backyard. She never did don her bikini, curl her legs up and soak in that thing. It's a wonder.
I stacked rocks (the big ones scored from our friend's old riverbed farm) around the bin to make for fun and easy climbing in and out, drilled holes in the bottom for drainage, filled with sand and yay! I dig it.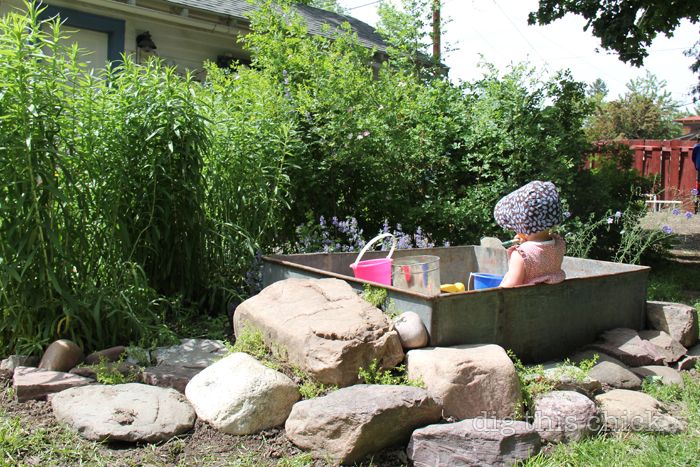 I filled between the rocks with dirt and filled the nooks with lemon thyme that I cut from our behemoth plant.
Margot and Ruby have been little nervous to play in the sand because last night when the whole family was out there for the excited sand-adding, they were both stung by bees. At the exact same moment on the exact same body part. It was surreal.
I was, and a little bit still am, heavy with guilt over the whole thing. See, our birdhouse fell last week and when I went to rehang a few days ago, I heard the buzzing of bees. A hive! I know nothing about feral honeybees but have a friend who keeps bees so I left the hive alone and planned to consult about what the heck to do, if anything. Margot is really into bees right now so she was especially interested in imagining the furry dudes building combs inside our fallen birdhouse. They were mellow and cool, it was mellow and cool.
Last night a few flew out during the sandbox inauguration. Alice ate one and shook with a sting. A few more buzzed by. Just as I was taking notice that the bees seemed agitated, Ruby started screaming. And then Margot. I looked up and both my girls stood motionless in our green backyard, mouths open, crying, each with a solitary bee on their lip. Thankfully, Andy was there too so we could each grab a bee and a kid.
It was scary, bizarre and painful for them although Margot nearly immediately declared, "Really, mama, I am totally fine. Can I have another popsicle?" and thought it felt funny to smile with her fat bottom lip. The whole left half of Ruby's sweet little face swelled up, nursing her only solace. I should have moved the hive right away, I should have left the backyard when those first few flew out. Ack, I felt like shit. I know a sting isn't that big of a deal but I felt so responsible for these stings.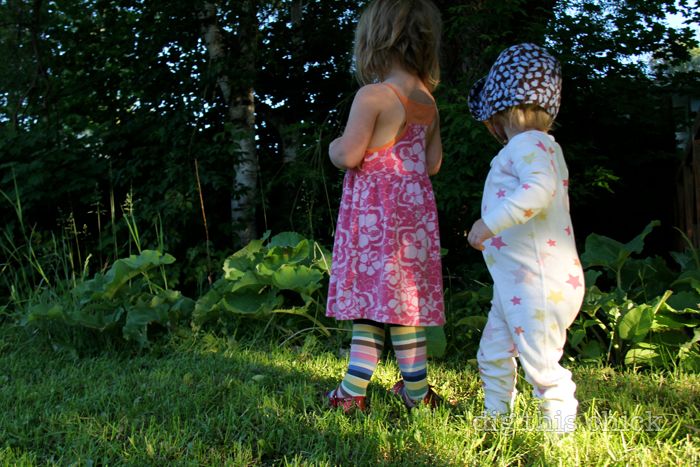 post-sting, pre-bed walk
I corresponded with my favorite, hilarious beekeeping pal and she told us how to expertly relocate the hive. So we applied baking soda paste, lavender and purification oils to the swollen lips, tucked our girls in and went to investigate whether or not the bees were "asleep like tiny dead fuzzy muppets" as Finny said they would be. The colony was still abuzz so we waited until this morning when Andy, far braver than me, confidently picked up the birdhouse, put it in the back of our truck and drove it deep into the woods.
Now, the feral hive sits in an awesome handmade tin birdhouse under giant cottonwoods by the river. Operation Hive Relocation a success so we ventured back to the sandbox. We played out there today and it was good to redefine our experience in that space. It's life but it sucks to be stung, whether on a kid's lip or on a mama's heart. It felt right to just dig in, following the forgiving, inquisitive lead of my children. I kept thinking of that dorky but poignant Ziggy quote about roses and thorns. "You can complain because roses have thorns, or you can rejoice because thorns have roses." You can complain because bees have stingers, or you can rejoice because stingers have bees. Or, You can complain because life has misadventure, or you can rejoice because misadventure has life.
Sweet dreams.
:: :: ::
all photos taken with a Canon Digital SLR from Vanns.com