hump day nuggets: little bits of the season in photos and words about the last week

Everything is growing like crazy from my peas to my kids. It's bananas. I am continually experiencing a first something.
Turns out, given sun, water and love? It grows. And then it is all about observing, interpreting, evaluating and making choices. Oh the inner dialog in my brain about spinach and siblings. So much consideration I give to the things I grow.
Thing is, I misunderstand an issue with potatoes and I get puny spuds. But, with kids? Well. Last Friday, at a dinner party, I explained that day where everything was hard. Like, brutal. A full spectrum of emotion bursting out of Margot like a bi-polar alien made me want to cram myself into the chicken coop. But I was telling struggle to my friends excitedly because I did a good job. I explained how I ditched agenda! I empathized with my daughters! We found a new stride that was better and awesome! And then I told my friends how Margot (with Ruby in tow) locked me out of my bedroom and that brilliant, even, compassionate mom vaporized and became tight-jawed-YOU-OPEN-THIS-DOOR-RIGHT-NOW mom.
Ruby, Margot and I muscled our way through the day. Lots of talking about feelings, lots of frustration and sighs, raised voices and hugs. It really was brutal, one of my top five hardest mom days. And then it ended. Not the day, but the brutality. It just ended and we were as we mostly are. We went to a dinner party where my two girls played happily with six other kids, the men gathered around the grill and I talked in the kitchen to girlfriends about how I can feel like a great mom one moment and an inept lump the next.
Parenting really is so much like gardening. So many firsts. Sow, nourish, love, tend, grow, troubleshoot, harvest, learn. Be better next time. The next first time.
first nuggets today.
:: First hike through lupine so cloudy-thick and fragrant it was disorienting.
:: First squash who are so happy yellow and abundant that I am quite certain they were formally an award-fetching high school cheer squad.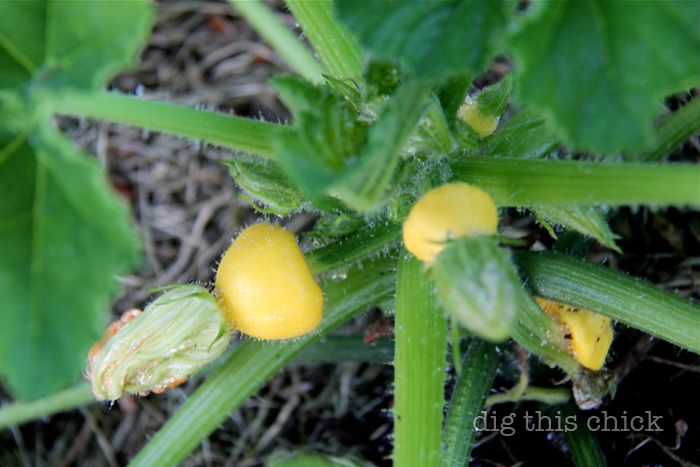 :: First time imagining my cats as an old, in-love married couple in favorite recliners.
:: First peas of the summer.
:: First pests of the summer. I have been getting a lot of questions about diagnosing and treating disease and bugs in the garden. I can help and am working on a post about it!
flea beetles on tomatoes, cabbage worms on cauliflower
:: First time harvesting dinner and preferring, loving that it never made it to plate.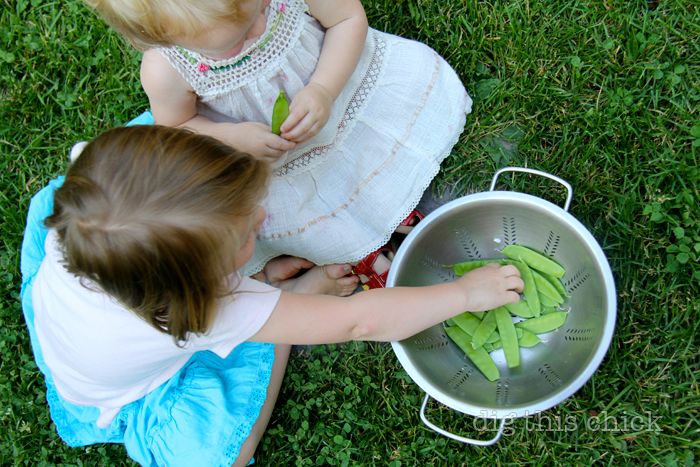 :: Not the first time I've witnessed my daughters following their dad on a trail in the woods. But every time is as notable as the first.
:: First time trying to seriously impart the reality and awesomeness of wildlife (mountain lion den near our friends' cabin) without instilling insane fear. A challenge, I think we did it.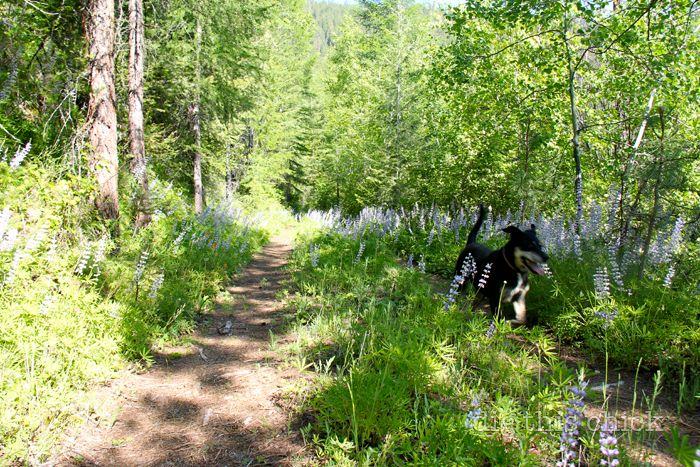 The caution was lost on Alice.
Also, there's the bee thing. Since the stings, any buzzing ignites an anxious state in our kids. Dang, I look forward to the first time Margot and Ruby are cool with bees after their stings.

calendula
In the meantime, both girls believe being held renders them indestructible. I am happy to be a bee shield.
:: First bowl of warm, honest strawberries this year. Holy hell.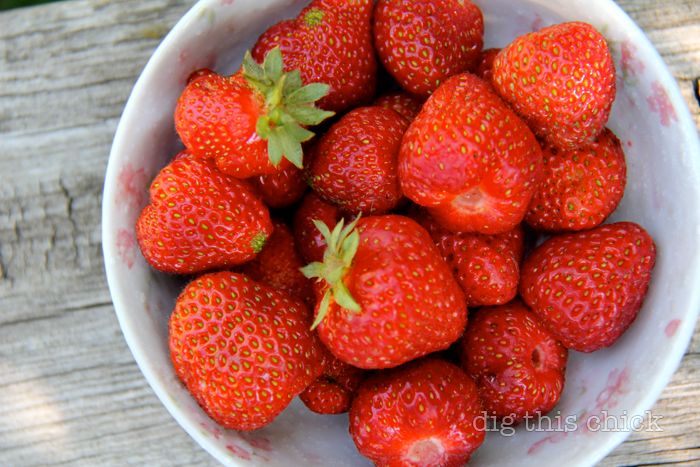 :: First papery tomatillo jacket.
:: First time you consider hula hooping every day! Welcome back to tart, a sponsor I personally adore. Tart is a Montana business based in Bozeman that specializes in "pretty things made by Montana tartists." Artist-owner Anna is so wonderful and her shop is like the inside of a tulip. Everything there is poppy, fun and made with love by our neighbors. Lots of items for every occasion, every wallet.
A few of my favorites: nevermore mobile, riveting oval earrings and diaper changing pad.
And, you can win a hula hoop! Yeah baby, a handmade collaspable puppy that'll knock your socks off. Leave a comment and tell us, What fun thing are you doing this summer? I bet a hula hoop would amp up your fun. Thanks, tart!
:: First icy blended items of the year.
We toss a bunch of stuff in the blender for a smoothie and then pour the rest 
in popsicle molds for freezing.
:: First bike for Margot. 
Homegirl has maxed out her tricycle and never took to her balance bike. I about burst from her excitement over picking out a bike just like mom's. We were biking around the block last night and she started laughing. I asked what she was feeling and she said, "Oh. Just a little bit proud."
The bike she picked is bedecked in bee decals and is called the 'Stinger'
:: First time dad sculpted a horse.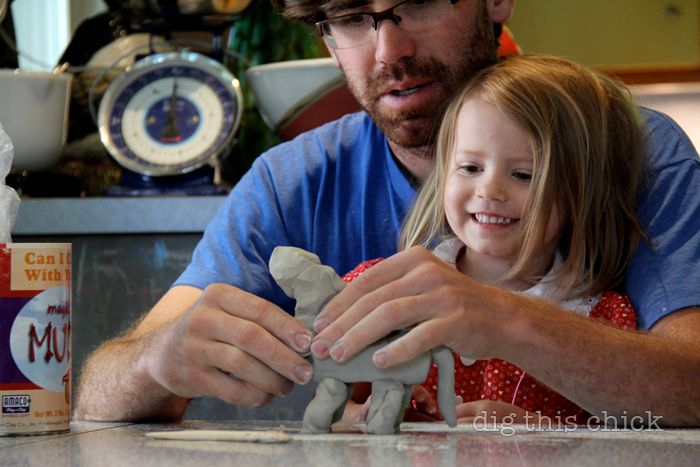 :: First screen we found at Home Resource ($2!) fits the sandbox perfectly. Margot measured it and announced, "It's perfect. Thirteen inches and a pound. Let's buy it."
:: First camping of the summer, even if only in the backyard. Read about our make believe adventures in this week's mama digs: alone, together at sea.
:: First time I've ever woken up next to hens.
So many firsts. So many seconds that are more like firsts. So much to study and absorb. I wonder what firsts will happen today? I wonder…
happy hump day out there
ps Randomly selected B&D PlantSmart winner:
Rhett said…Your peas are so much bigger than mine and I can't be more than a couple miles away! Things are coming along with our garden but we sure have had a slow start. Thanks for the tip with the blood meal! The yellowed leaves are greening up. This is our first year having a real garden since moving here 2 1/2 years ago from a VERY different climate. We have lots to learn. Nice photos!
Congrats! Email digthischick at gmail dot com.
:: :: ::
all photos taken with a Canon Digital SLR from Vanns.com