I love the popularity of gardening right now and it breaks my heart when I get emails from people who feel defeated or overwhelmed at the process of getting a seed the size of a comma to grow into a snack for their kid. Seems like there are many of you who want to garden and feel like you have bad luck. I know that feeling, the supreme disappointment in dedicating so much time to nurturing something and ending up with a failed crop. It happens to everyone. Don't throw in the gardening gloves just yet.
Here's a secret: Green thumbs aren't genetic, they're learned. I don't believe in bad luck. You've got this.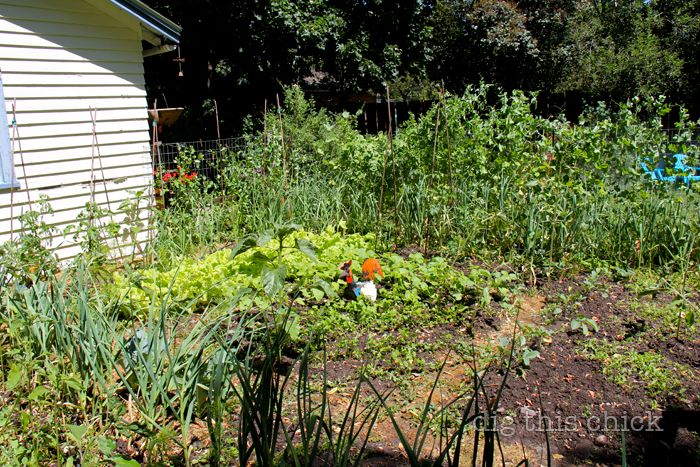 In our small backyard plot: garlic, cauliflower, carrots, kohlrabi, bush beans, parsnip, tomato, cucumber, pea, lettuce. Strawberries and raspberries not in view. The bed on far right is the beginnings of a late planting of arugula and chard.
I am going to talk specifically about diagnosing problems but feel compelled to mention that there are things that should happen
first
to reduce problems. Just like humans, healthy plants with proper care are stronger and more productive. Pick good placement, rotate crops every planting (a good rule: leaf, root, fruit), test soil, learn what grows well in your climate and what grows well next to each other (companion planting). Practice prevention by keeping plants healthy and strong. Learn about watering timing and technique, weed, prune correctly, remove and destroy diseased plants etc. I list a few books at the end of this post that can help you with all of this.
OK, back to the problems. I get a lot of questions that go something like "Something is eating my tomatoes. What can I do to fix it?" and that question is like asking a doc, "I feel off. Can you prescribe something?" Thing is, a diagnosis has to happen to help the problem. I don't know much when I see sad broccoli but I can figure it out and fix it. It is very empowering. You can too. It's a snap, a matter of learning a process and using tools that are free and easy. I'll show you.
I use organic gardening methods. It is really important to me to use the least toxic, least harmful spray. A diverse insect population and healthy soil microbial activity are the key to sustainable gardening and healthy food.
I am using two real examples from my garden this year:
ONE: Cauliflower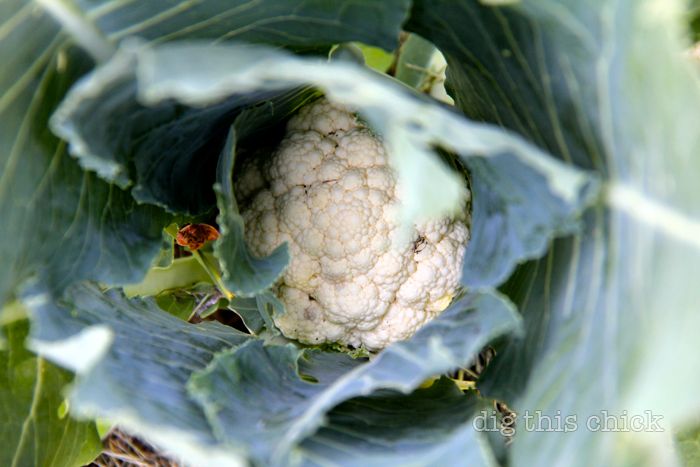 little cauliflower heads just this week!
TWO: The entire left half of my front bed (spinach, squash, beets).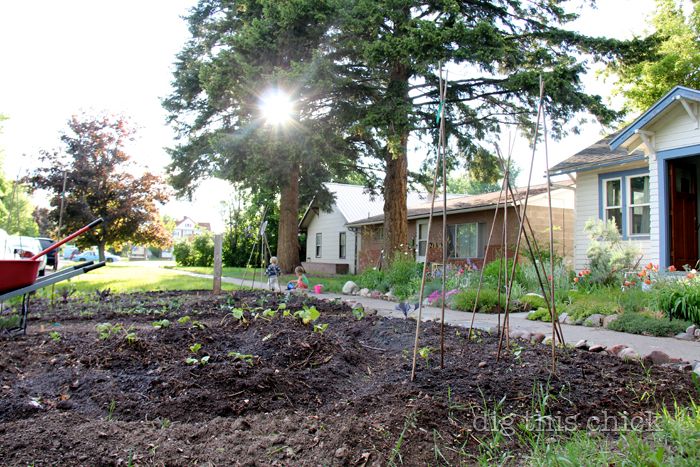 Photo taken June 13
Identify the plant that has the issue. Different bugs like different plants; different plants host different bugs. You need to know the plant with the issue before you figure out which bug or virus or whathaveyou is affecting the plant. My plants with the issues:
Cauliflower
Spinach, squash and beets (all in one bed with similar symptoms).
Study the plants and record the symptoms.You get to play doctor, beginning with taking a look. Is the problem with the leaves? Stem? Fruit? Roots? Is there yellowing? Holes? Brown spots? Write down what you see and take a photo to reference.
Cauliflower: I see small and large holes on the leaves of my plants. Color looks good and growth isn't affected.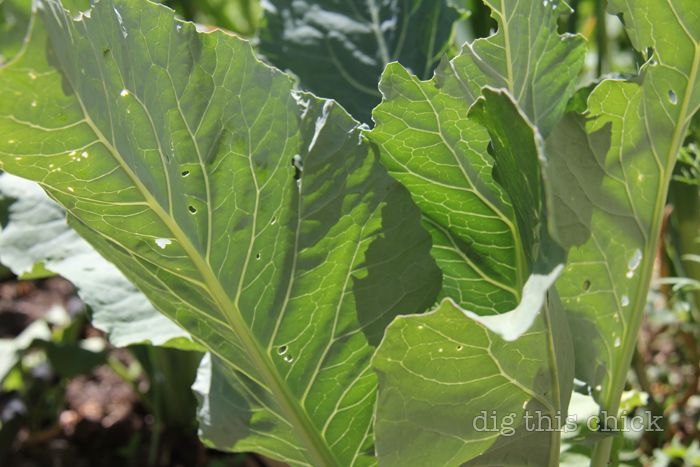 Spinach, squash and beets: small growth, stunted plants. The older leaves are yellow, the newer leaves are green but puny. 
Look up the plants in a plant diagnostic tool

. I have my master gardening manual that I reference a lot (I highly recommend this class to anyone who wants to learn more about growing plants). I also love my local

Missoula County Extension Office Plant Diagnostics Database

that is online and I check in there all the time (click on links below on the different veggies to read what I read in that database).
Cauliflower

: I quickly learned that it was either

Cabbage Worms

or

Cabbage Loopers

.

Spinach

,

squash

and

beets

: This was trickier as it was still early in the season. Since those three plants don't have many insects that would feed on all of them (remember, not all bugs like the same plants), I decided it wasn't a bug and maybe a fungus or virus. But again, I read through all the possible symptoms and nothing really matched my problem. Yellowing on older leaves can mean a 

nitrogen deficiency

so I decided to start there.
Create and implement a plan to address the problem

. Again, different things kill different bugs and different fertilizers have different effects. Spraying insecticidal soap doesn't kill cabbage loppers so spraying it would do nothing. And applying a general fertilizer won't give me enough nitrogen so using it would be futile. You have to use the right tools. 
Cauliflower: I went back out to my plants and started searching for bugs. It's hard because the dudes blend in really well. Every time I am diagnosing a bug I have to stare at the same leaf for a while and then the critter will snap into focus. Once I see one, others are easier to find. I found a green worm and wasn't sure which it was so I watched him and he didn't move at all and had a faint yellow stripe. Cabbage Worm it was. Also, look at this page and see what other plants host this bug. Thankfully, none of those plants are near my cauliflower so these worms are only on the cauliflower and no risk to the neighboring tomatoes, parsnips and beans. However, my kohlrabi isn't far away so now I know to keep my eye on the kohlrabi. BUT THEN! I found a different looking green bug. One that moved quickly and had lots of babies. I had Cabbage Loopers too. I read about them in the book and online database. I could spray

BT

but because I am only dealing with six plants, I decided to scrutinize every nook and squish every looper and worm I could find. Also, I watered with an intense spray to knock of any stragglers. I applied a general fertilizer to give the plants a boost. I learned that the eggs and larvae are fed upon by birds and insects so I am happy I have a healthy ecosystem in my plot with lots of bugs and birds to help me keep this in check.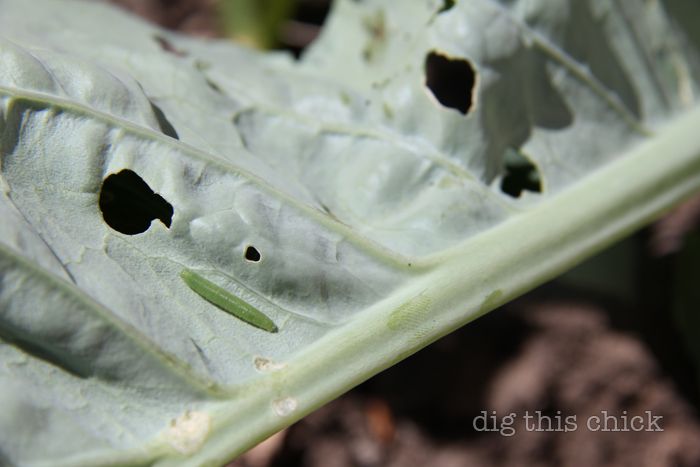 Spinach, squash and beets:

I read about

good sources of immediately available nitrogen. By "immediately available" I meant that nitrogen would release quickly instead of slowly, over the course of weeks. I decided on blood meal. So I bought some from my local nursery and followed the directions for application.

same squash plants on June 26 and July 7
That's it! Then you wait and see if it works. And, if it doesn't or something else pops up, start over at step two. Both of my diagnoses were correct.

Front bed on July 9. My favorite part is the hippie strolling down my sidewalk playing the banjo. Maybe it had nothing to do with the bone meal and everything to do with stringed instruments?
I continue to check the cauliflower and kohlrabi for worms and loopers. I pulled one particularly sad cauliflower plant and fed it to my chickens. The squash and beets greened right up and started to grow and set fruit. But my spinach never did well. I think it is because the plants were stunted when the weather was just right. Once they had the nitrogen they needed, it got hot so they leafed out and bolted. Bummer.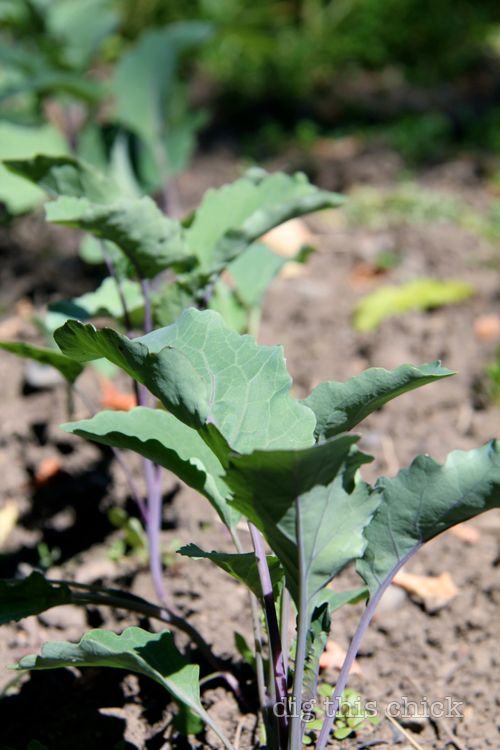 looking mighty fine, kohlrabi

:: RESOURCES & TOOLS ::
My two favorite gardening books:  The Vegetable Gardener's Bible and The Gardener's A-Z Guide to Growing Organic Food.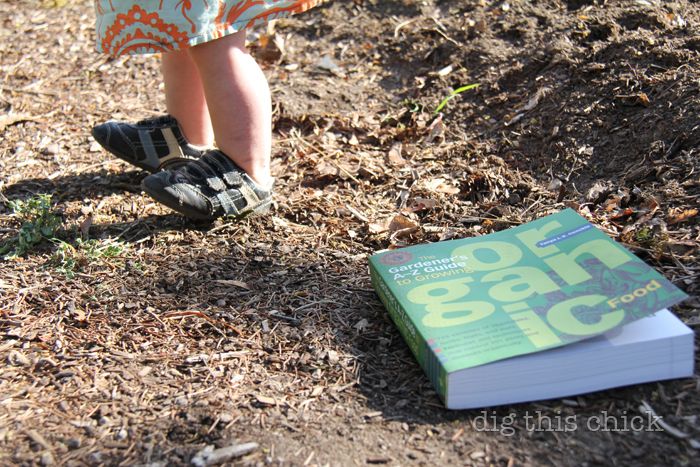 They regularly come with me into the garden as evidenced by the water damage and dirt. The latter is new to our library, a copy sent my way for review this year. And, since I am now listing it in my top two favorite gardening books, you can glean that I like it a lot. The book is simply organized and contains so much information. It is a beautiful, accessible encyclopedia that gives me everything I'd want to know about what I have growing in my yard. There is also a juicy, informative section titled organic remedies that outlines best practices and troubleshooting tips. It's a great book.

bush bean forest
A few insecticides I have on hand that work really well for some bugs: 
insecticidal soap
, 
neem oil
 and 
pyrethrin
. Purchase these
after
you have determined what is eating your plant and then read the labels to see if these will help your hungry bugs. I also have a pump sprayer for easy application.

Things happen all season.  I feel like I kind of know what I am doing and I still struggle with crummy crops every year. Last year I harvested a puny pile of potatoes because of blight. The year before that I couldn't recover my spinach from a leaf miner explosion. But most of the time, I can fix it! Especially if it is caught early. I know it is tempting to pull your pathetic carrots and make yourself a cocktail but try instead to figure out what's wrong and take a stab at fixing it. And then make yourself a cocktail in celebration. I think you'll be surprised at how green your thumb is.
How is your garden growing? If you have a question, I'll do my best to help out here in the comments. Or, post your question over at the
Virgin Harvest
 page
and get a thread going! 
:: :: ::

all photos taken with a Canon Digital SLR from
Vanns.com
You might also like