I cried this morning while my dull knife split steamed beets. That is what Margot requested for lunch on her first day of preschool. And a peanut butter and jam tortilla sandwich, specifically with a generous mixture of peach and raspberry jam.
I generally don't ask my kids to stop for the camera but, this morning, I desperately wanted one of Margot before she hopped in the bike trailer. She didn't want it, "Mom, I don't want you to take a picture. I just want to go see my teacher and my friends!"
"Margot, please?" It was all I could say but I wanted to press my face into her hair and gush I'd like to take a photo because you are just so perfect and beautiful and I want documentation of the clothes you so carefully chose, right down to your yellow skivvies. I want to capture the bright energy beaming from your every cell. Your creative, wondrous, hilarious, captivating, energetic, smart, amazing self. I want to take a picture because I want to do something. I love you so much it actually hurts and I am going to miss you today and for whatever ridiculous goddamn reason I NEED to take this photograph.
She may have read my mind for she said, "Hey, mom. I have an idea. How about just one of me and one of my backpack?" She giggled and ran over to the cosmos and her favorite hen, 16 Months, and stopped still and serious.
Turns out I didn't need the photo. For this moment is tattooed on my heart.
She picked her clothes and is especially excited about the light pink argyle socks 
and red sparkly shoes. Her necklace is a small gold charm she took from a gift I received. It reads 'handmade with love.'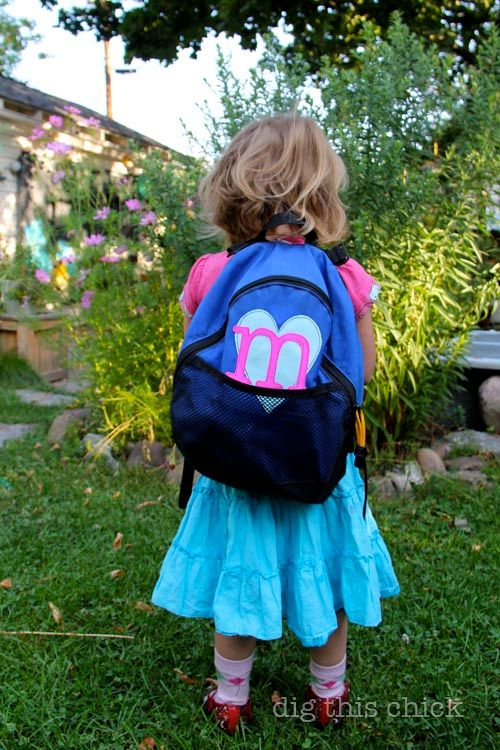 I had wanted to make her a backpack but couldn't find time. It worked out 
perfectly when her first grade pal gave her his old backpack. Last night, she and 
I decided it needed a little bug bling so she carefully poured over my fabric stash 
and requested an 'M and a heart.' 
I biked hard and fast. The adrenaline felt good. The drop off was a breeze for bug. I felt like I should just go, for her. But for me, I stayed a bit. Ruby and I hung back and watched Margot thrive and run. And then I hugged her, told her I loved her and walked away with my shoulders back. On my way out the door, a preschool-seasoned friend grabbed my arm and said, "Be good to yourself today." And with that I felt a burst of sadness. Or, is it sadness? I don't know yet. It is more like an entire galaxy of feeling.
Ruby wasn't happy on the ride home. I thought she was asking for mamabut when I stopped I realized she wanted Margot. I hadn't even thought about how this would affect her. This was the first time she has ever been in the bike trailer alone. She has been without me, but rarely, like hardly ever has she been without her sister. Marmo gone she reminded herself again and again.
Now that we are home it is quieter, different. I swing between feeling excited, stoked for this alone time with Ruby and stoked for Margot's surely awesome day and feeling melancholy about the inevitability of growth and change. I got word that the corn is in at Benson's Farm so we biked over there and filled our bag.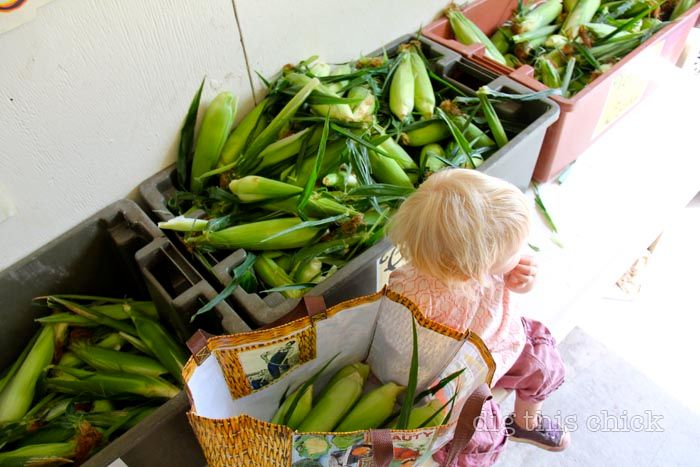 Every little thing is redefining itself. Ruby alone in the bike trailer, just Ruby and me getting corn, only one stool next to me while I cook. These things don't make me sad but they are noticeable. I record them dutifully in my brain, highlighting the more important ones like First Time Eating Lunch, Just My Youngest and Me.
It feels good to blog today. I wrote that fast and unedited, my favorite way to write. I feel so thankful for this space where I get to document and connect. How are all the mamas (and papas!) doing out there in this first week of school?
:: :: ::
all photos taken with a Canon Digital SLR from Vanns.com