hump day nuggets: little bits of the season in photos and words about the last week


I can be a heavy thinker, a big dreamer. And I can be impulsive. I suppose I just want to live well, seize opportunity so the dreamy thinking makes me wonder what else I could-should-might do. And the impulsiveness boils up from my ancestors and demands I just do because this tender life is pretty effing NOW and there are so many good choices.
I feel on the cusp of big things, path-altering things. This last year has brought some change and perspective that frequents our conversations and makes Andy and I, thankfully, consider what we are to do with ourselves on this planet. I think it is awesome that I am in a partnership where we sincerely, regularly consider our legacy. I also wish I could turn it off at times.
I know I am being vague but I don't have anything in particular to share other than I feel excited and hopeful about some shifts. When there is something to report, I will. For now it just happens to be on my mind, on this summer Wednesday. And in the spirit of me, to compliment that heavy, dreamy thinking, I have some pretty effing NOW things to share. Cheers!
:: Fishing Rock Creek with Andy's mom who I really hate calling my mother-in-law because she is one of my best friends and my kids adore her endlessly. Yes, I know the average in-law situation and yes, I am so grateful.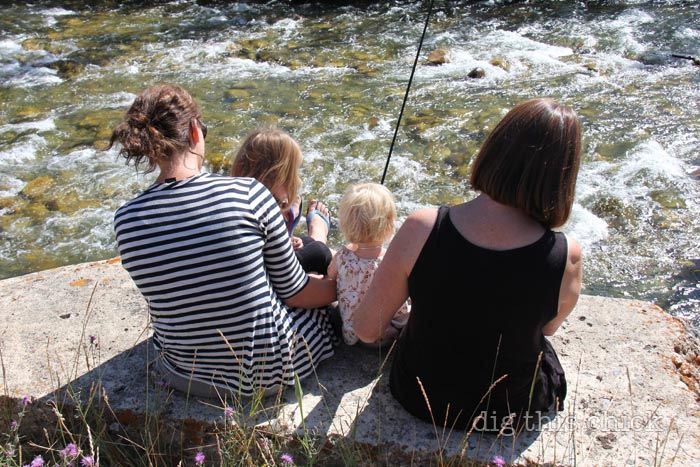 Her name is Joan.
:: I told you we were in Red Lodge for a wedding and, being that the shin dig was a mere 1/2 mile from Joan's house, we brought the kids to the ceremony and a bit of reception and then hightailed them home and had a wedding date. Holy holy. It was fun.
Love these three.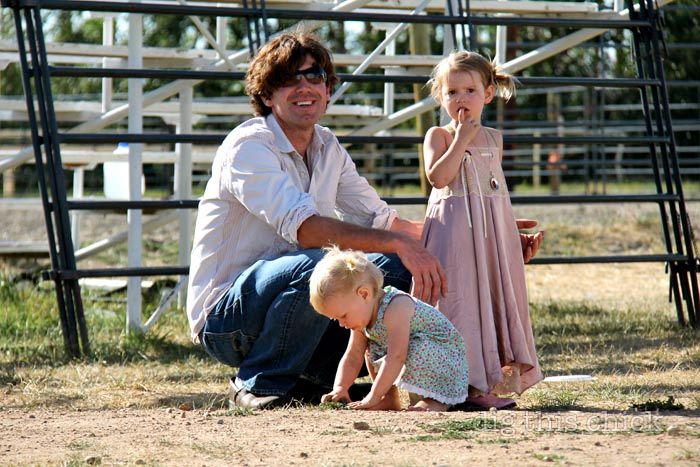 I made Margot's dress from an old skirt. See before and after here.
It was the best of both worlds having them there and then not. Dancing with my husband, eating at the pace I wanted with a hand for a fork and a hand for wine. It was a good night. Good to be just the two of us with old, dear friends and good to come home and smooch their sleepy cheeks.
:: The tomatoes are on and so so good.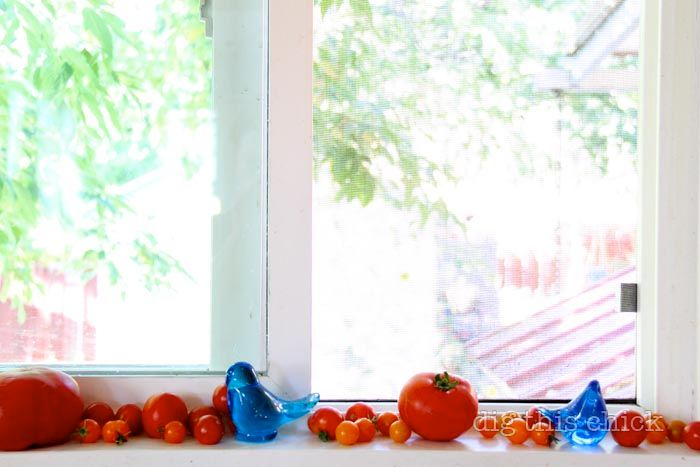 :: Our boulevard garden is a jungle of food and we are beginning the preserving. Also, I feel badly because I have totally dropped the Virgin Harvest ball. I am inclined to crack some joke about blue balls here…I love all the enthusiasm and have been a bit overwhelmed by the participation. My inbox sits with hundreds of flagged messages from those who want to join in and I just can't keep up with the listings on the VH page. Uncle. The flickr group is wonderful and there are some great conversations happening over there. So, I am sorry I haven't kept up with the listings! It is pretty rockin' that so many are growing new things this year. We would love to hear about/see what you are up to. Link up here in the comments or share on flickr.
:: Lots and lots of popsicle making these days.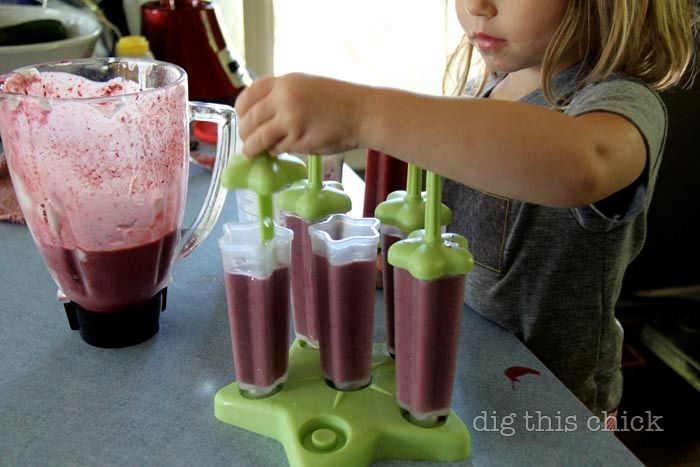 :: Margot is digging her new trapeze
but sister still loves to spin in the baby swing.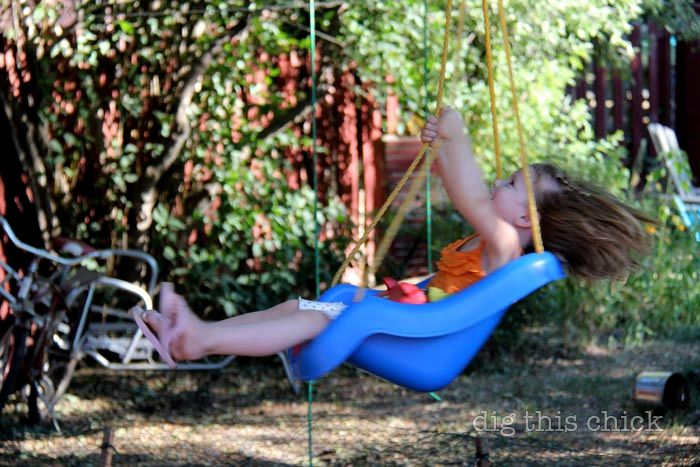 It hangs from a 20+ foot rope and Andy twists it up as tight as he can and then lets it fly. Pure joy.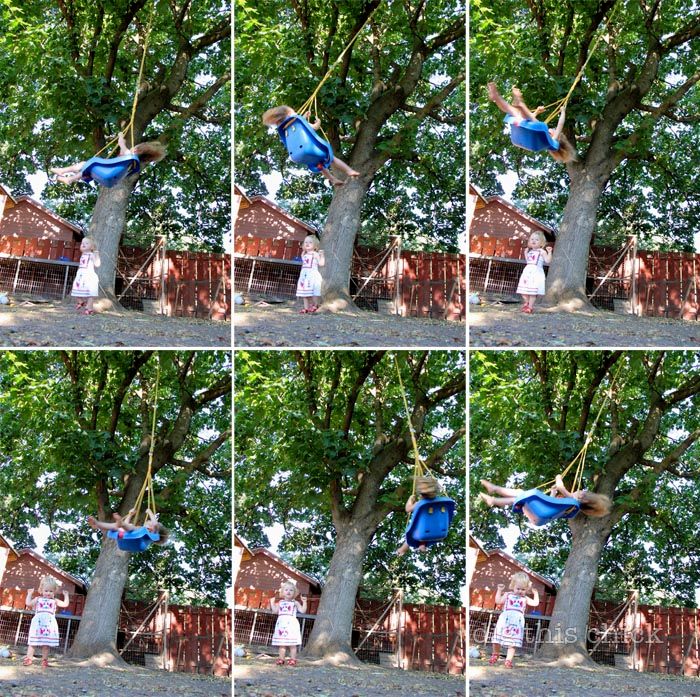 :: I made the girls some oil cloth booster seats, something I have had on my to-do list for months. The pattern is from One-Yard Wonders and was a snap.
A bonus is that two can be made from one yard if you cut carefully and don't snip off half the bottom when you are trying to finish them up real quick one morning before having coffee…
:: Welcome back to dig sponsor, Walking Stick Toys!
This awesome, locally-owned business has an impressive online store and carries the best art supplies, unique toys and games (this is Margot favorite puzzle) and fabulous school lunch stuff.
In the back-to-school spirit, WST is giving away a killer lunch box. Leave a comment for a chance to win. (also, head over and 'like' Walking Stick Toys on facebook to get info about upcoming sales and products. hint: big sale this Friday!). Lastly, you can get 20% off your purchases by using coupon code DIGCHICK. Thanks, Walking Stick Toys!
:: Margot and Ruby visit with our chickens several times a day. "Hey mama, Rubes and I are just going to go on out and check on the chickens just in case they want to say hi."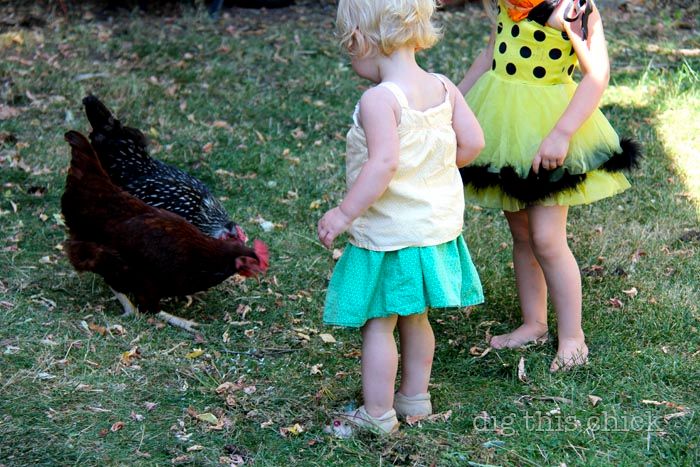 :: Montana August Windshield: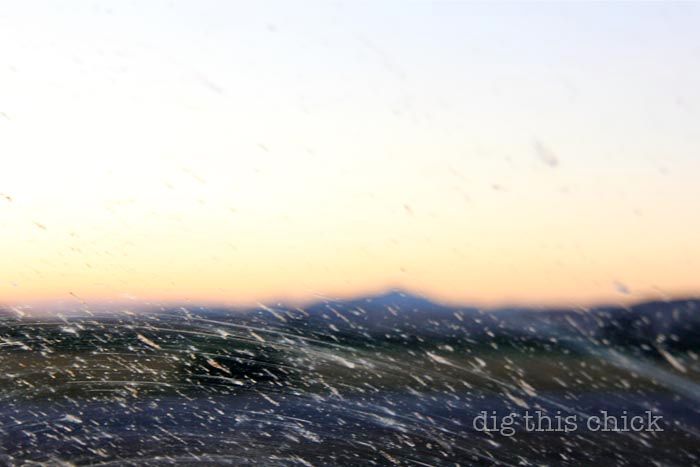 :: Ruby assists with laundry powder making.

she was pretty disappointed it didn't taste like cheese
:: Margot and Ruby spent over two hours taking care of this grass in water. Or, rather, taking care of kids who needed to eat and take a nap. Their mom was a stick and the wagon their home. The water to grass ratio had to be constantly adjusted, for the comfort of the kids.
:: Last week I mentioned a cucumber salad we have been loving. It got better with the addition of apricots. We chopped cucs, halved apricots and tossed with sesame oil, brown rice vinegar, garlic and salt. And, it reminds me of this salad I made last year with cherries and cucumbers.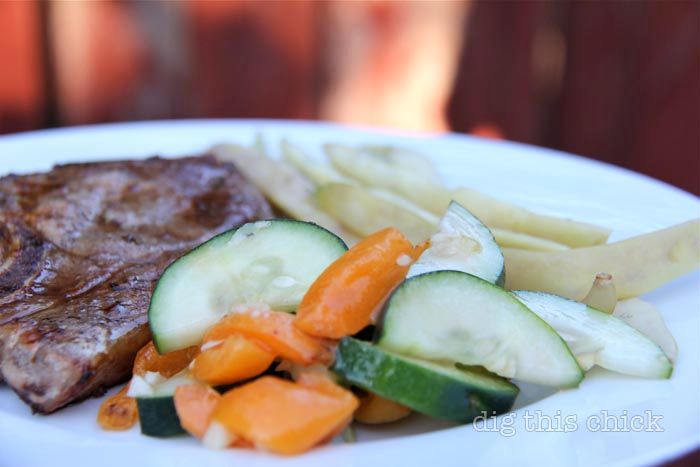 served with raspberry-chipolte marinated pork chops (the last from our pig we bought last summer) and steamed beans. Oh how I adore a totes local meal.
:: Playground play is just the most fun these days. Ruby is starting to run. They take off together and I just watch, in appreciation, my kids. They have each other. Heavy, dreamy and now.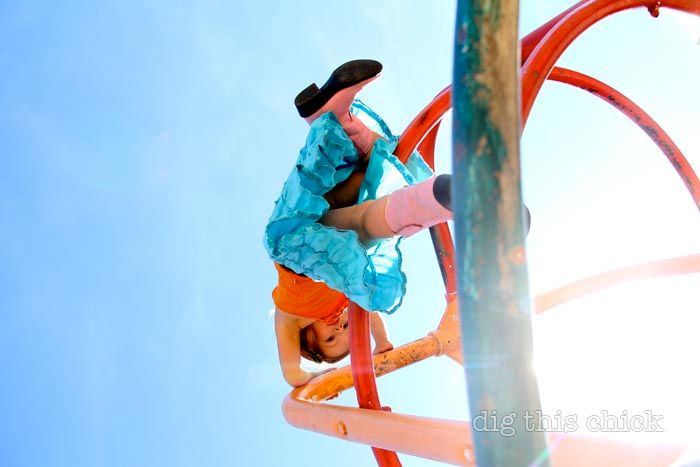 happy hump day out there.
:: :: ::
all photos taken with a Canon Digital SLR from Vanns.com