It is suddenly August and I find I am thinking about fall. Not like it is right around the corner but the peas are drying up, the pumpkins are coming on. The sun hangs lower and hotter, the last burst before final harvest and clothing layers. Also, maybe the biggest thing in my brain, Margot starts preschool in a few weeks.
It is only two days a week and she would start at 9pm tonight if it were possible. My outgoing kid cannot wait and asks about it daily. She started packing her backpack, which she adorably calls packack about four months ago. Right now it holds her favorite pajamas, lip gloss, two headbands, a purple monogramed cape my cousin made her, three pencils and some fruit leathers. Just in case she says.
The pjs were the most recent addition. Last week we received the welcome packet and a letter from her teacher. I read it all to Margot and she was particularly interested in needing a change of clothes with her name on them. She promptly decided flower pajamas would be the perfect everyday go-to item. I packed my pajamas just in case I really like them.
It is all breaking my heart just a little. In that wonderful way but nonetheless breaking. I have been a bit ambivalent about preschool and looked to Margot for any cue it wasn't for her. Last fall, upon crossing the threshold to one of the most brilliantly alive and creative spaces I've ever been in, she was beside herself. We came for a 30 minute tour and stayed for 2 1/2 hours. She loved it and, therefore, so did I.
So, she has a lunch box and I have a stack of fabric for those clothes I plan to make. School clothes! Goodness.
nuggets.
:: Harvest is steadily coming in. Like the zucchini that triples in size while I tie my shoe.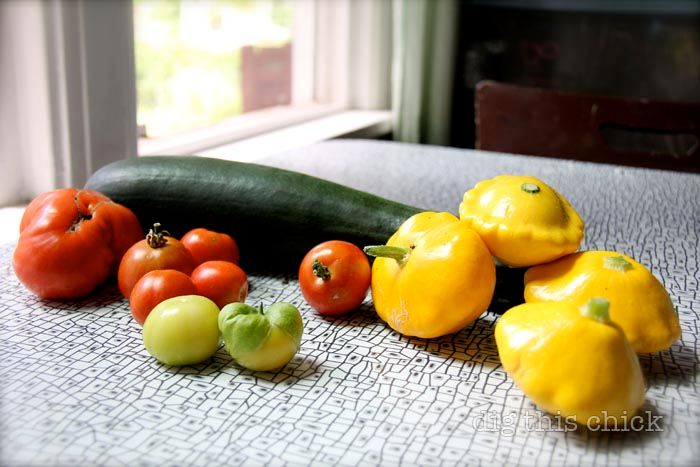 And tomatillos! Oh how I love those dudes.
:: Cauliflower! My first successful bunch. They are usually puny and unimpressive and I regret giving my precious dirt to such little food. But, as is usually the case, I forget my woes over the fall and winter and, come spring, I have rewritten the story to include something I did to encourage the lame brassica. And so I try again. This year it panned out.
:: Garlic! No vampires in our hood. Assisted by my dad and Ruby we pulled up the spicy dudes, washed and set out to cure.
:: Cabbage! If I had a farm I'd grow rows of cabbage. Those taught, secure bundles of love. They are so organized, predictable and mission-oriented.
:: Andy recently had some blog sponsor suggestions for me: Federal Reserve, IRS and Big Dipper Ice Cream. I'll let you know how it pans out.
:: Margot has taken to sleeping in a bit. Ruby, however, remains our early morning HELLO! girl. I do love that time with just her and her goofiness over oatmeal.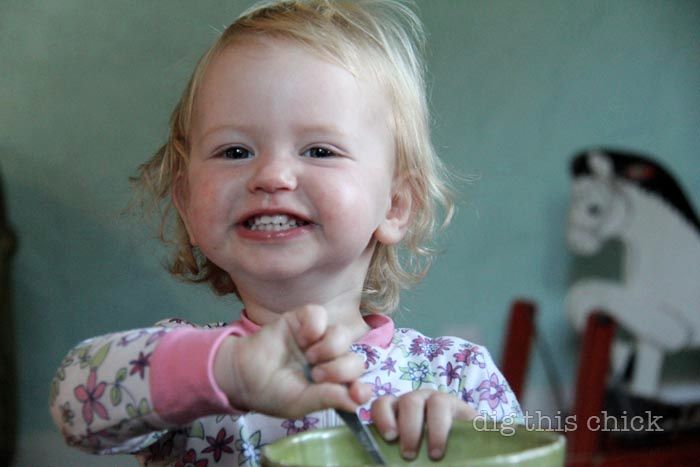 :: Readying for a Sunday brunch with friends.
:: Welcome to new sponsor, Annie Florin Photography. Annie takes swoony photos of kids, families and weddings. In addition to admiring her skill, I totally dig her style: very authentic, spirited and interesting. She says, "My goal…is to create a documentary in still pictures that will capture the story of your day not just as it looked, but as it felt." I love that.
Contact Annie for more information. Thanks, Annie Florin Photography!
:: The girls woke with feverish colds this morning. It was a slow, cuddly day. A day for smoothies.
Ruby was having a heck of a time with the jar and straw but no way in hell was she going to drink from a different receptacle than her big sister. It was then I leaped onto the table, one hand on my hip, the other high and proud and exclaimed, Eureka! Not really, but that is what it felt like when I had The Best Idea In the Universe: I punched a hole in an old canning lid.

I placed the lid on the lawn to catch the fat nail as it pounded through. My daughters mirrored my excitement. 
:: Margot comes peeling into the kitchen, "Mama! Listen to this! Hey, Ruby, can I please have ice cream and watch a movie?" and then Ruby says, "YES!" and then Margot says, "Check that out mama. I guess we have to eat ice cream now. What movie should we watch?"

This cap was the first of a new sale thing I am trying on facebook (thanks to the suggestion of a reader!): every so often I'll make something and post it there. Only one available in one size, ready to ship. If you want it, you say so and I ship it that day! (shroom cap is sold)
:: I am so thankful there is still a lot of summer to marinate in.

parsnip, kohlrabi and Ruby in one of my old outfits
:: "Mama, I think I'll be a mom some day. When I am big. I think that would be great."

first, preschool, darling baby girl
Time, life, experience, seasons. Short and sweet. So sweet.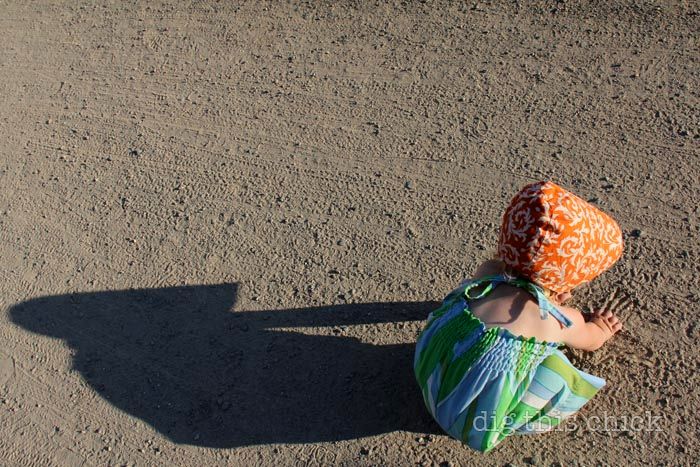 happy hump day out there
Nugget it up and share. If you'd like, link to your nuggets in the comments.
all photos taken with a Canon Digital SLR from Vanns.com