Our family slid into our narrow car spaces and cruised over to Red Lodge last Friday for a wedding. It might seem like a long drive for one day but it is remarkable that 12 hours on the road is classified as a reasonable weekend road trip in our great state. Or maybe it is my family's intimate relationship with this particular piece of Interstate 90, the narrow canyon that yawns open to the east, hikes tall mountains, wraps along great rivers until we turn off into hug of amber hills framed by the Beartooth's spine. It is here, on the snaking old highway that everything relaxes for we are close to my mother-in-law slipping around her screened door the moment our car turns onto Haggin, close to friends who walk down the street to see what's up instead of texting. Red Lodge keeps stories of our childhood and, amazingly, we continue to live these same stories, the only difference our age and dependents.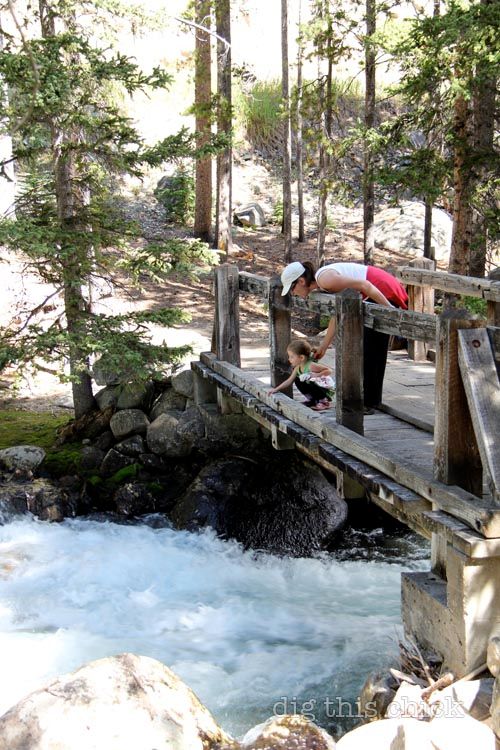 Anywhichway, no matter the length of time we can stay, the journey there is always worth it.
I had several moments of reliving experiences, like deja vu but more understandable. For example, Andy and his tribe of childhood friends woke, grabbed their poles and walked one block to fish for a minute in Rock Creek. The same group of men has done that same thing in that same creek since they were small kids. Also, I sat on my ma-in-law's back deck and sipped coffee while she picked raspberries and saw  the exact same scene I have seen for 14 years except for many years there weren't two eager kids gobbling them up as they were plucked. These recurring but evolving experiences are so comforting.

backyard berry picking at Gramma Joan's
Yesterday our friends floated and fished the Stillwater and my man was bummed he couldn't go, we always have one of the longest drives home and he works at 7am on Monday morning. I have written about Andy's friends before, this posse that formed more than 20 years ago and remains tight. I urged him to float, told him who cares if we get home late and were a total junk show. His friends applied some good ol' fashioned peer pressure and they were off.
That afternoon, it mildly sucked shoving stuff into our car at the hottest time of the day, which was also nap time, to go on a hunt for the Swinging Bridge take out somewhere between Absarokee and Columbus where our friends were dropping my husband riverside. But the girls rallied after their brief protest and we settled into our adventure, Alice's head out the window, Margot counting cows (one through 17, repeat), Ruby picking individual sesame seeds off a bagel and tossing them all about the car.
Before we left Red Lodge I hung with friends, hiked with my kids and mother-in-law and had a wonderful day. The "free" days, when I get to stay longer than I thought, are the most fabulous.
While on the hike I remembered hiking that same trail with Andy years ago into Black Canyon the day after watching The Blair Witch Project. I have since stopped watching scary movies. Literally, not even one. I was so annoyed with how amped up my fear was on that trip. I wrote about my memory and creating new experience in the same space for this week's mama digs: the power of place. Also of note is that I wrote my mama digs on the drive yesterday, taking breaks to avoid puking from carsickness. When we got home I asked Andy to help me with a a title. He finished reading and said, "How about Not All That Accurate But A Good Story?" which is totally NOT surprising because we are that couple who tell stories together and think the other one is looney tunes for their recollection. So we laughed (and rolled eyes a few times) as he nitpicked my details. Then I got a text from my best friend this morning that said, Blair Witch was 1999. Ha, I suppose I am not good at the details.
Wishing you all the loveliest last days of summer!
:: :: ::
all photos taken with a Canon Digital SLR from Vanns.com