Hey! I am having a sale: 30% off my entire shop for the next week. Use coupon code 'SUMMER' to get your screamin' deal.*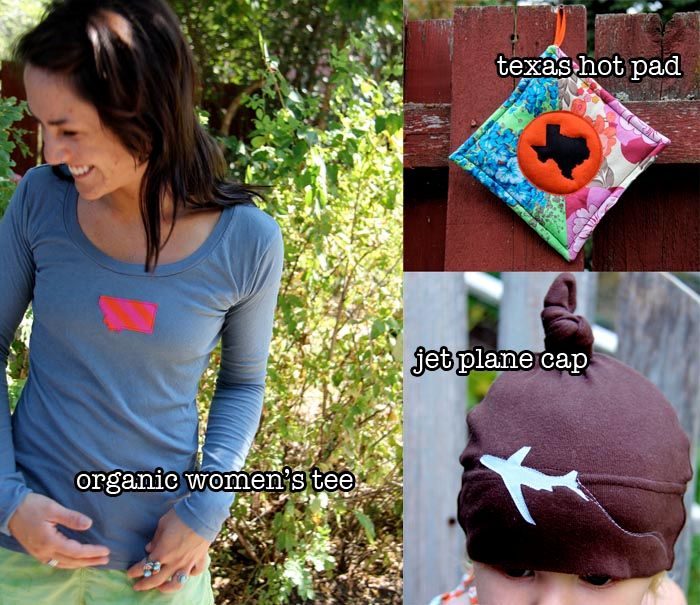 And….thank you so much for your support. I have so much fun designing appliqués and clothes. I know there are a lot of choices out there and I am so appreciative that you all choose to buy my stuff and support my family. I love what I do and I love that you pick if for those you love. Lots of love all the way around!







A few FAQ:
What states and countries can you appliqué? Can you place a star or heart on a specific location.

The geographical silhouette items are my biggest seller. I can do any state, country, continent, island, county, province you want! Just specify your choice in the 'notes to seller' at checkout. Click here for examples. I can appliqué a star or heart for you. The cost is $1.  
Also, I just started doing appliqué hoodies that chart your adventure. Whether you biked across the US, hiked the AT, traveled through Europe, roadtripped in Montana or sailed around South America, I can make you a memorial of your journey.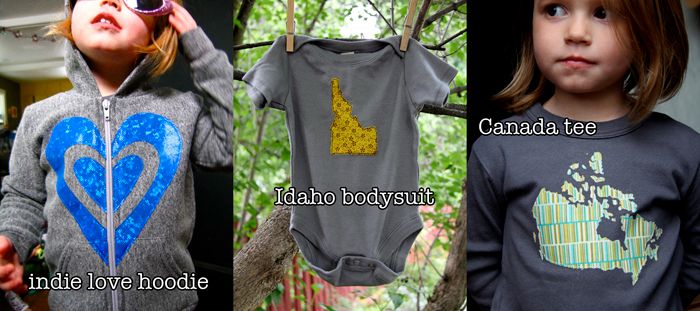 Is this skirt available in different sizes? Can I get this fabric on that shirt with this design? Can you make a matchy cap to go with this hoodie?
Yes! 
Every skirt is unique, made from upcycled shirts and sweaters with an appliqué. I can duplicate the appliqué but it will be with different fabrics and on a different skirt. I am happy to accommodate specific sizes, fabrics, colors etc. and I will work with you to pick a happenin' number that you love. With the shirts, caps and hoodies, there are many more colors that I don't stock. I can always order a piece for you for an additional $5.

What is your process?
The appliqué work is hand drawn, hand cut and meticulously machine stitched. The shirts and hoodies are high-quality, ethically produced items purchased from US companies. They last and wear wonderfully. I use organic cotton when available. The woven appliqué edges will fray a bit with time. The knit appliqués will not
For the skirts: I use details on existing shirts, sweaters and blouses to inform the appliqué and design. The top is cut apart and pieced together using a serger sewing machine. The waist bands are a comfy, side 2″ knit-wrapped elastic. See a few examples here. 

How about custom orders?
I love to do custom orders! I have designed many items to reflect a person's unique interests. I have a listing for custom kid hoodies, where you choose two-four items and let me have at it. I'll create a totally unique piece of clothing just for a kid in your life, complete with a monogramed tattoo on the tricep. See examples of other custom appliqué orders.
Also, I have been posting items for sale on facebook that are ready to ship. I get to be spontaneous and creative, make something, post a photo and the first person to post 'sold' wins the item, pays with paypal and I ship it that day. It's fun!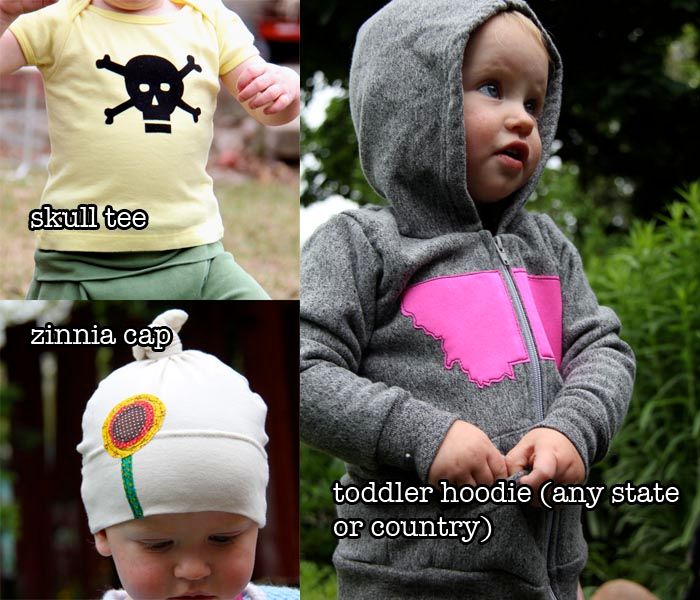 Coming this fall:
+ women's upcycled skirts
+ knit pants for kids
+ new appliqué designs for women and men
+ seven new potholder designs
+ appliquéd tea towels
+ new fabric and color choices for geographical silhouette t shirts
+ new fabrics for the skull hoodies
+ new kid appliqué designs: acorn, wheelbarrow, cat and mouse, jet plane and more.
+ zillions of new baby caps
Margot Outtakes: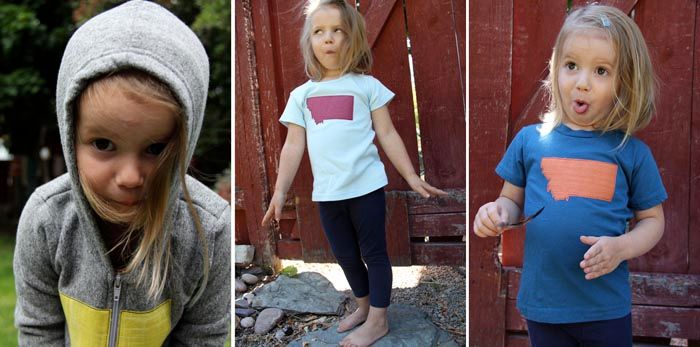 Happy shopping! Happy weekend!


* Edited to add: If something is unavailable, chances are someone else bought it and I haven't yet renewed the listing. Check back or email me and I'll be sure to relist! Also, due to the influx of orders, there is about a two week wait. If you need something by a certain date, please tell me and I will make it happen! Thank you!