hump day nuggets: little bits of the season in photos and words about the last week

The windows are steamy and the fruit is ready. An erotic energy pulses through the room as I grip flesh and squeeze the pit in one rhythmic motion…
I'm talking passion in the kitchen, of course.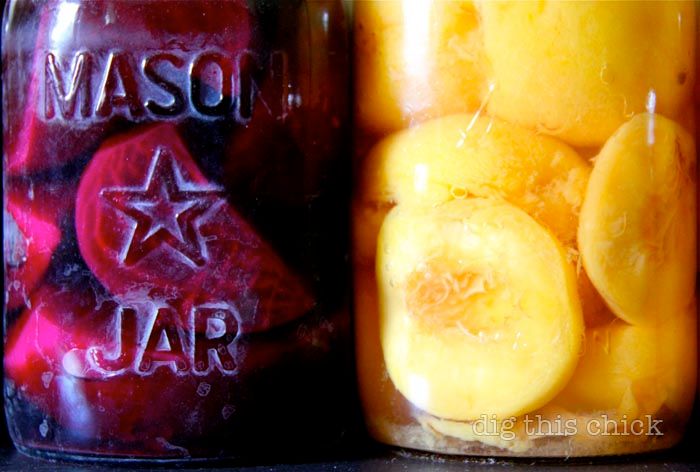 We are putting up a lot of food this year, way more than ever before. I organized all the jars on a shelf and Margot said, "Wow, mom. That will feed our family all winter!" A simple observation that made me beam with pride.
I find such connection to myself and my family when preserving food. It's a primal instinct we humans have, to care for creatures. Whether children, pets or friends, we need to comfort, love and tend to others. I think this manifests differently in everyone. For me, feeding good food to those in my care is an important way I express my love.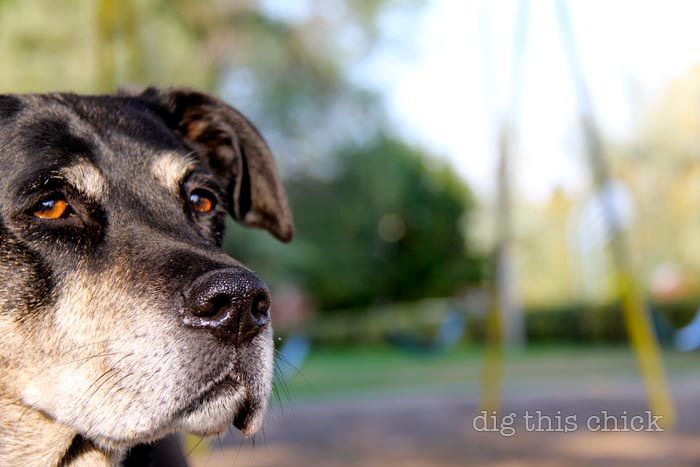 In this unpredictable, fragile life, the food we eat is an easy something I can grip. I have control over how my family nourishes their bodies. It's our health insurance. And, everything surrounding food is an awesome lesson I get to talk about with my kids. We garden or cook together daily and talk about land, waste, vitamins, body systems, sharing, farming, seeds, animals, weather…cooking with my kids is an exquisite opportunity to teach. I cherish those messy, inquisitive, s l o w meals.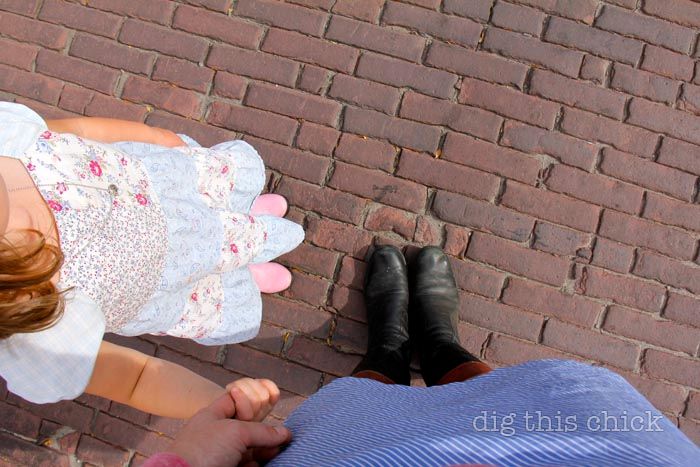 foodie nuggets.
*Also, I am listing my food sources and links in this post. As with everything I publish, links are not paid for unless I specifically state the business is a sponsor. Click to read more about approach to sponsorship.*
:: "Mama, I should prolly eat all these peaches so I can feed my body protein."
"Well, peaches aren't really pro…"
"Well, they kind of are."
"No, not really. Fruit is…"
"I just like to think my peaches are protein, ok mom?"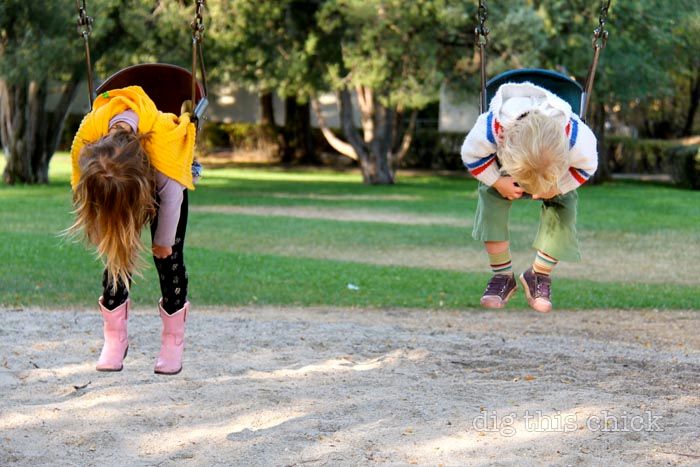 :: The food we preserve: much of it we grow, much of it we score for free and much of it we buy. All of it comes straight from Montana dirt and is tucked away in jars and freezers within a day or two of harvest. In addition to being so fun and so affordable, the taste is exceptional. I will take a Paradise Valley canned peach over a fresh, trucked-in one any ol' day.

40 pounds of peaches (seconds) from Forbidden Fruit Orchard in Paradise, Montana for $24
This year I only made six jars (!) of our beloved peach butter. I made so much apricot jam that I thought canned peaches would instead be a nice addition to our pantry. I'll tell you how we feel about that in February.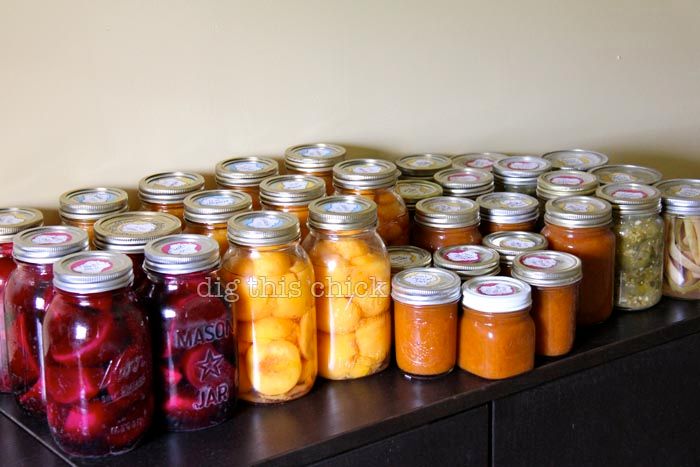 Also a lame beet year for us. I bought 20 pounds of beets from Benson's Farm (located at 2418 S 7th St W in Missoula) for $10!
:: Simple Wild Rice Salad
1 cup wild rice, prepared
1 cup sprouted beans, prepared (a new fave around here, we found them at Costco)
1 onion, chopped
3 cloves garlic, minced
olive oil
1/2 cup pine nuts
1/2 cup dried cranberries
your favorite salad dressing (we mix balsamic, olive oil, mustard and lemon juice)
Add a smidge of olive oil to a skillet and cook onion until translucent. Add garlic (or add garlic at very end if you like it hot like me). In a separate pan, heat pine nuts over high heat stirring constantly for a few minutes until fragrant and browned. Mix rice, beans, onion, pine nuts, cranberries and dressing in a bowl. Voila. Also great with chunked tofu.
:: Margot and Ruby ran and intentionally tripped over rotting apples in our neighbor's for a good chunk of time. Play can be found anywhere.
:: Didn't have a ton of basil this year so I bought a pound for $15 from Farm to Family. To preserve basil, we purée with olive oil and freeze in ice cube trays. You can do the same with pesto by adding nuts, parm and garlic but I find those ingredients are best when added fresh and this method is much more versatile! We use cubes for soup starters, pasta sauces, pizza, rice…anything you'd put basil in/on.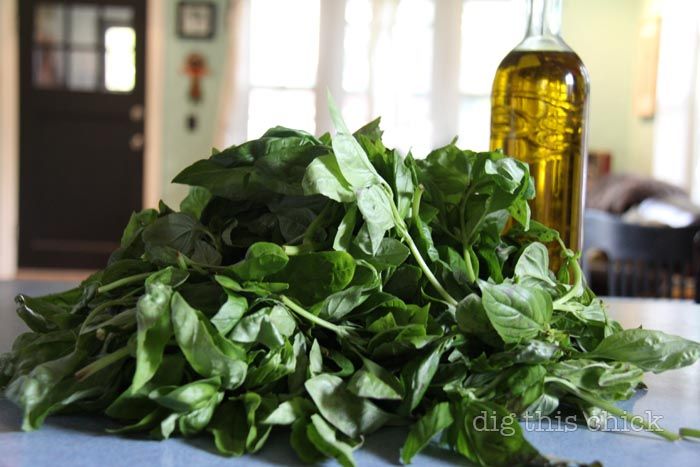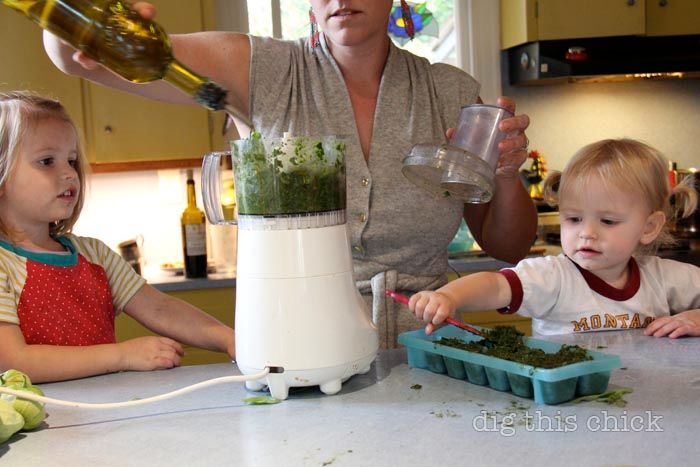 :: Picking raspberries at Laura's house. Or as Margot says, "Picking lazberries at Warla's house." There are so few words she mispronounces. Those two are my favorite.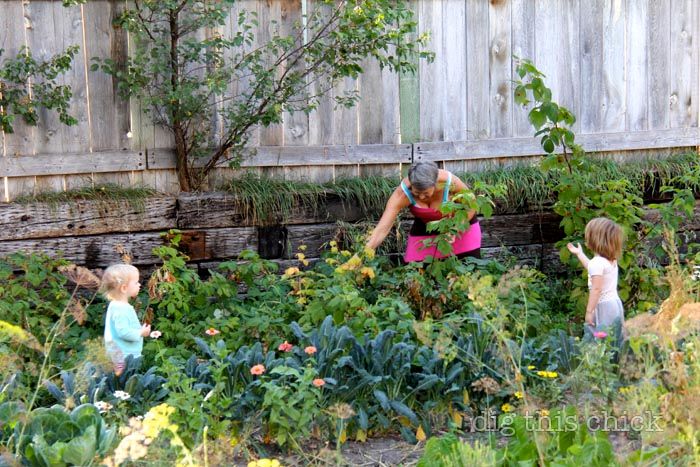 :: In the freezer: LOTS of corn (also from Benson's Farm), puréed beets and carrots (an easy start to this soup or awesome addition to so much food) and the basil-olive oil cubes.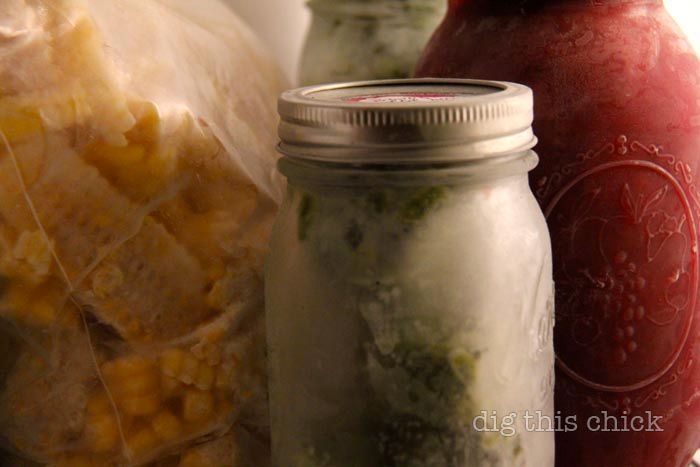 :: I am honored to bring you a wonderful giveaway and opportunity from a sponsor. Natalie and Nathan (owners of Feeleez which I've raved about before!) are presenting an e-course about parenting on the same team. I know both of them (they live here in our sweet valley and I so enjoy their blogs) and can whole-heartedly attest to the lovely, kind and real way they move about and parent. You can read more about the class and their parenting approach and sign up for the class here.
And, you can leave a comment for a chance TO WIN a space in the class, set to begin next week! Comments close and winner randomly picked on Saturday, October 8.
*Also, in the spirit of this foodie post, you MUST check out Natalie's miniature fairy food shop!*
:: I shared a lovely evening and meal with best pals last week. We surprised a friend who is hard to surprise because she's so dang intuitive. To pass the time while we waited for her to show at the restaurant, we set the timer on the camera and twirled.
:: Confession: I ruined 10 pounds of beans. I picked them and tossed in the fridge to blanch and freeze later and forgot about them. Oh, man. I was wrecked over the slimy discovery. They weren't too far gone so I thought I could pick through but I ended up just delaying the inevitable. They weren't fresh and not worth preserving. We ate a select few and tossed on the compost with a heavy heart. All that real estate in my garden, gone. All that love, water and food, gone.
Thankfully we haven't had a frost yet and our bean plants haven't heard the news of my irresponsible goof. They keep producing like crazy and I am preserving as I pick. Last year, a friend gave "us" (really, me, I ate the whole thing) a jar of her pickled rosemary lemon beans. We made some this year using this recipe. I tripled the garlic.
EPIC martini garnish, friends. 
:: We have a lot of summer squash this year and have been making a lot of squash fritters. We made up this recipe and it is more bready, like a pancake, which the girls love. Also, I have heard from many that Smitten Kitchen's recipe is an awesome, more traditional fritter.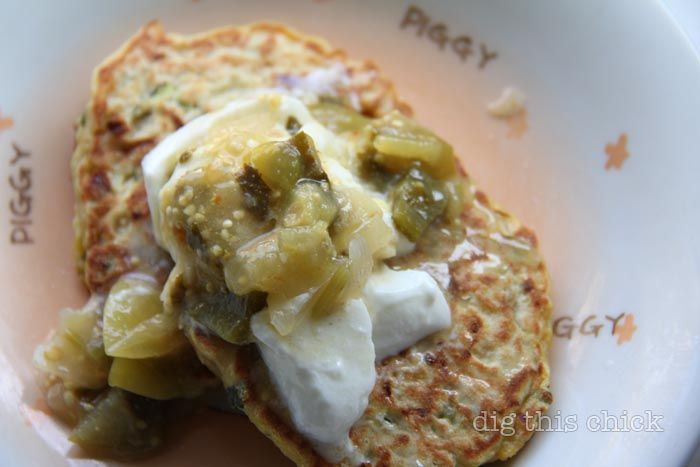 and great cold for breakfast. piggy piggy piggy
Zucchini Fritterish Pancakes
2 medium zucchini, shredded
1 carrot shredded
4 garlic cloves, chopped
3/4 cup feta cheese, crumbled
1/2 cup cornmeal
2 large eggs (our chickens lay behemoth eggs so maybe 3 normal eggs)
1/2 cup milk
1 cup flour
chives, chopped
salt
olive oil
Mix it all together in a bowl (except the olive oil). Add a milk and flour a bit at a time until muffin batter consistency is reached. Heat a few tablespoons of olive oil in a skillet or your Range Lover Griddle. Drop the batter by the 1/4 cup and cook for a few minutes, until golden and holds together when flipped. Flip and cook for a few more.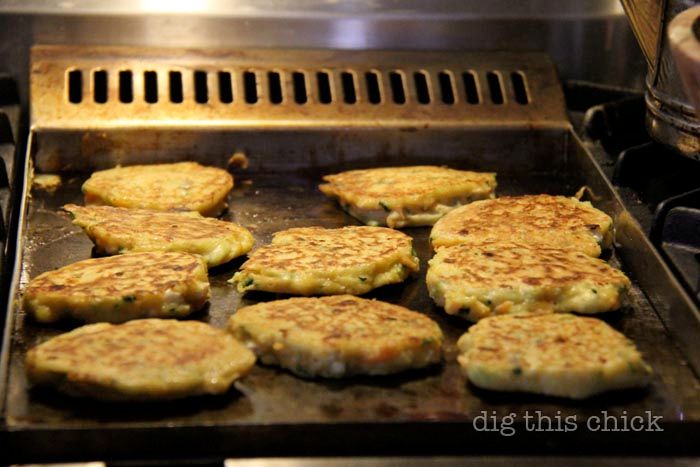 *RANGE PORN*
The kids eat them with a dollop of plain yogurt on top. 
We eat them with the yogurt and 
this sweet red chili sauce or tomatillo salsa.
Ruby's right elbow dimple makes my jaw ache with love.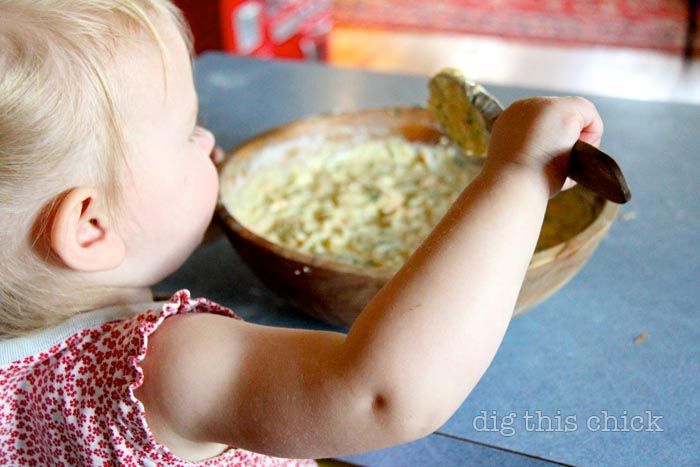 If anyone gets too close to Ruby while she mixes the batter, "NO! STIRRING! ME!"
All those food reflection makes me want to get in the kitchen. So, bye bye.
Happy hump day out there.
*Nugget it up and share. If you'd like, link to your nuggets in the comments.*
:: :: ::
all photos taken with a Canon Digital SLR from Vanns.com