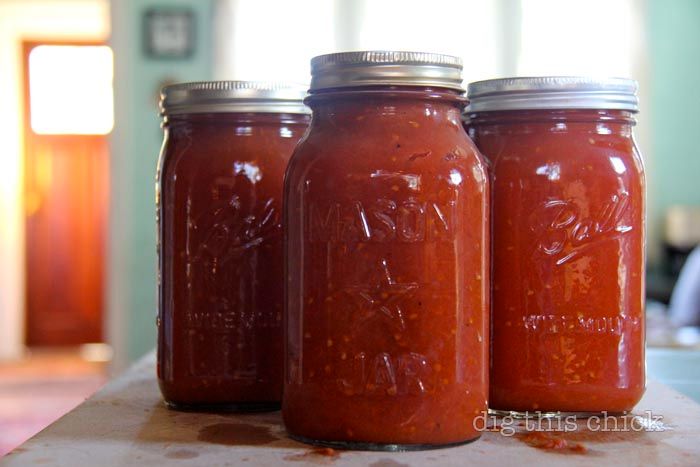 The canning continues on the homestead. It is all I can write about because it all I can think about what with the baskets and bags of food resting on the kitchen floor. Last weekend it was tomatoes that rolled around heat, creating a tropical environment in our home. The air humid, the windows steamy, my hair extra curly. Twenty quarts of sauce joined the canned ranks.

We canned tomato sauce for three days, beginning Friday night when I taught my friend how to can. Margot was a huge help the rest of the weekend. Sister peeled almost 40 pounds of tomatoes!
Our method: I make sauce (nothing but tomatoes) because it is so versatile with the addition of herbs and vegetables later. I core, blanch and peel and then paw apart with my hands and toss in a pot to cook way down. I don't remove seeds. I pour the water off (that is naturally cooked out of the maters) a few times as they cook and when the tomatoes are really soft, I purée with my immersion blender (best kitchen invention ever). And let it cook over medium heat until thick, stirring often. I add 2 tablespoons of lemon juice per quart and process in a boiling water canner. I reference the Ball Blue Book to determine my processing times.
Now, onto the unharvested fruit around town. I have been asked many times how I find free fruit and, really, it finds me. Early in the summer, I see trees and make a mental note of its branches, bowing with edible orbs. I get especially excited about the sturdy ones that don't require a ladder, the ones with the perfect Y at the base. The trees that beg for one good foothold, one good grab on a limb, one hearty shake and it's raining fruit.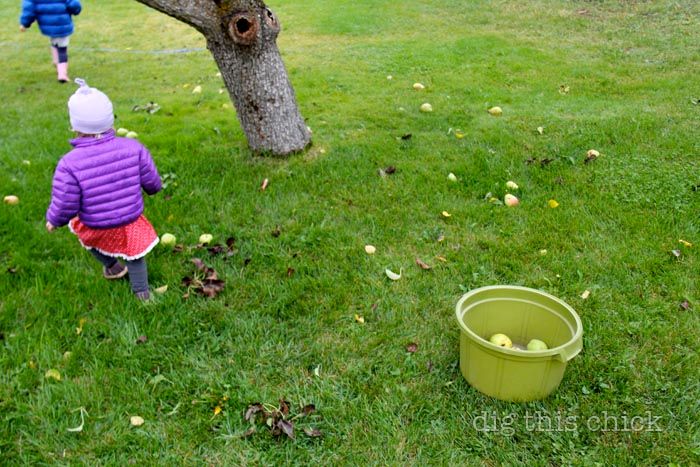 I never end up picking that stalked fruit because of my history with certain trees around town. Years ago I made a few calls, talked to a few people and now, I'm in. Once in the Free Fruit Circuit, it is abundant. Texts circulate Apricots falling by the minute. Meet tonight at 5? and I saw Sally's plums are on. Come over? Last week I called to make an appointment for my annual exam and my midwife overheard her receptionist say my name. "Tell her to bring some baskets for the pears!" she shouted in the background.
My kids think it is amazingly cool that I climb trees. Margot grabbed my camera and fully operated it on her own. She took 78 photos. Here are a few: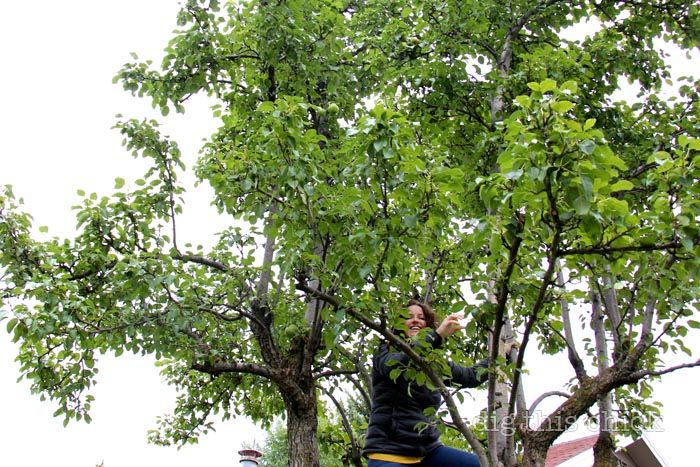 A few weeks after I pick, I revisit with a jar or two of preserved goodness. The tree gives, the owner shares, I take and give back. I love being a part of the earthy, generous, nutritious, handmade cycle. And I love participating with my daughters. Good stuff, I say.
:: :: ::
In this week's mama digs, I wrote about how I learn the reality of limitless potential through my kids. This is one of my favorite surprises about parenting: how much my kids teach me, like really teach me how I want to live. Click to read mama digs: potential.
:: :: ::
Congrats to the randomly selected winner of the parenting e-course:
Staci said…i had the same thought as ctb. totally sucks to miss the chance on fresh food, but it would only be a *true* waste if you threw it in the trash. hooray for compost! love all the food, and what great deals! …i think i farm/garden (farden?) so i can preserve… would love a shot at the parenting class. they have a cool thing going.


email me sister: [email protected]
You might also like