In November, my already-friendly, neighborly town digs its heels into community. Smiles in scarves and puffy coats, kicking leaves for fun, gathering at breweries and arguing over who will buy the round. Everything slows to a lovely, loving pace.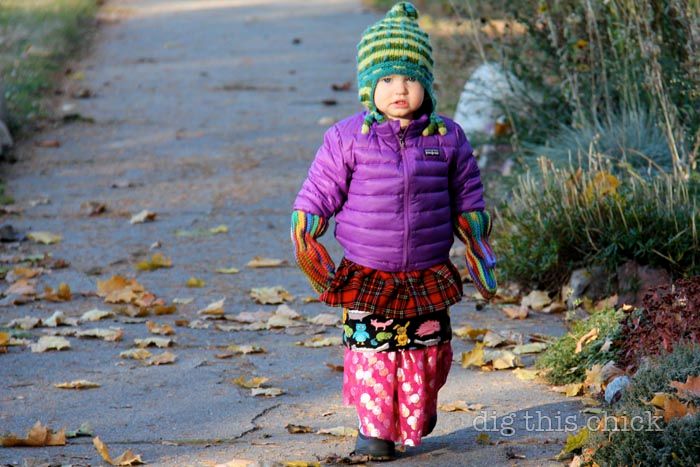 Ruby is into three skirts over tights and socks these days
I always love where I live but there is a special twinkle around the holidays. Everyone is hopped up on gratitude, stretching Thanksgiving into several months. And its contagious.
Today, I share two simple events from my week that filled me with appreciation (and a sweet giveaway from a sweet company).
Ruby on my back, I hiked with a friend last Tuesday. We breathed hard on the ascent, snow coming down in thick, wet masses. We talked and talked and talked as our feet moved over the cold dirt. Every fourth step or so Ruby would say Mama? and then I'd say Hi Ruby and then she'd laugh. Mama? At one point I stopped in a sentimental, glorious, stunning moment, my feelings reciprocated by Caroline. We hugged and expressed thankfulness. It was so grand, that crisp moment.
The Day of the Dead Parade is an annual cherished event in our community. A beautiful celebration of life and death, Missoulians pour into the streets painted like dead people, performing, stomping and cheering in their aliveness. We hauled our family downtown to participate in the energetic honoring of those who have passed and to pay acute attention to our two feet on the earth.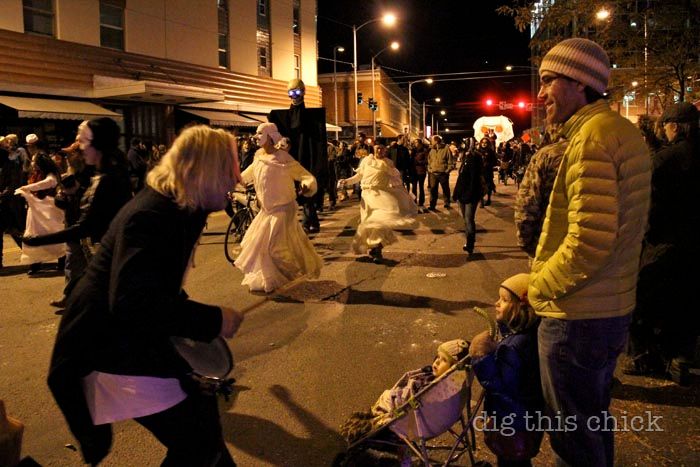 The parade, a swirl of activity and life, is like Missoula, distilled. A community dedicated to merriment, uniqueness, culture, movement and family. When I am at events like this in my town, I feel so connected to this place, these people. The drums beating and everyone pulsing like one giant organism. Good stuff.
:: :: ::
And! I am so happy to tell you about new dig sponsor, Blue Q. This company sent me a generous pile of awesome stuff a while back and you've likely seen much of it in my photos as the bags (made from 95% recycled post-consumer material) come with us everywhere we go.


And inside every bag are more of their bags. We especially adore the overnighter, the shoulder tote and the zippered pouches.
I like all of it — the quality, the kind, funny people who work there, the adorableness and whimsy (Be a Better Parent tea, Mood Swing soap, Eat At Home dishtowel). And then, I read their About Us page and was more in love with their stuff. It is full of heartening, admirable things like they design and make everything. And they say, "Look, we all know that there is an unethical way to manufacture a water bottle, to sew a bag. We don't do that. We couldn't. We have a beautiful and long history with manufacturing our goods the right way." Also, they print We Just Want You To Be Happy on their shipping boxes.
OK! The giveaway and deals for you chickens: If you had $60 to spend at Blue Q, what would you buy? Come back here and tell us in a comment and you might win it! Winner randomly selected on Tuesday, November 8. And! Get free shipping on orders over $40 using code 'digthisblue.' Last but so not least, right now, every purchase of $15 or more gets $23 of free non-lame stuff. Thank you, Blue Q!
Wishing you all a wonderful, wondrous weekend out there.

:: :: ::
all photos taken with a Canon Digital SLR from Vanns.com