:: Recipe number 1 of the 64 recipe cards I inherited from my grandma ::
Frank Sinatra singing out, girls well rested and ready. We were to make Auntie Lois's Sugar Cookies. It took some delicate arranging of chairs and counter position but we made it. Ready to start this fun journey through my grandma's recipe box.
We went to the coop to fetch two eggs and found exactly none. Peanut was sitting cozy in her nest so we knew we'd get one egg soon but the sugar cookies required two. Plan B: dig through recipe stack and find a dessert that requires one egg. Auntie Coon's Applesauce Cake.
While we waited for Peanut to produce our egg, I gathered ingredients and the girls argued over a tiny monkey keychain whose origin I have no idea but in that moment, the furry dude was the most precious, beautiful, necessary object on the planet to both of my children. I tried to give them both a chance to watch as monkey helped soften the butter (do you know about this method? brilliant!) but they thought that was a terrible idea. I tried to give them each important jobs measuring stuff (their favorite) but that didn't feel like holding a monkey. We talked and talked about monkey. Finally, through tears, Margot decided Ruby could hold him and then she'd like to hold him later. Later didn't come soon enough and Ruby screamed MINE while Margot grabbed and the rolling pin flew and broke. That did it. Monkey off our backs.
Happen? Ruby asked again and again as Margot studied the old splintered wood and inquired about every possibility of fixing it. "Do you think it will be ok? Can we get another rolling pin? How in the heck did this happen? We could glue it. Or I could hold it like this while you use it."
Peanut took her sweet, sweet time laying that egg. We kept peeking out the check only to find her nestled in, her little beady, unblinking eyes staring back like I am creating and eliminating an entire egg here people. It takes some time. Ruby sipped tea and required bandaids on both pinkies while Margot retreated to the couch with Alice muttering something about a broken rolling pin and never having eggs again.
Finally, we saw her leap out of the coop and strut across the yard to her pals. Thank you, Peanut.
Margot sprung up as soon as she heard the mixer roaring. With her, she brought two blankets and several babies, because they were lonely. We combined and stirred and even cracked some jokes about the monkey who was so five minutes ago at that point. The girls were back to being best pals, lovingly feeding each other applesauce, generously giving away their turn at sugar measuring, collaboratively counting raisins.
The cake turned out beautifully.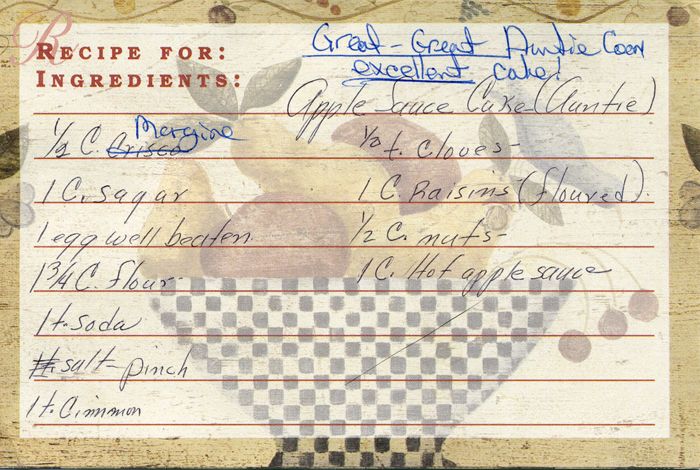 MY NOTES:
I used butter instead of vegetable shortening and I only have 1/3 cup so I added more applesauce. I greased and floured a nine inch cake pan, omitted the nuts (allergic) and added and extra handful of raisins. I baked for about 40 minutes and I think 35 minutes would have been even better.
:: :: ::
Dawn said…Great images–such vivid colors. Thank you for sharing your world with us. Love the cowl.
:: :: ::
all photos taken with a Canon Digital SLR from Vanns.com